Whether you operate as a retail business or a cloud-based shipping provider, the eCommerce market is undoubtedly an effective way to bridge the gap between your product and the end-customer. With 2020 underway, the eCommerce industry is poised to continue its development with innovative new standards for businesses across the board.
According to
Small Biz Genius
, almost 61% of shoppers never finish their purchases because visual brand elements are missing from the eCommerce platform, lowering their overall trust in the website, and with 57% of global average customers shopping from overseas retailers, building integrity around your platform has never been more important. Apart from the obvious necessity to brand your platform according to your style guide, it's also pivotal that it remain in touch with design trends of its competition.
Even though platforms such as
Amazon
and
Wish
lead the race in terms of global eCommerce coverage, carving out your own niche on the market and attracting online shoppers is quite possible with the right approach. That being said, let's take a look at several eCommerce design trends for 2020 which should find their spot in your web design layout and
UX design
efforts for the sake of raising your lead and revenue generation rates.
Minimalism over Complexity
When it comes to the content present on each page of an eCommerce website, minimalism is the name of the game in 2020. While it is true that more information and details about a product can indeed help customers make the final purchase decision, they can also distract them from what matters the most – the products themselves.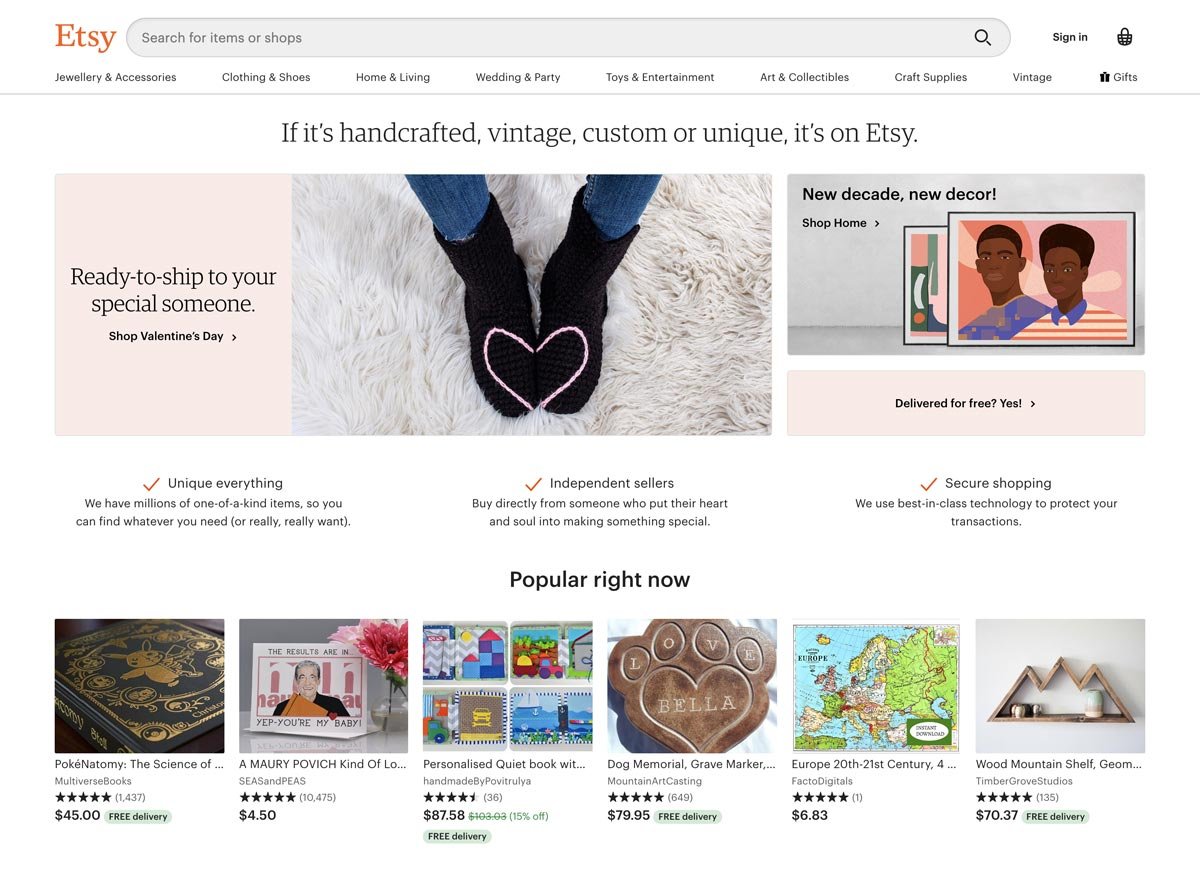 In the case of
Etsy
, we can see a clear shift away from Amazon's standards of placing as much information about any given product in front of the customer. Try to create a visual hierarchy of product details without resorting to flashy banner ads, popup windows, auto-play content and other distracting elements when designing your eCommerce platforms in 2020.
Micro-Interactive Elements
Static web pages are, while lightweight and SEO friendly, too stiff and inert for today's internet users. To alleviate this, you can resort to micro-interactive elements on your website, such as subtle zoom animations when a user hovers over photographs or short animated highlights when they hover over hyperlinks.
These elements are non-intrusive and won't delay load times or distract from browsing in any significant way. More importantly, these tidbits of creative design work present on an eCommerce platform will illustrate the business' determination to differentiate from the Amazon-inspired competition and offer something new to the global market in 2020.
UI & Content Localization
eCommerce is a global industry and whether you operate with local or international customers, you should still consider localization as one of your priorities. Dedicated localization platforms such as those you will find on
Pick Writers
can enable both designers and eCommerce content writers to successfully localize any content into a plethora of languages for the betterment of both UX and SEO.
Given that every language features different vocabulary, alphabet and word structure, designers should pay close attention to how much white space they reserve for site navigation. In terms of web design, localization entails that the designers leave more available pixel space in the navigation elements, header and footer segments, as well as product description boxes for further content editing.
More and more people from different backgrounds have access to web-based services due to the widespread accessibility of the internet and smart devices. This means that less tech-savvy users might come to your eCommerce platform just as their computer-educated counterparts would, making your job as a designer much more complex.
Making your eCommerce web design solution more accessible and easy to navigate is all about placing yourself in the shoes of customers which only use computers and online shopping on occasion. Examples such as
Book Depository
and their push for clear, accessible and easy-to-navigate web design can serve as inspiration as we go further into 2020, where utility is bound to matter just as much as original visuals and SERP optimization.
While you shouldn't place gateways between your products and its customers, certain security measures should be applied to the eCommerce platform. Given the widespread nature of smart devices and public internet access, phishing, malware and social engineering hacks are more rampant than ever before. In order to make your eCommerce platform's UX as safe and enjoyable as possible, you should ensure the security of your users' private data and payment information at all times.
This concern should be telegraphed to the user from the landing page, communicating your desires to keep their data from falling into wrong hands with additional safety measures throughout the shopping process. Thus, the customer's journey of each individual visitor will be more closely controlled and forbid any cybersecurity breaches from ever taking place. Customer-side checks such as email verification, two-step authentication as well as human/robot checks can go a long way in ensuring that your clients' platforms remain a bastion of safe online shopping in 2020 and beyond.
Mobile Browsing Optimization
The mobile market has become distinctly supreme when it comes to online shopping. According to
99 Firms
, 53.9% of all eCommerce transactions are expected to take place through mobile by 2021, while its share in the industry is expected to rise to 72.9% during the same timeframe. On the other hand, research published by
Fortunly
indicates that more than 80% of mobile shopping attempts are abandoned due to poor mobile optimization, with 53% of users likely to abandon an eCommerce platform if the load-times are three seconds or longer in length per page.
When it comes to design trends, you should pay close attention to responsive design elements and ensure that the eCommerce platform you work on is optimized for touch-based browsing. This initiative will significantly improve its performance and revenue generation, not to mention secure its place high on SERP and allow for much better UX as a result of dedicated mobile optimization.
When it comes to eCommerce design trends, their presence in the industry extends much farther than visual appeal and modern graphic design solutions. Going forward, we will experience a push for utility rather than graphical splendor, ensuring that eCommerce sites, despite their large catalogues, remain fast, lightweight and free of security concerns. Whether you maintain your own platform or outsource your web design skills to eCommerce owners, these trends will assuredly help attract online shoppers and facilitate positive word of mouth surrounding the brand as 2020 goes on.