Communication is the key to everything when you work with people, right? Underestimating this important element can be a crucial mistake. However, sometimes it's a common thing for some shop owners: there's tumbleweed in their abandoned reviews section or a one-sided talk in the comments. Working with customers is a special craft every merchant should possess, especially if you own a digital design shop on a marketplace.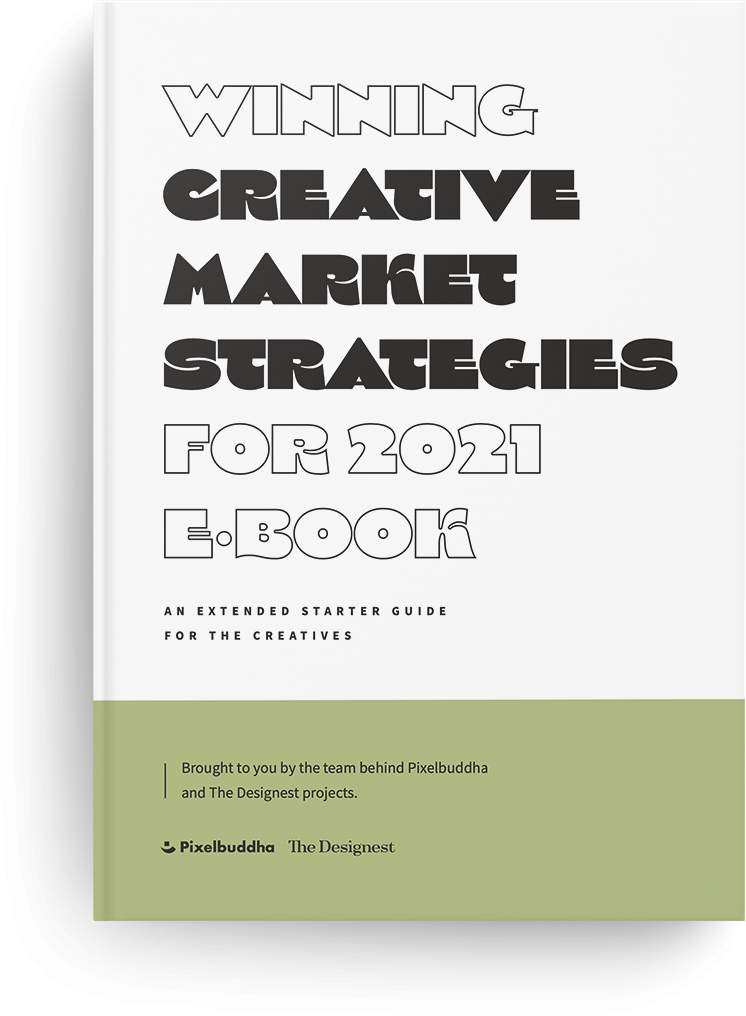 Winning Creative Market Strategies for 2021
by The Designest & Pixelbuddha 
We've gained lots of experience on how to create & develop a shop on the marketplace, which we've been willing to share.
So in this chapter, we'd love to put a light on the way a nicely-arranged communication process should look like, unveil some pitfalls, and draw attention to the essentials. It's all in the name of building up a loyal community and harvesting all the attention!
Dealing with Direct Messages and Comments Section
Once your customers face some difficulties or hesitations (mostly) concerning your product, the first place they go to is usually the direct messages. Based on our experience, all the messages can be divided into the following groups:
Support request; 
Product inquiry (before the purchase);
License questions;
Compatibility hesitations;
Updates under consideration;
Expressions of gratitude;

Don't want to sound strict or anything, but the last one is a rare gem in this collection but a really pleasant one. The more commonplace where this type of message appears is the comments section. After someone has left the commentary, the Shop Owner should answer it by mentioning the user with '@' and adding a required nickname. Otherwise, nobody will know what an attentive Shop Owner you are!
The essential rule you should stick to in any situation: it's always easier and more pleasant to come in terms with someone rather than quarrel. We're not going to patronize you like in some kind of a handling objections course. Instead, here's the philosophy that has never failed us. If a person sends a message with a complaint, leaves a bad review or writes a negative commentary — it's not a sign of rudeness. This person must be just frustrated because of having no chance to check out the desirable product, bought from your shop. Consequently, the best way to win their hearts is to explain everything thoroughly. Patience is always appreciated — fact.
In some rare cases, people jump to conclusions so fast you don't keep up with the events! And here, well, unpleasant reviews and comments take place. If you consider some commentary to be offensive or irrelevant, feel free to contact Creative Market Support with that issue, carefully describing your point. With great power comes great responsibility, you know, so use this feature as the last resort.
Once in a while, among the other messages you can receive the technical support requests. They appear when users purchase a product and then experience issues with that. In your dialogue section, you can see the list of products the user has bought from your shop. Helping your regular customers will be an incentive to do your best for fixing the state of things.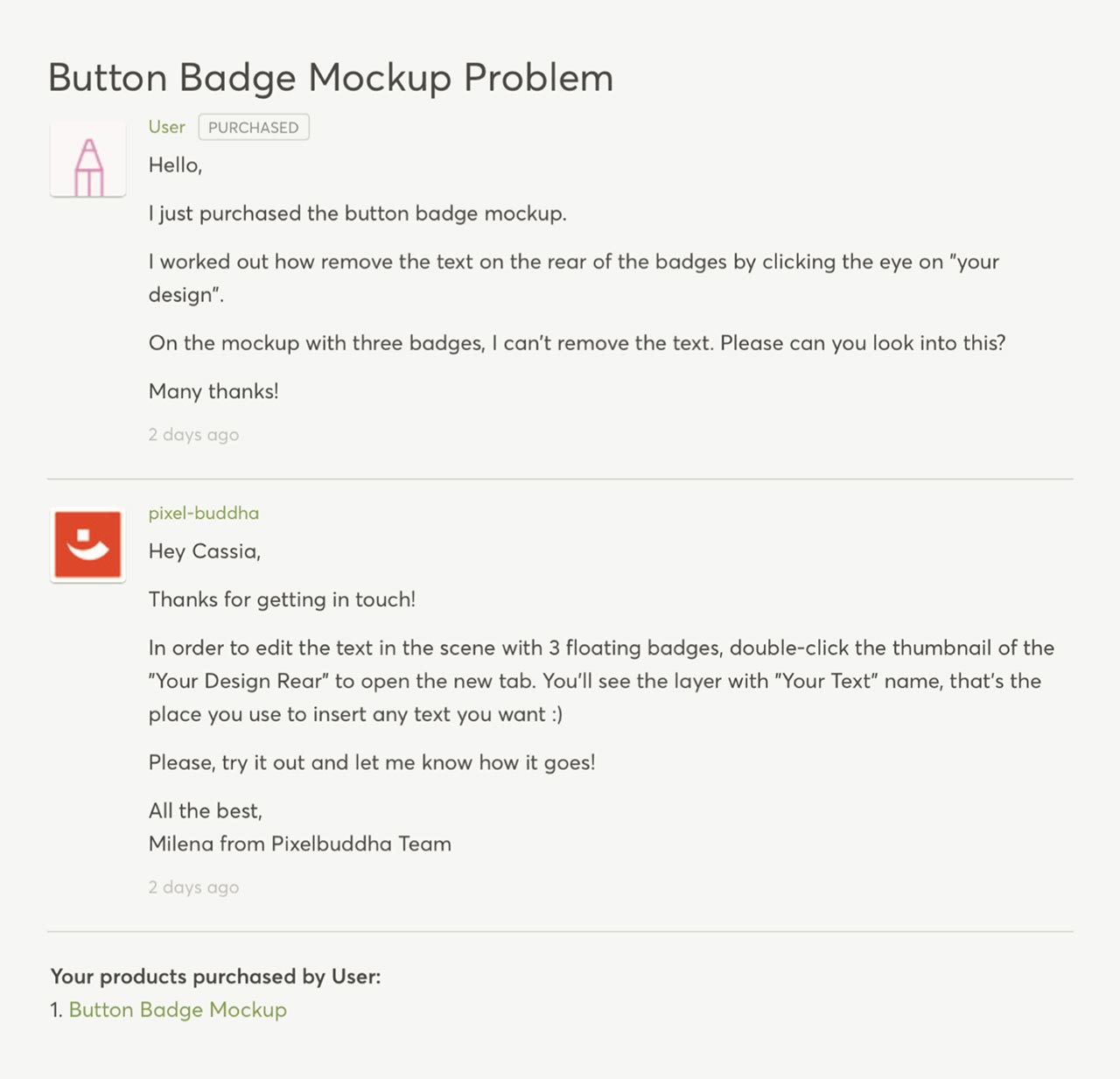 Not gonna lie, when users choose between you, the Shop Owner, and Creative Market Support, it's better when they decide to turn to you first. Even if we're not taking into account the materialistic side of things (it's also important though), messaging your customer directly is more efficient, fast and easy for both of you.
Yet, when the Creative Market Team can't provide the user with any guidelines, Shop Owner receives the personal email message, linked to the Creative Market profile. It starts like this: You are registered as a CC on this support request. Reply to this email to add a comment to the request. You get added to the ticket where you can discuss the issue thoroughly and resolve it.
The little inconvenience about this chain of messages is the lack of attachments. It means that all the attached screenshots, received by Creative Market Support first won't be displayed for the Shop Owner. It'd be reasonable to use the given email address of the user to get in touch (it's placed in a free access of the same Creative Market Support ticket).
When the problem doesn't have a technical solution, the only possible way to resolve the issue is to proceed with a refund. This privilege, again, is reserved by Creative Market Team. If your customer's issue reaches this point even after your assistance, don't worry, you did the best you could and this person, probably, will come back to your shop again just because you were a considerate fellah.
Building a Reputation with Reviews
Even though Creative Market exists for a long time now, the reviews feature was added there relatively later than to the other design marketplaces. Product review is the first thing your potential customer pays attention to, no doubt: reviews are the direct reflection of the customer's experience. Atop this, the discoverability of your product in the search is crucial here, depending, to some extent, on the quality of your reviews as well. Try to shorten the distance between the left review and your reply (the same principle, working with the comments section). It's simply a pleasant thing for a customer to begin with and a great way to raise your shop's reputation.
You may ask something like "what else can be done to receive the impeccable review aside from carrying out a neat product"? Feedback tricks! Interactiveness with customers shows that you care about what you're doing. With that being said, here's the tip for you. You can set up automatic messages for your customers. Compose a nice form, containing gratitude for the purchase and a request for leaving the review if they have a spare minute.
Hooking Your Audience with Updates
Updates are one more tool for staying in touch with your community and always being in the limelight. You can notify your shop subscribers about a nice discount, the updated product or invite them to discover your new product.
The more activity you have — the more attention your shop will get, the same simple rule. That's why we usually hold the 50% discount for two of our older products every Tuesday. It raises sales and increases the number of subscriptions. Let's not forget that on Sundays, your followers receive emailed newsletter about the top updates from the shops they're subscribed to. It'd be splendid to get in there with your update too.
Keep Up with Blog and Discussions
Checking out Blog and Discussions from time to time is a nice thing as well. These two places sometimes are ignored by many authors, we suppose they don't deserve this destiny.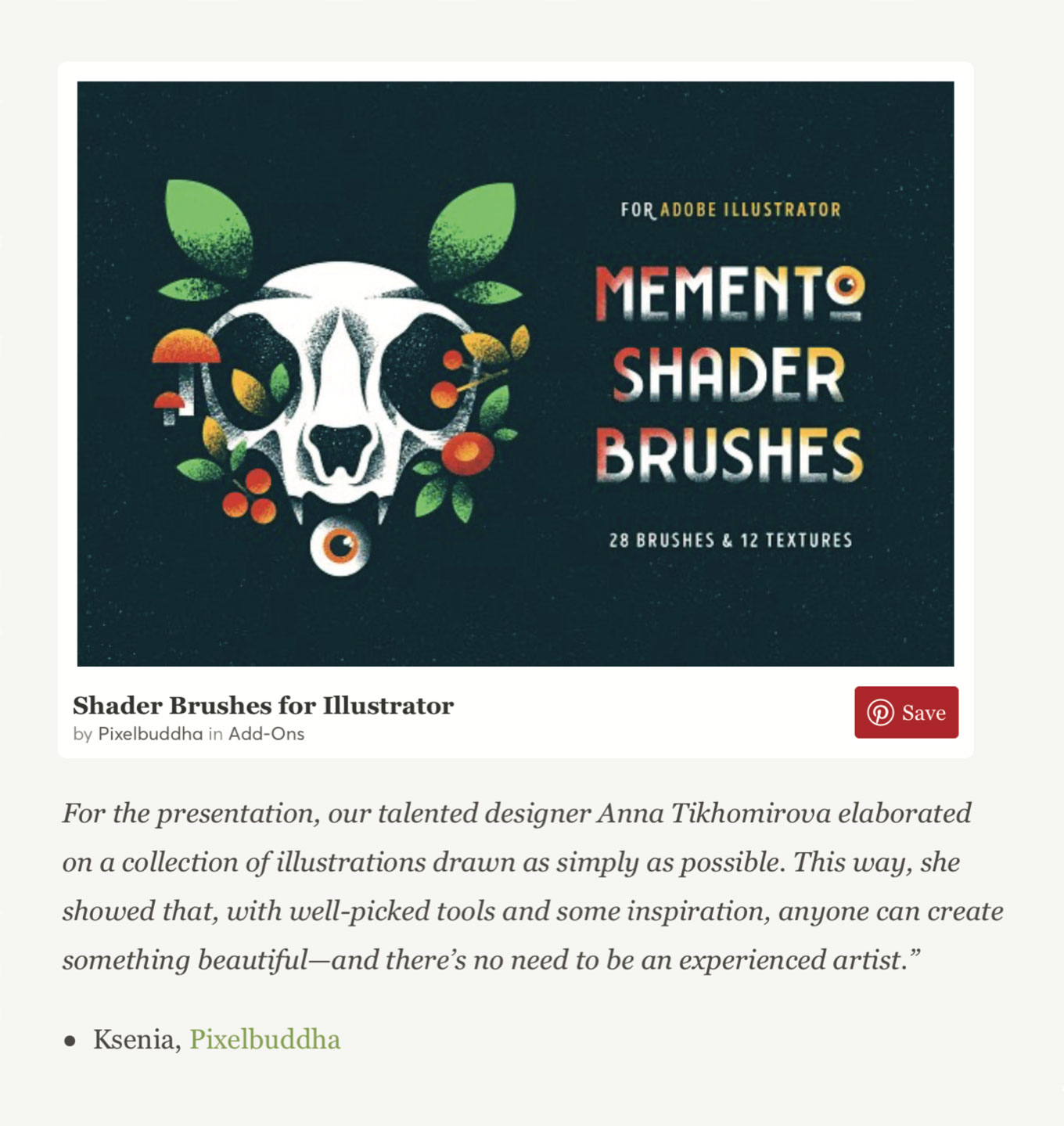 Reading Blog posts is a way to keep yourself posted about the latest trends in design and enrich your knowledge about running a shop (there are some handy tips, inspirational stories, and even entertaining articles). Seriously, the credibility of tips given by those who know the way things work there is undoubted.
Discussions is, basically, a place where so many things are concentrated. It's a social network for creators and a place where users can ask for some products they lack in their creative work. Or you can also share a sneak peek on your current projects, attract more attention and get yourself new followers.
If you see that there's just a perfect context for bringing up your product, do it! Don't hesitate to show your work to everyone. Do it in a more natural way, without being too insistent and annoying or else the effect will be just the opposite of what you were expecting.