The reference to the heist film Now You See Me seems so obvious when anyone comes to the dark patterns, an ingenious (sometimes) UI tactics of cheating you on the web. And since it is so much of our irritation, it's good to know the enemy.
While ones are trying to protect you and your personal data, there are quite a lot of teams and projects, who are eager to do the contrary. Make you pay or overpay, opt you in regular ads subscription you have never been willing to receive — if you still think that these are traits of non-professional design or some bugs, you are going the wrong way.
Instead, dark patterns are a product of qualified web designers and psycholinguists, aimed to mislead users and force them out of an action they don't intend. It sounds unethical, but since there are not so many laws to protect you the best idea is to be able to recognize such patterns, report about them and let other users know. In our part, we'll show the most significant ones.
Misdirection
I have always thought that misdirection is only about clickbait banners, which are sometimes so black illegal, that nothing surprises the user. However, the problem of misdirection is quite broader and covers many more cases, where the developers make you go the wrong way instead of the initially chosen one.
You get lost on the website (don't confuse with bad architecture) trying to pay and to inquire on something. Like with British Airways prices page with inadequately set accents. 🤷🏼‍♀️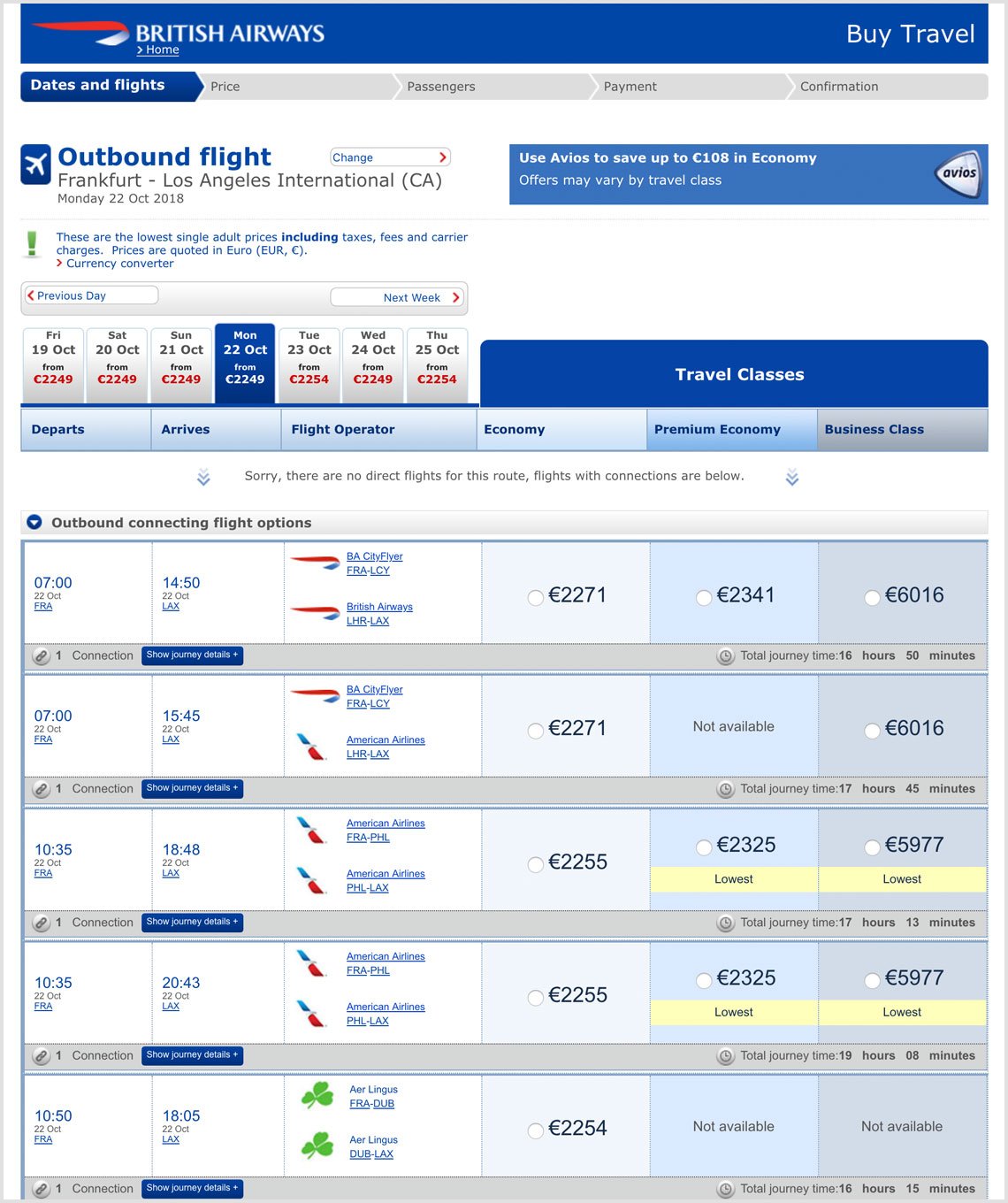 Just have a look: Premium Economy & Business Class tickets are colored and marked as the cheapest, while Economy remains almost invisible. Apparently, the user is to pick the one for $2,325 and proceed to checkout.
Hidden Costs
There is no joy in overpaying. And even less joy in paying for suspicious extras you didn't intend to. Or if the price suddenly rises without any logical assumption.
The best example is the well-known US flower retailer Proflowers, which has already been criticized by multiple users and designers, including Harry Brignull from the Dark Patterns.
I've checked it for myself — with Royal Autumn Lilies and quite a long purchase process. 6 steps in total. To keep the price minimal, I've rejected all additional items, like vases, cards, and toys. And here we are with $45.97 instead of initial $29.99, where the shipping takes $12.99 (which I'd prefer to know earlier, like on the product page of Amazon).
Pay attention to the doubtful 'Care and Handling' for $2.99, which is NOT an optional service (will there be a special elf to care of the bouquet before I have it delivered? No, thanks). Obviously, there is no information on the service, and you can't exclude it.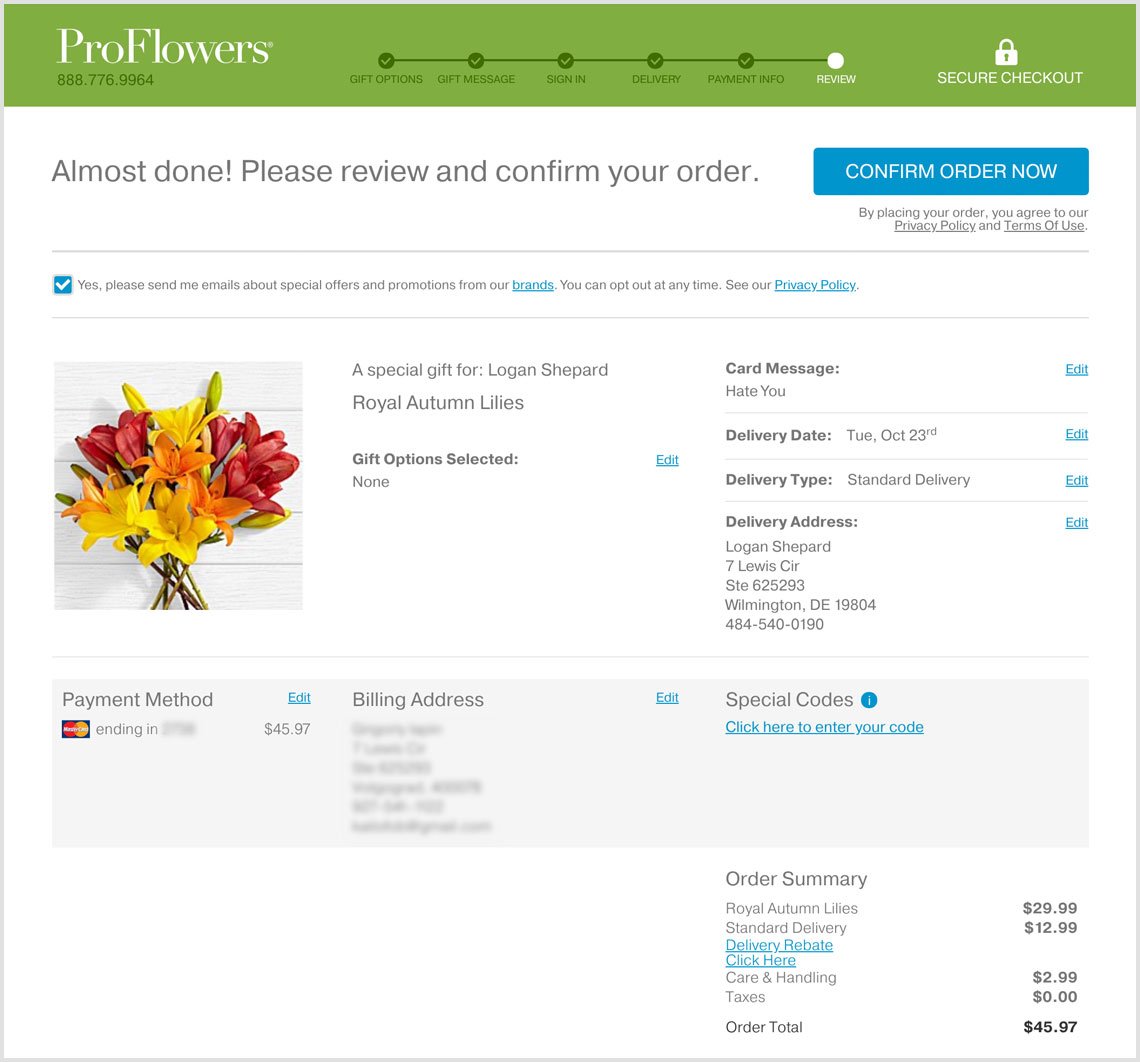 Human psychology works the following way: the user has spent time choosing flowers, comparing prices, analyzing the budget, filling all the forms, including the card information. At the final step, they pay major attention to the delivery price added, and tiny $2.99 passes unnoticed. Or they do see it but just don't bother themselves to check it more precisely and don't consider as a significant loss. But I wonder how many people do the same and get ProFlowers a fortune.
Ultra persuasive messages
There is a long list of reasons why I love Airbnb: from absolutely fantastic UX to the romantic mission of the service itself. I escaped to it from Booking.com with its annoying newsletters. Seriously, I got a few emails daily on the locations I had ever checked — even without an intention to pick anything.
Today the service is left far behind, but nothing else can better illustrate the dark pattern of manipulating the customer with such messages as 'Only 6 rooms left', 'Great Value Today', '57475577562347 other people looking now'. Have a look at the screenshots: it's a single offer, and you just don't know where to look to keep common sense.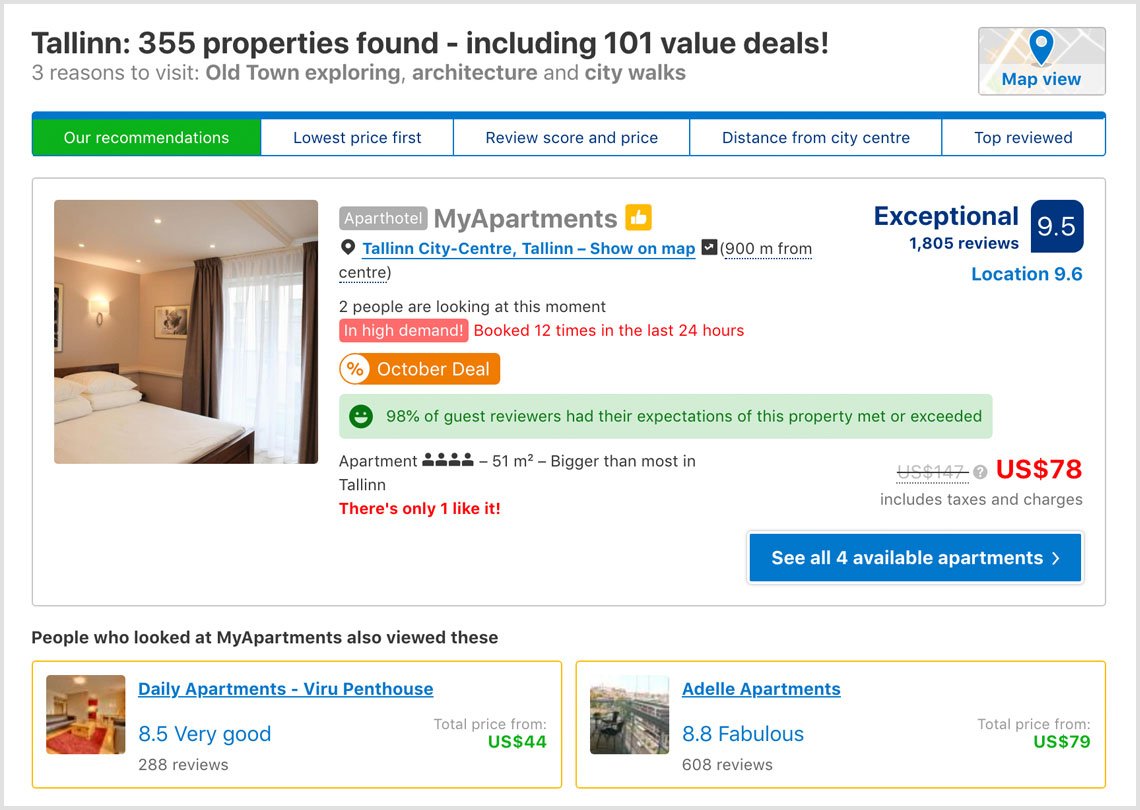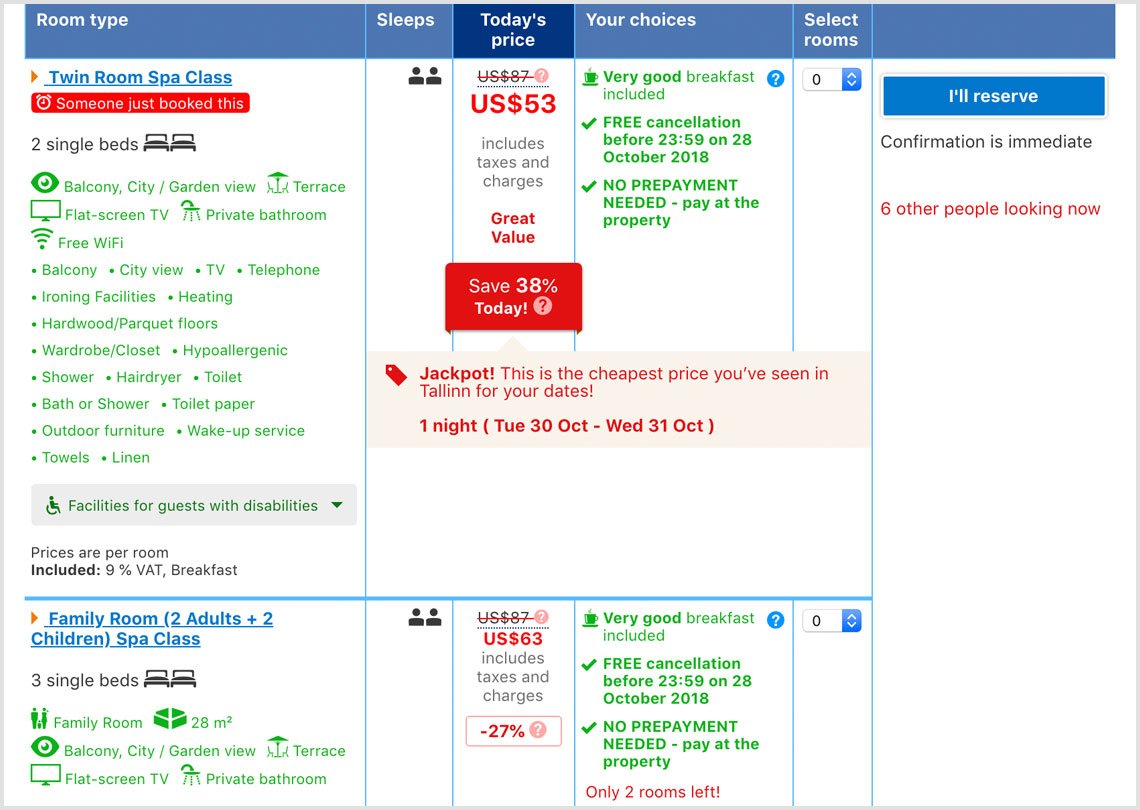 All of it works as a trigger, and while making the illustrations for the article, I was honestly about to book a room in Tallinn. Just in case. Luckily, I was there to make sure dark patterns were not my fantasy or prejudice. But I can easily imagine under what enormous pressure ordinary users are here. Unfair play, Booking.com!
Constrained Emails and Soft
I get most of my soft from App Store, but my fellows who use Windows often download various free apps directly from the Web. And if it's quite convenient from one side it's quite frustrating from another, because you never know what extras it might be packed with.
As it once happened with Adobe Flash Player. While getting the recent version, the user seemed to be obliged to download and install McAfee antivirus software. With tricky grid and color accents, they would easily skip this tick. Of course, caring of the device security is nice, but there should be a place for the user's will first.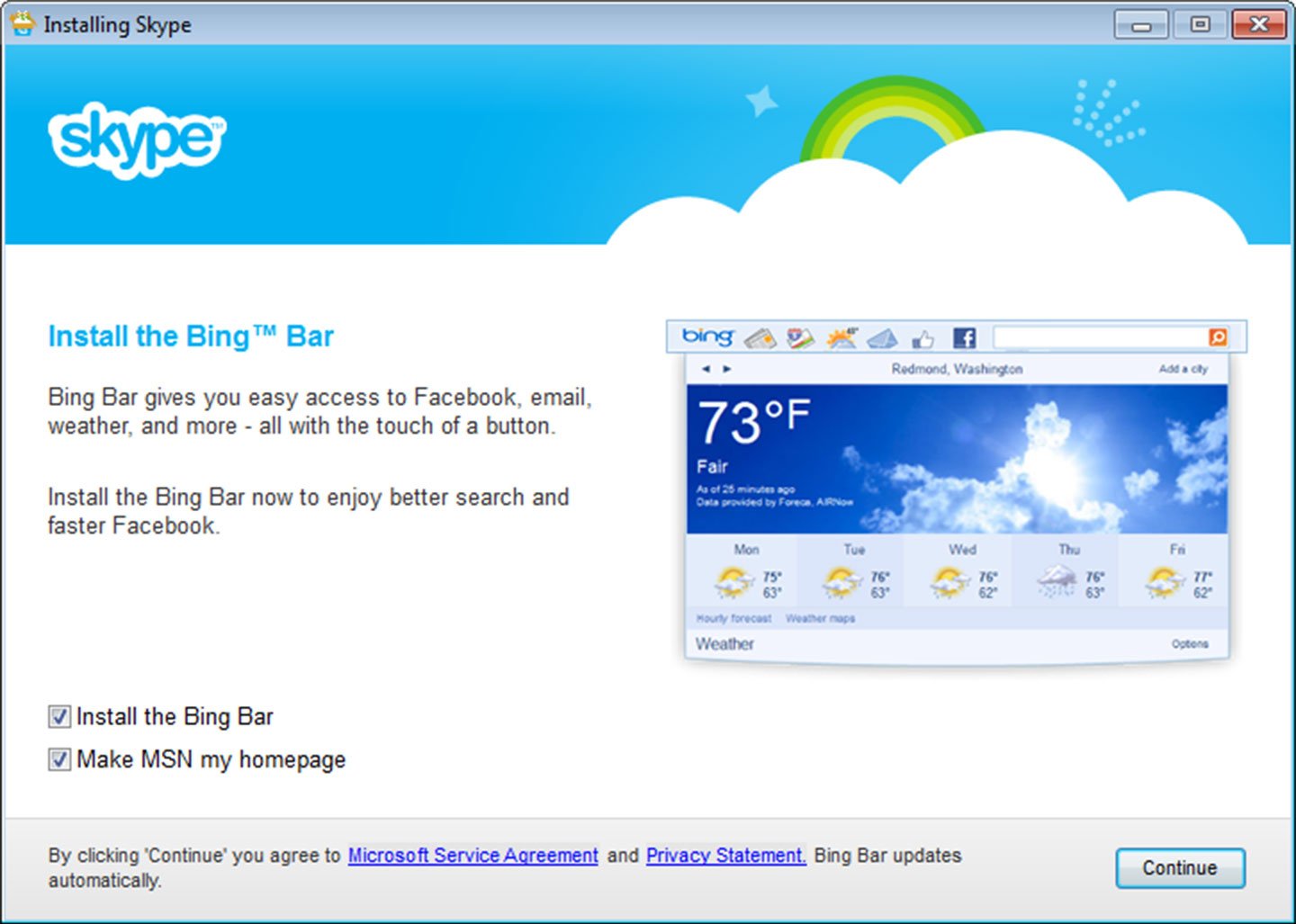 Trick Questions
Of course, it's not an inevitable thing, but the checkbox is often tiny as hell or masked underneath "Install everything". Time for another black pattern, trick questions and indefinite formulations — a good way to defeat the user's attention and break the rules of common logic.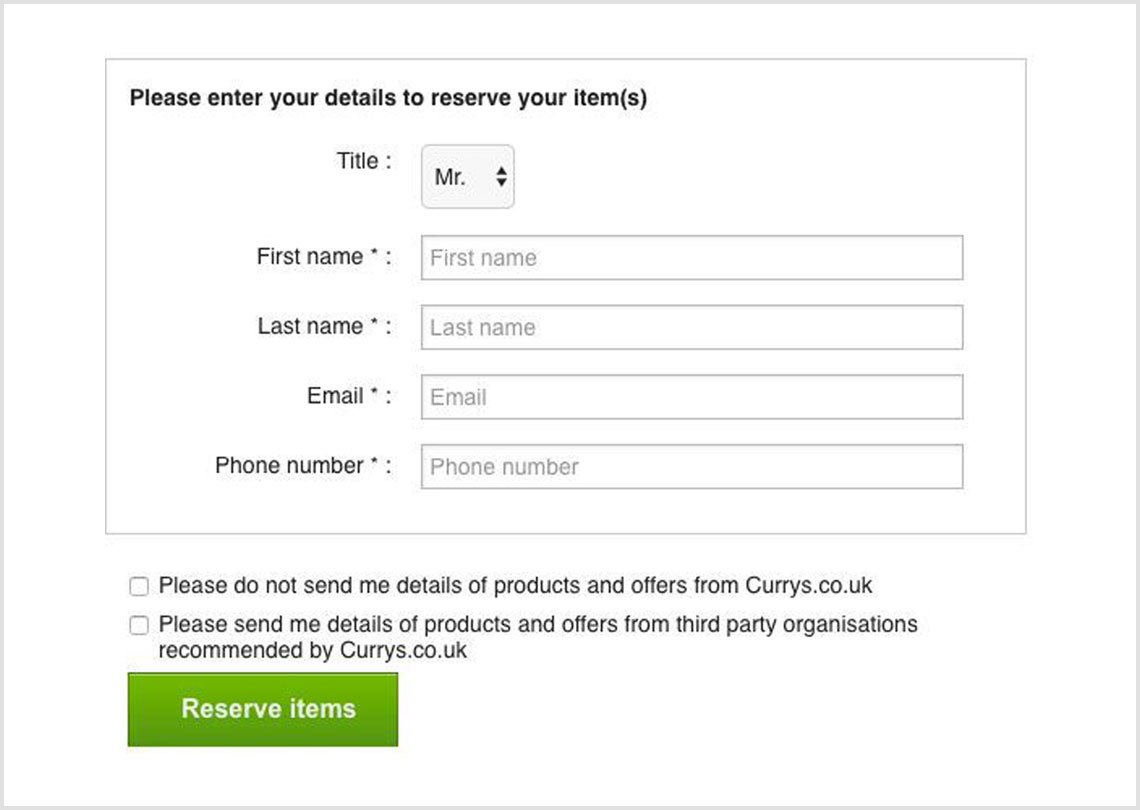 Harry Brignull demonstrates an illustrative example of Currys PC World reservation form. Wonder how these tick boxes work and where you should click to avoid any emailing.
The dark patterns I've spoken about tend to be the most annoying. But unfortunately, the list is not completed, and there are still a few. To know more, secure yourself and comprehend what to do in case we recommend you to visit Harry Brignull's Dark Patterns, where there is all-covering information on all the dark patterns and on how to report about them. Remember to check it out to keep your money & data safe.