The Designest may receive compensation from companies, products, and services featured in this publication. For more details, please refer to our Affiliate Disclosure page.
They say brushes are the best-wanted tool for Procreate drawing. However, let's not forget about colors and color palettes being at the heart of any creative process! Doing casual and professional drawing on your iPad, you're likely to resort to Procreate color palettes regularly, so we've decided to get you covered and bring anything you might want in this field. 
The infinite charm of Procreate illustrations starts with the wise choice of colors that'll perfectly convey the vibe and help get maximum of the drawing tools like watercolor brushes or shaders. Some artists can pick colors for a palette with no fuss, but truth be told, it's pretty uneasy, so the design community suggests options and tools for that. You can find ready-made palettes created for any purpose, make them yourself from any image you like, or get them from savvy artists who share selected color sets for free. 
Procreate color palettes will be helpful in many situations. For example, for human portraits and illustrations of nature objects (water, sky, greenery), an artist might need dozens or even hundreds of hues for ultimate realism. Picking them manually might be timely, so using a relevant Procreate palette is a good idea. Another popular situation is the search for rare shades and colors, like metal or pearlescent — which's hardly possible when done from scratch. 
Knowing all the hardships of digital art, we'll provide you with a comprehensive source of color solutions. Beautiful color palettes & brushes for any task, apps to create custom Procreate palettes or extract them from photos, and some bonus ideas — hope this article will be your tiny artistic treasury. 
What Are Сolor Palettes for Procreate?
Color palettes are downloadable assets for digital artists working in Procreate. They often come as color swatches or Procreate brushes focused on a specific color set. For example, you can find a pack of hair colors, muted pastel palettes, and palettes designed precisely for landscapes or portraits. 
Why Use the Procreate Color Palette?
Ready-made color palettes are a huge timesaver for everyone doing digital art. Whether it's a portrait drawing, classic watercolor, or a modern painting, you'll find it so much easier to work on it once you have a perfect pack of tones & hues. 
Ready-Made Procreate Color Palettes
Nature Procreate Color Palettes
Natural landscapes are mesmerizing with an outstanding portion of color swatches generated by nature's willpower. Taking the green hues only, for example: subtle tints of grey, brown, blue, and who knows what else are blended with green to evolve into a higher form of art and generate a richer color palette! So with these color palettes, you don't have to invent unexplored collection of colors yourself; simply use the prepared color palette organized into shade groups for your convenience. The majority of Procreate palettes praise the vegetal world with its leaves, plants, and grass and warm colors. The other tones are carried out to help you illustrate the blue sky or land texture for the most astounding, realistic landscape artwork! 
What else could an exceptional collection of color schemes like this feature? Procreate palettes for some weather patterns such as a rainy day, or dark rainbow come added into the section. If you want to see what enchanted forest or autumn nights look like colorwise, open the corresponding palette to see the overall shades these concepts are created with.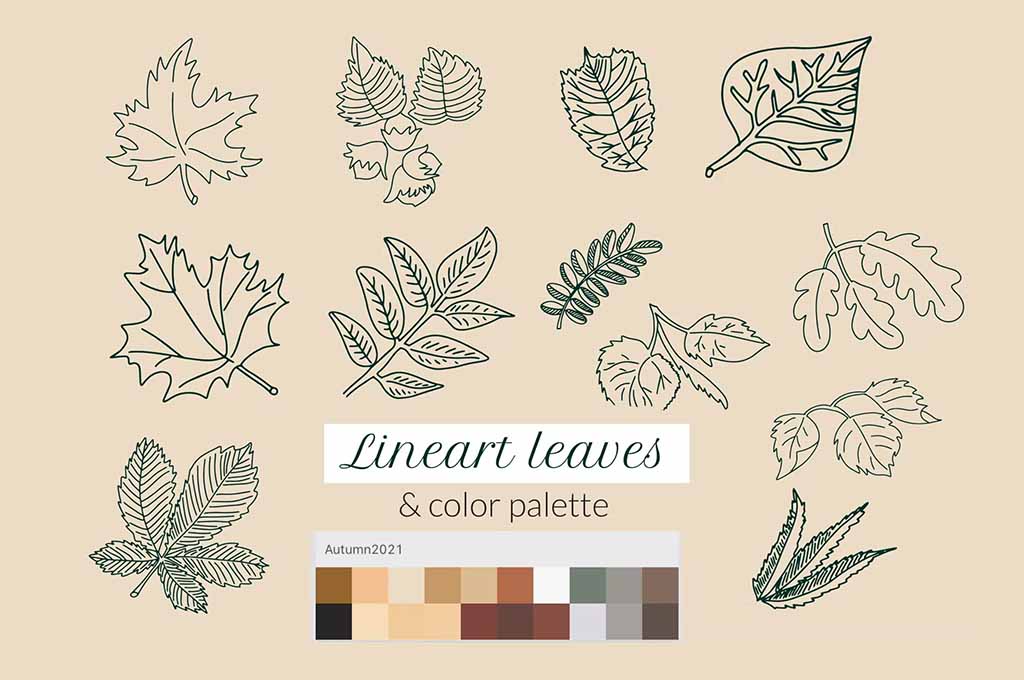 Leaves Stamps for Procreate. Foliage
Everything counts when creative inspiration strikes, blessing your mind with some exceptional concepts to be brought to life! Together with airy, botanical color palettes and Procreate brushes, the package arrives with foliage leaves and their shadows: rowan, birch, elm, ash, chestnut, hazelnut, linden, oak, willow, poplar. Plant a whole forest on your canvas with all the essential tools! 
Let's check what you will get. There's a .brushset file with leaves and shadows, 24 .brush files (for Procreate 4.0 or earlier) with stamps, and 2 .swatches files bringing a great color palette for autumn and nature-inspired graphics. All the files are easy to use and install on your iPad. 
Procreate Skin Tone Color Palettes
Sometimes, it's a real challenge to pick these perfect colors for the brushes to paint a portrait or design a character with all the diversity of skin tones. The colors picking tool, together with a reference photo, won't do the trick to transfer the used color palette accurately. Besides, the color scheme for skin tone doesn't end on the prevailing hue: there are gradients, multiple shades, and other color choices to keep up with when composing a color palette.
Seasonal Procreate Palettes
Any time of the year has its typical color palettes, instantly triggering the relevant associations. For instance, a Christmas must-have is a lively, festive mix of white, red, and green color palette, whereas autumn color combinations are all about yellow, orange, and brown. Have the required palettes for Procreate kept together in conveniently assembled groups! 
Apart from the obvious choices, we've incorporated bright candy color swatches, lush with vibrant colors: bright pinks, purples, yellows, orange, and their derivates. This color palette would serve as a source of summer or spring vibe Procreate artwork ideas to illustrate plants & flowers or create a scene from a beach holiday. Metallic palettes for Procreate are all in favor of celebration: a birthday party, wedding, or just a luxurious metallic element in the overall imagery you need to draw. And, of course, Valentine's day special — you'll be delighted to discover this Procreate palette with so many colors and shades of red and pink.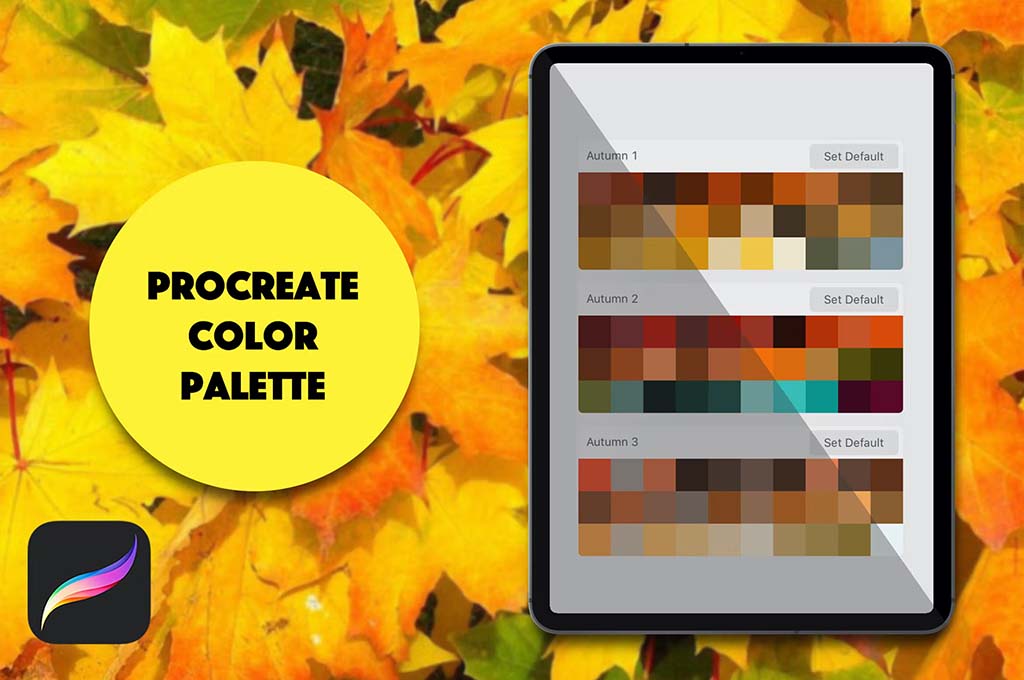 Procreate Palette — Autumn
The orange color of a freshly-brewed pumpkin latte or a palette for the Halloween decorations put on the front yard. These Procreate color palettes have it all, 'cause they are autumn-themed! Enjoy the extensive collection with 90 pastel colors, covering the essential artistic needs of an average art enthusiast and a professional illustrator. 
This premium palette has hand-picked colors no Thanksgiving artwork can do without! Use it with your favorite brushes for Procreate and onboard a digital illustration that would irradiate the warm autumn vibes with every stroke or hue. By the way, watercolor or gouache brushes will fit perfectly.
Aesthetic Procreate Palettes
Try remembering the year when a trend for retro wasn't on the rise. Let us spare you from the actual reasoning and say retro has always been a thing in graphic design at some point. Bright colors of the 80s and neon madness of a hippie era, reserved and dim pastels of a faded comic book style with halftone texture. The abundance of options makes the head go round! Thankfully, this part is dedicated to the aesthetics of retro colors and the most prominent palettes for Procreate, celebrating the easily-recognizable movements and typical manifestations of vintage style.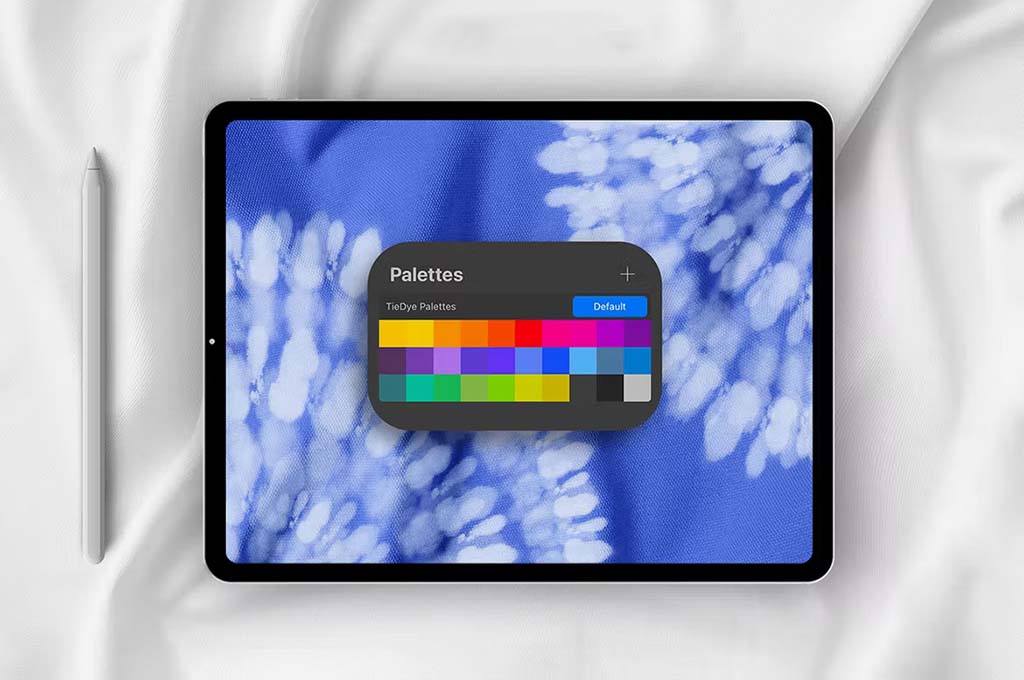 Procreate Realistic Tie Dye Brushes
These Procreate palettes and brushes are made using the original textures taken from a combination of tie-dye patterned fabrics, providing a real impression to the stroke colors. The parts of the collection were assembled to make it easier for users to create tie-dye artworks and deliver the authentic retro vibes! The bonus swatches provide a new palette for your artwork creating process. 
In total, you will have 25 brushes for Procreate that you can use not just to repeat the tie-dye style but also for vibrant watercolor art. And the bonus swatches bring the best of saturated shades: from leafy green to candy pinks and oranges. 
Artistic Procreate Palettes
From now on, irrespective of a concept or style to keep in mind, there will undoubtedly be a suitable Procreate palette, whether it's watercolor, marker, pastels, textured strokes, or any other preferred tool. The color palette library can never be complete with only the basics, as experiments demand extraordinary means for their artwork execution. Therefore, the idea of these Procreate color palettes revolves around Procreate color swatches and brushes, delivering a variety of styles! You'll discover the kits full of additional elements (Procreate Brushes or premade art objects) as well to come in handy during the workflow. Foster some fresh ideas and concepts or shape a future project in any manner, having the color palette arsenal ready!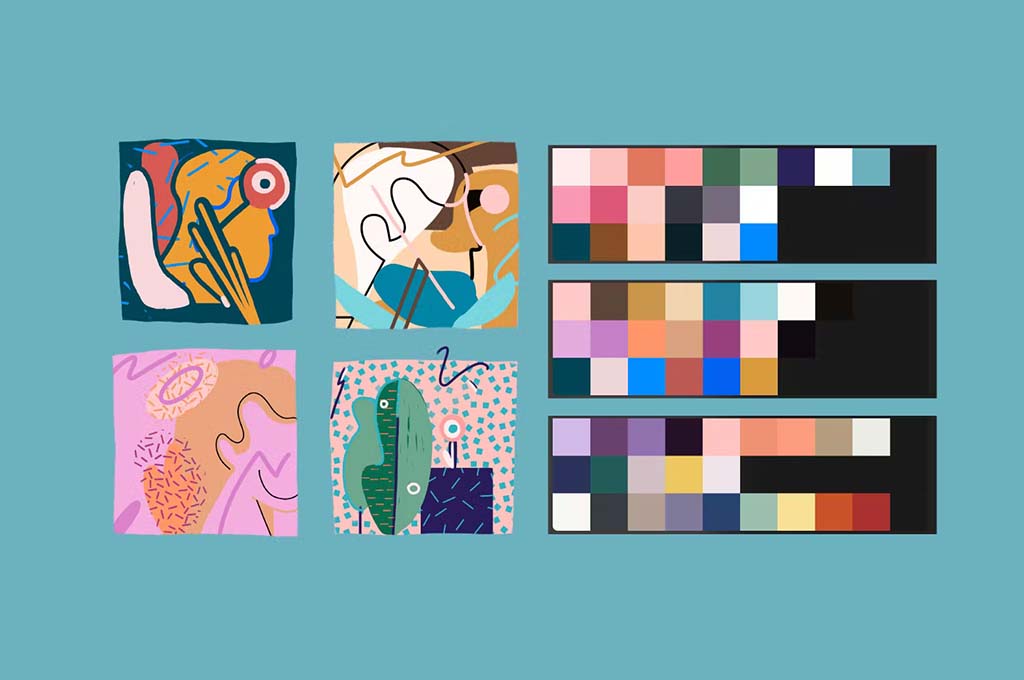 These color palettes for Procreate collection will greatly facilitate the creation of beautiful illustrations. Browse through the handpicked combinations, existing in a sheer artistic harmony, complementing each other with their matching color schemes. Generate ingenious pieces of art having all the necessary color swatches carefully grouped into aesthetic Procreate palettes. 
Both muted, and bright colors are featured, allowing you to explore all edges of digital art and create illustrations in any style. Get them from modern art, 80s-inspired digital artwork, or any creative collage — you'll hardly find anything better for the purpose. 
Tools for Custom Procreate Palettes
Inspirational Color Palettes for Your Projects
Since Instagram scrolling is a personal thing for each of us as a way of killing time, let it become a bit more healthy and rewarding activity of searching for a fresh color palette. Investigate the Color Palette Cinema account, full of free palettes for Procreate, capturing the most iconic, juicy, tense, panoramic, or dramatic moments from the movie plots and their color swatches. 
Choose the scene from a favorite cinematic masterpiece and create a stunning fanart illustration, supplied by a color palette with the main shades to use with brushes. It will be so easy to do it: make a screenshot of the color palette, add it to Procreate as a draft layer on the main artboard, and use the swatches with brushes here and there to achieve the maximum resemblance with an original movie moment.
Another compelling opportunity to grab free palettes for Procreate would be plunging into the masterwork of classic artists like Claude Monet, Salvador Dali, or Sandro Botticelli, collected in Paintings & Colour Palettes . 
Frequently Asked Questions
The easiest way to get more amazing color palettes is to check Creative Market or Envato Elements, where you can buy a comprehensive Procreate color palette bundle or some themed palette pack. However, if you want some free Procreate color palettes, you can generate them yourself in Adobe Color, Design Seeds, or Color Hunt or get them from other digital artists on the same websites.
Many artists share swatch files for Procreate, so you can simply google them, check Adobe Color (you can use these color swatches in Adobe Photoshop/Illustrator as well), or find them right in your Procreate app. To do so, open Color Panel > Palettes to reveal available Palettes. You can easily create custom sets or browse the best color palettes made by the community.
To start using custom color palettes in Procreate app, all you should do is import them. Drag & Drop a .swatches file from any compatible location into the Palettes tab. This way, you can also import Adobe color palettes, as the app supports .ASE and .ACO formats..