The Designest may receive compensation from companies, products, and services featured in this publication. For more details, please refer to our Affiliate Disclosure page.
To have and use the latest tech templates is a good practice to adopt. Once you come with fresh ideas and elaborations, they need a proper creative environment that suits them well and will show them in the best light possible. So, I'm delighted to introduce another design selection that's filled with iMac templates of supreme quality. 
Making a template of your own isn't as complicated as it seems. So, if there is a spare couple of hours and a high-quality resource image to work with, you can throw yourself into an exciting creative process. Eventually, you'll end up with a custom device mockup tailored for your needs and design concept. 
But what if there is no time, Photoshop skills or quality imagery at hand? In such case, here we are with a wide variety of desktop mockup templates for any cases and purposes: web projects, branding, UI/UX, showcase of your creative works like typefaces and business templates.  
Apple is traditionally associated with clean lines and minimalism, and that's exactly the things you will find in these mockups. No garish decor, just the characteristic lightness and perfect taste from the talented designers so don't worry, your artworks will be in the spotlight.
New iMac 24'' 2021'' Mockup
Show off your latest designs with this iMac screen template set! You'll find 5 high-quality PSD files inside the pack, each of which includes the Smart Objects which means that your work process will be a piece of cake. Even if you have no creative ideas yet, you'll surely feel inspired by this iMac template so download it and don't worry about a thing!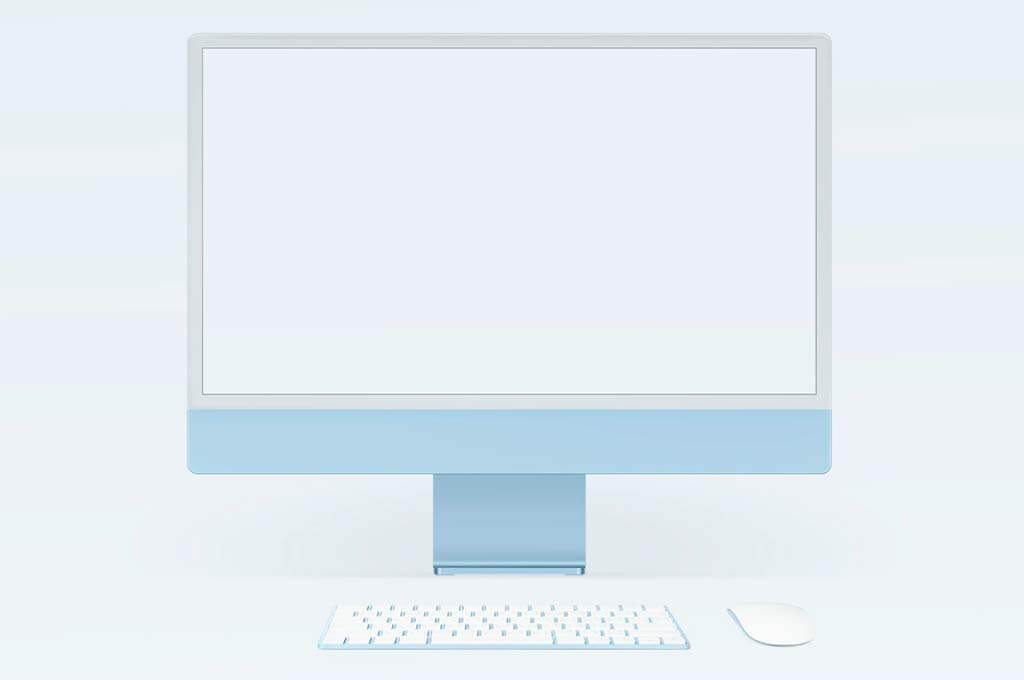 Computer Desktop Screen Digital Device with Design Space
Sometimes minimalism is the one and only right option to showcase your design so nothing distracts your clients from it. If it is your case, download this iMac template! It doesn't have any visually busy details and is easy to work with due to the Smart Layer.