Working in a startup or a digital company means having a routine of everyone's dreams. Relaxed schedule, stylish office or remote work from some Thai island, and a team of like-minded fellows make your life resemble a Netflix series. Or a nightmare, as the reinvented routine and the occurring generation gap risk smashing everything into pieces.
I joined
Pixelbuddha
six years ago, and I keep thinking these are the most incredible team relationships. Working outside the regular boss/employee system and having friends instead of colleagues by my side is the experience I value a lot.
But truth be told, this does not work for all teams, as big IT and finance companies have to host workers of different generations and backgrounds. The solid mass of boomers and Gen X who've been establishing the corporate routine laws is now diluted by millennials who have the opposite vision of how things should be done.
This talk will be about how to deal with those established-routine-breakers who now make up one-third of the global workforce. And how everyone — including millennials — can make the best of this cooperation.
Generation Guide: Boomers, Gen X & Millennials
You surely heard the theory of demographic cohorts, which now hosts five living generations of the XX century: baby boomers, X, Y (millennials), Z, and Alpha. While the last one is too young to enter corporate culture, the rest are its full-fledged elements, each with its features.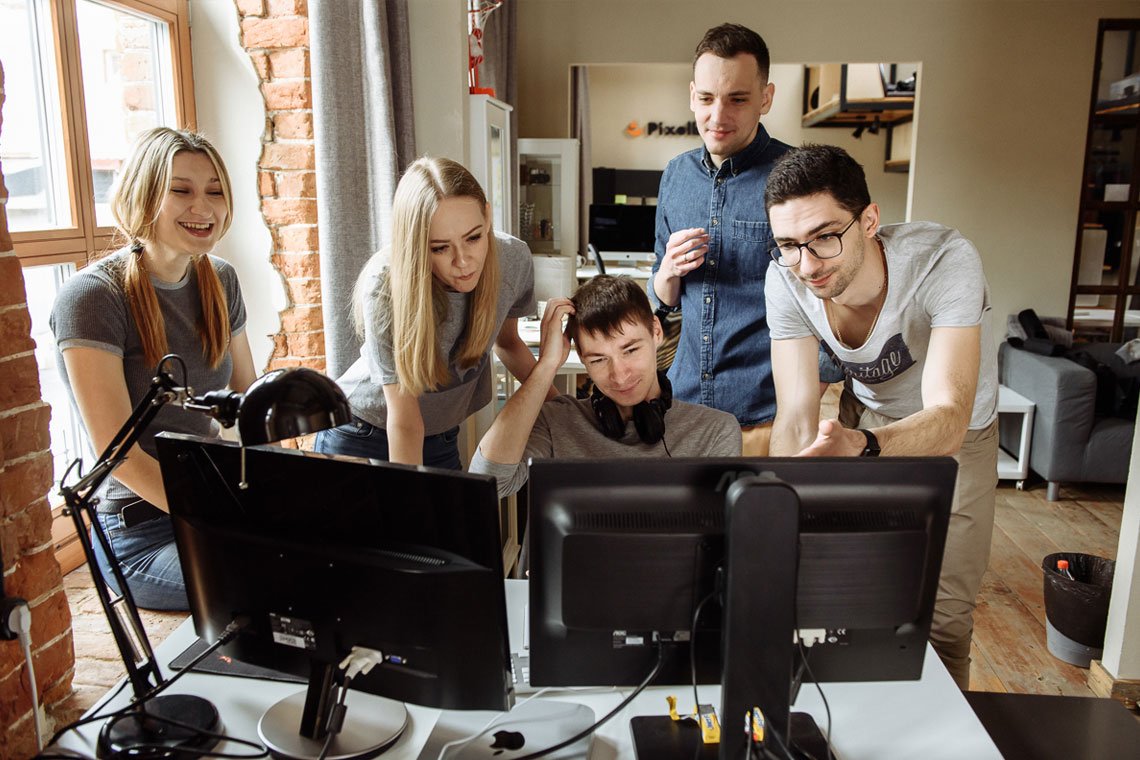 Baby boomers (born 1946 to 1964). Born during the post-WWII baby boom, they are the first long-living generation that keeps actively participating in business, political and social life — for good or for evil. They are told to be the most entrepreneurial employers making up over 40% business or franchise owners. Today's corporate culture is their legacy, so whether you seek to join a finance company, large international business, or a public establishment, you'll likely play by their rules.
Generation X (born mid-60s to mid-80s). These are sometimes called the New Lost Generation, and let me explain why. The previous generations had a steady change, so everyone had their time in the limelight. The boomers, however, took longer than their ancestors (up to the present), so there was less room for the following Gen X in corporate culture. In order to find a place for themselves, they were the first to shift the established rules. They became more self-sufficient, results-oriented, and hard-working, with a tendency to be quiet achievers. While boomers like to stick to the rigid guidelines they've set themselves, Gen X is more involved in upgrading the work environment and developing slacker working styles.
Generation Y aka Millennials (born mid-80s to early 2000s). These are likely you and me, the first generation grown in the Internet age and knowing what anxiety is. Indeed, these people in their late or early 30s faced the global economic crisis (and even a few of them!), wars, the pandemic, environmental crisis, and are the victims of never-ending personal and social concerns. If we talk business, millennial generation continues the idea of corporate routine changes, however, in a more persistent way.
Generation Z (born late 90s to early 2010s). The new people in the offices who are just beginning to turn the customary things upside down. They are the corporate minority ready to fight for increased job satisfaction: a safe and ecological workplace environment, advanced interpersonal skills of everyone in the team, less dull repetitive work, and high trust culture.
Being surrounded by same-age colleagues, I never considered generational differences so visible. But they are! Corporate millennials' blogs on
TikTok
and
Instagram
are gaining momentum, showing the contrasts and how differently the four generations behave in everyday situations, and I'm like, "Oh, that's so true!". In fact, it was when I found out I wasn't the only millennial feeling anxious when asking for a day off, dealing with seniors, or doing extravert stuff, like being on a call or meeting.
Millennials in the Workplace
I have done my research to find out what it's like to be a corporate millennial and what it's like to work with them under the same roof. I have questioned employees from graphic design (of course!), game design, web development, education, SEM, and finance to define the most critical features and complement them with real stories.
Millennials are the digital generation that tries to take maximum advantage of the new technologies. Why use cash if there's Apple Pay? Why call if you can text? Why use outdated websites and apps if there are updates, faster solutions, and custom scripts to boost things? They starve to get the processes automated (and simplified) to the max.
For most companies, this is a huge advantage, as young and progressive millennials tend to innovate working processes, cut costs and optimize the team's work. Traditionally, the intention of the younger employees to go digital, smart, and progressive is associated with IT and design niches. However, more and more business leaders consider it a chance to improve the digital employee experience — so millennial workers are joining some conservative fields, like industry, finance, or agriculture.
I moved to Germany from China in 2018, and immediately faced a big lack of digitalization. Analog post you get every day, appointments that you can make only via telephone, people are still using fax and avoiding online shopping. And I'm not even mentioning Apple Pay, as even a bank card won't be accepted in most places.
When searching for a new job, I was eager to make something that would push the digitalization process in Germany further. So I landed in the online marketing department of a big cosmetic brand.
My job is to make shopping for favorite products a nice experience and show the customers the perks of shopping online. In our department, we are always generating new ideas, like what to integrate on our website and what online marketing measures we should include. The beauty industry is quite a conservative industry, and it is important to make it digital and more fun for the millennial generation!
Education has always been of great social and personal importance, but, the millennials have turned it into one of their core values. It has its reasons! First, compared to the previous generations, millennials access information older generations could only dream of, and their thirst for knowledge can be satisfied — even at no cost sometimes! Second, born in the rise of the Internet age, millennials have seen the world grow and change 10x times faster than it was for other generations, which makes them make 10x efforts to stay updated and competitive.
Being capable of life-long learning makes millennials the elite of today's workforce: always one step ahead, full of ideas, and open to changes. According to
Forbes
, millennial employees show the highest job satisfaction rates, which is also explained by their learning skills.
There are so many startups and IT companies around, and everyone is so welcoming and friendly. But you have nothing to do in such a place if you are not developed enough and if you do not continue to get better day by day. Self–development is a new "-ism", which is not yet being talked about in a negative light.
Do you want to be a specialist in a super modern area? You don't have a choice. Only through constant development can you expect to stay afloat. Otherwise, yesterday's schoolchildren will force you to return to a regular workplace without a smoothie in the inner bar and parking for your scooter.
Self–development is not some hobby for which you spend your evenings, it is a continuous process of obtaining and applying knowledge that changes your existence for the better, and if not, then you are doing something wrong.
Grown as a generation of introverts and freedom-seekers, millennials benefited the most from the pandemic as it has shown them the perks of working from home. Remote work has received major approval from all age groups:
55% of employees
want to work from home at least three days per week. However, as the recent research from Axios shown, millennials make up 84% of all workforce, opting for a remote option!
Why so? There are four factors explaining the tendency for millennial employees to opt for the home office:
Many millennials are young parents or caregivers with children aged 0-5 y.o.
The millennial workforce is reported to relocate and travel while working remotely 40 times more than employees older than 40.
Employees aged 25-35 have shown the highest efficiency when working outside the office. They are reported to be the most disciplined workers, who've been able to profit at max from flexible hours and decrease guidance from the seniors.
Millennials were also found to be significantly more introverted and less comfortable with ambiguity in the workplace. Compared to more socially active Gen Xers and Boomers, they find more room for self-growth when working from the home office.
Being able to work remotely gives me a chance to have exactly the life I want. The main perk is I can constantly travel, so I don't need to wait for my vacation to come to see new places.
The next nice thing is my working hours make me very flexible. And I don't have to waste time commuting, which saves a lot of time for my personal life. So I really do have enough time for everything.
As for the community… At the beginning, I was really worried that I'd be feeling lost and 'too' on my own. But it's not like that at all. My team is great, and it does make me feel like a part of something bigger. And as my co-workers are scattered all over the world, it's really easy to find someone to get together with when I move around.
With the change of generations changes the perception of work-life balance. It was quite common for baby boomers and Gen X to bring "work home" and be on the phone during the weekend or vacation. Millennials set their top priorities differently: from humble setting boundaries to being super straightforward in this matter.
Flexjobs
conducted research that confirmed that 78% of millennials show greater loyalty to their employers if they have flexible work schedules. And 70% of millennials have left or considered leaving a job because it lacked flexible work options. To crown it all, let's remember how they value the remote work option and how many of the workforce will use it for traveling and spending time with family (60% according to the same survey).
When I became a freelancer, time planning seemed pretty easy to me: my goal was to just finish the task before the deadlines. I could work when I had time for it, so, as I thought at first, such work can't cause any problems with balancing the work process with personal life. But as time went by, I found myself working all the time. I thought I wouldn't be tired if I worked a couple more hours than planned, but the truth was the opposite.
So, I think it's vital to find the time for both rest and work because it will pay off with a better result later. It's different for everyone, but I prefer making timetables that track the time when I'm working and tell me when it's time to take some rest and relax.
I used the click-bait word "disloyal" on purpose, as that's probably what the boomers think of millennial employees. Actually, it has little to do with reality.
There are two major factors we should consider. First, the numbers. According to the US Bureau of Labor Statistics, the millennial turnover in
2010s
is identical to Gen X turnover in the late
1980s-1990s
. Employees aged 25-34 show 3-year tenure in both groups. Time passes, trends remain!
Another factor hiring managers should keep in mind is how fast new technologies, skills and even working environments come and go! Today you've got the most advanced team, and tomorrow the same workforce bites the dust. That's why millennials report switching jobs as a way to adapt to the new reality: some seek a new place to match their skillset, others don't see enough opportunities for growth and leave for a more challenging position. Keep that in mind once seeking to retain millennials on the team!
The generation of people, being martyrs for cause is slowly disappearing, which unveils a whole new vector of carrier development — finding a better job no matter what. If our parents were armed with very typical phrases like "no companies are perfect, you need to stick to the workplace you have" or "grin and bear it now to feel rewarded later."
In my personal experience, this tactics will leave you with a creative burnout at workplace, and it's only a matter of time for the managers to lay you off. The strong desire to have interesting work and professional growth perspectives is what fosters you to change job roles and positions till finally finding what you expect.
Transparency VS Overthinking and Anxiety
Compared to more socially resistant boomers and Gen Xers, millennials are more prone to stress and anxiety. These are the people we should thank for the concept of mental health, which was hardly in use before.
On one side, millennial workers have to deal with unique challenges brought by the quickly evolving outer world. On the other, they grew under the pressure of their ambitious parents, which could hardly have a positive impact on their self-awareness, engagement and sense of security in the workplace. This and some other factors (like the influence of social media and never-ending global problems) have made them what they are now: smart yet anxious young employees seeking support and transparency from their managers to decrease their stress level.
Stress, anxiety and nervousness are the frequent guests on a workplace, no matter what job you do. This mental condition interferes greatly with sticking to your working roles and duties, significantly deteriorating the company productivity.
Creating a friendly, secure environment with open communication is a must for all employers to have a positive impact on the team's morale. For example, when a person at risk feels vulnerable about some aspect of work, there should be no fear of admitting it to the management. After all, nipping the disaster in its bud instead of dealing with consequences is a much better choice.
What Makes Millenials Productive
If you are a senior managing millennials, do not skip this part. This is how you will be able to get maximum from this cooperation. And if you are a millennial, these tips will help you increase productivity and engagement with minimum harm to your mental health.
We have always been taught that work can't be pleasant. It's a terrible prejudice many of us have inherited from the older generations. And it's still a terrible reality for millions of employees worldwide. If we could manage productivity only by getting ourselves together, everything would have been so much easier. But that's not how things work.
To remain productive and healthy mentally, millennials have to rearrange all aspects of life, not just the workplace routine. This process can be reduced to four rules:
Take time to get into the working mood. Watch Instagram and Pinterest to get inspired. Read some blogs to get fresh news and ideas. Select the playlist that fits you, not the entire office. It's okay to take more time than the seniors to immerse into the working process.
Switch tasks and take breaks when tired. PlayStation, walking with the dog, going out for a coffee can be a source of energy. Trying hard is not the thing millennials should keep in their working routine. At least, if they seek to avoid stress and pressure and be out of the intimidating productivity race at the workplace. 
Talk when uncomfortable. That's the essential corporate rule. Clarity and transparency are crucial, so if you manage millennials and see any problems, be open for a frank talk anytime it's needed. Millennials are great leaders and team players, but with lack of support they risk losing confindence in work.
Rearrange the whole life instead of focusing on productivity. Work is neither an obligation nor a duty but a natural part of life. That's why it should co-exist with other aspects, like sports, hobbies, healthy eating, sleep and time off. Only by keeping balance and setting priorities will millennials find enough resources for complex tasks, and the overall employee engagement in the company will grow.
Frequently Asked Questions