The Designest may receive compensation from companies, products, and services featured in this publication. For more details, please refer to our Affiliate Disclosure page.
Did you notice how the Cricut Maker has become the must-have for professional crafters? Ready to take your crafting game to the next level? Meet the ultimate pro crafter's kit: the Cricut Maker, Cricut Design Space software, and a compatible computer for Cricut. But not all computers are equally well suited when it comes to working with Cricut machines. The best laptops for Cricut Maker are determined by a variety of criteria. Read on to find out how to choose the best match.  
Cricut is a brand of craft supplies that provides popular cutting machines, also known as craft plotters. These machines can cut all sorts of designs from a wide range of materials with stunning precision and speed. If you want to learn more about Cricut's amazing capabilities, check out our Cricut machines review. Take a moment to read it before continuing. On top of that, creating DIY projects has undergone an astonishing shift because of the use of laptops. It's not the old-school hefty computer for Cricut machine that is tied to one place anymore. It's a modern and versatile laptop for Cricut Maker, which makes you ready for the strike of inspiration whenever you are. If you're a creative entrepreneur, the best laptops for Cricut users can help you handle more orders and grow your business, and if you are a DIY enthusiast it makes your experience even more smooth and enjoyable. 
Feeling inspired and looking for the perfect laptop to use with your Cricut machine? Choosing the best laptop for such specific purposes can be a daunting task, but we've got you covered. We've tested and reviewed the best laptops for Cricut Maker, and we'll discuss the features and specs you should consider when shopping for a laptop that will work well with your machine. So let's dive in and find out which laptops are best suited for working with Design Space software for Cricut machines. 
How To Choose Best Computer For Cricut
Choosing the best laptop for your needs is quite a task. First of all, you need to formulate these needs, then research tons of websites and reviews to make the shortlist, and then spend even more time in hesitation deciding upon the best possible option for your budget. Sounds tedious, isn't it? Rejoice, we've done all the donkey work for you and prepared the top 10 best laptops for Cricut Maker machine and other creative work. But if you want to delve deeper into tech specs to make a well-informed decision, here they are. 
Although the minimum Design Space requirements are met by a wide range of Windows and Mac OS laptops, we advise you not to settle for minimum capabilities and consider all the factors to make a worthy deal. Because some of the advanced Cricut features cannot be used with the minimum system requirements, and instead need more powerful hardware. Basically, the more you pay, the better the experience you'll have — both with Cricut machines and with other computing tasks. But even if you're on a tight budget, you can still have the best laptop in your price range. There are some key factors to examine while choosing the best laptop for Cricut: 
CPU  
The Central Processing Unit (CPU) is the main component that controls a computer, running the operating system and apps. To use advanced programs for Cricut Designs or multitask while cutting with Cricut Maker, a powerful processor like an Intel i7 is necessary. Or at least i5 for faster and more efficient performance. While the Design Space app is pretty undemanding itself. You can run it both on cheap and less powerful Ryzen chip as well as top-notch M2 Apple chip.
GPU  
The graphics processing unit (GPU) is a crucial component of any computer, as it helps run graphics-related work such as graphics, effects, and videos. When it comes to design, the importance of graphics cannot be overstated. It's essential to choose a laptop with the latest graphics technology when you're using Cricut Maker machine as a professional. While NVIDIA graphics cards are great, they can be quite expensive, so it's ok to look for more affordable Intel or AMD options. By investing in a laptop with a high-quality GPU, you can take your Cricut projects to the next level and unleash your creativity in new and exciting ways.
RAM  
The Random-access memory (RAM) functions as your laptop's short-term memory, where data is stored for the computer processor to run applications and open your files. As many users know, a laptop's power and speed is largely determined by its RAM. For those using Cricut Design Space, a budget laptop with 4GB RAM may suffice. However, for more advanced programs or professional multitasking alongside Cricut Designs, more RAM would allow a faster and more efficient laptop experience. Therefore, when considering the memory capacity of your computer, take note that options range from 4GB to 64GB, so only your budget and business needs are the limit.
Screen size  
Design Space software is a powerful tool for visual projects, and it requires a decent screen space to make sure you can see everything you're working on. That's why it's recommended to use laptops with a screen up from 14" when working with Cricut Design Space. While smaller laptops are easier to carry, if you're using a laptop with a smaller screen, you might find yourself struggling to get everything in view, and that can make things tricky when you're working on a big project.
Resolution  
When it comes to purchasing a laptop for design work, it's important to consider screen quality. The resolution of the screen is a key factor that determines how crisp, clear, and vibrant your designs will appear. If you're looking for a screen that can display your work with optimal clarity, it's recommended that you aim for a resolution of at least 1024 x 768. If you're looking for a crisp clear image, you may want to consider laptops with 1920×1080 resolution. While higher resolutions often result in better image quality, they can also come with a higher price tag.
Battery life 
Well, it is one of the crucial specs when choosing a gadget, especially for designers on the go. If you're mainly working from home, a laptop with a shorter battery duration can save you money. However, if you're frequently designing while on the move, it's best to invest in a laptop with longer and more reliable battery lifespan. At the same time, keep in mind that it may vary based on workload, environment, and work type. We advise you to choose a laptop with long-lasting battery for the flexibility to work anywhere and anytime.
Top 10 Laptops For Cricut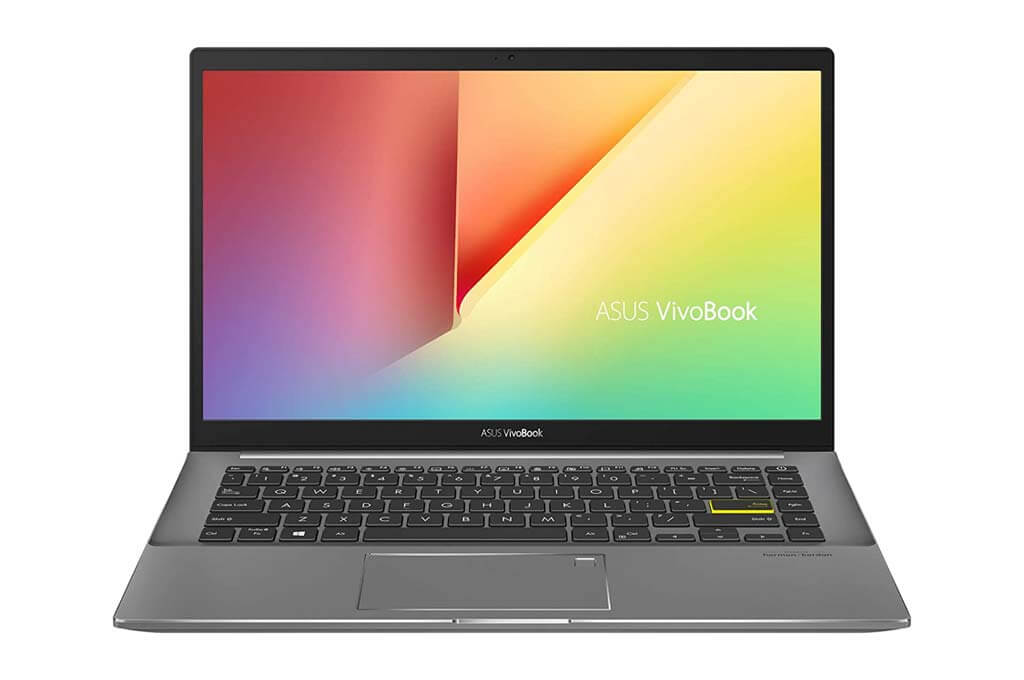 CPU: Intel Core i5 11 gen
GPU: Intel Iris Xe Graphics
RAM: 8GB
Screen size: 14"
Resolution: 1920×1080 px
Battery life: 9-11 h
Operating system: Windows 10 Home
Thin and lightweight
Wide connectivity options
Nice graphic performance
Audio quality is not so good
Outdated USB ports
Average battery life
The ASUS VivoBook S14 is a lightweight and stylish laptop that boasts a 14" Full HD NanoEdge bezel display, and an 11th generation Intel Core i5 processor. This laptop is super portable, just look at those numbers — 0.62" thin and 3.2 lb of weight. Wow, you can take it wherever you go! Moreover, the special VivoBook S14's fast-charging feature helps recharge a low battery to 60% in just 49 minutes, which, by the way, is pretty convenient when you are on the go. 
The VivoBook S14 has 8GB RAM, which provides plenty of memory for multitasking and running multiple programs at once, and a 512GB SSD, which ensures fast storage and quick boot times. Comprehensive connections, including Thunderbolt 3 via USB Type-C, USB 3.2 Type-A, USB 2.0, HDMI, and Wi-Fi 6, allow you to connect to a wide range of devices, making it easy to transfer files, connect to external displays, and use other peripherals such as keyboards, mice, and webcams. The thin bezel NanoEdge display provides an immersive viewing experience, with 178 wide viewing angles and exceptional color reproduction for truly vivid visuals. 
In summary, the ASUS VivoBook S14 is a high-quality laptop that offers a powerful processor, ample memory and storage, comprehensive connectivity, and features that make it secure and easy to use. Its sleek design and diamond-cut edges make it stand out from other laptops, while its fast-charging capabilities and lightweight construction make it easy to carry around with you. So, whether you're a professional entrepreneur, die-hard DIY enthusiast, or Cricut hobbyist, the ASUS VivoBook S14 is a great choice, if you're up for a reliable and versatile laptop that's both stylish and functional.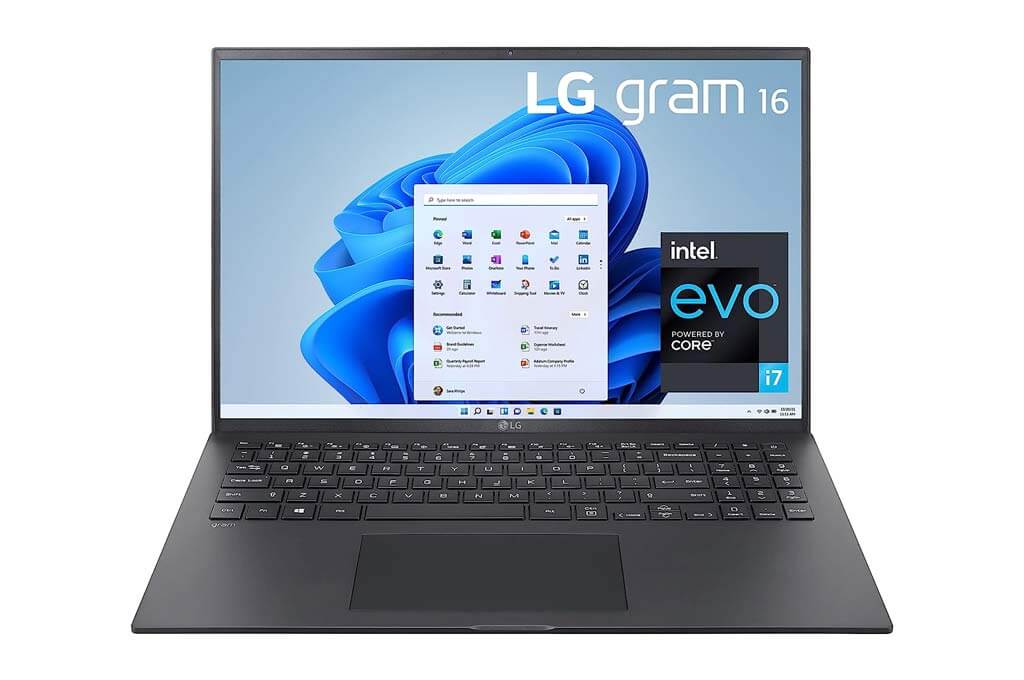 CPU: Intel Core i7 11 gen
GPU: Intel Iris Xe Graphics
RAM: 16GB
Screen size: 16"
Resolution: 2560×1600 px
Battery life: 22 h
Operating system: Windows 11 Home
Very long battery life
Big display, suitable for work with graphics
Stylish look and durable full-metal body
Audio quality is questionable
Glossy screen
Quite expensive
The LG Gram laptop got a robust set of features designed for productivity and performance. First, let's see what this device got inside. Intel Evo Platform Powered by 11th generation Intel core i7 processor, combined with Intel Xe Graphics and 16 GB RAM providing the necessary performance for memory-intensive tasks such as high-resolution content creation, designing, editing, and multitasking. For reliable and fast storage, this device is equipped with a 256GB SSD that provides quick access to your files. Connectivity options are also up to the mark. 
As for the display, the impressive DCI-P3 99% wide color gamut enables delivers stunning visuals with exceptional color accuracy, allowing you to see your work exactly as you have imagined it. The 16″ display with a 16:10 WQXGA (2560×1600) resolution delivers a clear, vivid color expression, providing a really immersive experience. 
Additionally, his laptop got thoughtful ergonomics. First and foremost the LG Gram is ultra-lightweight (only 2.62 lbs), making it easy to carry with you on the go. It is also designed to withstand even the toughest conditions, passing seven tests for military-grade durability. The full-metal body of magnesium alloy can withstand shock, vibration, dust, and temperature. The wider 16:10 touchpad gives you more control, even if you don't use a mouse and the big, flat keypads ensure faster typing. While the Thunderbolt 4 connection allows you to charge, transfer, and display all at once, taking advantage of this device's capabilities. 
In a nutshell, the key selling points of LG Gram 16 are its ultra-lightweight design and its high-resolution, colorful 16:10 display, but LG also made sure that nothing else was compromised in any way. So if you need a solid laptop for creative work it is one of the best options.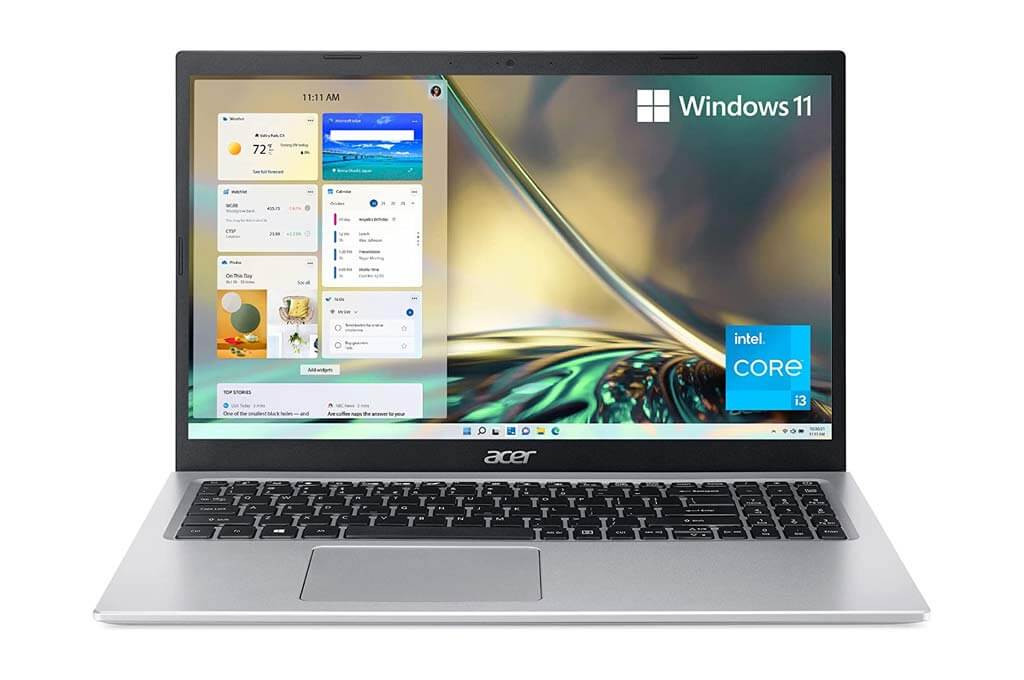 CPU: Intel Core i3 11 gen
GPU: Intel UHD Graphics
RAM: 8GB
Screen size: 15.6"
Resolution: 1920×1080 px
Battery life: 8-10 h
Operating system: Windows 11
Reasonable price
Produce little to no noise
Good battery life for budget laptop
Not the best color reproduction
Some users refer to loose touchpad
Too slow for gaming
The Acer Aspire 5 with Intel Core i3 CPU is probably the best budget laptop for a Cricut Maker, that offers a range of features suitable for common computing needs. While we'd recommend you go for an i5 or i7 CPU, we need to admit that i3 is still a pretty nice processor for undemanding day-to-day tasks. This laptop features 8GB RAM and 128GB SSD to store files and applications, which is good for the budget price range. It's also equipped with Wi-Fi, Bluetooth, and HDMI as well as various USB ports connectivity technologies, making it easy to connect to other devices. 
It's an economy laptop with a 15.6-inch Full HD display that provides sharp details and decent enough image quality. With a screen-to-body ratio of 82.58% and a narrow-bezel design this laptop delivers an immersive viewing experience, so you can dive into whatever is in front of you. In addition, Aspire 5 is ergonomically designed with a hinge that lifts the keyboard for comfortable typing, an improved cooling system that hardly gets warm (even on a stress test), and an appropriate sound experience. 
In conclusion, buying a laptop for around $500 isn't easy, most of the time you have to choose what you're ready to sacrifice to get a good price. So rejoice! The Acer Aspire 5 is an affordable budget laptop without any serious flaws. But in case you want to relax playing the latest computer games in between or even while cutting your designs with Cricut, you'd better look for another laptop. As long as this model is not powerful enough to tackle this job. The laptop is lightweight and portable, making it easy to carry around. If you're looking for a decent laptop for day-to-day tasks for a reasonable price, the Acer Aspire 5 is a great choice. 
CPU: Apple M1 chip
GPU: Integrated Apple GPU
RAM: 8GB
Screen size: 13.3"
Resolution: 2560 x 1600 px
Battery life: up to 18 h
Operating system: macOS Ventura
Thin and lightweight laptop
Great battery life
Perfect color reproduction
It's expensive
Works best with Apple environment
M1 is not the latest chip technology
The MacBook Air is the perfect computer for professionals on the go. With an all-day battery life of up to 18 hours, you never have to worry about running out of power during your busy day. And with the powerful Apple M1 chip featuring an 8-core CPU, you can easily handle everything from professional-quality editing to action-packed gaming. In some cases even at the same time The chip delivers up to 3.5x faster performance than the previous generation while using way less power. This means you can enjoy seamless multitasking while running memory-hogging tasks like browsing multiple tabs or opening a huge graphic file for Circut cutting quickly and easily. 
But the MacBook Air isn't just powerful computer— it's also stunningly beautiful. The 13.3-inch Retina display brings images to life with new levels of realism, making text sharp and clear and colors more vibrant. P3 wide color gamut covers 25% more colors than industry-standard sRGB, therefore it's perfect for designers and other creative professionals. 
If you already have an iPhone, MacBook Air feels familiar from the moment you turn it on. And it works perfectly with all your Apple devices. But if you want to use it, for example, with a non-Apple external monitor it may be not as seamless and exceptional as it would be inside the Apple environment. By the way, speaking of the environment. The MacBook Air is totally environmentally friendly. It is made with a 100 percent recycled aluminum enclosure and uses less energy for a smaller carbon footprint. 
To sum up, if you're a creative professional, graphic designer, or just someone who wants a powerful, easy-to-use, and environmentally friendly computer, the MacBook Air is the perfect choice.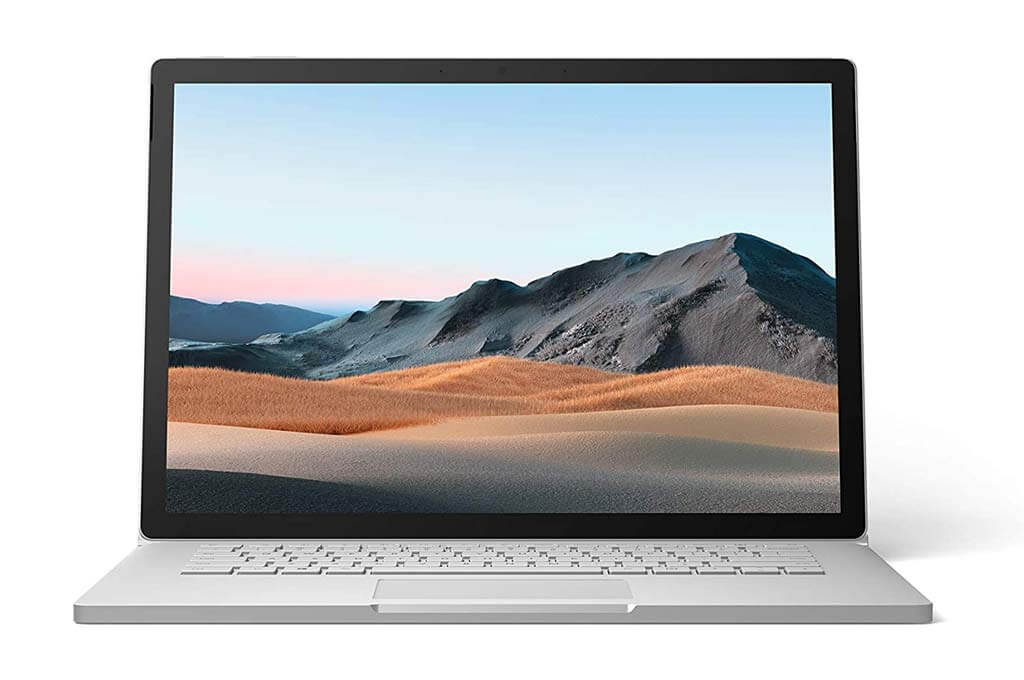 CPU: Intel Core i7 10 gen
GPU: NVIDIA GeForce GTX 1660Ti
RAM: 16GB
Screen size: 15"
Resolution: 3240 x 2160 px
Battery life: up to 17.5 h
Operating system: Windows 10 Home
Very versatile configuration options
Powerful GPU
Big screen with nearly 4K resolution
Not the fastest laptop in this price range
It's pretty heavy among other windows laptops
It's pricey
Surface Book 3 is a versatile HD touchscreen laptop that combines the functionality of a robust computer, a powerful tablet, and a portable studio in one. It's the best hybrid laptop for Cricut makers. The detachable screen makes it easy to switch between modes and get things done when inspiration strikes. With quad-core powered, 10th Gen Intel Core i7 processors, this device is the most powerful Surface laptop yet, now 30% faster than Surface Book 2. It has the fastest graphics on Surface, powered by NVIDIA GTX GeForce GPU, and boasts up to 17.5 hours of battery life with an improved standby mode that extends battery life when you're away. 
The high-resolution PixelSense Display is designed for Surface Pen and touch, making it perfect for sketching and drawing. With quad-core powered 10th Gen Intel Core processors and blazing NVIDIA graphics, this device can tackle intensive tasks, edit large graphic files, and provide the best gaming experience on Surface. The device also boasts a color gamut near-full 97% sRGB coverage and 58% AdobeRGB coverage, along with an HD IPS display and an original native screen resolution of 3240 x 2160 px. 
The backlit keyboard and large, responsive trackpad make it easy to work on the go, while the touchscreen provides a more natural and intuitive experience. Additionally, Surface Book 3 has wireless connectivity options that include Bluetooth 5.0 and Wi-Fi 6. 
In conclusion, The Surface Book 3 is still an appealing alternative for creatives even though its distinctive form might limit its ability to compete with more potent rivals. Although there are speedier devices available for the same price, the Surface Book 3 is a great option if you're seeking a versatile tablet that can perform several jobs.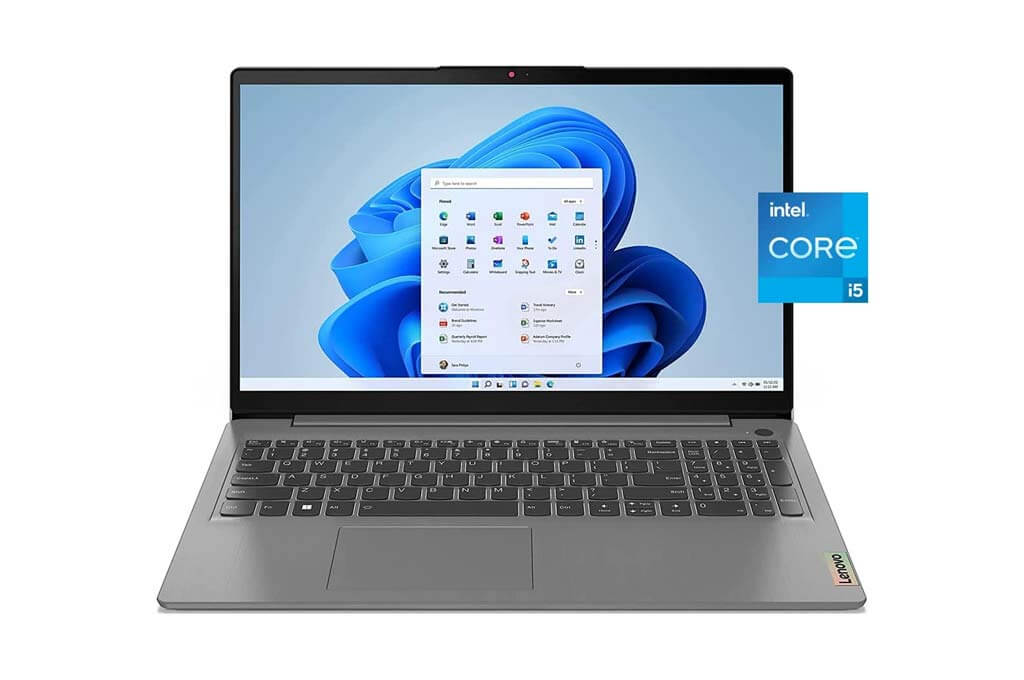 CPU: Intel Core i5 12 gen
GPU: Intel Iris Xe
RAM: 8GB
Screen size: 15.6"
Resolution: 1920 x 1080 px
Battery life: up to 9 h
Operating system: Windows 11 Pro
Affordable price for full-size laptop
Durable build
Decent battery life
Not the brightest screen
Mediocre sound and camera
It's pretty heavy
The Lenovo IdeaPad 3i laptop is a versatile computer that can enhance your work, study, or play experience. With its slim design (just 0.78"), it's easy to take with you wherever you go, making it perfect for on-the-go use. This great laptop is powered by 12th-generation Intel Core i5 processors and Intel Iris Xe graphics, which deliver exceptional performance and speed to meet your daily needs. The 15.6-inch FHD IPS display provides nice viewing angles, decent color accuracy, and contrast, so you can be sure of picture quality. With its 4-sided narrow bezels, you get more available viewing screen, giving you a better experience overall. 
In addition, the IdeaPad 3i laptop also has a full-function Type-C port that allows for faster data transfer, power delivery, and 4K display connectivity. It also includes USB port 3.2, USB port 2.0, and HDMI ports, as well as an SD card reader and audio jack. Plus, it comes with Wi-Fi and Bluetooth connectivity options, so you can stay connected wherever you are. 
The Lenovo IdeaPad 3i laptop is also designed to be long-lasting, with a battery that will keep you going for hours on end. And if you need another 2 hours of battery life just use rapid charge boost. Only 15 minutes of charging will get you this extra time. 
Overall, the Lenovo IdeaPad 3i is an excellent choice for anyone looking for a budget-friendly laptop for cricut makers that doesn't skimp on performance or features. If you're primarily concerned with day-to-day computing tasks, affordability, and durability, the Lenovo IdeaPad 3i laptop is a good choice for you.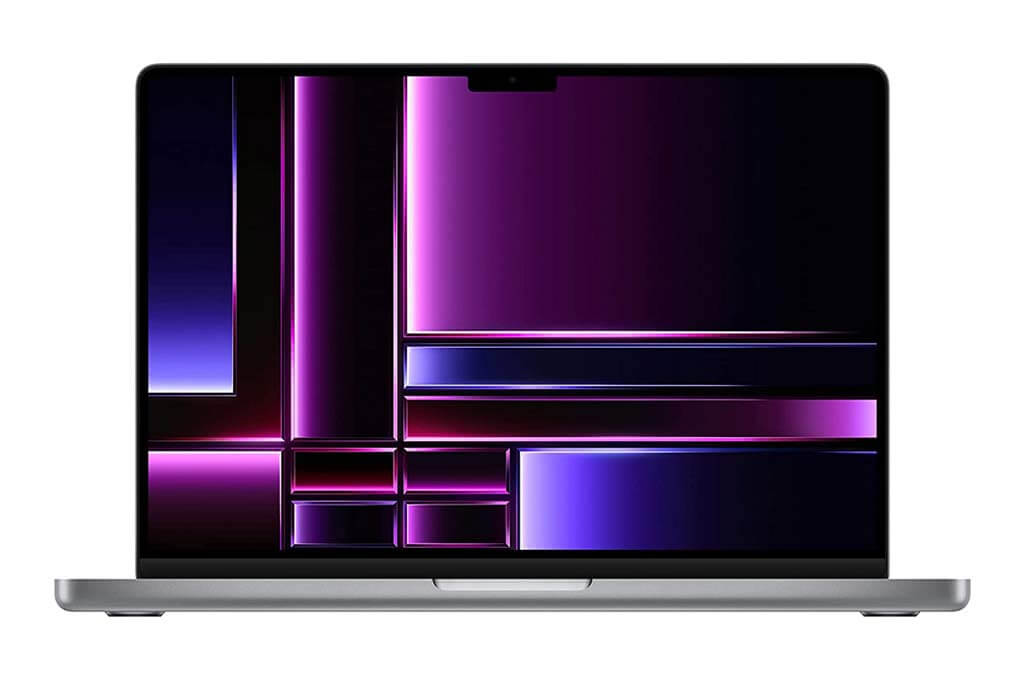 CPU: Apple M2 chip
GPU: Integrated Apple GPU
RAM: 16GB
Screen size: 14.2"
Resolution: 3024 x 1964 px
Battery life: up to 22h
Operating system: macOS Ventura
Pro quality display
Powerful CPU and GPU
Amazing battery life
Expensive device
Suits best all Apple environment
The new MacBook Pro with M2 chip is a powerful device that offers top-of-the-line features. With the M2 Pro or M2 Max chip, users can take on even the most demanding projects. The M2 Pro has up to 12 CPU cores, up to 19 GPU cores, and up to 32GB of unified memory. This makes it an ideal device for professionals who need to run multiple pro apps simultaneously. Rejoice, creative multitaskers! 
In addition, the MacBook Pro M2 has a beautiful 14.2-inch Liquid Retina XDR display, which features an Extreme Dynamic Range, over 1000 nits of brightness, and pro reference modes for doing your best work on the go. Color performance is strong, too, with the color gamut covering 100% of the sRGB and DCI-P3 color space, and 89% of AdobeRGB, all with excellent color accuracy. 
But that's not all. The MacBook Pro features an impressive battery life of up to 22 hours, so you can use it all day without worrying about running out of power. This laptop also offers a range of connectivity options, lots of nifty ports as well as wireless Wi-Fi 6E and Bluetooth 5.3. 
Overall, the MacBook Pro is an excellent laptop for both amateur and professional Cricut users. It shows great versatility and efficiency across battery life, performance, display quality, and day-to-day use without any significant flaws. However, it is one of the expensive laptops, even the base model. But if you're willing to invest in a device that provides everything at once, the MacBook Pro is a tolally solid choice.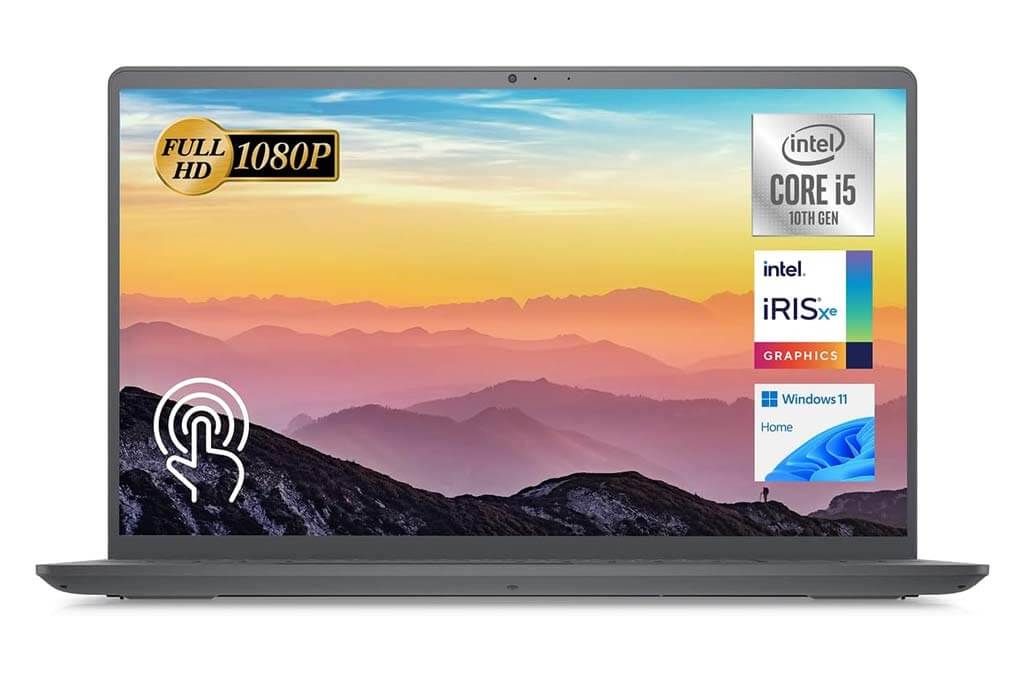 CPU: Intel Core i5
GPU: Intel Iris Xe Graphics
RAM: 16GB
Screen size: 15.6"
Resolution: 1920 x 1080 px
Battery life: up to 9 h
Operating system: Windows 11 Home
Affordable laptop with nice specs
Well-built
Large touchscreen display
No USB C port
Becomes pretty warm on heavy load
Not the best sRGB coverage
The Inspiron laptop by Dell is a reliable and affordable device designed to get work done. Its primary strength lies in its solid performance, thanks to the Intel Core i5 processor and 16GB high-bandwidth RAM. With this much power, you can smoothly run multiple applications and browser tabs all at once without any interruption. It's well-built, has plenty of legacy ports for accessories, and features a full number pad. 
This laptop features a 15.6-inch FHD touchscreen, making it a joy to work with. The touch features are quick and precise, making work much simpler and more pleasant than before. While there's only about 60% of sRGB color gamut coverage, it is still a great device to work with if your design work is restricted to monochrome vector patterns for cutting with your Cricut. However, if you're working on color-sensitive projects like photo or video editing, this device may not be the best option for you. 
This laptop's biggest drawback is that it lacks a USB port Type-C, which can be pretty disappointing for some users. We thought that it has become the industry standard, but eventually, it isn't. Or Dell got its standards. Anyway, it's absent, get over it. 
Overall, this laptop for Cricut makers fits perfectly in the budget category. Those looking for a reliable computer for general tasks will be happy with the Dell Inspiron. However, those looking for a more potent device or a laptop for color-sensitive work better go for more powerful devices.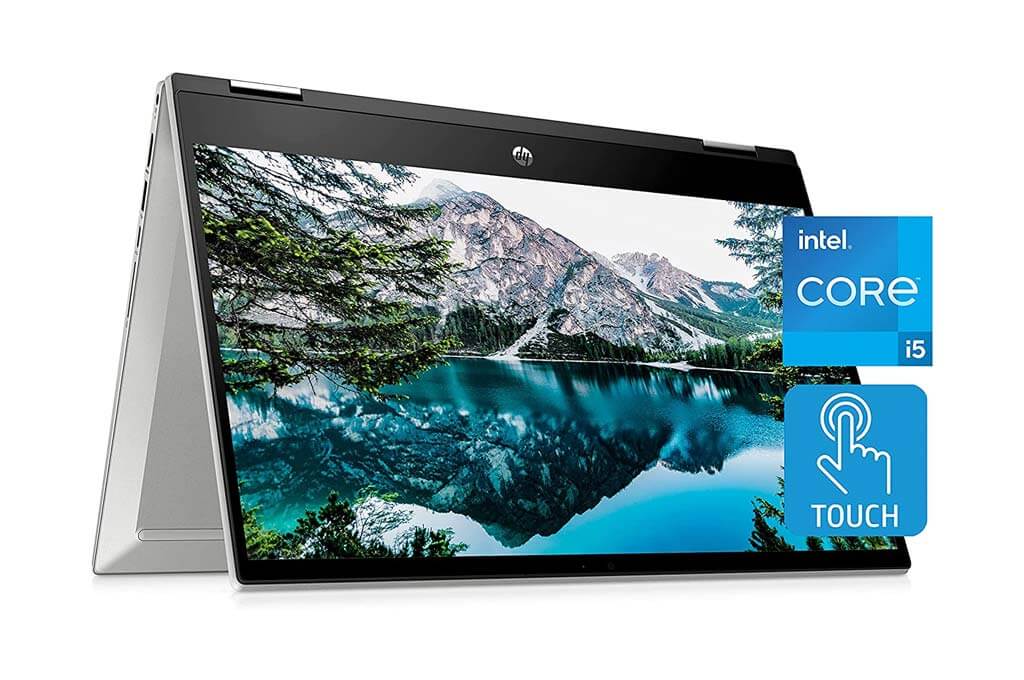 CPU: Intel Core i5
GPU: Intel Iris Xe Graphics
RAM: 8GB
Screen size: 14″
Resolution: 1920 x 1080 px
Battery life: up to 8h
Operating system: Windows 10 Home
Strong performance with 10th Gen Intel CPU
Portable and lightweight laptop
Nice touchscreen laptop
Battery won't survive the whole workday
Screen brightness could be better
Webcam provides not enough fine details
The HP Pavilion x360 laptop is the perfect device for anyone looking for a powerful, yet lightweight computer that can handle whatever life throws your way. With its 11th Generation Intel Core processor, you'll experience fast performance and instant responsiveness. Plus, with 8 GB of RAM and 256 GB of SSD storage, you'll have enough space to store your files and programs.  
As for graphics, Intel Iris Xe GPU promises crystal-clear imagery and it certainly could be so if not for the display brightness, which is below average. Although the 14" Full HD multitouch-enabled edge-to-edge glass screen itself is pretty good. Everything will be fine as long as there is no color-sensitive editing in your workflow. By the way, the touchscreen option is especially convenient when you're in a rush and don't want to use the mouse or unfold a proper computer setup. 
If you're looking for a laptop that's remote work ready, the HP Pavilion x360 has you covered. With Intel Wi-Fi 6 and Bluetooth 5 combo (supporting Gigabit data rate), you can stay connected wherever you go. And with good connectivity options, including 2 USB type-A ports, 1 USB Type-C, 1 HDMI port, and an SD card reader, you'll be able to plug in all of your favorite devices. 
And let's not forget about the design. The HP Pavilion x360's streamlined metal design delivers a thinner, lighter PC with great durability. The 360-degree geared hinge is innovatively engineered to rotate 360 degrees, so you can use your device in four modes. 
In short, the HP Pavilion x360 is a great value for anyone who has basic laptop needs for Cricut projects and wants integrated connectivity. It may not be designed for heavy workloads or long times away from an outlet, but if you need a laptop that can keep up with your daily tasks, the HP Pavilion x360 is the way to go.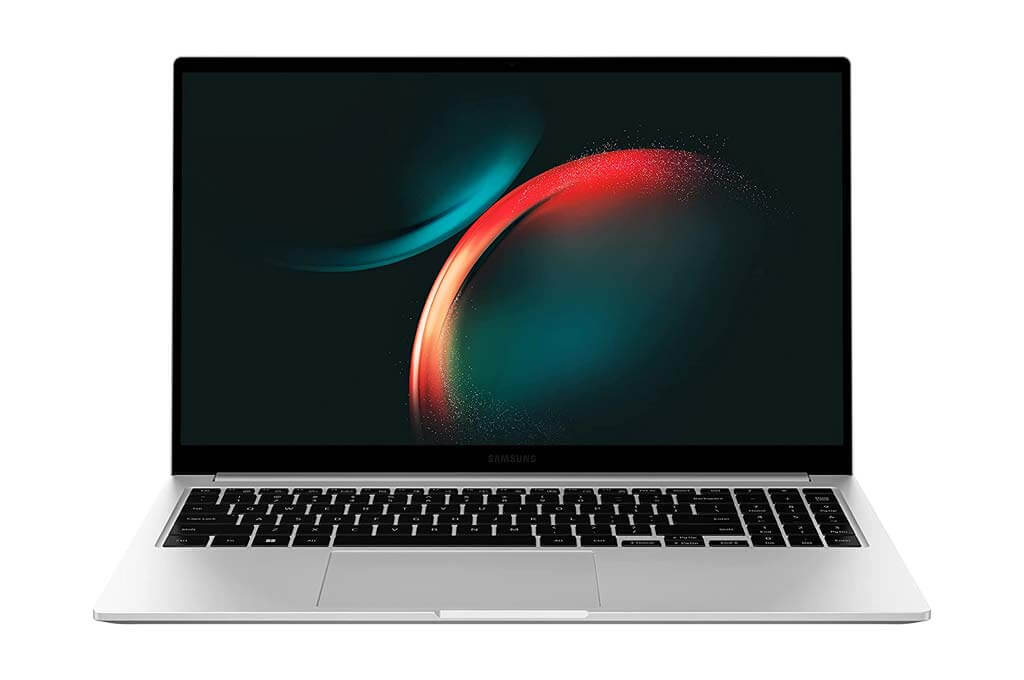 CPU: Intel Core i7
GPU: Intel Iris Xe Graphics
RAM: 16GB
Screen size: 15.6"
Resolution: 1920×1080 px
Battery life: 15h
Operating system: Windows 11 Home
Solid build
Good display quality
Big touchpad is perfect
Fans may be a little noisy
Quite pricey
Not suitable for gaming (only casual maybe)
Samsung Galaxy Book 3 is a new Samsung laptop designed for productivity and entertainment. It's a workhorse, whether you're working, studying, or simply browsing, this device with a powerful Intel Core i7 is here to breeze through all the things you need to do, without any lag or delays. 
The Galaxy Book 3 is a highly portable laptop. Its thin and lightweight design makes it easy to carry around wherever you go, so you can always stay productive on the go. Moreover, its powerful battery will provide you with hours of uninterrupted use, so you can stay plugged in without being tied to a cord. 
As for connectivity, well, The Galaxy Book3 is got you covered for almost any situation that may occur during your day. Whether you need to connect to a printer, a monitor, or any other device, you got it. With all the ports built right in, there's no need to drag around a clunky adapter. The screen is big and crisp clear, so enjoy all your works or favorite entertainment on a super smooth 15.6-inch screen. Its stunning display brings out the best in everything you do, with vivid and bright visuals that are sure to impress. 
In a nutshell, Samsung Galaxy Book 3 Pro is an accessible and solid option for those people who do not want an absolute beast of the best, but still looking for a future-proof laptop. With its powerful processor, long-lasting battery, and gorgeous display, this laptop is perfect for anyone who wants to stay productive and entertained on the go. 
"Which laptop is best for work with Cricut after all?" you may ask. Well, honestly it depends on your workflow aside from cutting designs with Cricut. All devices listed above will perfectly work with Cricut's Design Space, but if you ask me to decide which laptop I would choose for myself, then I would go for Samsung Galaxy Book 3. Personally, I'm a sucker for big screens and crisp clear images, pair it with a powerful CPU and that's the recipe for a perfect laptop for me. And what is yours? 
How To Set Up and Run Cricut Maker: Step-by-Step Guide
For your Windows computer, follow these steps to download, set up, and run Cricut's Design Space for Desktop:
Go to Cricut website design.cricut.comin your web browser.
Select Download.
Once the download is finished, double-click the file in the browser or your Downloads folder.
If a window appears asking if you trust the application, choose that option.
A setup window displays the installation progress.
Sign in with your Cricut ID and password.
An icon of Design Space for Desktop automatically gets added to your desktop screen.
Have fun with Design Space for Windows Desktop!
For your Mac computer, follow these steps to download, set up, and run Cricut's Design Space for Desktop: 
Go to Cricut website design.cricut.comin your web browser.
Select Download.
Once the download is finished, double-click the .dmg file in the browser or your Downloads folder.
Drag the Cricut icon to the Applications folder icon to begin the installation. Design Space for Desktop automatically gets added to your Applications folder.
Double-click Cricut Design Space in your Applications folder to launch Design Space for Desktop.
A Mac notice may appear asking if you want to open the application that has been downloaded from the internet. Select Open to continue.
Sign in with your Cricut ID and password.
Have fun with Design Space for Windows Desktop!
Freuqently Asked Questions