If you have never used font detection tools, you will be very surprised by the diverse possibilities and accurate matches they offer. Similar to how machine learning is evolving, these algorithms, often related to the GAN model, have made a huge leap forward in recent years. 
Sometimes you just happen to see a great font in some random place, and weeks later, you feel the urge to use that exact typeface in your current project. Or, at least, a similar one. Of course, you can try contacting the author, but it is not always possible, especially if you saw the font somewhere on the street or even subway! 
Only a couple of years ago, hardly a single font finder showed accurate results. Now, you can rely on them more, and with only a single photo or screenshot, you should be able to identify any type — from popular serifs to decorative script fonts. 
To provide you with all the information you need for your future searches, I have decided to make a compilation of all existing font identifiers, from apps to browser extensions. I've also done comprehensive research and graded the experiences these tools offer. All to help you choose the best font finder for your needs. 
Types of Font Identifiers
There are two types of font identifiers depending on how they analyze the typeface and what features they offer: 
Web-based extensions. They recognize highlighted text on a page and identify the font by accessing the website's code. They can assess the font's size, style, and color. However, these font identifiers are helpless if you want to detect a font on a sample image.
Image-based font identifier tools. They can recognize specific attributes of the text in an image and match them with fonts in their databases. These tools can identify glyphs, and if the algorithm is well-written, then comes the magic: they suggest a font name from an available library. To get the most accurate results, you should make sure to upload an image in high resolution and provide only one typeface for analysis. Sometimes, even a couple of letters are already an extensive type sample!
In this selection, we'll talk about font identifiers of both types, and we'll also suggest some alternative tools in case none of them works for you. 
Font Identifiers From Images
Upload or drag a sample image that contains the font you want to identify (you can draw a manual crop box around the text if the it takes up only a part of the image). The app will detect the text automatically.
The software will show you a list of similar fonts to choose from.
Provides suggestions in seconds
Has almost no problems with hand-written fonts or patterned background
Has an app for iOS and Android, so you can find a font wherever you go
WhatTheFont library is limited to a single source
Doesn't detect OpenType features
WhatTheFont is a popular image-based font identifier that is fast, intuitive, and impressively accurate. To perform the search, it uses deep learning to search a collection of over 230,000 font styles on My Fonts for the best match to the typefaces in your photos and images. Yes, you heard it right: My Fonts is behind this magnificent tool. Their library is highly-curated and only contains high-quality fonts, both free and paid, so you are guaranteed to find an excellent solution for your project. 
This font finder comes as a desktop version and an iOS and Android app. The latter allows for even more extensive font identification: it works equally well with sans serif, serif, and even connected scripts. Plus, it lets you find more than one font from an image. The app automatically separates and identifies the letters and provides you with font matches in a matter of seconds, after which you can try out them with your own text — and all this is just inside your phone!
Upload an image and draw a manual crop box around the font. The app will detect and identify individual glyphs.
Font Matcherator will give you a list of fonts with links you can click to download for free or purchase the ones you like.
Easy to use unless your images contain heavy graphics
Works with Open Type (no other app that can do it)
Has a great tags system
Doesn't provide any info about the required image size or format before you start uploading
Only supports images under 2 MB
If you upload an image via URL, there is no guarantee it will work
Font Matcherator is another great online tool for typeface identification that works much like WhatTheFont: it also checks the scanned fonts in its diverse database and looks for matches. Moreover, it is said to be able to quickly identify a font and almost any typography content details, including glyphs and Open Type features, with amazing accuracy. This font finder also searches the catalog of over 900,000 paid and free fonts, which is the icing on the cake. 
I loved that Font Matcherator allows manipulations with the uploaded image. For example, you can rotate it or select individual glyphs. However, when I uploaded the screenshots, the font identifier rejected them because of the large size: it only works with images under 2 MB. This means you might have to resize or crop your photo before using the platform which may be inconvenient when you need to identify font samples on the spot. Alternatively, you can copy-paste the image URL. But be careful: sometimes the site simply gives an error after you select typefaces on your image uploaded through the link.
What's great is that they also have a video tutorial explaining how this font finder works. Moreover, they have a comprehensive system with font classifications and tags allowing you to easily browse typefaces split into categories.
Upload an image with the font you want to identify and draw a crop box around it. Ensure the image is high resolution, and the letters are not distorted.
Optimize the picture with the provided tools to make the font clear.
Identify 3–5 characters following the instructions for better results.
The system will provide you with 60+ similar fonts to the one in your image.
Has one of the most extensive font databases and many tools to make font identification accurate
You can adjust what alternative or similar fonts you want to be displayed in the results. For example, only free or paid options.
Pop-ups might get annoying
The process of identifying fonts takes more than just a few clicks, as you need to help the platform identify each letter
The PRO membership is pricy
I have never heard of this font detector before, so I was pretty curious to check it out. I was immediately captivated by the message of What Font Is. It states that the user should be able to use the font identifier regardless of the publisher, producer, or foundry. And there are 900K+ fonts, paid and free, in their catalog. Doesn't it sound great? Besides, What Font Is uses an advanced AI, which increases your chances of finding an exact match of the font in the image. The platform claims that it can identify fonts in 90% of the cases. 
For most typefaces, the platform will automatically separate the letters. For cursive fonts, you will have to separate each letter with their advanced image editor.
You can use What Font Is for free, but you can also upgrade to a PRO membership for $39 a year that'll get you even better accuracy, zero ads, and free suggestions from Google Fonts as an alternative to expensive options. The best thing is, you will get PRO support which lets you contact the creators of the site who will identify the fonts for you!
Font Identifiers From Websites
Add the extension and reboot the browser.
Click the Font Ninja icon to activate the extension. You can then roll over texts to identify the font.
You can also try suggested fonts right in Font Ninja's tab before buying them.
Has both an app for Mac and Windows and a browser extension for the most popular browsers (Chrome, Safari, and Firefox)
Has sufficient instruments to identify fonts as well as selected letters and characters from a website
The library could be more extensive
We're done with image-based font identifiers, so let's see what web-based solutions have to offer. Fonts Ninja is one of the most obvious choices. Fonts Ninja is a desktop app and a browser extension for Chrome, Safari, and Firefox that helps identify fonts used on websites by simply hovering over the text, providing you with the typeface name, size, and other relevant details.
Additionally, Fonts Ninja provides features like font pairing suggestions, font favorites, and the ability to test and preview commercial fonts directly in your current project. The software offers a great user experience, which is a step up from any other font detector on the list. Plus, it is good at finding the exact font you look for. 
There are 3,000 fonts in Fonts Ninja's collection, and if it doesn't have an exact match, it will offer similar fonts. This font identifier is free for 15 days. After that, it's $29/year.
Install the tool and open the website to identify a font.
Simply hover over the letters, and WhatFont gives you the type's name.
It also provides additional information about it: family, style, weight, size, line height, and color. Basically, everything it can get from the source code.
Is super easy to use, with no problems identifying any font on the page
Provides extensive information about the font and works well regardless of your browser version
Works fast
You can find the same info in the source code of the page
This font identifier is a free Google Chrome browser extension. It is a minimalist yet powerful workhorse for whenever you need to identify fonts on a website.
You can open as many info windows as you need, which might come in handy when you have to compare types with identical styles within a single page. 
This sleek font detector is used by over a million users (can you believe that?) and is loved by many creators worldwide. It's an example of software that does exactly what you want from it. It will also help you find commercial fonts.
Open the website and find the font you want to identify.
Click the button of the app and hover over the text.
Try out the font in the same tab and view detailed info about it in the Typewolf database.
A free platform with premium functionality
Intuitive UI
Sometimes the tool fails to identify the fonts
This is an accurate font identifier tool that works like magic. Once you install it and drag the "Type Sample" button to your bookmark bar, all you need to do is hover over the text, and the identifier will show you the name of the font. If you click on the text, you'll get a small window in the left corner of the page where you can try the typeface and save the sample. Besides, this font identifier is free!
This platform provides a vast type sample database, showcasing both free and commercial fonts and their usage in real-world designs. Each type sample is meticulously presented with detailed information about the font used, its characteristics, and the design context in which it is applied. 
Answer the questions of the quiz given by the site to narrow the search.
When you're done with the questions, Identifont will suggest some fonts for you. If there's no font consistent with your answers, you'll have to do the quiz again.
You are not likely to find the fonts you need and can easily miss some detail while choosing the glyph parameters
The quiz can take a while
Disclaimer: this is not a font finder by image or a web-based font identifier. Identifont is a throwback to the times when tools didn't use AI or image and code scanning. Instead of these modern perks, this free platform offers a questionnaire about the font you want to find. For example, if it is serif or not, what shapes for different letters you prefer, etc. Step by step, it narrows down the options from a database of around 11,000 typefaces. If you are lucky enough, it will provide you with a couple of font matches once you complete the quiz. Finding a specific font will be extremely hard. 
Our verdict: it's a fun tool to play with, but it has no guarantee of success. It searches for fonts with lower accuracy than other platforms, if not with the lowest of all.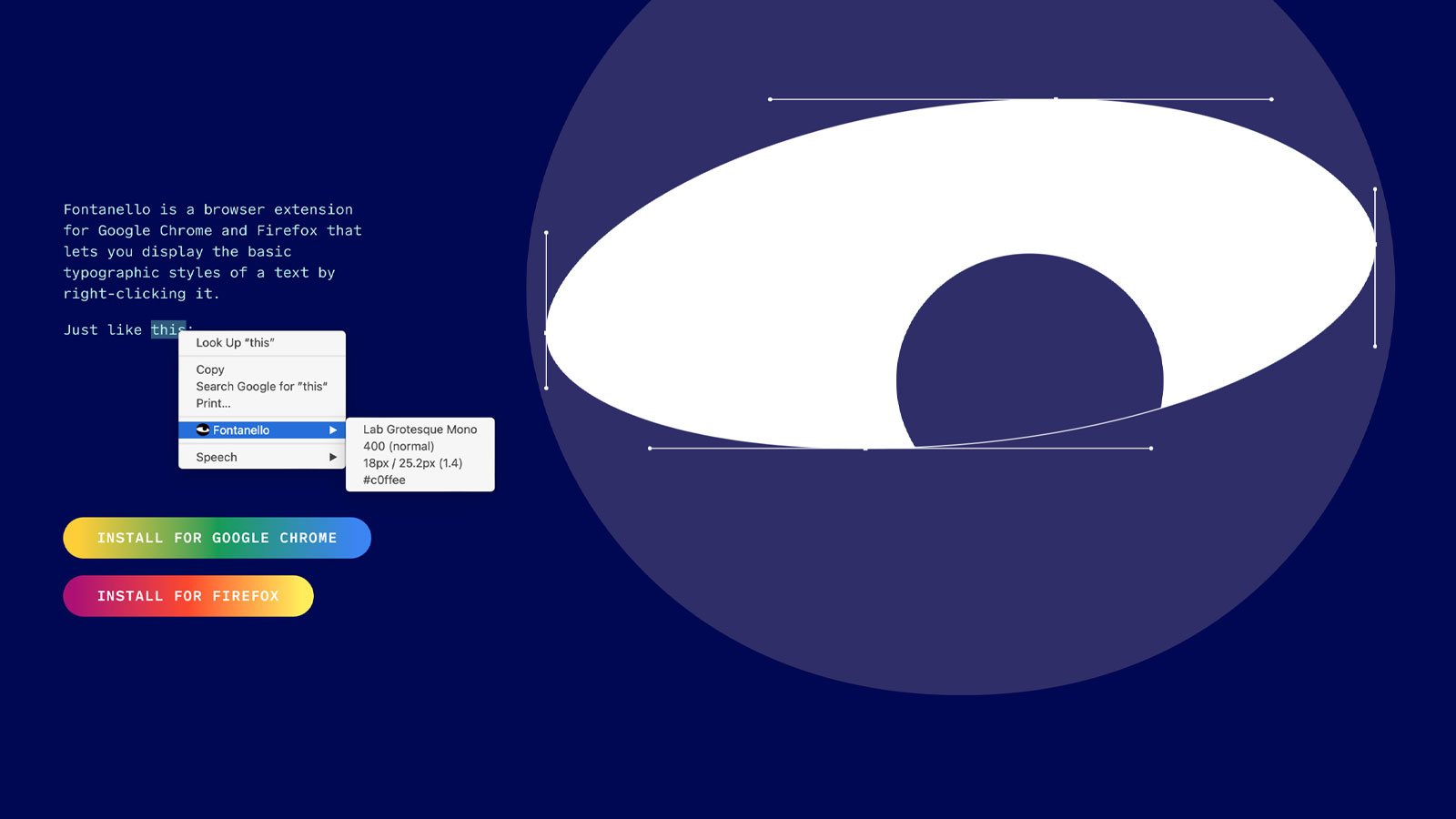 Install the extension for your browser or the iOS app (only works on iPhone and iPad).
When you found the type you want to identify, right-click on it, choose "Fontanello" and get all the characteristics of the font.
Easy to use, even for beginners
Reveals information about the size, weight, and color of the font, and some other CSS properties which aren't as commonly used
Helps find fonts and the background color of the website as a bonus
Has an iOS app
The extension works only with Google Chrome and Firefox
Fontanello is another web-based identifier that'll help you find fonts. Essentially, it is a browser extension and iOS app that lets you display the basic typographic styles of a text by right-clicking it. The info you'll get from this font identifier is: type name, size, weight, and hex color code. It can assist website designers with picking the best font for their work, saving them valuable time.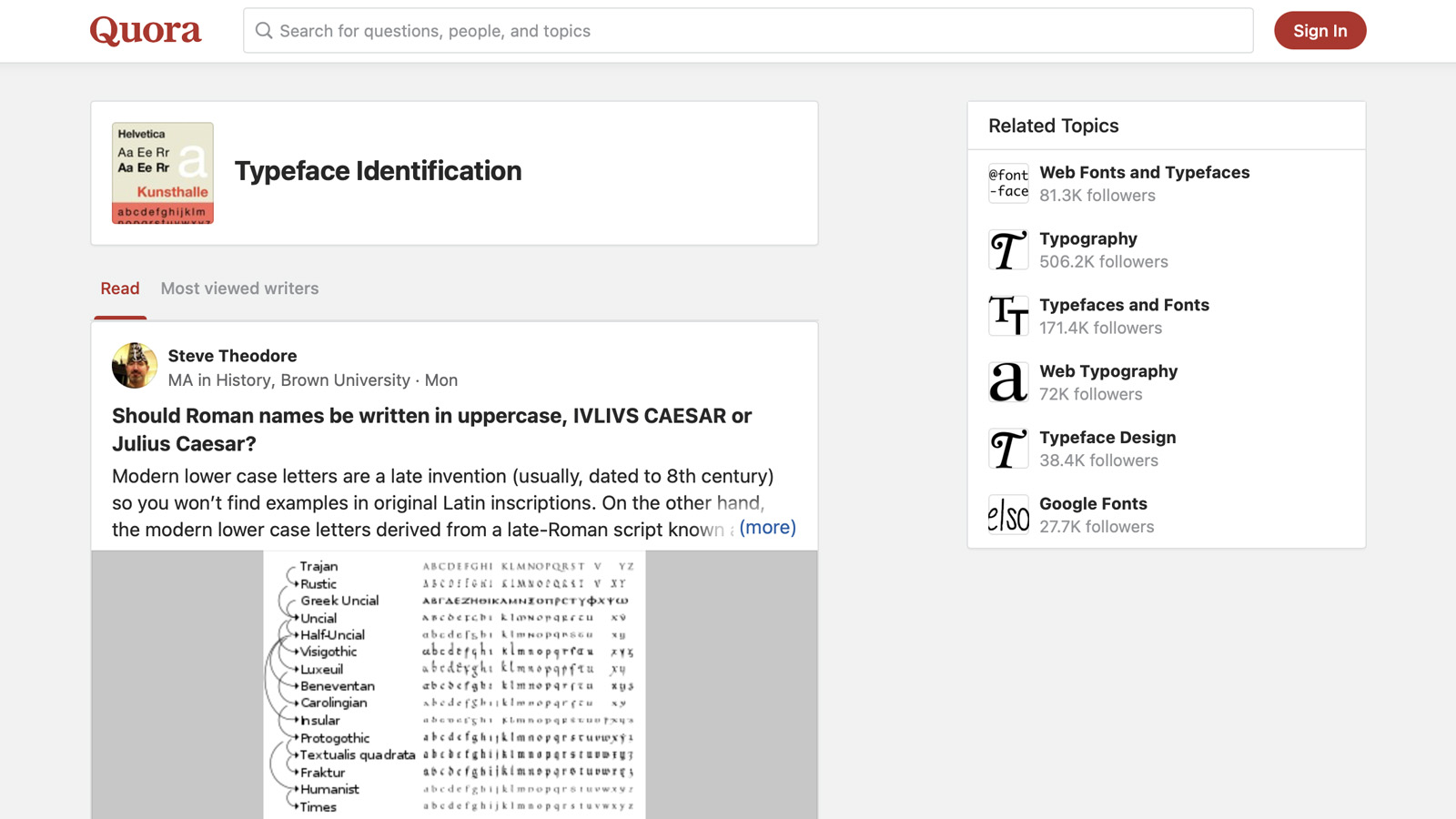 Sign up for Quora. The app will ask you to choose your interests and the topics you're good at.
Ask your question. Add the image with the font you want to be identified and wait for the answers from other users. You can also try checking existing posts, but this can be tricky.
Many qualified members of the community answer the questions quickly
High chance of finding the exact match for the font you need
The search is quite tricky to work with
If you want to look up your question in the previous posts, you need to be very precise with the phrasing
It fully relies on the knowledge of other people and their willingness to help
Quora is a Q&A-type site that lets people ask questions about different areas of life: economics, business, marketing, or even daily routines. And, of course, the design section on this platform is huge. The significant advantage of Quora is that the service uses an algorithm to rank each user's answer based on the ratings of their previous queries. It increases the chances of getting the correct answer to your question. The site also uses a machine-learning algorithm to classify the topics based on the user's history of questions and requests. 
One category is dedicated to typeface identification and design and has some very knowledgeable members who are always ready to help. Even user didn't provide you with an exact match, you are likely to find a couple of similar fonts.
Comparing Font Identifiers
1. Ease of use
The ease of use is crucial, so I checked all font identifiers for user-friendliness. Here, 10 stands for a transparent workflow. The more complicated or confusing the tools, the lower the grade. 
2. Quality of search
That's, obviously, the most important criterion for the font finder, as we came there to get the results. Some sites gave me the exact font I was looking for, which got them a solid 10, others gave me similar options and there were font finders who weren't even close. I also considered the time I spent searching and the easiness of the process.
3. Font library
The font library is a big part of the search success. The huger and more diverse it is, the higher are the chances to find the exact type you were looking for. It's also cool when the font matches that the app gave me were really similar to the one I needed, as it may help designers pick an even better type for their projects.
4. Prices and functionality
In this collection of font finders there are options for any budget: free sites, premium sites and the possibility of buying a PRO membership after trying a free trial period. Here I rated the diversity of options so the user can find the perfect variant for their needs and the overall functionality for each plan.
Best Font Identifier — Our Editor's Choice
After testing all of the listed font detection tools, it was really easy to choose the best one. WhatTheFont by My Fonts stands out with its fast, intuitive UX and the provided fonts library. With over 230,000 font style options, designers are guaranteed to find a match to the font from an image they upload or its close variation of it, making for the most accurate font identifier tool. 
Among web-based font identifiers, WhatFont and Type Sample are the winners. Yes, these tools are limited to Google Chrome, they provide extensive information about typefaces in no time and at no cost.
Frequently Asked Questions