If you haven't been using font detector tools for quite a while, you will be greatly surprised by their accurate solutions. Similar to how machine learning is evolving, these algorithms (which are often closely related to the GAN model) have made an enormous leap forward. 
I believe there is no need to explain when and why you may resort to a font identifier. Spoken briefly, you may have seen some great typeface anywhere and feel the immediate urge to have the same or analog one in your toolbox or your current project. Of course, you can contact the author, but is it always possible? Definitely not, especially if you saw the font in some magazine, website design, or even metro! 
Only a couple of years ago, there was hardly a font identifier to show accurate results. Now, you can rely more on them, and with a single photo or screenshot, you should be able to find the necessary typeface. 
That's why I've decided to share with you all the various tools: form apps to browser extensions and let you test them to find the most applicable one. From our side, I've done some research too, and checked all of the provided services in order to select a font detector that does its job best. 
Types of Font Identifiers
There are 2 types of font identifiers depending on how they analyze the typeface and its features: 
Image-based font identifier tools. They can recognize specific attributes of the text in an image and match them with a font in the tool's database. Such tools can identify selected glyphs, and if the algorithm is well-written, some magic happens, and the service comes with a suggestion from an available library. To get the most accurate results possible, you should make sure the uploaded image is high-resolution, and there is only one typeface for analysis. Sometimes, even a couple of letters is enough!
Web-based extensions. They recognize highlighted text on a page by accessing the website's code and can assess the font's size, style, and color. However, they are helpless if you want to find a font from an image.
In this selection, I'll bring font detectors of both types, and I'll also highlight some alternative tools in case none of them works for you. 
WhatTheFont is a popular image-based font identifier that is fast and intuitive. To perform the search, it uses deep learning algorithms and seeks analogs to the provided fonts among a collection of over 133,000 styles on My Fonts. Yes, you got it right, the service is provided by this typographic marketplace. 
WhatTheFont allows unlimited font identification: it equally works with sans serif, serif, and even connected scripts. Moreover, it can analyze images containing more than one font or images with a pattern instead of the recommended white background. All that's needed is to upload an image, click the font you want to identify, then check out the suggestions. For the best results, it's essential to upload a quality image with readable, horizontal text. You can draw a manual crop box if you want, but be sure that you only draw it around one line of text. 
Advantages: WhatTheFont is probably the smoothest font identifier I have ever tried. It provides suggestions in seconds and has almost no problems with hand-written fonts or patterned background. Also, there is an app for iOS and Android, so you can find a font wherever you are.
Disadvantages: The library used by WhatTheFont for analysis and suggestion is limited to a single source. Even though My Fonts is pretty exhaustive, you may not find the exact fonts you want there. Be aware of that.
This is the second best-used font identifier, which works much like WhatTheFont. And it also checks the scanned types in its own library (which is vast and varied as well). Moreover, Fontspring states that it can quickly identify almost any typography content, including glyphs and Open Type. 
It may look like I've already made my choice, but I really enjoyed the super minimalist form, which allows some manipulations with the image. For example, you can rotate the image or select particular glyphs to find an analog for. However, when I started uploading the screenshots, the app rejected them due to the big size. Apparently, this isn't a font identifier for instant use, and you'll have to resize/crop/adjust the image beforehand. Or upload an image URL if you have one.  
Advantages: Font Matcherator is easy to use unless you have proper graphics. In case it's heavier/bigger than requested, you're going to have problems (which doesn't sound like an advantage anymore). The app works with Open Type, and there is no other app that can do it as well.
Disadvantages: The worst thing about this font detector is that it rejects images and doesn't provide any info about the size or format before you start uploading them. There are some rumors that the library is poorer, and the matches are less accurate, but I haven't noticed that: both Font Matcherator and WhatTheFont have their epic fails. Last but not least: if you upload an image via URL, there is no guarantee it will work with Font Matcherator either.
I have never heard of this font detector before, so I was pretty curious to check how it works. And I was immediately captivated by the message of What Font Is. It states that the user should be able to use the font identifier regardless of the publisher, producer, or foundry. And there are 850K+ fonts (commercial or free) in their catalog. Sounds great! Besides, What Font Is uses a finder AI, which increases our chances of finding an exact copy of the font in the image. 
I first tried What Font Is for a handwriting font and was immediately shocked by the number of steps. Crop the image, insert characters to make sure the system recognizes them correctly, close endless pop-ups, and only after that, you'll get the variants. And in the end, I received dingbats 😵
Things went better with The Designest logo and a couple of minimalist sans serif fonts. However, this should not challenge a font identifier, right? 
Advantages: What Font Is has the most extensive font library and many tools to make font identification accurate, so you even have to confirm the letters and characters were parsed correctly. Also, their search tool for finding similar or alternative fonts is helpful and easy to use. 
Disadvantages: The tools don't function properly, or maybe you need a tutorial to see how things work. There are infinite pop-ups and lots of banners everywhere. The app has a PRO membership, but I found myself pretty discouraged to purchase one and go for the extended functionality it provided. 
We're done with image-based font identifier tools, so let's check what web-based ones have to offer. Font Ninja is one of the most obvious options. Fonts Ninja is an app and a browser extension available for Chrome, Safari, and Firefox that allows identifying, trying, bookmarking, and even buying fonts on a webpage. It offers an enjoyable user experience, which differs it from any other font detector on the list. 
After the installation, just click the Font Ninja icon, and the font identifier will analyze the website and give you the list of types used on the site. It is so fast and simple that I couldn't stop myself from testing it on hundreds of websites. By the way, you can also try every suggested font right in Font Ninja's tab before buying it. The app allows testing fonts in any software, which is particularly convenient. 
There are 3,000 fonts in Font Ninja's library, and if it doesn't have an exact match, it will offer something comparable. The font identifier is free for 15 days with 20 free font installs. After that, it's $29/year. 
Advantages: There is an app for Mac and Windows and a browser extension for most popular browsers. Font Ninja is elementary to use yet has everything a designer needs to identify fonts as well as selected letters and characters from a website. If it meets your needs, you're gonna love it! 
Disadvantages: The library might have been more extensive. Other than that Fonts Ninja works well and features all the necessary functional requested by a web designer. 
This font identifier is provided as a Google Chrome browser extension. It is minimalist and very simple yet is a powerful workhorse whenever you need to recognize a font on the website. You just point to the text and WhatFont gives the type's name. Also, it provides additional information about it once you click the text: family, style, weight, size, line height, and color. Basically, everything it can get from the source code. 
You can open as many info windows as you need, which might come in handy when you have to compare types with identical style within a single page. 
This sleek font detector is used by over a million users (can you believe that?) and has got the hearts of multiple creators worldwide — and mine too! In fact, it's an example of software that does exactly what you want from it. 
Advantages: WhatFont is super easy to use, no problems identifying any font on the page. it provides extensive information about the font and works well regardless of your browser version. The app is similar to Fonts Ninja, yet I loved it even more due to its comfortable minimalism and perfect work. 
Disadvantages: This font identifier does quite an obvious thing, as you can find the same info in the source code of the page. The key difference is that WhatFont does it faster. 
This font identifier seems to show even greater minimalism than WhatFont, however it does a different kind of magic when checking the fonts, characters and letters on the page. Once you add it to your bookmarks bar and every time you need to check a font on the website, you click the button and hover your mouse over the text. You can click it too, and in this case you'll be able to test the font in the tab. It sounds conveninent, and it is really so. Compared to Font Ninja, Type Sample is even more compact. Besides, it's free! 
Advantages: Type Sample is free, yet allows the same functionality as Fonts Ninja. It means that you can test the font for free and enjoy the font detectors's intuitive UI. 
Disadvantages: Sometimes you click and font recognition works just right, and sometimes it fails and you just, well, click the link. 
Warning: this isn't a font finder by image nor a web-based font identifier. Identifont is a huge throwback to the times when such tools didn't imply image/code scanning or AI. Instead of these modern perks, it suggests a kind of a questionnaire: it asks you what characters and glyphs of the font you want to identify are like and step by step narrows down the options from a database of around 11,000 typefaces. If you are lucky enough, it will allow a couple of matches once you complete the quiz (or it may not!). 
It really looks like a quiz and takes pretty much of your time with no guarantee of success. I was frankly surprised that half of my colleagues were aware of it. Indeed, there are so many tools to find fonts in seconds, so Identifont is a complete loss of time. 
Advantages: A free dose of nostalgia. 
Disadvantages: This font identifier does quite an obvious thing, as you can find the same info in the source code of the page. The key difference is that WhatFont does it faster.
Extra Options to Identify Fonts
If none of the tools worked for you and you are already exhausted of your searchings and giving up all the hopes, there is always the last option you can try. You have a chance to ask the savvy creators. Luckily, there are many online communities where users help each other with font identification. Some of them are more popular, therefore, there are more people and better odds to find the font you need. Before posting your request, you can check if there weren't the same questions before — it may well be possible that you'll get the answer in one of the previous posts. 
However, even if you haven't found anything similar, don't be upset about it. There are many community members ready to help you identify the font you are looking for. Make sure that the letters and characters in the text sample are easy to see. If these conditions were met, it's highly possible that you'll get the help, and your typographic puzzle will be done. 
It's fair to say that Reddit is perhaps the most heavily trafficked and diverse among many social news communities. The website is divided into mini forums or subreddits, focusing on a particular topic. One of these forums is named Identify This Font, and the community's purpose is pretty obvious. You can post a piece of copy, image, or screenshot and be sure the community will come up with answers or alternative solutions.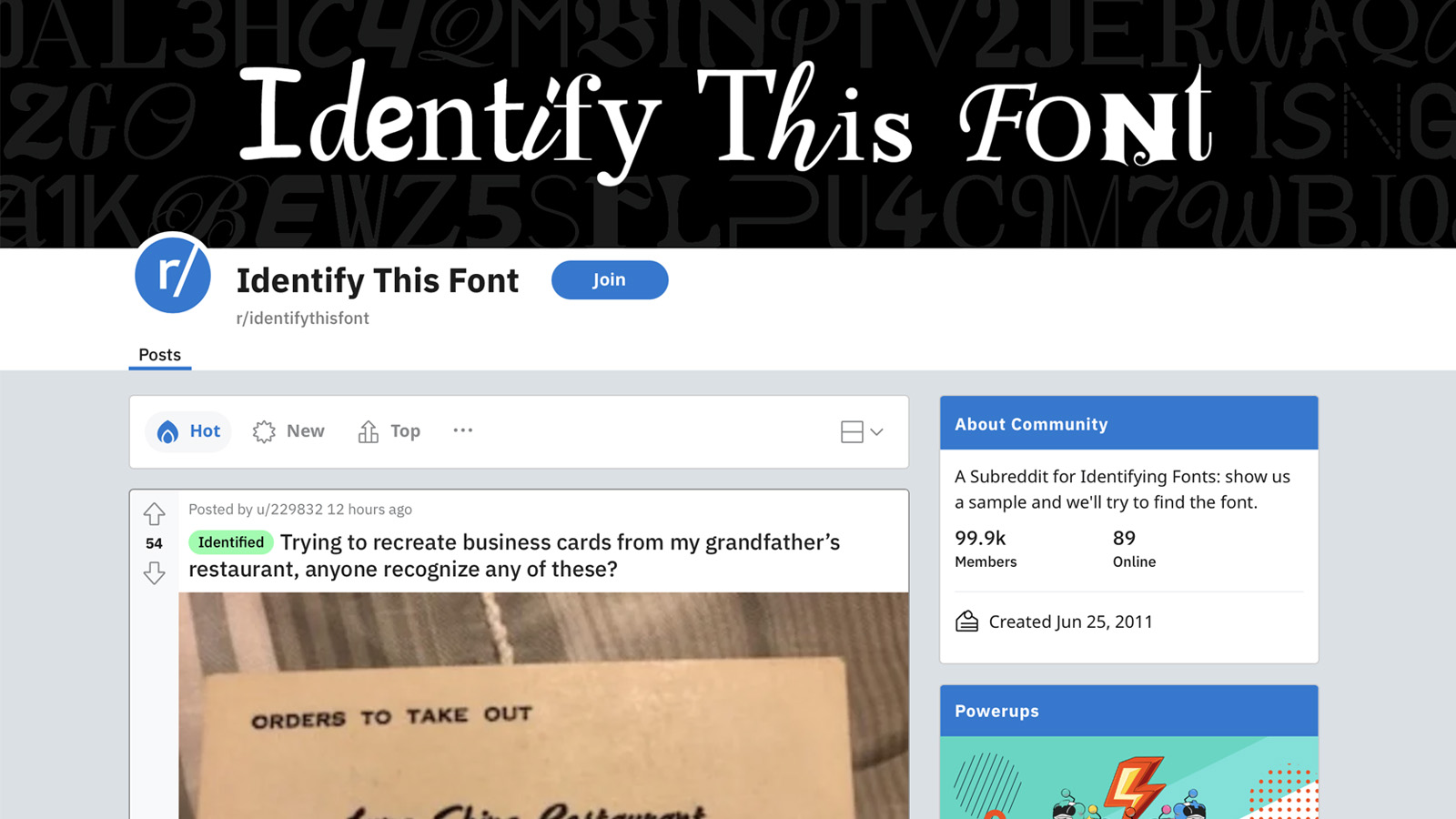 Advantages: The community has many followers who are ready to help day and night and are experienced in answering such questions. Plus, there is a possibility to find your font already identified (especially if it's from a popular movie or artwork). 
Disadvantages: Design and interface are pretty confusing, so if you aren't a regular Reddit user, it may take some time to figure out how things work. 
Quora is a Q&A-type website that enables people to ask questions from all areas of economics, business, marketing, or just regular life. And, of course, the design section on this app is also a huge one. The significant advantage of Quora is that the service uses an algorithm to rank the value of each user's answer based on the ratings of his previous queries. It increases the chances of getting the correct answer to your question. The site also uses a machine-learning algorithm to classify the topic of a question based on the user's history of questions and requests. 
One category is dedicated to designing and typeface identification and has some very knowledgeable members who are always ready to help. Even if you did not find an exact typeface matchup and members don't know it either, you will likely find a couple of similar options.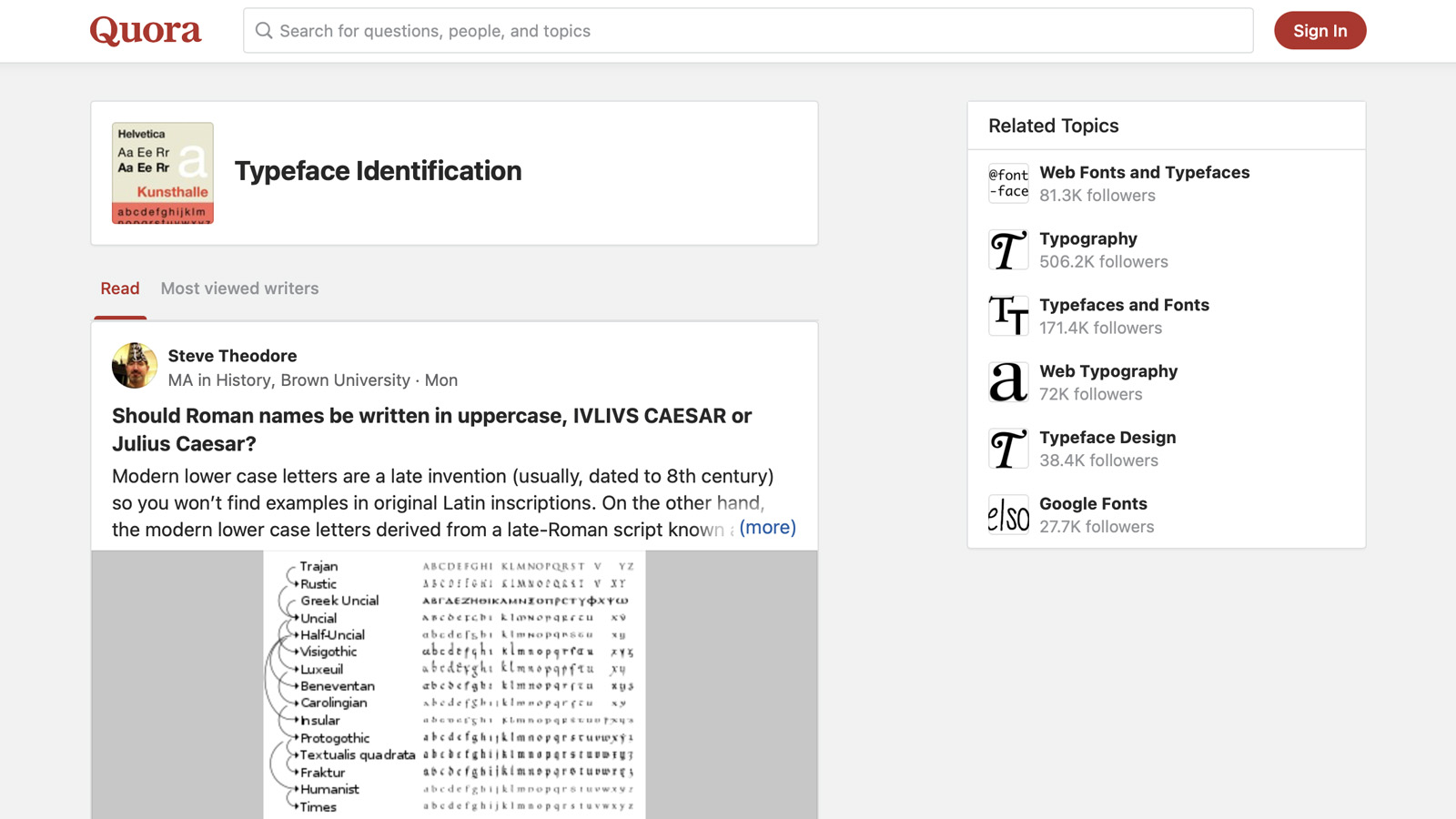 Advantages: There are many professional members of this community who answer the questions pretty fast, so the possibility that you'll find what you are looking for is high.
Disadvantages: The search feature is quite hard to work with. If you want to look up your question in the previous posts, so you don't have to wait for the answer, you need to know exactly how to word that query. It's impossible to find something "similar" this way or by the image.
To me, the use of both Quora and Reddit sounds like a questionable solution. They work quite well if you want to identify a font from the image, and it's something popular by default. However, if it's something rare, these tools just a loss of time. Moreover, you may get a reply in seconds or never, and this kind of uncertainty has nothing to do with a creator's workflow that's full of twists and deadlines. 
Best Font Identifier Tool
After testing all of the listed font detection tools, the idea of the best one came up almost immediately. WhatTheFont from My Fonts stands out with its fast, intuitive UX and the provided fonts library. With over 133,000 types, the designer is guaranteed to identify the font from an image or its close analog. 
For web fonts, WhatFont Google Chrome extension is the winner. Yet it's limited to a single browser, it's still the best choice being free and easy to use. True, WhatFont is more than just minimalist, however, it provides extensive information about typefaces in no time and at no cost.
Frequently Asked Questions