The Designest may receive compensation from companies, products, and services featured in this publication. For more details, please refer to our Affiliate Disclosure page.
Neon aesthetic could have become a retro trend, but instead, it keeps gaining momentum! It's now everywhere, from cyberpunk cities to minimalist studios, where neon signages glow with soft purple on the white wall. And if previously we associated it with old-school design, now neon sign mockup templates are sharper than ever! 
A huge fan of neon myself, I invite you to join me in this improvised journey and explore all facets of neon. The selected neon sign mockups will take you from the origins, where neon lighting accompanied casinos and motels, to Asian сities, where neon art has received a new breath. You will surely find a neon logo mockup to resemble bar signage or trendy interior decoration — just scroll down! 
Not only is the design of these PSD files fascinating, but the quality is also supreme. Just everything you as a creator what a mockup to be: with neatly organized layers, Smart Objects and jaw-dropping realism. 
Glowing Neon Sign Creator
Make your text or logo glowing and neon! These color neon effects can be used to customize your text, logo, shape, or any layer. You may choose any color for your texts, logos, decorative elements, and other designs. And these colors will be used for neon tubes and glowing! Not only can you pick the color, but either of 3 natural shadows and 3 backgrounds as well.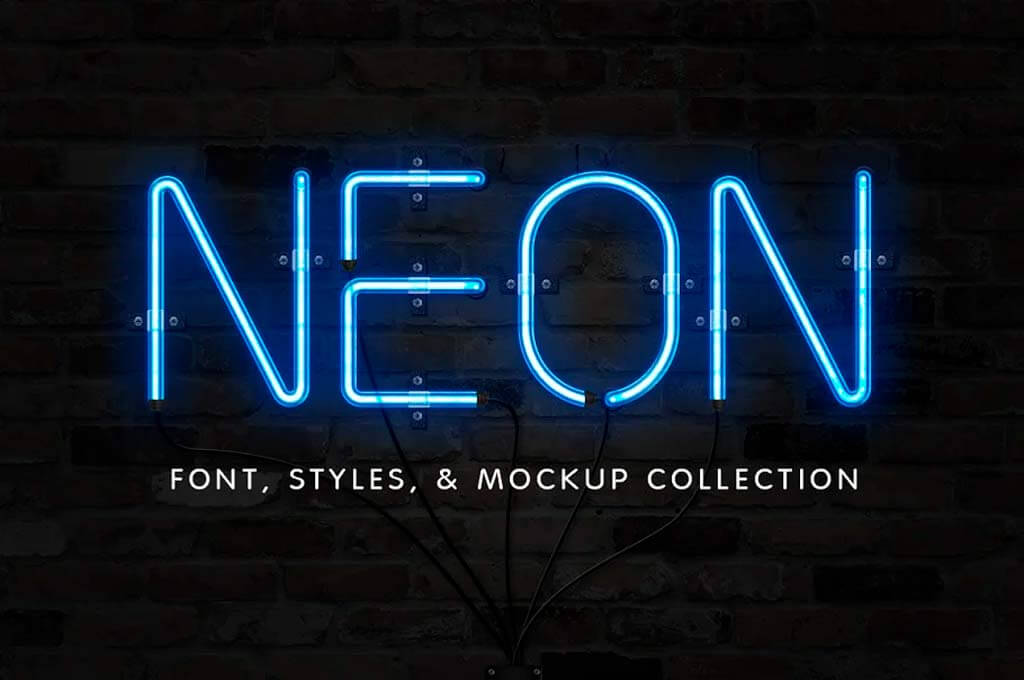 Neon Font & Sign Collection
This neon contains everything you need to create beautiful neon lettering for any situation. The base of the whole collection is the Neon Tubes font. In addition to the font, there're some PSD files: a highly detailed neon text effect, a neon sign mockup, and 24 neon Photoshop layer styles.