The Designest may receive compensation from companies, products, and services featured in this publication. For more details, please refer to our Affiliate Disclosure page.
Cricut is a very popular brand of craft supplies, that provides awesome machines for cutting, printing, and branding. But only do hobby crafters find those machines useful, businesses also use them to produce their own merchandise or branded items. Of course, there are way more means of utilizing Cricut machines than just for branding purposes, their versatility amazes. 
In this article, you'll find the best Cricut machines reviewed. I'll explain what Cricut is, how it can help you, and share some useful tips and tricks to make your experience with Cricut even smoother. Read on to find answers to your most frequently asked questions about choosing the best Cricut machine. I've searched high and low and compared tech specs, reviews, and expertise of professional crafters to find out every little thing about each cutting device and other Cricut machines. Surely, after reading this comprehensive guide to Cricut machines, you'll easily decide which one suits your need the best way. Now let's dig deeper into details. 
Best Cricut Machines: Tips, Reviews & Suggestions
What is Cricut Machine and What It Can Do
The most popular Cricuts are cutting machines that can cut all sorts of designs from various materials. Sometimes they are also called craft plotters or die-cutter machines. It looks a lot like a printer, but instead of printing, it cuts out your design with a small movable blade. You can use the Cricut machine to cut anything you would typically cut with scissors or an X-acto knife. But making way more precise cuts than doing so by hand. Cricut machines can cut designs into a wide variety of materials. First and foremost is paper, then card stock, adhesive vinyl, and iron-on transfers. Some models can also cut delicate materials such as foil and crepe paper. And finally, some of the best Cricut machines can even cut leather and wood. Wow, what a range! 
For some people, Cricut became a synonym for cutting machines, but wait, it's not that simple! Cricut got another extensive lineup of craft machines — heat presses. These can help you apply decals and designs to clothes and mugs with ease and precision. Using a Cricut heat press, you'll get the perfect application without the risk of burning, melting, or curling as long as the whole decal gets even pressure and heat. 
What can you make with a Cricut? Almost anything you want! There are tons of fun and handy ways to use a Cricut machine around the home. It can help you to cut your way to a more organized, festive, and beautiful life. But it's not only household crafters who will be amazed by the endless possibilities of Cricut machines. Design professionals will also find this tool extremely useful in their day-to-day creative work. 
Cricut Machine Comparison
Cricut Explore 3

Cricut Explore Air 2

Cricut Maker 3

Cricut Maker

Cricut Joy
How To Choose Cricut Machine
I'm something of a hobby crafter myself, so I know how overwhelming it can be to decide upon the right machine for your needs. Especially when it's such a versatile tool like the Cricut machine. This situation produces a very tempting idea to buy the most expensive of Cricut machines and get everything at once. Although it could work out in most cases, we're trying to find a balance between the features and the price. Once you consider the price differences, capabilities, and projects you plan to use your machine for, you can make a well-informed choice about which of the Cricut machines is the best for you. 
As for cutting machines, while choosing the most suitable, consider the following specifications: supported materials, compatible tools, max cut length, smart materials, and print-then-cut feature. 
Materials 
Every Cricut machine got its own list of compatible materials. The most amazing capability got the Maker series, with 300+ types of materials, including leather, crepe paper, delicate fabric, and even wood. The explorer series can cut 100+ types of materials, that's also impressive. While the Cricut Joy can cut only 50+ types of materials. 
Tools 
Yet another meaningful difference between the Cricut machines — supporting tools. The Cricut Maker series can use 13 types of tools. The Cricut Explore series can use 6 types of tools. The Cricut Joy accepts only 2 types of tools, it can either cut or write. Also, please note that the Cricut Joy has a single tool holder, while the Explore and Maker series have two clumps for tools (for cutting and writing). It becomes important when you often use cutting and drawing on the same project. 
Max Cut Length 
There is a significant difference between generations of Cricut machines in their maximum cutting sizes. The previous generation Cricut Explore Air 2, and the original Cricut Maker can make cuts up to 23.5 in long as they are limited by a 12 x 24 in mat. While the newer Cricut Explore 3 and Cricut Maker 3 can cut up to 12 ft on a roll of Smart Material. The Cricut Joy can cut long shapes up to 4 ft or repeated cuts up to 20 ft in one go. 
Smart Materials 
Meet the Smart Materials, which enable you to cut up to 12 ft long without a cutting mat. The Cricut Explore 3 and Cricut Maker 3 are compatible with 13-inch wide rolls, while the smaller Cricut Joy is compatible with 5.5-inch wide rolls. Unfortunately, machines of the previous generation, like the Cricut Maker and the Cricut Explore Air 2, do not support "matless" cutting. Using Smart Materials makes the whole cutting process much easier and quicker.  
Print then Cut
With a Print Then Cut feature, you print out a design on your home printer and use the Cricut cutting machine to cut it out. The Cricut Explore Air 2 and older cutting machines can perform Print Then Cut on white paper. The Cricut Maker, Cricut Maker 3, and Cricut Explore 3 got more powerful sensors, so they can do such projects on colored and even reflective paper. However, try not to use very dark colors or very busy pattern paper since the sensor may not be able to detect the cutting lines. The Cricut Joy machine does not support this feature. 
As for Heat Presses, there are slightly different key specs to look for: type of projects and size of a heat panel. 
Types of Projects
The most popular and, at the same time, the most versatile model is EasyPress it is suitable for various projects with iron-on (HTV), Infusible Ink, and sublimation products. It will help you press t-shirts, tote bags, custom stickers, and more. In case you want to concentrate on making hats, there's a Hat Press that is designed especially for that purpose. If you're up to personalized mugs, a Mug Press will give you peel-proof and dishwasher-proof results using Infusible Ink materials. If you plan on making lots of copies of the same project, AutoPress paired with an extra mat is the best choice. 
Size of a Heat Panel
As long as EasyPres is the most popular option, it comes in three different sizes: 9 x 9 in, 12 x 10 in, and mini for all those cute little designs. The Hat Press 5 x 3 in curved heat plate for heat-transfer applications on hats. The Mug Press works with 11 – 16 oz mugs compatible with Cricut Infusible Ink. The AutoPress got a professional grade 15 x 12 in ceramic-coated heat plate for almost any transfer design you may imagine. 
Top 9 Cricut Machines Review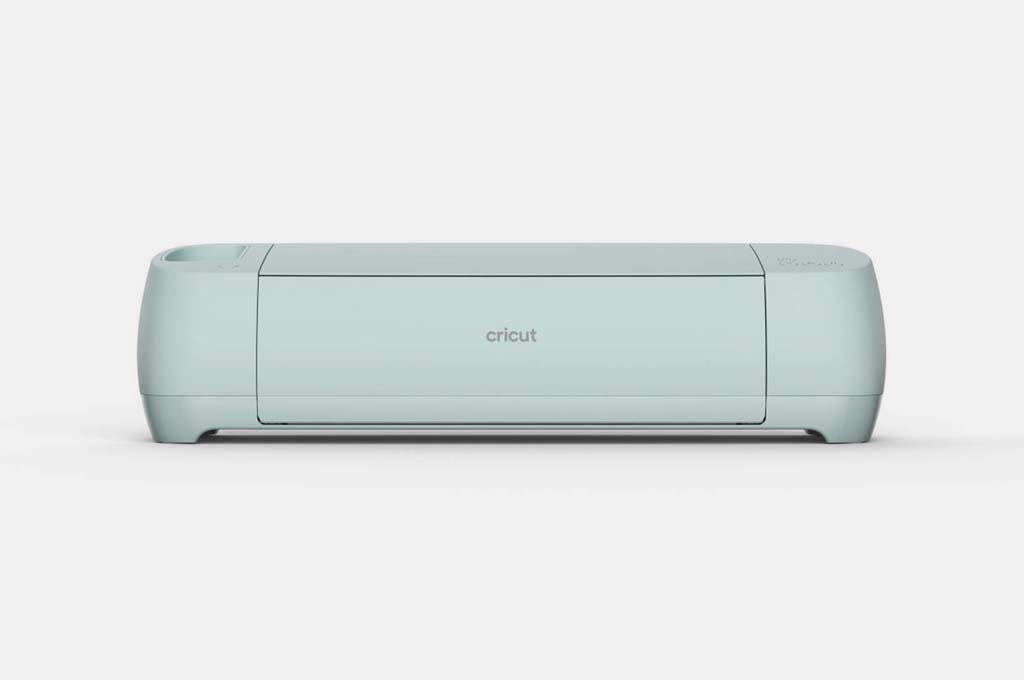 Types of materials: 100+ (including cardstock, adhesive vinyl, iron-on, glitter paper, bonded fabric & more)s
Types of tools: 6 (cut, write, score, foil & more)
Max Cut Length: 12 ft
Smart Materials: yes
Size (W x D x H): 22.2 x 7 x 5.9 in
Connectivity: Bluetooth + USB
The most popular Cricut Machine
Affordable cutting machine
Cuts x2 faster than previous Explore Air 2
Got significantly fewer features than the Maker series
Basic set doesn't include a cutting mat
Only one color
The Cricut Explore 3 is the most popular cutting machine. It sits just in the middle of the Joy and the Maker 3 on a price/features scale. It has a pretty affordable price tag, combined with extensive capabilities, making this model very cost-effective. Where did we lose the "Air" part of the machine name, upgrading from Explore Air 2 to Explore 3, you may ask? Don't panic! Now Bluetooth connectivity has become a standard for Cricut cutting machines, so there's no need to point it out with "Air." 
If you're planning on buying just the machine without the bundle option, you will get just one sample fine-point blade, other extra items that will give you more versatility are sold separately. For example, there's no cutting mat in the basic set of Explore 3. You may not need one, as long as this machine supports Smart Materials, but it is an essential item for using your Cricut to the full extent. 
In terms of features, the new Cricut Explore 3 can cut Smart Materials producing long continuous cuts up to 12ft, and is a lot faster than its predecessors. The Print Then Cut feature has also been upgraded. The Explore Air 2 would only work on white materials, while the Explore 3 would work on any color. 
As for usability, there is a slot to hold your tablet or mobile phone at the top of the machine. And a very convenient pen and accessory holder that can be easily accessed anytime you need it – which is very thoughtful, by the way. 
Is it a good machine? Certainly! The Cricut Explore 3 offers endless possibilities for crafters at all levels. It's a solid mid-range Cricut cutting machine that can perform many of the same tasks as the more expensive Maker 3, with the only differences being the materials it can cut and the tools it can work with.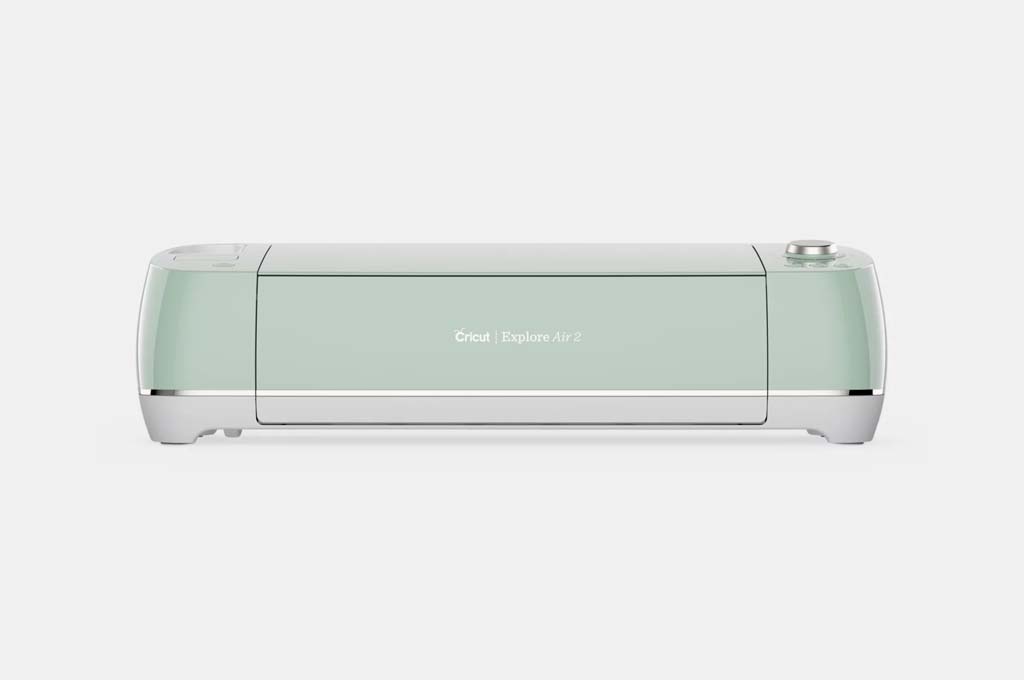 Types of materials: 100+ (including cardstock, vinyl, iron-on, glitter paper, bonded fabric & more)
Types of tools: 6 (cut, write, score, foil & more)
Max Cut Length: 1.9 ft
Smart Materials: no
Size (W x D x H): 21.13 x 6.99 x 5.93 in
Connectivity: Bluetooth + USB
Lots of color options to suit your interior
Cut 100 types of materials
Got fast mode
No Smart Materials support
Not much for professionals
Not so fast as the newer generation
The Cricut Explore Air 2 is a beginner-friendly cutter, suitable for those who want a powerful machine supporting lots of tools and materials but does not want to break the bank. Although it's not the best option for commercial use, this machine is an excellent alternative for anyone wishing to start a new hobby. It's good for small-scale projects that are handled at home. By the way, speaking of home, this machine comes in lots of different color options to suit the interior of your craft room. 
It got a fast mode for cutting paper for some kinds of vinyl, which is a game changer. It saves a lot of time! Beware, after you get used to the fast mode, it can be hard to use the machine at normal speed because it gives the impression that it's working in slo-mo. Like other Cricut machines, Air 2 works with free Design space software that allows you to create designs of your own or use free designs with Cricut Access. 
The Explore Air 2 got a double tool holder, one for the blades and the other for the pens. And it's very convenient, I must say. The dual clamp system also means that if you're doing a project that includes drawing and cutting, you can just set it up to run, and it'll do those two things on its own. Meanwhile, you can do different tasks, and you don't have to waste your time babysitting the machine. 
All in all, the Explore Air 2 is the greatest option if you want a low-maintenance, easy-to-use electric cutter that can help you make greeting cards, decals, vinyl signage, a many more for your design projects.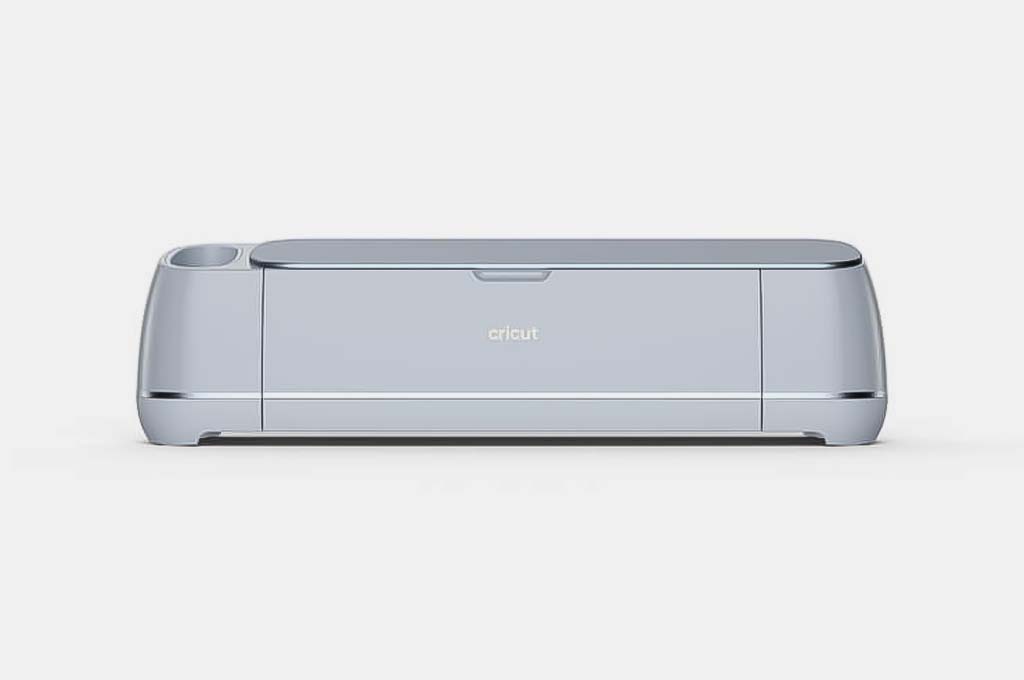 Types of materials: 300+ (including delicate fabric, paper, matboard, leather, felt, and even balsa wood)
Types of tools: 13 (cut, write, score, foil, engrave, deboss & more)
Max Cut Length: 12 ft
Smart Materials: yes
Size (W x D x H): 22.1 x 7.1 x 6.2 in
Connectivity: Bluetooth + USB
The widest range of supporting materials
Perfect choice for small businesses
Pretty fast and quiet cutting machine
The most expensive Cricut machine
No cutting mat in basic complication
Basic set includes only fine-point blade
The Cricut Maker 3 combines power, speed, and pro-level performance to keep up with your needs. This machine has ten times more cutting force than other machines. And make cuts two times faster. With Maker 3, you can cut almost anything you think of, including delicate fabric, balsa wood, foil, leather, and so much more. It can even engrave aluminum sheets. 
The recommended set of tools to unlock the full potential is a rotary blade for cutting fabrics, a knife blade for thicker materials of up to 2.4mm, wavy blade to add a whimsical wavy edge to any design, scoring stylus to create creases and folds, and a foil transfer tool for foil embellishments. One more undeniable advantage of this machine is the ability to use Smart Materials, which enable you to load materials and go, producing cuts up to 12 feet long that are made without a cutting mat at all. Which includes sticker card stock, iron-on vinyl, infusible inks, and regular vinyl. Maker 3 is compatible with Cricut Roll Holder to support rolls of smart vinyl and other materials up to 75 ft to make your experience even more smooth. 
Concerning the machine's appearance, if you're looking for a small, portable cutting machine, then maybe the Cricut Maker 3 isn't for you. Due to the size and weight of this equipment, it requires a special place to be stored and used. 
In a nutshell, Cricut Maker 3 is the best Cricut machine that has commercial-grade performance capabilities. It is quick, strong, and versatile in terms of the tools and materials it can support. You can cut designs for almost any project you can imagine. Of course, it's a little pricey, but if you take crafts seriously or want a machine that can be used for small businesses, then it's perfect.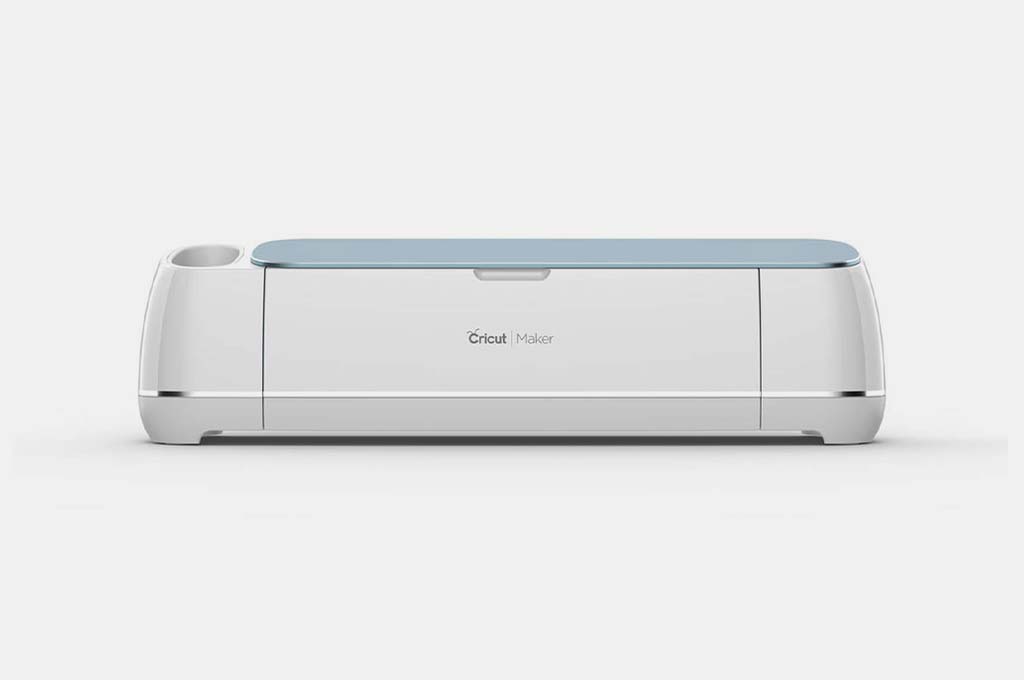 Types of materials: 300+ (including delicate fabric, paper, matboard, leather & more new materials)
Types of tools: 13 (cut, write, score, foil, engrave, deboss & more)
Max Cut Length: 1.9 ft
Smart Materials: no
Size (W x D x H): 22.6 x 7.09 x 6.22 in
Connectivity: Bluetooth + USB
Features Adaptive Tool System
Rotary blade with automatic blade detection
Good choice for professionals
Doesn't work with Smart Materials
It's a huge piece of equipment
Quite pricey for previous generation device
With Cricut Maker, you have the power to create almost any DIY item you can think of. Anyone can use this machine to cut at a professional level. It's future-proof enough not to be dislodged by the newer generation. 
Cutting sewing patterns and marking seam allowance has never been easier before. The rotary blade makes this machine the best choice for those who are into sewing. And you know what? The rotary blade is included in the basic set, as well as FabricGrip, LightGrip Machine Mats 12 in x 12 in, and a fine point pen. So you can start creating immediately as you unbox the machine and connect it to the Cricut Design Space. 
But do not rush to label Maker as a machine for paper and fabric projects only, it can actually engrave aluminum sheets. In addition, the Cricut Maker machines have professional cutting technology called the Adaptive Tool System, which allows the Cricut machine to be more precise and use 10 times more cutting force. Usually, cutting machines perform two actions at the same time: move a mat in and out of the machine and move the blade from side to side. But now, with Adaptive Tool System, here comes a third action that allows the blade to lift and turn, controlling the pressure of the cut and the rotation of the blade. It was a revolution in 2017 when the original Cricut Maker was first out! 
The only limitation worth mentioning is that the original Maker does not support Cricut Smart Materials. If you want to work with no cutting mat using those awesome rolls of smart vinyl, look to the next generation of the Cricuts. Although, if you are up to huge cut projects, a Design space app will help you divide the design into parts. 
The bottom line is that this Cricut cutting machine does almost any task you may demand and does it well. It's not the cheapest option on the market, nor even in the Cricut lineup of other machines. However, the extra cost is justified for the type of machine and the capabilities that you're getting. If you aren't going to cut fabric or tough materials, you might be better off with a cheaper machine like Explore series.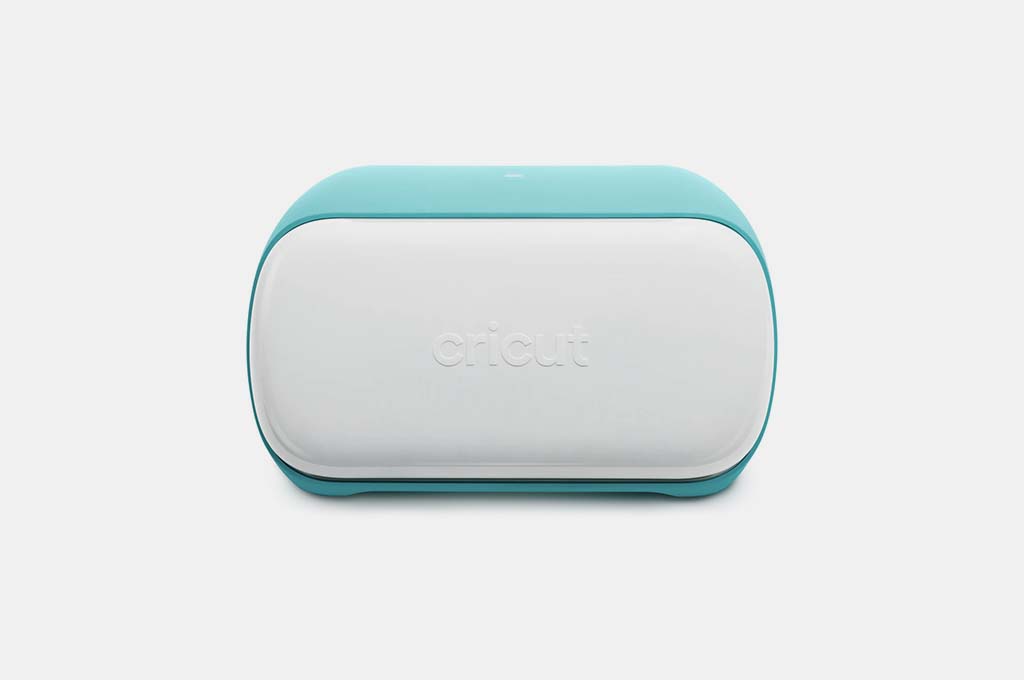 Types of materials: 50+(paper, cardstock, iron-on, vinyl & more)
Types of tools: 2 (cut & write)
Max Cut Length: 4 ft
Smart Materials: yes
Size (W x D x H): 8 x 5.4 x 4.3 in
Connectivity: Bluetooth only
Perfect for quick and easy projects
The most portable Cricut machine
Compatible with a Card Mat
Single tool holder
No USB connectivity
Only 2 types of tools
The Cricut Joy is a small, inexpensive, and easy-to-use cutting machine. It's a good entry-level device, a cutter for those who move a lot or prefer to be prepared for inspiration to strike on a road trip or vacation. Weighing only 3.9 lbs, this Cricut machine packs away easily and sets up instantly. It's about the size of a small Bluetooth speaker. Thanks to the Design Space app now, you can create your own designs for small projects almost anywhere and instantly cut them out with Joy! 
Due to its small size, this device has limited capabilities compared to the bigger Maker and Explore series, but if all you need is to create stickers, greeting cards, and heat press templates, the Joy is the best Cricut machine for you. 
But eventually, Cricut Joy can handle larger jobs from time to time. The Joy machine can be used to cut long shapes up to 4 ft or for repeated cuts up to 20 feet long and 4 inches wide without using a cutting mat. 
Inside the Cricut Joy is a similar cutter and tool mount as other Cricut machines, but a bit smaller. So you won't be able to use your existing blades and tools from previous generations if you upgrade to Cricut Joy. Talking about accessories, the Joy series is the only Cricut machine that works with the new Card Mat. Just lift off the protective plastic sheet, slot it in the card, and then fold it over. Hit cut and enjoy the result. 
All in all, the Cricut Joy is a small, inexpensive craft machine that can automatically cut or draw on paper, card stock, and vinyl stickers. Contrary to other Cricut machines, Joy saves much of your office space, thanks to the compact design. It is the simplest of the Cricut machines, best suited for hobbyists creating custom designs.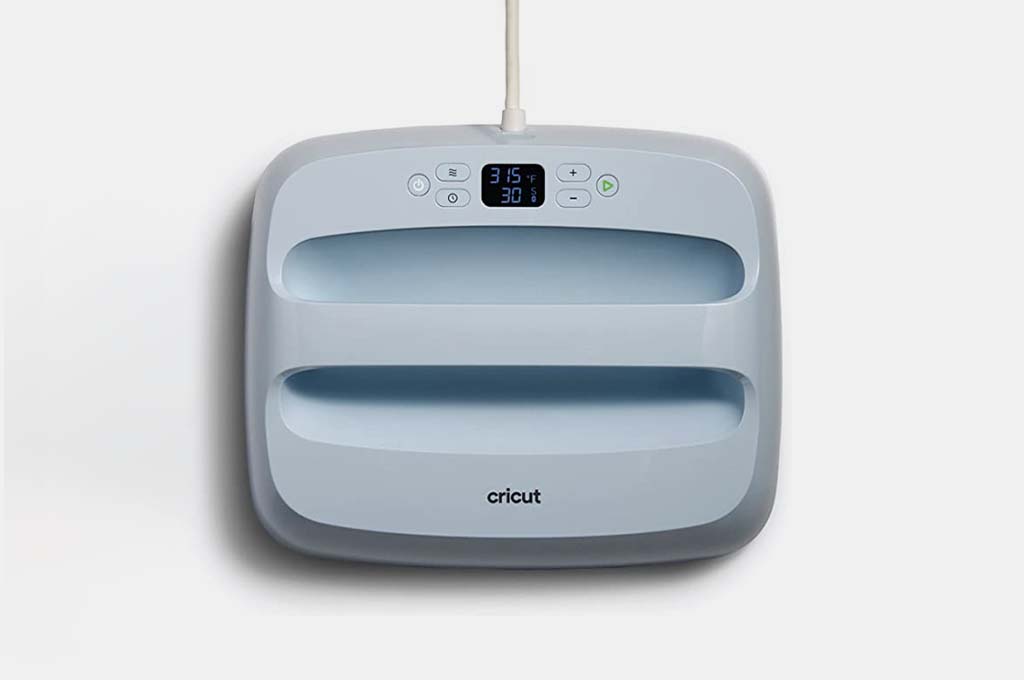 Types of materials: T-shirts, bags, totes, sheets, card stock, wood signs, etc.
Size of a heat plate: 9 x 9 in; 12 x 10 in; 1.9 x 3.25 in.
Temperature: up to 400 °F
Size (W x D x H): 7.6 x 16.5 x 15.4 in
Connectivity: Bluetooth
Even heat across the entire plate
User-friendly
The app could have more functions
Needs to be activated via Cricut Heat app
The EasyPress system lets you create custom T-shirts, bags, totes, sheets, card stock, and even balsa wood signs. Basically, EasyPress can help you with almost any surface you can put a vinyl sticker. This system is similar to your household iron, but the difference is that EasyPress doesn't use steam, and it also can be programmed by the Cricut Heat app to attach materials using Cricut's Infusible Ink. 
Additionally, the ceramic plate's ability to distribute heat evenly over the whole surface means that your vinyl will be heated to the proper temperature at every spot, aiding in proper adhesion. Just choose the right size of plate for your projects. It comes in three different sizes 12 x 10 in, 9 x 9 in, and mini 1.9 x 3.25 in for cute little adornment or shaped designs. 
EasyPress 3 provides a smooth user experience that reduces the chance of mistakes. The temperature and timer are clearly visible on the top screen and can be tweaked manually if needed. For your protection, there's a safe base for the heat press when it's not in use. What's new and revolutionary in the EasyPress 3 is the Bluetooth connection. Now you can control the temperature and timer straight from the Cricut Heat app. The app even tells you how to use each material you're trying to press.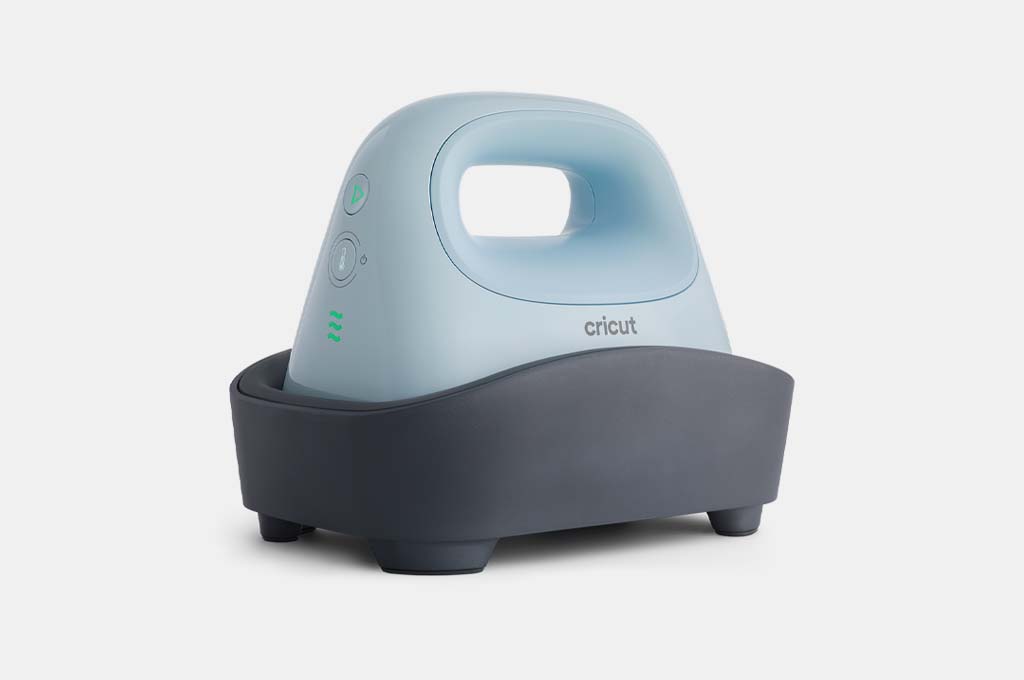 Types of project: custom hats
Size of a heat plate: 5 in x 3 in curved plate
Temperature: 3 heat settings up to 400 ºF
Size (W x D x H): 15.5 x 9.3 x 6.6 in
Connectivity: Bluetooth
Lightweight and compact
Safety base, comfortable grip, and auto-off
Works best on smaller designs
Very concentrated device
If you are using Cricut cutting machines for decals and stencils, you might want a new item, to extend the toolkit. Cricut Hat Press is a nice choice that won't take up a lot of space for those searching for a more concentrated heat transfer device like the Cricut Mug Press. It also got Bluetooth connectivity to customize heat settings quickly and easily. 
Like Cricut's standard heat press, the Cricut Hat Press is the most suitable for transferring iron-on heat-transfer vinyl (HTV) and infusible ink. The curved ceramic-coated heat plate of 5 x 3 in has three heat settings and provides up to 400 ℉. Learning preferred temperature ranges for different blanks is not fun at all, so Cricut got you covered. The Cricut Heat app gives easy-to-follow instructions on how long you should press what material for the best results. 
Safety is a serious matter while working with heat presses, so there are plenty of safety features for your convenience. Such as a safe-base, comfortable grip handle, and auto-off feature. After thirteen minutes of waiting, the Cricut Hat Press cuts off with a warning beep. 
Shall you get one? The choice is clear if you enjoy wearing custom hats and own a Cricut cutting machine. Therefore, Cricut's fantastic Hat Press makes it much simpler to create hats for yourself, your family, friends, or even your business. 
Types of project: personalized mugs.
Size of a heat plate: for 11 – 16 oz mugs
Temperature: 392 °F
Size (W x D x H): 8.19 x 13.15 x 8.74 in
Connectivity: USB
Works with standard-size mugs
Dishwasher-proof
Highly specialized machine
Needs a Cricut cutting machine
The Cricut Mug Press is a highly specialized Cricut machine that enables you to customize kitchenware. If you're a big fan of personalized mugs and want to design your own pro-quality dish in all colors, prints, and finishes, then Mug Press is totally for you. 
What's best about The Cricut Mug Press is that it does all the work for you. The settings will be adjusted automatically if you place the mug with the attached design you want to press and set the temperature. No more fuss with confusing menus or manual settings, just pure joy of creativity. 
Please note that the Mug Press can't be used by itself. It needs other Cricut machines. To cut the design you want to press, start with the Cricut Design Space software, then cut projects with the Cricut cutting machine with Cricut Infusible ink transfer sheets. To secure that design on a mug, you need heat-resistant tape. And all of the Cricut machines are best suited to work with Cricut accessories, so mug blanks are advised. Although Mug Press uses standard-size mugs, just be sure to follow the sizing and heat-resistant specs before you pull down the lever. 
The bottom line: we'd recommend the Cricut Mug Press to anyone who is already into Cricut crafts and creating lots of various mud projects. If you're new to Cricut machines, it's better to start from the cutting machine and seek out a bundle deal that includes the Cricut Mug Press.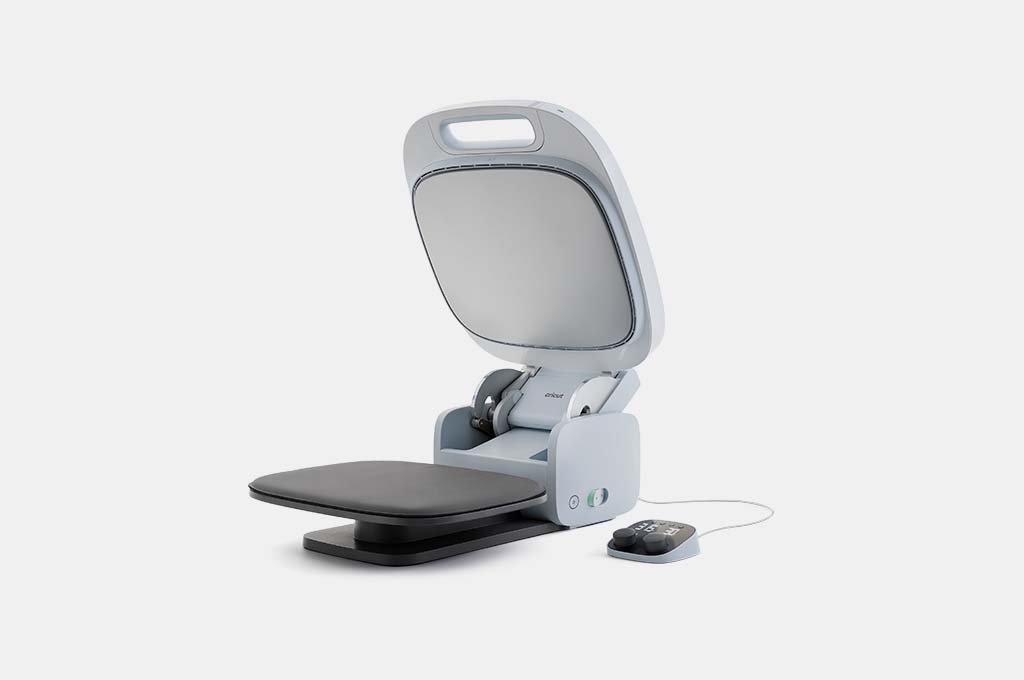 Types of project: adhering decals to a variety of flat blanks (t-shirts, tote bags, coasters, signs and more)
Size of a heat plate: 15 x 12 in
Temperature: up to 400 °F
Size (W x D x H): 16.63 x 26.07 x 6.62
Connectivity: USB
Four-point hinge
Auto-adjusting pressure
It's a hefty piece of an equipment
Expensive
Cricut AutoPress is a commercial-grade version of a standard heat press. It is used for adhering iron on vinyl, Cricut Infusible Ink, and sublimation prints to flat blanks, like t-shirts, tote bags, coasters, and more. And it does it very well! 
When using a heat press, there are 3 things that need to be set right to achieve the best result: time, temperature, and pressure. And the pressure is the most tricky one. Cricut offers an elegant answer to this problem! AutoPress automatically adjusts the pressure on materials up to 2 inches thick. Just close the lid and hear it do the job. Now it's that simple! 
More about simplifying our lives – now you can set 4 presets for the projects you make often or in bulk. Such a time saver! Speaking of the time-savers, Cricut AutoPress's four-point hinge is a blast. It gives you the convenience and speed of a clamshell opening mechanism while allowing you to press thicker, denser materials like with a swing-away tool. 
Batching projects is made so easy with AutoPress. Prepare the next project to put on the heat press while the first one is pressing. You can complete tasks even quicker if you have extra mats for the base. Although this heat press may appear more suited to pro crafters who produce lots of copies of the same project or those who run small businesses, it is elementary to use; even a beginner could do it. 
Once you get a Cricut machine, you may need additional accessories and tools to get more creative freedom in your projects. The basic set of tools depends on your choice of machine and bundle option. Usually, you get a blade, a mat, a pen, and material samples for your first project. Here are some extra Cricut products we advise you to buy. 
Basic Tool Set to make the most of your cutting experience 
Cricut Roll Holder for working with rolls of Smart Materials 
Weeding Tool Set for peeling intricate designs 
Machine Mat Variety Pack cutting mats set that will cover all your cutting needs 
Heat Resistant Tape to keep your designs perfectly in place 
Frequently Asked Questions