The Designest may receive compensation from companies, products, and services featured in this publication. For more details, please refer to our Affiliate Disclosure page.
Painting a picture, an artist carefully selects paints, brushes, a canvas, and an easel. They do not always have to be the best materials ever but the best of those that fit the purpose, style, and budget of the artist. Drawing tablets are the 21st century's paints and canvas, and the importance of choosing the right "materials" has not diminished with the advent of technological progress. 
We understand how difficult it is for digital artists to find the proper drawing tablet among the gadget galore offered on today's market. So, having extensive experience in interaction with many devices for graphics and design, we have picked the best drawing tablet for 2022 in each category based on tablet specs, price, professional goals they can meet, and the skills they require. 
To answer the question "What is the best drawing tablet in the coming year?", we analyzed many factors, such as functionality, technical characteristics, price, build quality, ease of use, and so on. In this review, we gave the main award to a tablet that combines the best values among those we evaluated. However, for your convenience, we have compiled a list with popular requests and purposes for buying graphics tablets and named the best drawing tablet for each category. We also wrote a short review of every device for you to familiarize yourself with the tablet specs and choose the one that will match exactly your expectations. 
Top 14 Best Drawing Tablets
iPad delivers ultimate perfection in one device, which makes it the best tablet for art and design.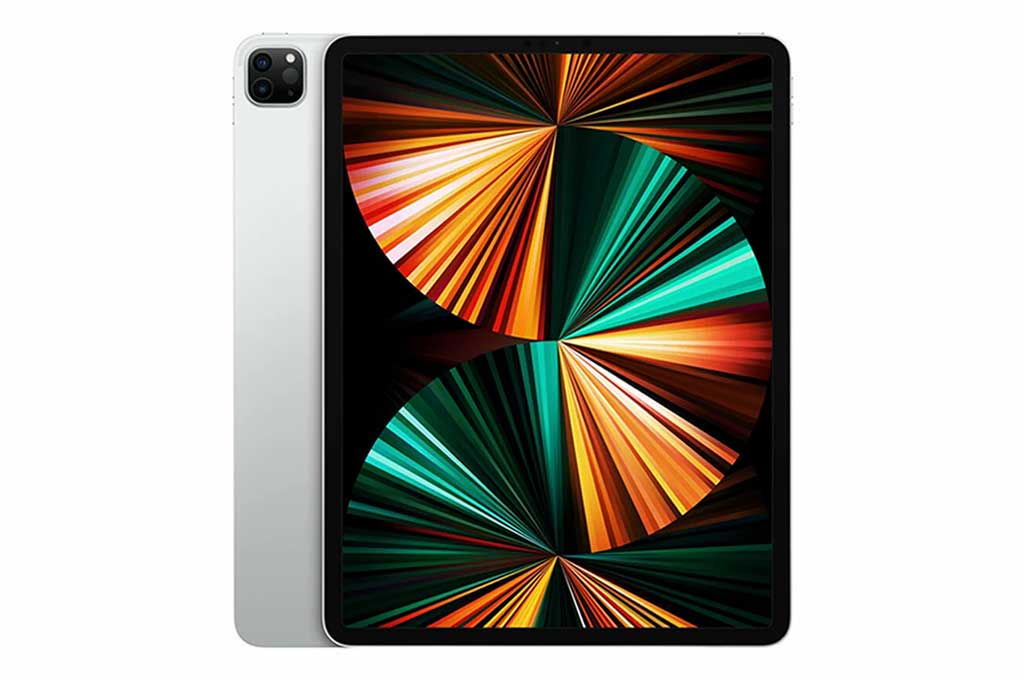 Active drawing area: 10.32 x 7.74 in
Resolution: 2,732 x 2,048
Pen pressure sensitivity: Not specified (requires optional Apple Pencil)
Connections: Thunderbolt 4, Bluetooth, Wi-Fi
OS: iPadOS 14.6
Very strong processing power
Impressive screen resolution
The new device is not only the best iPad for drawing in the Apple line, but, without any doubt, the chicest tablet on the market in general. An incredible mini-LED-powered XDR screen delivers high brightness of up to 1600 nits and has an excellent anti-glare coating to perfectly display all kinds of graphics on a sunny day outdoors. Although 12.9 inches is not the biggest size for unleashed creativity, they provide enough space for detailed drawings. From great color balance and a boosted contrast ratio to sRGB/Display P3 support, the display gives what it promises — true-to-life images full of nuances.
However, it is a powerful M1 processor that makes the fresh iPad stunningly different from other good drawing tablets. Previously found only in computers, it allows applications to run at a speed never seen before. Complemented with up to 16GB of memory and up to 2TB of storage capacity, this Apple's creation runs demanding image and video editing software without a hitch. This power translates into a higher number of layers in Procreate or faster video export in Lumafusion.
Intuitive Apple Pencil 2 combined with the improved 120Hz screen makes lines appear instantly, thus allowing no disconnectedness and keeping the drawings perfectly smooth. What is more, the ProMotion screen ensures dynamic adjustability, refreshing faster when you are painting than when you are watching a movie. The Apple Pencil supports palm rejection and tilt in addition to featuring a high pen sensitivity to wow you with amazing drawing performance. However, you won't be able to start drawing from the get-go since the stylus is not included in the pack.
Despite the hefty price tag, lower portability, and embarrassing limitations imposed by iPadOS, the 2021 iPad Pro deserves to be crowned as the best graphics tablet one can dream about. It has the power of a full-fledged laptop and is suitable for beginners and professionals working in a variety of fields, from creating digital art to software development.
Enjoy your creativity by painting directly on this high-definition display with a huge drawing surface. 
Wacom tablets, especially their Cintiq line, are in great demand and have hundreds of rave reviews as the best drawing tablet 2022. The main advantage is its display, which is 21.5 inches. Roughly speaking, it's the size of the screen that makes up the price for the most part, but it's definitely worth it. The larger display in drawing tablets suggests a higher number of sensors. They provide greater responsiveness to the lightest touch yet increase the price of the product. However, you may rest assured that a professional artist will get the best performance for this money.
With a color accuracy of 72% and an HD resolution of 1920 x 1080, this tablet fully meets the boldest expectations. It is compatible with Pro Pen 2 — an incredible professional pen patented by Wacom. The pen has 8,192 levels of pressure sensitivity and tilt recognition, allowing for ultimate creative control and instant reproduction of your movements.
Wacom always boasts the highest quality of its products, so with the Cintiq 22, you can be sure you are getting the best tablet for drawing. The large display opens the door for creating art on a whole new level and provides a platform for all possible design needs.
Not only is this a good drawing tablet, but it also goes with one of the best accessories for designers.
This drawing tablet comes in a package that includes pretty much everything an artist might need to ensure seamless workflow. The manufacturer chose to free up more space on the display for drawing itself by inserting only three buttons for fast access to pen and display settings. However, it added the Quick Key Remote to the bundle, meaning you will have eight more buttons and a wheel dial for customizing up to 40 shortcuts and smooth switching between functions. For the record, some of the best drawing tablets listed in this review require purchasing a remote separately, for example, more costly graphics tablets of the Wacom Cintiq line.
The pack also delivers no less than two battery-free pens of different sizes and ten extra nibs, plastic and felt (a small yet pleasant surprise). Both of the pens recognize 8,192 pressure levels and tilt of up to 60 degrees and have dedicated eraser buttons on the end. Before users start drawing, they can fine-tune these tools to instantly swap between functions by using their customizable buttons — three on the regular stylus and two on the slim pen.
Xencelabs' medium-sized screen works fine for most design tasks while its thin body of only 8 mm and wireless design provide for high portability. Still, since it is a graphics tablet, you need to connect it to a Mac or Windows PC in order to see what you are drawing. Fortunately, you will have no hassle linking the drawing tablet and the remote to your computer since the bundle is packed with a USB-A to USB-C connector and a wireless Bluetooth dongle.
All things considered, this nice mix of flexible features, ergonomic design, and an attractive price explains why the emerging brand has made it to the list of the best tablets for drawing in 2022.
The Cintiq 16 drawing tablet can portray up to 16.7 million distinct colors, giving it a gamut accuracy of 72 percent.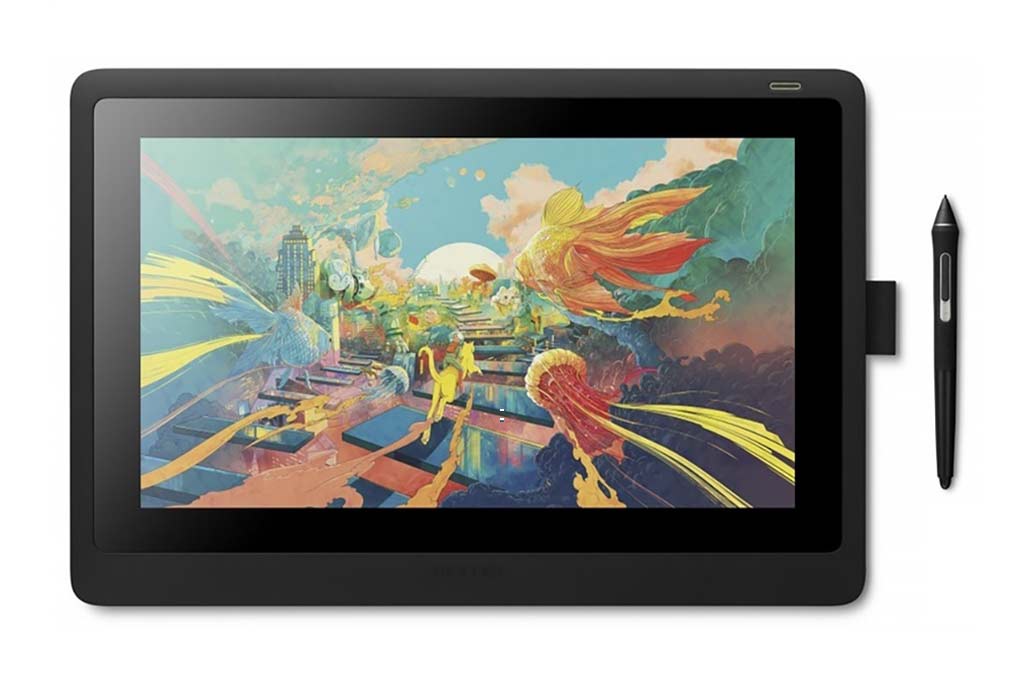 Screen size: 15.6 inches
Active area: 13.6 x 7.6 inches
Maximum screen resolution: 1920 x 1080
Stylus: Wacom Pro Pen 2 (8,192 pressure levels)
Connectivity: USB-C/HDMI or USB-A/HDMI 2.0 or later
High-resolution display
Wacom Pro Pen 2
Scratch-resistant
Foldable legs
Includes Clip Studio Paint Pro
Unlike the above-described Wacom tablet, the Cintiq 16 features a smaller screen — 15.6 inches with a 13.6 by 8.6-inch active area, which is more than enough for most designers. The tablet has an anti-glare coating and increased friction for more comfortable drawing and imitation of sketching on paper. A great solution was to place express keys on the back of the device, thus increasing the working area of the screen. This drawing digital tablet allows for an HDMI connection to a PC, which is the most reliable option among other analogs. Also, this device has special foldable legs with a tilt angle of up to 19 degrees.
The Cintiq 16 brings you extremely close to the realistic feeling of drawing as if you were using a regular pen. The gadget has no battery, which translates into a light weight, by contrast with the Wacom Cintiq Pro series. Also, the tablet features technology that makes your lines smooth and prevents hand shake. The Cintiq 16 comes with a Wacom Pro Pen — a great, precise, and comfortable accessory. All this makes the Cintiq 16 one of the best art tablets on the market.
As it is expected of the best drawing tablets, you will be able to enjoy a display with an excellent resolution and performance at a very attractive price.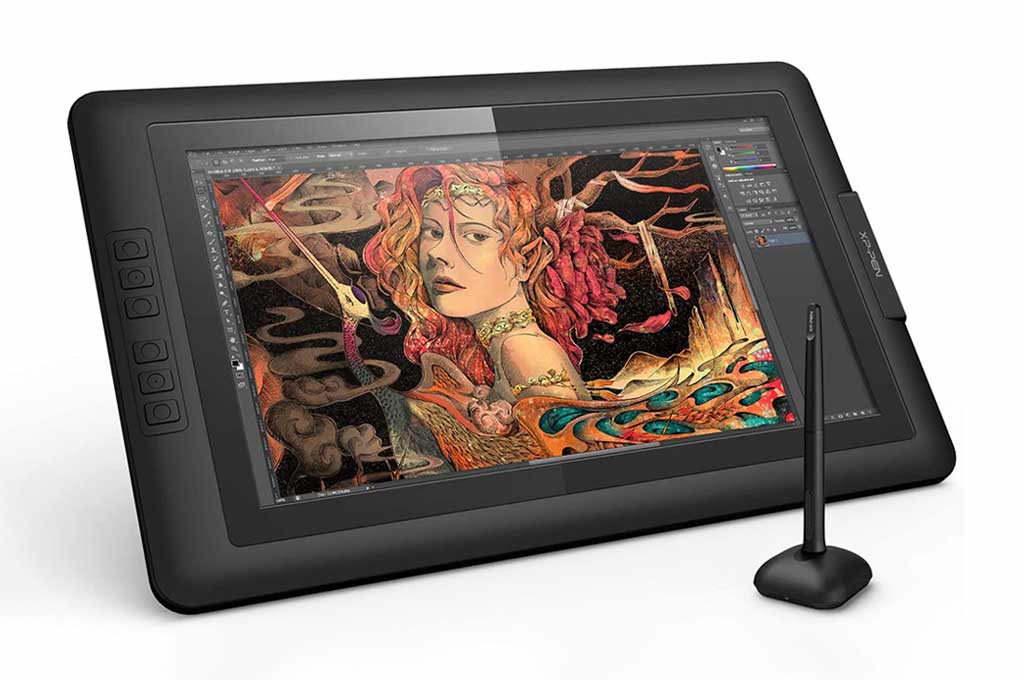 Active drawing area: 13.54 x 7.62 in
Resolution: 1,920 x 1,080
Pen pressure sensitivity: 8,192 levels
Connections: USB-C
OS: Windows or macOS
Highly affordable display
Sound build quality
Good pen and drawing surface
A stand is not included
The tilt and pressure sensitivity is not perfect
In this drawing tablet with a pen, you can find absolutely all the functions and characteristics necessary for creating artwork: a sufficient working area, a pen with high pressure sensitivity, and a fairly good screen. The display boasts an 88% NTSC color gamut, which is higher color accuracy than in many devices having a more common gamut of 72%. Its laminated surface works towards lower levels of parallax, and the anti-glare coating copes with reflections breezily. When combined with a full HD resolution of 1920×1080 and impressive brightness easily adjustable with side buttons, these specs alone bring the Artist 15.6 Pro into the list of the best drawing tablets.
But the device also supports 60-degree tilt recognition, which allows reproducing any pen movement quite accurately and smoothly. Although it does not deliver the same detail and full synchronization between the pen strokes and the picture displayed on the screen as some flagship graphics tablets do, the Artist 15.6 Pro shows more than decent performance in its price category. The stylus is comfortable to hold, and it comes with eight replacement nibs and a pen holder convertible into a pen stand, which is another plus considering the value for money.
So, the lightweight, portable, and easy-to-set-up XP-Pen Artist 15.6 is sure to be the best tablet for artists starting out in the world of design and graphics.
A huge display coupled with decent stylus precision places XP-PEN among the best drawing tablets of our choice.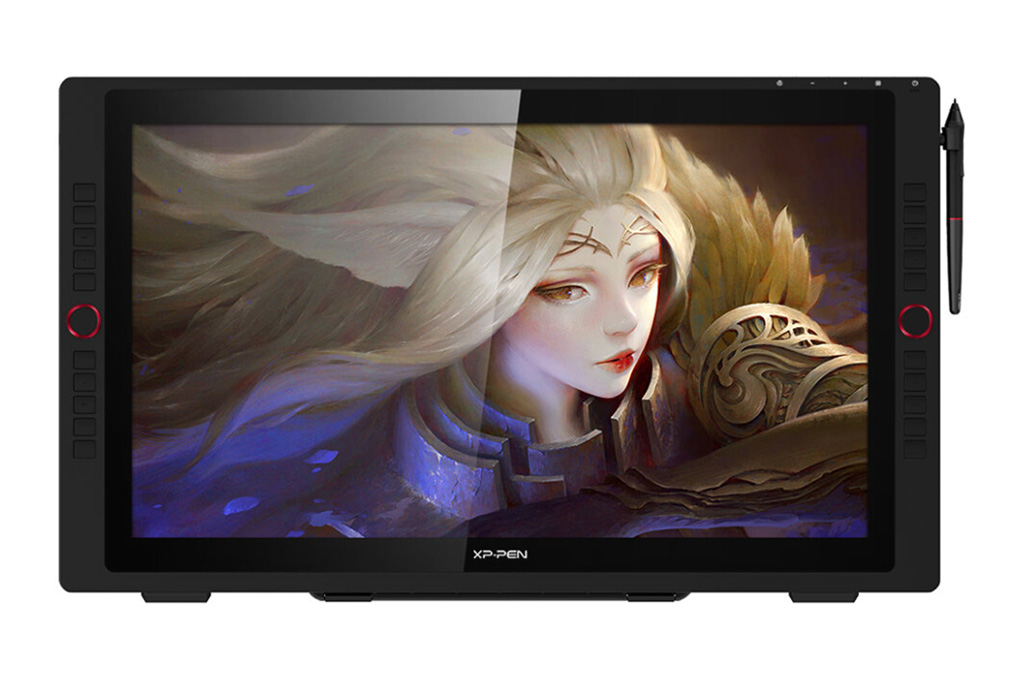 Screen size: 23.8 inches
Active area: 20.74 x 11.67 inches
Maximum screen resolution: 2560 x 1440
Stylus: PA6 battery-free stylus (8,192 pressure levels)
Connectivity: HDMI, USB-C
2K Quad HD display
Made for right and left-handed
Sensitive battery-free stylus
This device has an incredible drawing screen — a 23.8-inch high-quality display that brings out the maximum color gamut and the smallest details. Quad High Definition is not a joke, adding more pixels to the screen and resulting in sharper images. The tablet deserves credit for its solid build and, separately, for a reliable stand attached to its back panel. The stand can tilt up to 90 degrees while customizable buttons on both sides of this digital drawing tablet make it a great choice for both right-handed and left-handed visual artists.
The gadget comes with two pens having 8,192 pressure levels and 60-degree tilt detection, which is a splash of generosity rarely seen in packages of other brands. But what establishes XP-PEN Artist 24 Pro in this best drawing tablets list is an almost flawless drawing experience originating from the pen's responsiveness and preciseness. Your workflow won't suffer from lagging and jitter since these issues are seldom observed when working with the mighty Artist 24 Pro.
However, given such a huge tablet screen, it is kind of expected that the tablet's weight is quite high, 15.43 pounds, which turns it into a gadget for office use rather than a portable device. The price tag is also hefty, so it's definitely not a perfect drawing tablet for beginners.
When choosing an introductory art tablet with a pen, you don't need any bells and whistles that can only add confusion to your first experience. This Huion tablet is just the thing for those who are starting to learn art and don't want to spend much of their budget on gadgets that might soon be abandoned. Its small working area of 4.8 x 3 inches is not aimed at detailing and may require plenty of zooming, but it comes in a combo with quite a sensitive pen that ensures fair control over lines and strokes. The possibility to detect 4,096 levels of pressure is not a common thing in low-end tablets for artists, so you will surely be pleased with the stylus responsiveness.
Despite its compact size (which is actually an advantage in terms of portability), the Huion H430P manages to accommodate four press keys accompanied by another two buttons on the pen for a lot of customization. Beginners will certainly like dots across the working area, which will guide them through the first steps of dealing with drawing tablets.
The tablet also proves that affordable doesn't mean flimsy since its build quality deserves much praise and can be compared to the best drawing tablets of a higher price range. With four rubber feet attached to the back, the device won't slide on a table surface, while the lightweight design allows holding it in hand effortlessly. All in all, the Huion H430P is a nice choice for newbies and even an option for professionals looking for a simple tablet to work on the go.
Who doesn't want a professional experience from the best art tablet at an attractive price?
The XP-Pen Artist Pro 16 carves a special niche in the graphics tablets market, offering you a unique professional drawing experience at a truly attractive price. Its screen comes with full lamination and provides 99% Adobe RGB coverage, which minimizes parallax and boosts color accuracy, respectively.
The graphic drawing tablet has an updated pen with a sensitivity 10 times higher than its predecessors, which allows you to make very thin and sharp lines. Its accuracy and responsiveness are now complemented with a slimmer design, and many users find this change truly beneficial.
Another key feature of this gadget is the nice quality of its materials, which is a must for a nominee claiming its place among the best drawing tablets. The casing is sturdy and very pleasant to the touch. The textured display surface is responsible for a real-life tactile sensation, and the glass under the anti-glare coating seems wear-resistant enough to eliminate scratches for a long time.
On the downside, the device could have a slightly higher brightness. Also, it does not have a stand or legs, which can also be a big disadvantage for some users. However, if you are looking for more than just good tablets for drawing and want the best device for a reasonable price, this option is perfect for you.
Unlike most drawing tablets, this device offers vast functionality comparable to a laptop.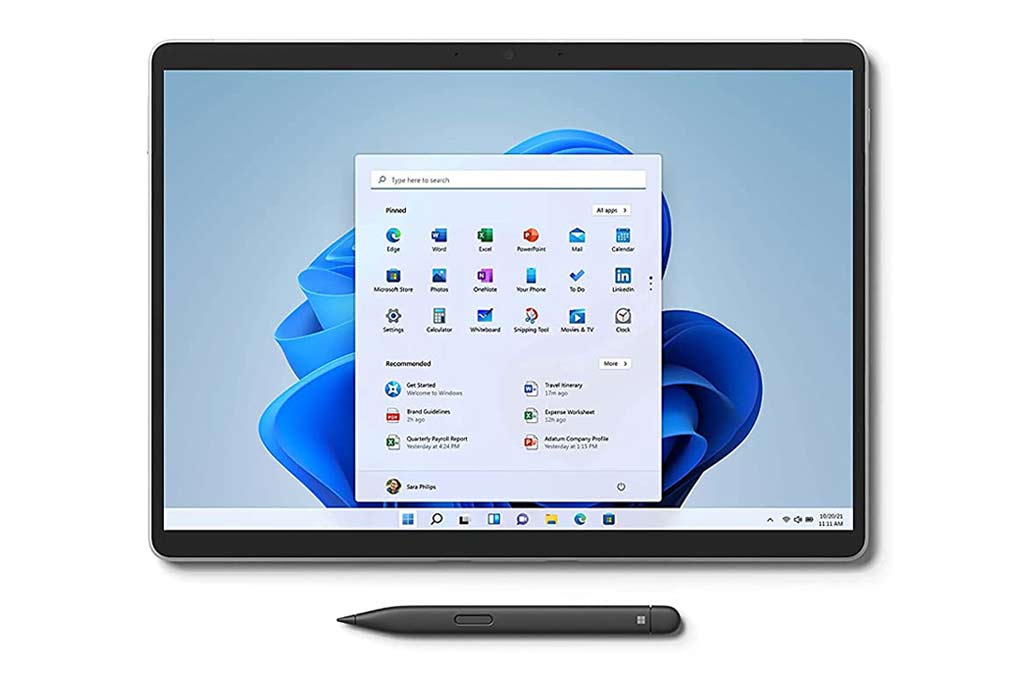 Screen size: 13 inches
Maximum screen resolution: 2880 x 1920
Stylus/Sensitivity: Surface Slim Pen 2 (sold separately)/4,096 pressure levels
Connectivity: Wi-Fi, Bluetooth, USB
Face ID
Multifunctional
4,096 levels of pressure sensitivity
Surface Slim Pen 2 needs to be bought separately
Expensive
This tablet for drawing with a pen is another option that can replace a full-scale computer. Actually, you are free to transform it into a laptop or a drawing tablet by adding a keyboard or a stylus, correspondingly. But this stunning versatility is not the main advantage that distinguishes the Surface Pro 8 hybrid from other tablets for drawing. As a representative of the Microsoft family, the tablet is powered by Windows OS and is not limited to mobile operating systems. Equipped with a powerful Intel Core i7 processor, up to 1TB of SSD storage, and up to 32GB of RAM, it can seamlessly run large Windows apps like Adobe Photoshop or Corel Painter without a need to connect to a PC.
Although the Surface Pro 8 doesn't come with a stylus, the freshest edition of Surface Pen with 4,096 sensitivity levels, a 77-degree tilt, and haptic feedback delivers an amazing drawing experience. You will enjoy the impressive accuracy of the improved stylus and the diversity of tactile sensations it provides.
The screen refresh rate that can be boosted to 127Hz only enhances the Surface Pen responsiveness, and the Full HD 2880 x 1920 resolution coupled with the 13-inch space full of colors is an eye candy. Usually, trying to please everyone by creating a universal device fails, but the Microsoft Surface Pro 8 is exactly the case when you get the best drawing pad and one of the best tablet computers rolled into one.
A large screen with improved contrast, color accuracy, and glass surface has transformed Kamvas 22 Plus into the best drawing tablet in the budget-friendly price range.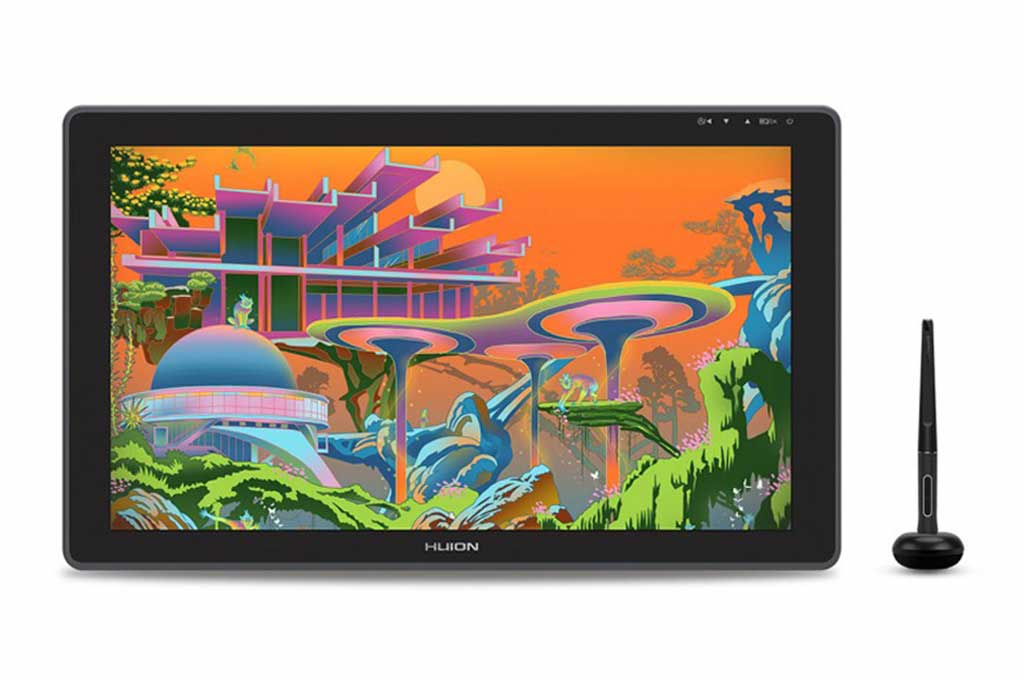 Active drawing area: 18.77 x 10.56 in
Resolution: 1920×1080 Full HD
Pen pressure sensitivity: 8,192 levels
Connections: USB-A/USB-C/HDMI
Connectivity: Wi-Fi, Bluetooth, USB
Fantastic screen
Good price for a 22-inch tablet
No touchscreen
The pen is very basic
This device deserves its place on this list as the best digital drawing tablet for a number of reasons. First, this is a new screen, which, unlike in most tablets, uses not anti-reflective film but anti-reflective glass, thus adding durability and special sensations when drawing.
The screen has 140% sRGB coverage and the power to replicate 16.7 million colors. The tablet pen for drawing that comes in the kit is not something special, but at the same time, the pen displays all your movements and presses, which is more than enough for many designers.
At this price point, Kamvas 22 Plus is definitely the best digital art tablet given its features and advantages over the competition.
When choosing a device among graphics tablets, not everyone wants and can afford premium options. Despite its really low price, the Wacom One is able to give you features and feel that are as close to a professional-level tablet as possible. It is important to note that it is not a standalone tablet, meaning it needs to be connected to Windows or macOS computers. However, the Wacom One is also an Android tablet that can work with at least some devices powered by this popular OS.
The 6.0 x 3.7-inch screen with 2,540 LPI of sensor density is obviously not as accurate as more expensive options. The pen has 2,048 levels of pressure sensitivity, which is not the highest value either. But if you take this particular price category, you will not find anything better with the same functionality and simplicity of use, so don't be surprised to find this device listed as the best artist tablet.
It is one of the best drawing tablets that can serve as alternatives to more expensive brands.
When considering different top drawing tablets, one cannot but include the XP-Pen Deco Pro Medium. It is a low-budget digital art tablet that mimics premium brands in design and functionality. It has borrowed the best possible pressure sensitivity and learned how to recognize a pen tilt of up to 60 degrees. Its 5080 LPI screen resolution gives decent preciseness in pen movement, and the pen itself is well-balanced and comfortable to hold. Although it won't give you the same feel as more expensive styluses, it still performs really well.
In addition to two shortcut buttons on the stylus, the tablet has as many as eight keys and two dial wheels (mechanical and virtual) conveniently grouped on the front metal panel. Altogether, they give quick access to plenty of specific functions and allow for high customization of your workflow. By the way, the whole device is also made of metal to deliver both durability and premium feel native to the best drawing tablets of a higher level.
The kit deserves one more score for including a nice pen holder that transforms into a stand, eight extra nibs, and a couple of adapters for better connectivity. However, the tablet comes with a USB Type-C port to be linked to desktops with no adapter required. Besides, XP-Pen Deco falls into a quite rare category of Android devices, which is definitely an advantage. To summarize, this tablet is a great option for drawing for computer graphics at a very attractive price.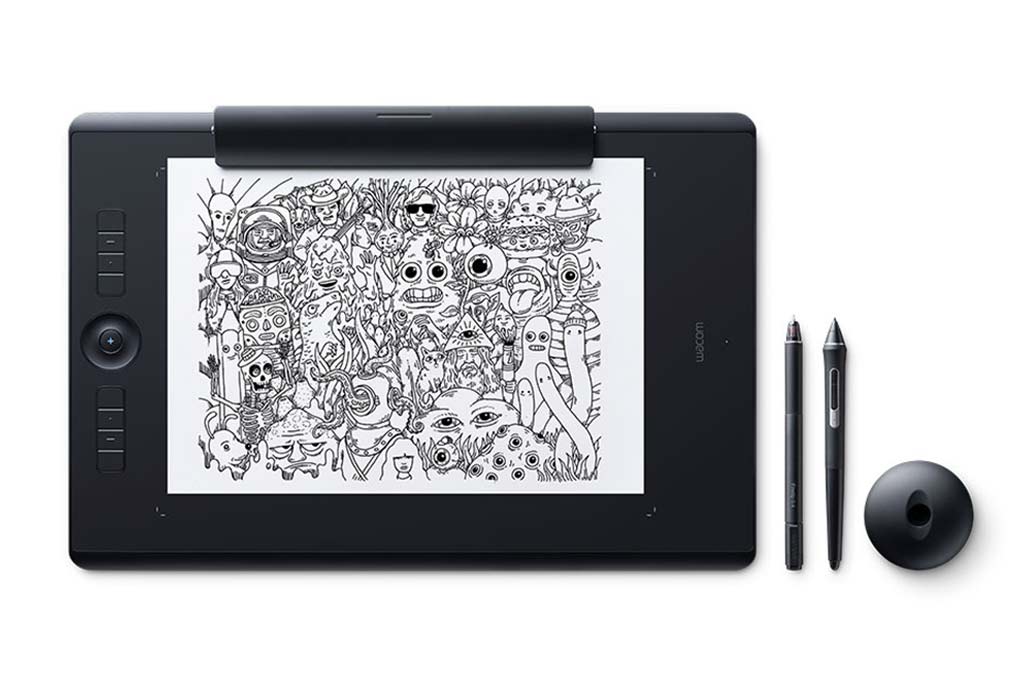 Active drawing area: 12.1 x 8.4 in
Pen pressure sensitivity: 8,192 levels
Connections: USB, Bluetooth
OS: Windows or macOS
Includes 2 months of Adobe Photoshop and Lightroom for free
High-quality
Low latency tracking
Disconnection and hardware issues may occur
So, Wacom Intuos has been at the very top of the drawing tablet game for a long time. In its largest size available, the device offers a big work area without being huge. It saves a lot of desk space and provides plenty of room for bold strokes. The tablet has a resolution of 5080 LPI, which eliminates the slightest jitter when drawing even the thinnest lines. But what makes this device the best digital art pad for illustrators is the state-of-the-art pen with 8,192 levels of pressure sensitivity and 60-degree tilt support. Although quite a number of other devices claim the same tech specs, not all of them that perfectly calibrated to fulfill the promise.
Further, the Wacom Intuos Pro will delight you with settings galore accessible through a feature-rich driver. There are eight buttons that you can configure to suit your every need while taps and actions on the screen are also customizable. The multi-touch functionality can be turned off or on whenever you like, and you are welcome to adjust the pre-set touch ring to match the specifics of your workflows.
Another advantage is the Bluetooth feature for connecting the tablet to a PC wirelessly, although wire connectivity is also available. When putting it all together, you get the best drawing pad for PC aimed at professionals, which is also reasonably priced considering its high quality and the abundance of features.
It is a highly affordable option, which would be one of the best drawing tablets for beginners.
Thanks to technology development, we can spot more variations of devices to meet our diversified requirements. The device comes with a passive pen having 8,192 levels of pressure sensitivity. The XP-PEN StarG640 is not a regular tablet.
Yes, this option can hardly be called the best tablet to draw on, but it has really good features and functions that are especially suitable for beginners. It is a very cheap drawing tablet, easy-to-use, multifunctional, compact, and compatible with the most popular operating systems.
It doesn't matter who you are — a professional designer with many years of experience or an amateur artist who has fun drawing illustrations in the evenings after work. Today, there is a graphics tablet for everyone. The market has hundreds of offers to meet all the goals, requirements, and financial possibilities of the user.
But before picking your perfect option from the best drawing tablets available out there, you should learn that the devices differ in:
the size and quality of screens;
the stylus pressure levels, its responsiveness, and accuracy;
the need to connect the tablet to a computer;
pricing;
materials and build;
the functionality you can get and in a variety of other factors.
If you are a professional designer, the drawing tablet for you must stand out for high accuracy, top-quality color rendering, a large working area, and a powerful processor. Surely, you should be ready to pay an appropriate price for such characteristics. If you are a beginner, you do not need so much fancy stuff in a tablet, and it will be enough to choose a budget option to get started.
Due to differences in the needs of users and the huge number of screen tablets for drawing on the market, it is difficult to single out the best tablets for digital art that could equally suit absolutely everyone, from professionals to beginners, from designers to software developers. Yet, in our opinion, such a tablet is iPad Pro. This device has functions essential for a very wide range of users, and it is a quality product made with the latest technological solutions. It is convenient, versatile, and reliable, and we definitely recommend it for purchase.