Quentin Tarantino is a notable and outstanding filmmaker, whose masterpieces contain juicy, eventful plots, playing with your mind. He takes care of all the odds and ends putting them on their rightful places in the canvas of plot, which is just insane! But have you seen his movie credits?
Tarantino's vision of art is not bound by any frames and is expressed even in the way he arranges the intros for his movies. I've got to say, this man is a real movie font maniac! Most of his motion pictures have a successive chain of typefaces proudly demonstrated within nothing less than 3 minutes. He grabs so many variants not out of design greed: the typographic twists he chooses with the movie fonts can't be called out of place.
Being just an average fan of his work, it has never come to my attention until I've watched the latest 'Once upon a time in Hollywood' with its retro aesthetics of the 80s. Followed by curiosity, a great love to Tarantino movies, mixed with a desire to discover more about movie fonts, I invite you to come along through this typographic adventure.
The long history of Tarantino movie fonts was a bumping ride. It all has started with Pacific Title studio taking care of typography, then handing over its reins to Jay Johnson. But first things first.
Movie Fonts by Pacific Title & Art Studio
No matter how many Tarantino movies you've watched, there are still two very special pop culture treasures brought to life by the mastermind: 'Pulp Fiction' and 'Jackie Brown'. They both have titles made in yellow slabs with orange-shadowed outlines, created by Pacific Title & Art Studio. This company has a huge experience of making movie fonts for opening titles, which has ended in 2007 when the company faced a crisis, eventually ended with its liquidation. But their legacy lives on as the following two brightest examples.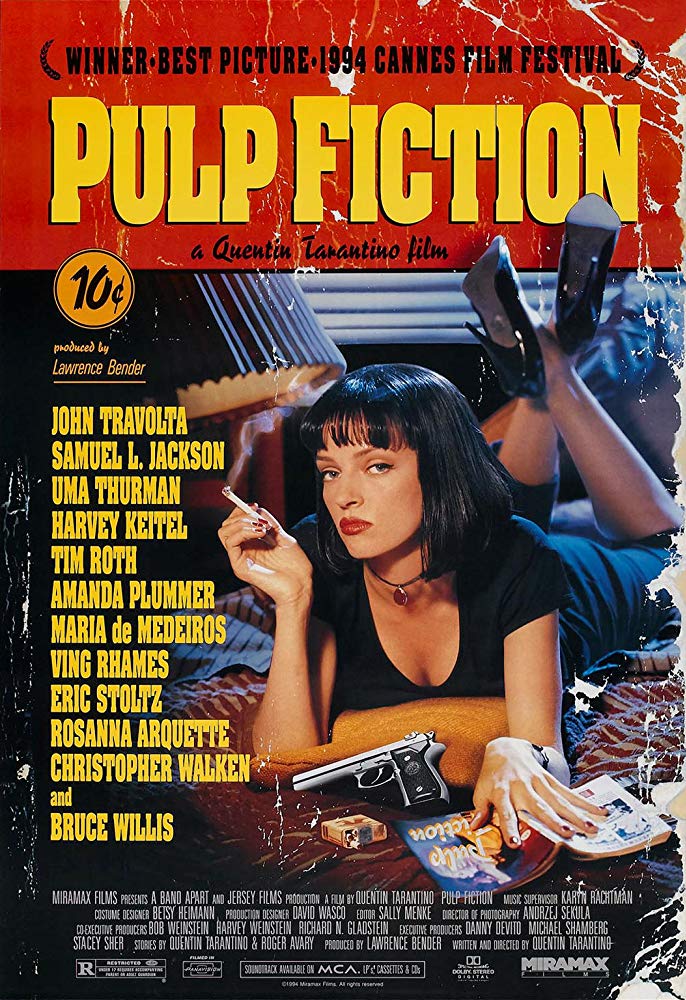 ​Colin Brignall designed Aachen font for Letraset in 1969, intending it mainly as a title font. Its strong, concise image makes it particularly good for text which should stand out.
Do you hear the classic movie soundtrack playing in your head while looking at the poster? I freaking love this song! And the movie poster font too with 
Aachen typeface
. It's been 25 years since the movie came out and it's still that fascinating for the modern audience. What made it even more recognizable is the blindingly done retro title, which can decorate any of your artworks as well!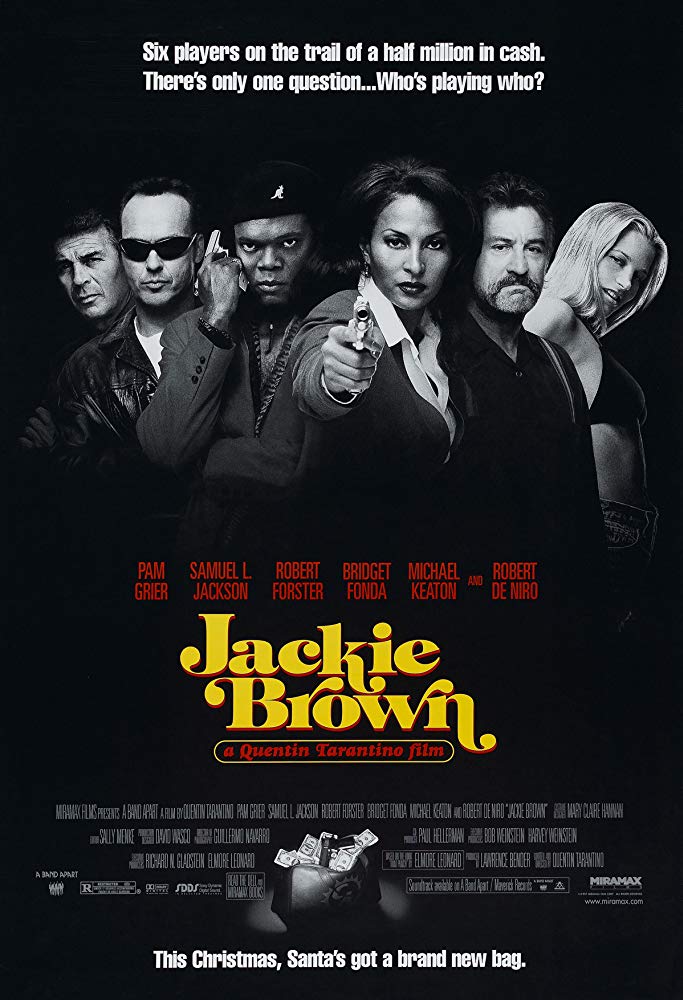 Designed to be set in big, large and huge sizes in classic TNT (tight-not-touching) style, Benguiat Caslon is dynamite for a wide range of display demands. We also included outline and drop-shadow versions as well as numerous swash caps, ligatures, contextual alternates and automatically-shifting punctuation.
Here we go again: the same retro aesthetics in yellow colors and 'puffy' characters. The movie font used for the main title is Caslon, whose swashes do all the magic. It might be a battered trick to apply such funky text style when speaking of the '90s or '80s but saturated color with brave forms is the formula, which can't be replaced by something better.
Of course, the opening credits have a rampage of other typefaces, but there's something in common among so many Tarantino movies. There are three chosen movie fonts, appearing in the majority of films: Busorama, Friz Quadrata, and Bookman. I'll show them to you a bit later but all you need to know right now is that they're present in the above-mentioned movies.
Meet Jay Johnson, Everybody!
You're a real Tarantino nerd if you knew all along that the majority of Tarantino movie fonts were designed by Jay Johnson — motion graphics designer, animator, and illustrator from Colorado. He inherited the Pacific Title duties with their thee classic fonts I've mentioned. However, the mysterious typography genius somehow manages to grasp the appropriate mood and unique setting of each movie in his epic fonts design. All movies released from 2003 involve his participation. Let's go through all of them one by one.
Has designed Main Titles for many of the most memorable films of the recent past. His designs have complimented and enhanced those films.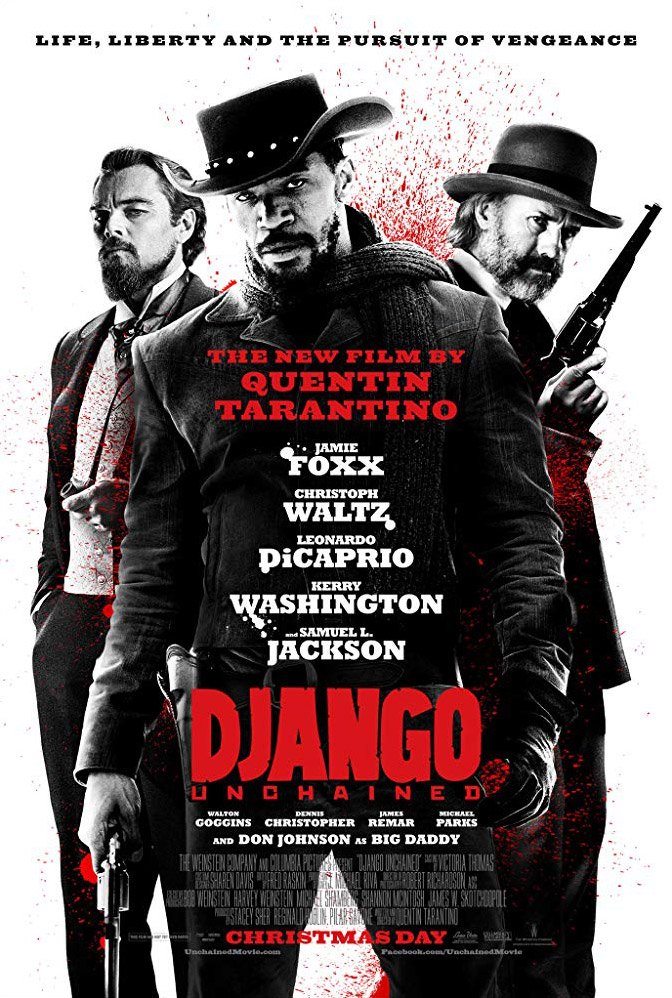 Bank Gothic is a rectilinear geometric sans-serif typeface designed by Morris Fuller Benton for American Type Founders and released from 1930. The design has become popular from the late twentieth century to suggest a science-fiction, military, corporate or sports aesthetic.
I was searching all around the Internet for the main title font and my mission has failed. Turned out, it happened for a reason: the movie font was fully designed by Jay Johnson himself, supposedly, without any ready-made typeface used as a basis. However, you can check out our selection of
western fonts
and pick up something similar. However, the 'unchained' line is written in
Bank Gothic
and was barely adjusted.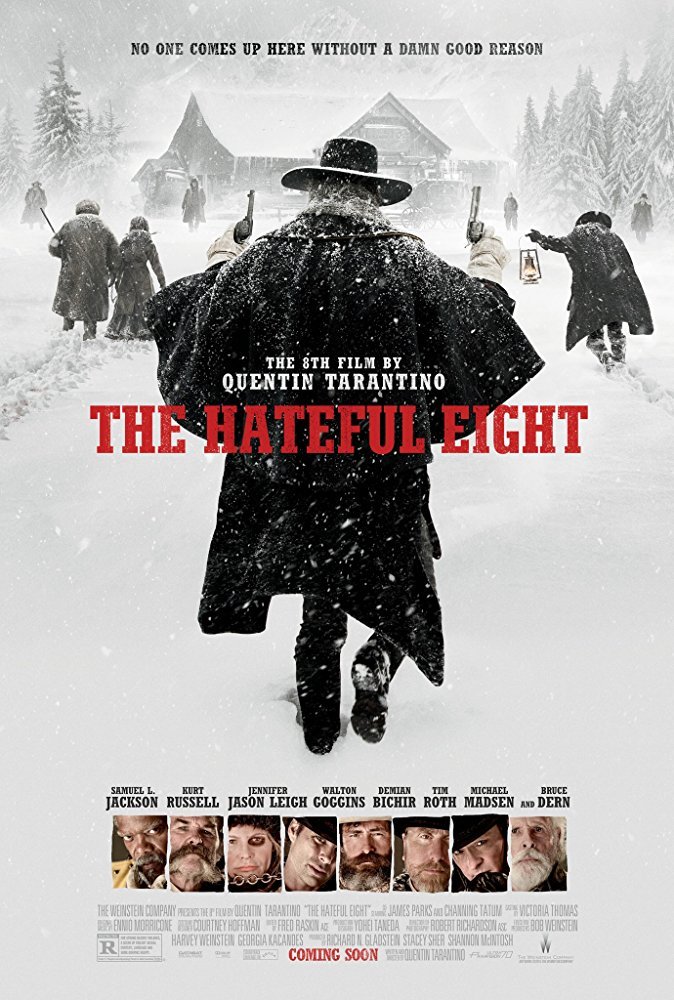 In 1931, Morris Fuller Benton created the Stymie typeface for the American Type Founders (ATF). Later weights were later added by Sol Hess at Lanston Monotype and Gary Powell at ATF.
Johnson did astoundingly great working on this movie font, for which no exact typeface can be found. It's cartoonish enough to be resonating to the western plot itself (especially with the bloodbath shots in the very end), and quirky with allusions to the way everything turned out. Symbolism, riding symbolism on a road of symbolism — that's how I'd call it.
I simply can't leave you high and dry on this one, so let me present you the movie poster font as a compensation. The snowy storm background is cleaved with 
Stymie Extra Bold
 with roughness added to it. One more epic font in your piggybank of typefaces!
This was my first movie by Tarantino and the favorite one until he began releasing more and more astounding motion pictures. Concerning the fonts field, this project is the least colorful, gravitating to minimalism. Although, the opening movie credits are still that rich with a number of fonts involved.
Now it's high time to look closer at the 'mighty three' movie fonts, became Tarantino's calling card already: Busorama, Bookman, and Friz Quadrata, perfectly exhibited in Kill Bill opening credits.
If you think that on that the movie font rampage is over, you're so wrong. Johnson has also pushed two more typefaces into the scene: Palatino and Avant Garde, the difference between which is exorbitant! How their combination could appear in his head as the harmonious one?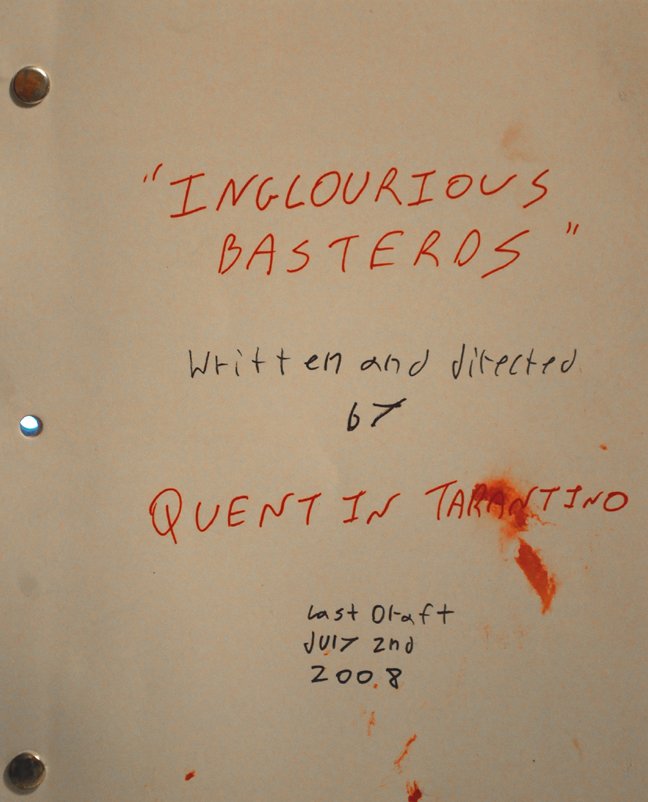 Quentin Tarantino's Handwriting
This phrase was scanned from the cover page of the final script draft, finished in July 2008.
What an abundance of fonts you're exposed to… again! Starting from the intro, opening movie credits let you go through the affluence of typefaces in all their glory. Well, on the whole, this is not an unusual format for Tarantino as we already know, but you see how more personalized it is.
The main inscription is one in a million font because it was done by the master himself — Quentin Tarantino. This phrase was scanned from the cover page of the final script draft, finished in July 2008. Very crafty and special, if you ask me. What about the rest of this typefaces symphony, these are the already familiar Friz Quadrata, Avant Garde and Bookman. What is new here is the Ziggurat font, appearing while screening the main actors' cast.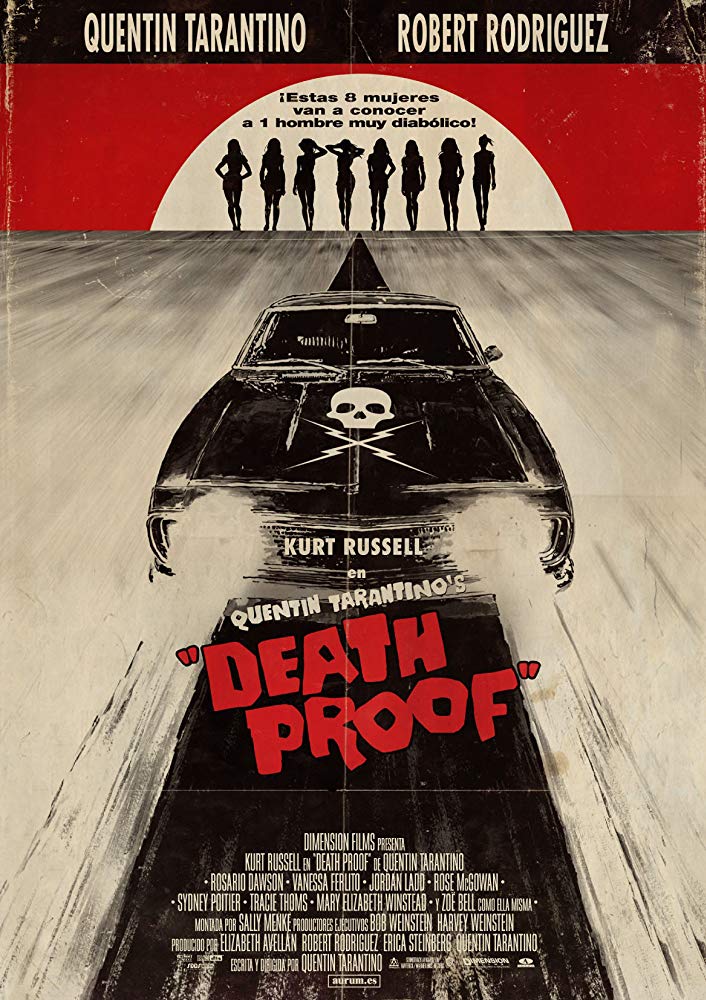 Creation of a font for a deluxe edition of the iconic movie "Death Proof" by Quentin Tarantino.
The movie font used for this one is called Hobo and depicted in a joyful way with a bit of retro in it. Like a lightning from a clear sky comes the movie title in Helvetica, very unexpected and contrasting in comparison with the preceding colorful credits. I can speculate on the whole philosophy of symbols in every movie credits but there'll be more use in just taking a look at it.
The screaming red movie font by Jay Johnson was used in a movie trailer and the official poster, which means with a high percentage of probability that exactly this font won't be just floating around the web freely. Luckily for me, I've stumbled upon this very typeface on Behance, somehow imitating the stylistics of the original.
Stunned by the array of movie fonts, which Quentin Tarantino used in his creations, it was intriguing to find some pattern in his choice of typography. Hope this article has proved once again the director's exorbitant sense of style and upgraded your fonts collection!