The Designest may receive compensation from companies, products, and services featured in this publication. For more details, please refer to our Affiliate Disclosure page.
As a web designer, you will often be tasked with projects which involve graphic design, coding, and user experience design. This makes it pivotal for you to know which tools to refer to at a moment's notice in order to improve the final web design. With such a wide assortment of platforms, SaaS, and stock repositories out there, we're here to talk about the ultimate web design tools available. Whether you're just dipping your toes into web design or already work as a professional, some of these tools can fundamentally transform your workflow. Without further ado, let's jump right in and talk about the ultimate web design tools to bookmark today.

Expand Your Creative Skills With Domestika Classes
Explore thousands of creative classes in design, business, visual art and craft! Whatever skill you want to improve, Domestika has a course for it! Use the code THEDESIGNEST-10 to get an additional 10% off.
Adobe is well-known in the design industry for their assortment of software solutions centered on graphic design, web design, and UX. Adobe Dreamweaver is a piece of software belonging to Adobe's Creative Cloud tool stack and allows designers to code websites through its user-friendly interface.
The tool relies on a combination of HTML and visual editing, allowing you to see exactly how your web design project will look in practice. The value of Adobe Dreamweaver lies in its inherent compatibility with software such as Photoshop, Illustrator, and Bridge, as they all belong to Creative Cloud. While not the cheapest web design software on the market, it is an all-in-one solution for both novice and professional web designers.
WordPress is arguably the most common and versatile content management system (CMS) available to web designers. It allows designers to seamlessly set up a wide range of different websites with custom-built themes and easily transfer control to their clients afterward. It is a deceptively simple web design tool, but it is full of potential for creative intervention and innovation both in visuals and coding.
Once WordPress is installed, its UI is user-friendly up to the point where any client can start publishing content without the web designer's assistance. The WordPress community is also known for its range of add-ons and themes, which allow further customization and functionality extension. Best of all, web designers can save a lot of time by avoiding manual coding with WordPress, given its community-backed development and focus on visuals.
While we've touched on Adobe and its CC software stack, it might be out of the price range for many web designers and visual artists. Luckily, there is a professional alternative to Adobe in the form of Affinity and its Designer software. Affinity is a visual design tool which came into being as a response to Adobe Photoshop and its high price point.
Its user interface and feature list are quite similar to Adobe's, although it does its best to avoid infringing on the company's intellectual properties. The tool is lightweight and offers real-time effects and transformation features of whatever visual composition you may be working on for the website. Affinity Designer is a design tool available on desktop computers and iOS systems, making it a versatile and user-friendly alternative for intermediate web designers.
Depending on how experienced you may be with web design, you may run into problems building a responsive design solution for your client on time. Luckily, drag and drop web design tools allow professionals to create visually amazing websites in a fraction of the time they would take to code. Squarespace is a website building tool with a plethora of professionally-designed templates, fonts, and color palettes available for your convenience.
The value of Squarespace is in its flexibility and user-friendly add-on compatibility. You can set up an eCommerce shop, blog, or company website in a matter of hours and with adequate web hosting to boot. The platform also comes packed with web analytics and SEO tools, which can improve the quality and ranking of the live website. This will allow your client (or yourself) to get started on the website's content more quickly without spending too much time on initial web development.
Speaking of drag and drop graphic design tools, Canva is the perfect tool to bookmark if you are a novice web designer looking for software. Canva is a cloud-based platform with one of the best graphic design feature lists on the market. You can design beautiful website compositions, background patterns, and even presentations through its user-friendly interface and export your work in a matter of minutes.
Canva features a free version with all the functionality of its premium counterpart, albeit with fewer stock illustrations, fonts, and templates to use. You can combine with writing tools such as Evernote and Get Good Grade or a professional editing and proofreading tool like Grammarly for copywriting purposes. This will allow you to pair stunning visuals with captivating messages and written content for your website visitors, further elevating the value of using Canva.
Building rudimentary web sites with HTML CSS in mind doesn't have to involve a lot of manual coding. Platforms such as Google Web Designer are readily available for your convenience and allow for easy creation of interactive HTML5-based websites and motion graphics.
The benefit to using Google Web Designer is in its namesake – websites built with this tool will inherently run on any Android-based OS or device. This is beneficial due to the rising popularity of mobile devices such as smartphones and tablets, making responsive design the new norm. Google Web Designer's functionality extends to workflow customization, full Google integration, and content creation tools built in. It is an amazing HTML CSS web builder to keep in mind when you work on a web-based project for you or your clients.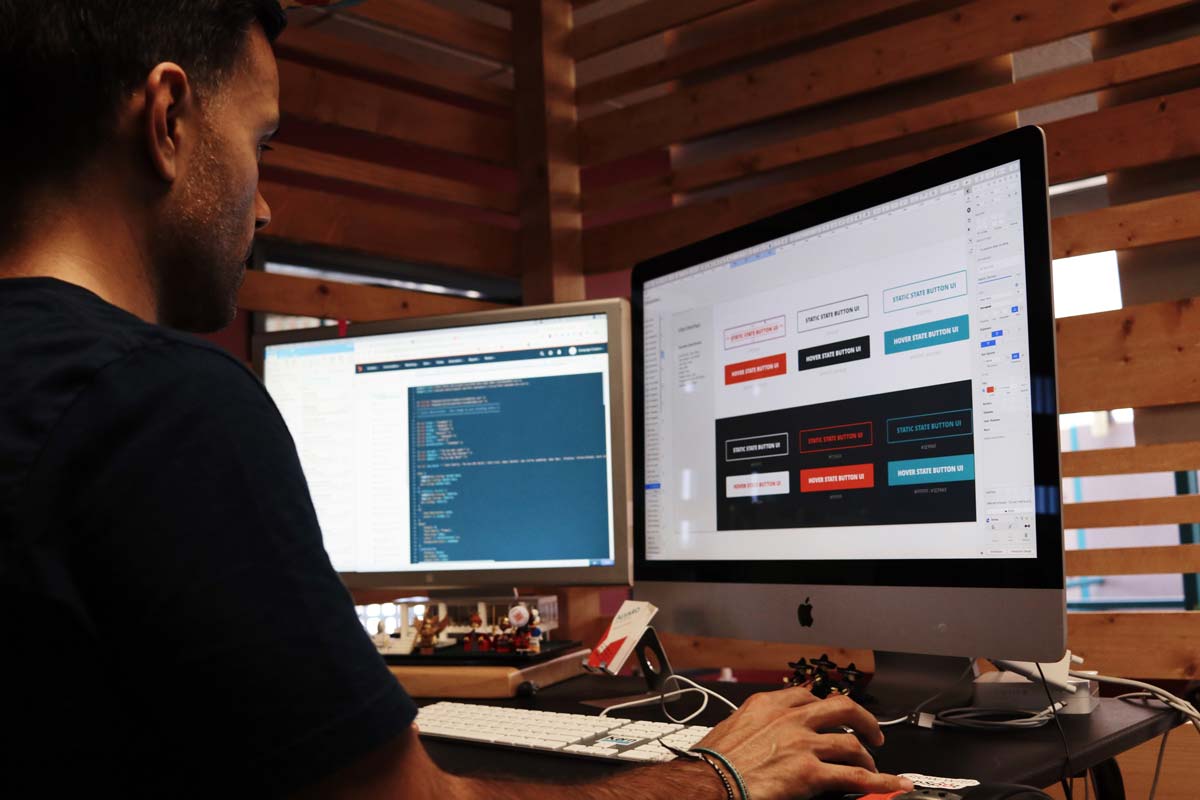 As a digital design toolkit, Sketch is an amazing web design app which is suitable for both visual artists and web designers alike. Sketch is a visuals-first web builder with built in prototyping tools and a wide range of plugins to choose from. What makes it stand out is its simplicity and user-friendly UI, which doesn't require the user to know anything about coding.
Sketch is fast and responsive web design software which you can use both from your web browser or iOS device. You can import past designs into new Sketch prototypes and create responsive design solutions for your projects very smoothly. It's also quite easy to share your work with others and collaborate by inviting them into your projects and share ideas through its UI. Sketch offers a free version as a trial for web designers to test its features while it relies on a subscription-based system for a long-term commitment.
We've touched on manual coding several times in the previous paragraphs, so let's tackle a web design tool specifically designed with text-based coding in mind. Atom is an open-source coding tool built with HTML CSS and JavaScript in mind. It features hundreds of packages and plugins created by the GitHub community, which are freely available to any web designer out there.
What separates Atom from other text-based coding tools is its powerful user interface, which relies heavily on color-coding and visual responsiveness. The tool naturally reacts to any input you provide it with and responds to good and bad code, respectively. This makes it good for both long-term professional projects and beginner web design tutorials, depending on your interests. Atom is available on iOS, Windows, and Linux platforms, and with its auto-completion and package manager built in, you should absolutely bookmark it for later.
Given the popularity of online shopping in the wake of self-isolation and the global pandemic, many businesses are shifting to eCommerce in order to survive. This means that you are likely to have eCommerce-centric projects on your hands sooner or later. Enter Shopify, an eCommerce platform designed with streamlined web design and web hosting in mind.
You can easily set up an online storefront for your client and design it so that they can autonomously upload products to the website. The platform features responsive design templates, and a list of quality of life features any designer would be happy to use. Shopify comes packed with an assortment of marketing and content tools which can further boost its appeal for your clients. As a designer, you can combine Shopify with some of the previously-discussed tools and create wonderful eCommerce sites quickly and efficiently.
Even though WordPress is the leading content management system on the web, clients, and beginner web designers might find it difficult to launch a website. However, web design tools such as Elementor are there to make the process of starting a website more straightforward. Elementor is a drag and drop web builder based around WordPress CMS specifically.
It features an assortment of design solutions and plugins which can make the design process both fun and productive. What makes Elementor stand out is how scalable it is. Both freelancers and teams working in design agencies can use it and still create competitive web design solutions for their clients effortlessly. Add to that its marketing tools, which can help your clients with traffic and lead conversion, and you have quite a web design tool.
No website has ever succeeded without a competent UI to back its code. Pattern Lab is a web design solution centered on UI design and UX. It allows for seamless prototyping and testing of visual web design without any code attached. This makes it an ideal frontend workshop for both graphic and web designers to test their visuals.
True to its namesake, Pattern Lab is based around "patterns," or UI elements which correspond with one another to create a smooth user experience throughout. The tool will allow you to break down your website into smaller components and analyze each one to see how it fits into the design. Pattern Lab only comes in a free version thanks to its open-source license and community-driven development, making it a great experimental design tool.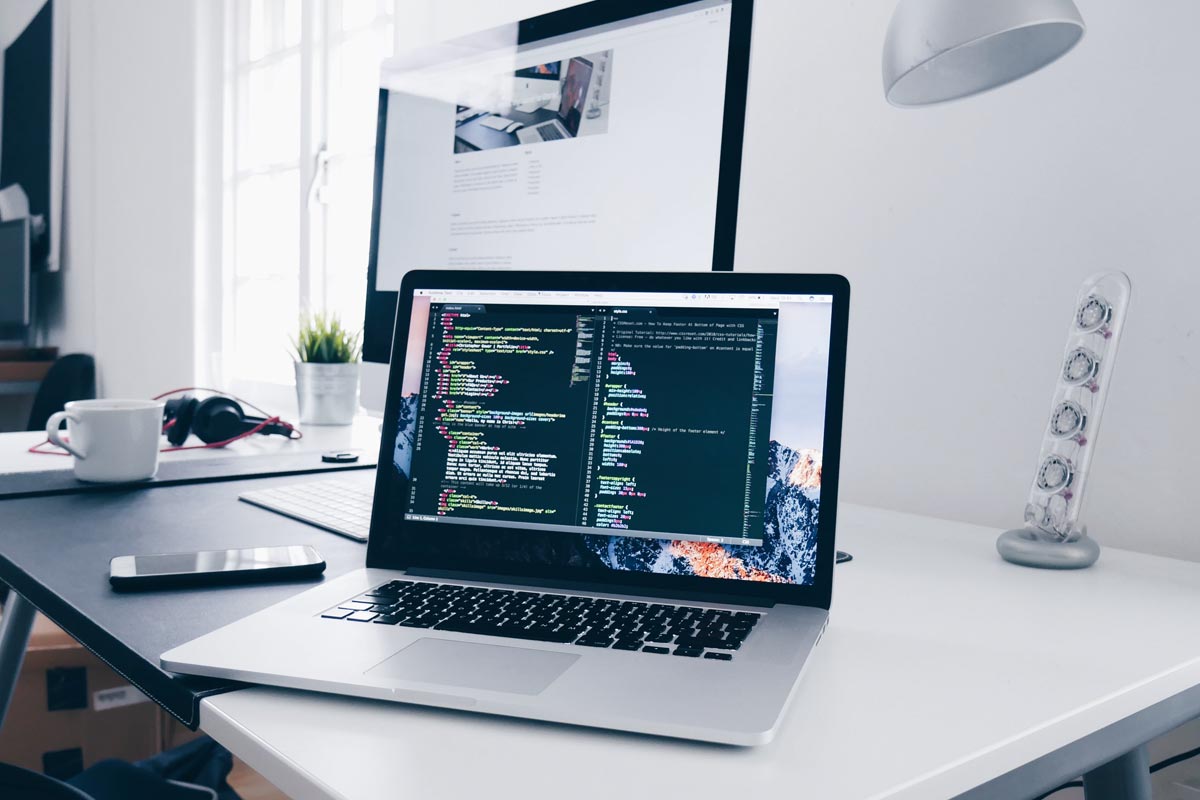 Visual Studio Code is a Microsoft tool designed with debugging and manual coding in mind. Being a Microsoft product, Visual Studio Code encompasses a range of other tools and platforms which you can test your code in. You can code and debug your website in various languages, including standard HTML CSS as well as JavaScript and Python, depending on your project's needs.
Subsequently, the code you write can be prototyped in order for you to debug it before launching the live website. Given its functionality, you can even take over existing web design projects and easily analyze their code in order to pick up the project yourself. While this tool may be daunting for beginner web designers, those that want full control over their code will cherish its features list.
Sometimes all you need is a good cloud-based graphic design solution to make your project shine. Material Design is one such tool, allowing graphic and web designers to create even the most fundamental web design elements through its UI. The platform is designed with building websites from scratch in mind, allowing users to create everything from page backgrounds to fonts and icons.
Additionally, anything you build can seamlessly be tested and compared with other elements you've created. Material Design places the science of visual art at its center, making it the perfect sandbox for creative artists and web designers looking for inspiration. The platform also features a repository of tutorials and stock elements, which you can use as a baseline for your projects. While it won't allow you to code your websites, Material Design will ensure that everything else is ready for your website before you code it.
Websites built with mobile in mind inherently carry some expectations from their user base. Animated icons, transitions, and backgrounds have become a staple of mobile design, which is why Principle is on our list today. Principle is an interactive design platform built with mobile websites and applications in mind. It allows for complete design, testing, and subsequent integration of animation into mobile projects.
Its UI allows designers to fully animate every minuscule element of the website and then export it for further use. You can easily test your website animations or even entire web pages through its Principle Mirror app, which allows for cloud-based synchronization with the main app. While Principle is an iOS-only tool, its quality and user-friendly nature make it an essential part of any web designer's repertoire.
Speaking of interactivity, Hype Professional is a cloud-based web design tool which enables designers to create interactive web pages easily. Hype Professional is designed with HTML5 in mind and allows for easy HTML CSS cross-integration in your projects. It is a deceptively easy app to learn and use, making it great for both novice and senior designers.
Hype Professional comes packed with various responsive design layouts, a physics-based interactive engine, and template functionality for your convenience. You can easily export and then import work from other web design and 3D modeling tools to make your website as beautiful as possible. Hype Professional is suitable for both desktop-based and mobile web design, and with clients such as Microsoft and Mozilla, the app certainly earns its reputation.
Touted as the Windows equivalent of Sketch, Lunacy is graphic design software built with comfort and creativity first and foremost. Lunacy is a design solution which comes packed with a repository of vectors, photos, and icons for your creative convenience. It is a very versatile and user-friendly platform which coincidentally allows Windows users to open Sketch files without any issues.
In addition to that, Lunacy features rudimentary photo and vector editors, which can be handy for professional graphic designers working on web projects. Its functionality also extends to Google Fonts integration, given how much the platform is used in commercial web design. Cloud sharing, AI-based design assistance, and multilingual UI support are also standard for Lunacy, making it great for international design teams. While its core functions are not as expansive as those of Sketch, Lunacy is in active development and has new options added to it regularly.
With such a range of web design tools to explore and try out, one thing is for certain – there is no one-size-fits-it-all tool out there. As a professional web designer, your job is to constantly question your workflow and find new ways to make your projects better than those before. The tools we've covered in our list should absolutely find their way into your tool stack, provided that you enjoy using them. Devote some of your time to test out these web design tools and see if you can find your new favorite among the rich assortment. Your next "Photoshop" might be just a click away – follow your creative passion and bookmark the tools you can see yourself using in the future.