The Designest may receive compensation from companies, products, and services featured in this publication. For more details, please refer to our Affiliate Disclosure page.
The times when old TV screens were tilting imagery are gone; they're displaced by modern devices, allowing us to have the clearest picture possible. But there's still something about retro monitors: they add some noise, grain, and color mismatches that are so captivating to observe. This photo effect allows you to bring the same vibe to your graphics!

Unlimited downloads of 11+ million creative assets. From just $16.50/month.
When it comes to glitches, there is no room for compromises. Neat, polished, thorough distortion doesn't bear that distinctive grunge vibe, so what's the point? Here I invite you to go all the way and discover what the authentic rough glitch should be like. This effect was inspired by the old-school TV sets with an unstable image that rippled every now and then. Yet this noise made watching movies impossible, it has become a true icon of visual distortion and an endless source of inspiration for designers who prefer going against the tidy image canons.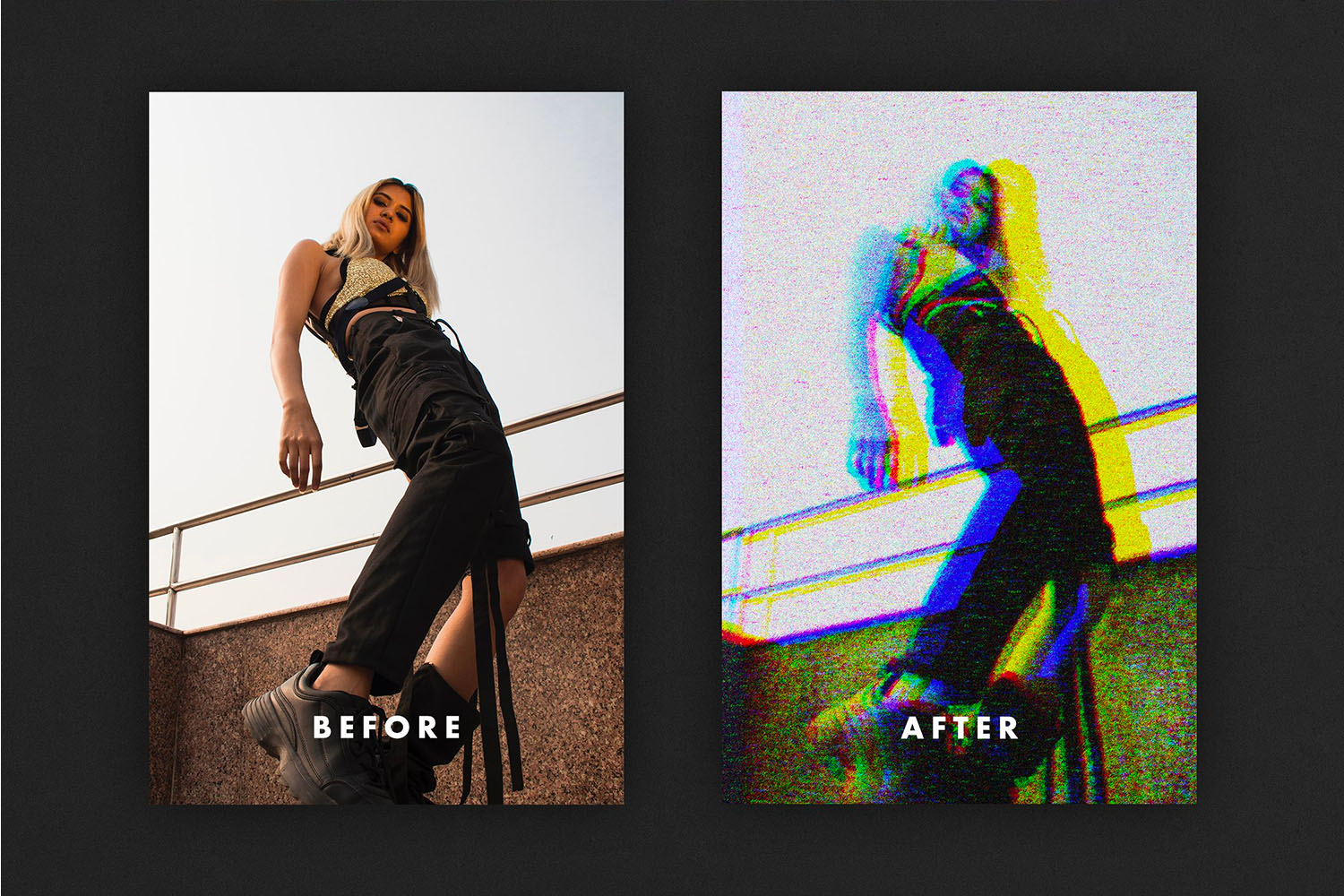 Allow yourself to immerse into the fascinating glitch too, and may it be your powerful weapon to remove the neat polish from photos. A couple of clicks and a regular image will transform into an example of underground art! Actually, this freebie is a tumbler, and as you switch it ON and OFF, it consequently switches an image from classic to old-school and corrupted aesthetic. No magic, just the power of Photoshop!
Speaking of creative opportunities enabled with this free glitch effect, you can apply to any graphics you have. Photos, images, illustrations, signages, posters, merchandise of any prints — this is the minor part of projects where you can get a bold grunge vibe. The effect is provided as a PSD file with Smart Objects, which means you don't need any advanced manipulations to get it customized. Everything is 100% intuitive, and there is a help file just in case.
High-quality PSD file;
4500×3000 px, 300 dpi;
Help file.