The Designest may receive compensation from companies, products, and services featured in this publication. For more details, please refer to our Affiliate Disclosure page.
Each day more and more companies that fight for customers' attention are found. Due to such high competition, this field is so popular and always in search of savvy specialists in distinct graphic design directions. That makes this industry the one where you can make big figures in different ways, so if you have a passion for what you're doing, determination and a will to develop your skills, you'll always be in high demand. 
There are so many branches in the graphic design field: web design, 3D designers, art directors, user experience directors, video game designers and so much more. The only way you can identify which job is the most suitable for you is to listen to your heart and follow what it craves. But if you aren't that sure what exactly you want to develop yourself in, there are tons of online courses for each area and technique of graphic design. Sure, it will take your time but all the new skills you'll get while looking for the job you're going to dedicate yourself to will be helpful later. 
So, if you're dead serious about becoming a graphic designer and want to make money out of it, in this article you'll find a lot of useful information that will help you a lot on your upcoming path. Here you'll learn the first steps you should take to build a successful career in the field, get to know the apps and software for designers, how to make money out of it and many more useful things. To inspire you on a hard work I will also introduce you some famous graphic designers who show by their example that nothing can stop a determined person with a passion for art. 
How to Become a Successful Graphic Designer
It's important to keep in mind that no magic or design degree is required to make a career as a graphic designer: your success depends on your hard work. The industry knows a lot of such examples, and self-made designers from our team are one of them. You can also take a look at the tips that will be useful to become successful and make more money.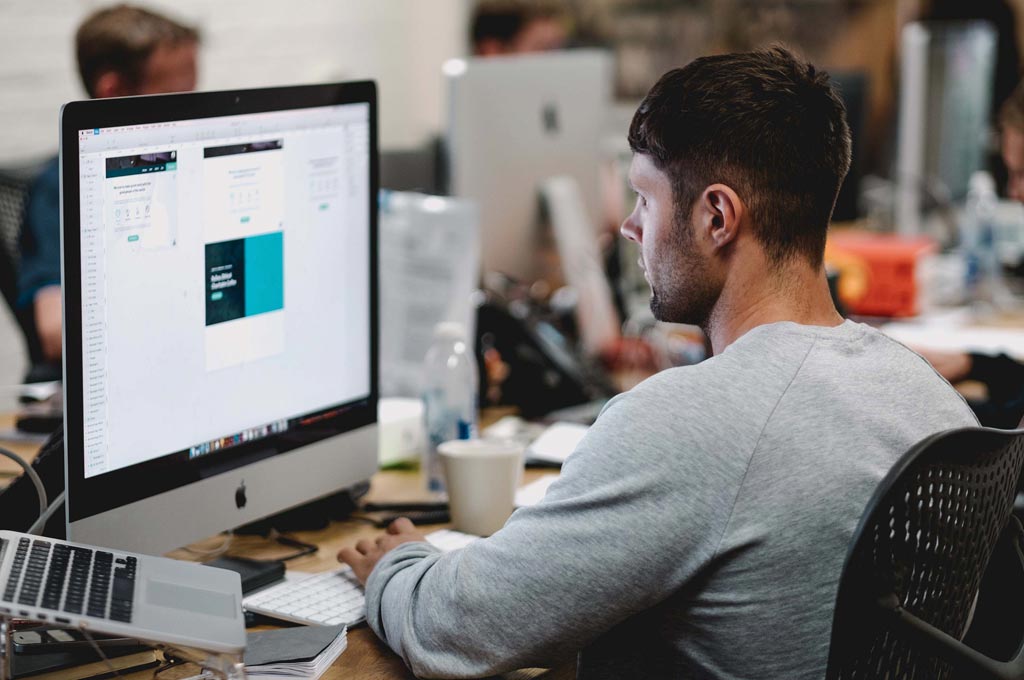 That's what you should always keep in mind, no matter how long you have been working in the industry. Graphic design is the field where trends are changing fastly, so if you want to be in demand, you need to know the ones that are hot in your sphere. New techniques, directions, tools — if you are constantly learning you get more chances to find a job or create projects that grab the audience's attention. Luckily, there are tons of online courses,  , magazines on Medium, and blogs from big projects like Readymag or Creative Market.
Portfolio is an integral part of a graphic designer job, especially if you want to work with client projects. It can be available online on your site — there are many ready-made templates for creating it. You can also run your portfolio on Behance or Dribbble: this way you are more likely to be seen by your potential clients. If you do not have orders yet, you can display your personal projects there.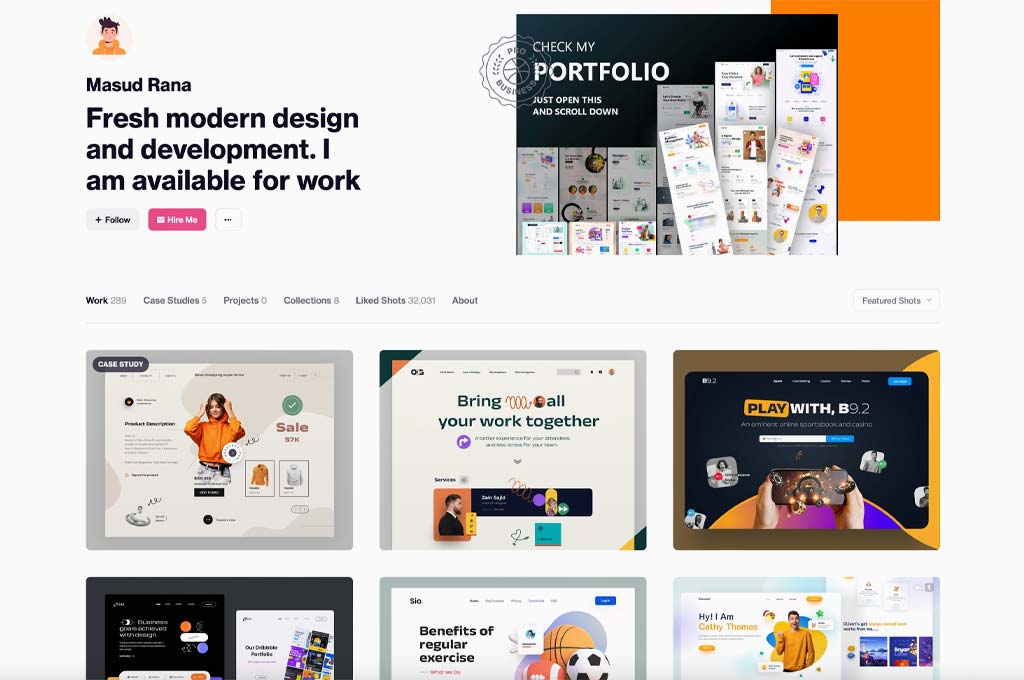 As I mentioned before, trends in graphic design are changing all the time. This is why you should always be aware of what is popular and learn how to put it into your work. You should also get to understand which of the trends can be used and which are better to avoid.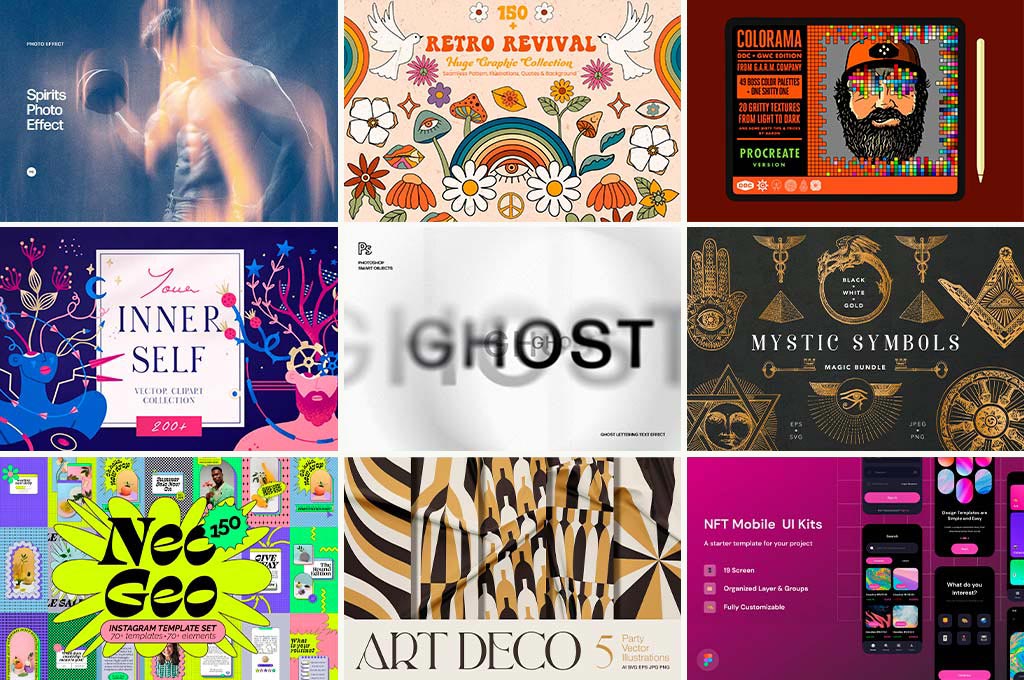 4. Build relationships with clients and community.
This may be the hardest part of the job in case you want to work with clients directly. Not only do you have to find new clients, but you also need to know how to talk to them, meet their criticism and find ways of working with these people. Bad experiences with your customers may ruin your reputation and scare off your potential clients. As you work inside the design community, it is important for you to be a visible part of it via your activity. This way you'll be seen and you may be recommended as a good specialist one day, that at some point can boost your career. 
The Best Software and Apps for Graphic Designers
To start creating and selling your digital art online you will also need to find the software that will be convenient for you. I don't know what field you work in so I will recommend the apps that became the most popular among all graphic designers. Each software has free alternatives or at least cheaper ones. If you are just starting your design path, you can try the more budget-friendly options first. Although, the apps from the list below weren't called a gold standard for nothing. They have a wide range of features that cover the needs of the most creative specialists — artists, branding designers, illustrators and everyone else.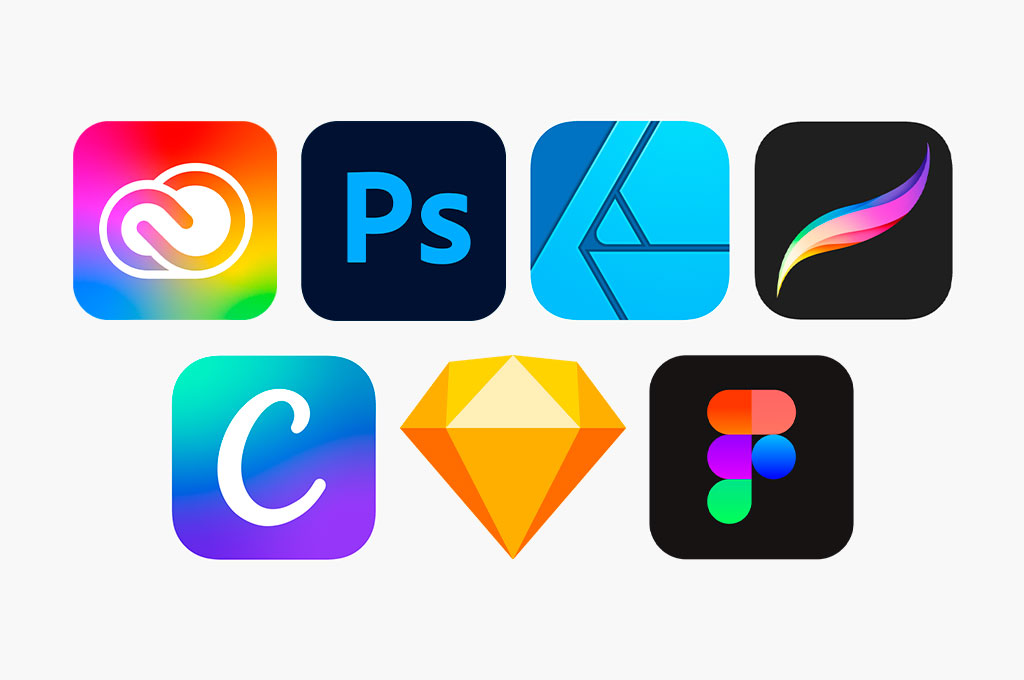 The subscription to the design software is packed with almost 30 programs. The most important ones for graphic design are Photoshop, Illustrator, After Effects and InDesign. This trio is a standard of all graphics & photo-editing software. 
Adobe Photoshop is the app to go with for literally any design field. Illustrations, social media images, fonts, templates — there is nothing this software can't do. Illustrator is the app you can for vector graphics and it is usually used for logo design, product packaging, and icons so it is a must for branding designers and illustrators. If you're going to work on posters, digital magazines, books, eBooks and interactive PDFs you might choose InDesign as the main software. It works perfectly for both prints and digital media. For animation, motion picture compositing and visual effects you'll surely be happy to discover After Effects tools that will make those processes much easier. 
Affinity Designer is an editor with the ability to create pixel layers so it is a good app for illustrators, branding designers and mockup creation. It has many great features and the most outstanding one is that it enables you to work with vector graphics with ease. 
Whether you're creating an icon for a new app, collaborating with colleagues on a new project, or want to build a new design — Sketch has all the tools to do it. It also has flexible vector editing so the app is perfect for branding design and creating mockups. 
This one isn't particularly for graphic design, but it is the best app in case you need to create a hand-drawn visual art. It is mostly used by artists and interior designers. It can be useful for graphic designers as software for quick sketches, and concepts — as a smart analog of your sketchbook. Moreover, there is a version not only for the iPad but also for the iPhone. 
Canva is an easy-to-use site where you can find literally everything you may need for creating a design: logos, ads, illustration and any other artwork. It stands out with its rich library of licensed stock photos, pre-built templates, design graphics and elements. 
Figma enables you to work with vectors and gives you access to a rich library of fonts, colors and shapes with which you can create your designs. It has everything for presentations, outstanding logos and social media graphics, so no matter in what graphic design field you're working in, you'll find the app useful, but mostly Figma is used by web and app designers, as well as UI / UX designers. 
6 Ways To Make Money As a Graphic Designer
Graphic design is a very versatile field where every creative individual can find something suitable to their liking. To make it easier for you to decide which path to take, I will tell you about all the main branches so you have a better understanding of which one you would like to develop your skills in. Here you'll also meet some designers and studios with the most inspiring artworks from each industry of graphic design. 
Typography is an integral part of graphic design. Graphic designers, big companies and freshly started small businesses are always in search of new typefaces for their projects: ads, logos, posters, websites, etc. That is why good specialists are in high demand and are well-paid. Making fonts is a thriving business so if you find yourself interested in it you can focus on fonts only and make a fortune.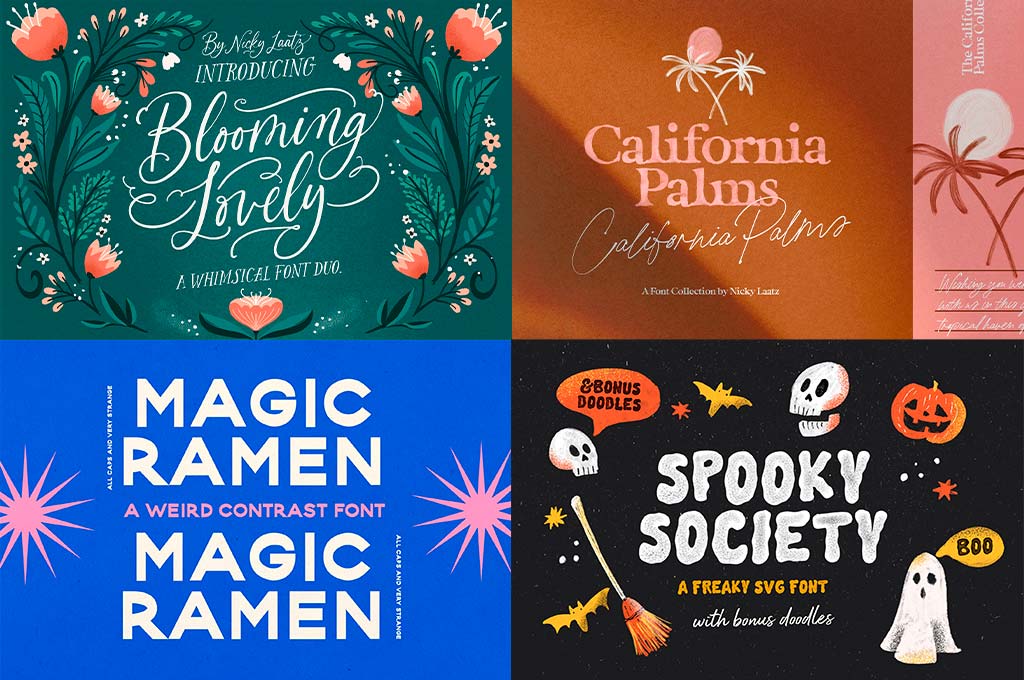 Here I can't go without naming Nicky Laatz and Sam Parrett, whose works will take your breath away the moment you see them. These savvy creators found their niche in fonts creation and became real legends of the field so checking them out is a must! 
Graphic illustration is perfect for expressing visual ideas, selling products, promoting bands and even teaching students. Due to that, the need for illustrators is always high and many companies look for such specialists, enabling you to build an outstanding career. To become a well-paid graphic illustrator you need dexterity, creativity and the ability to create a visually interesting (selling) image. If you found yourself in this description — you may become a successful professional in this field.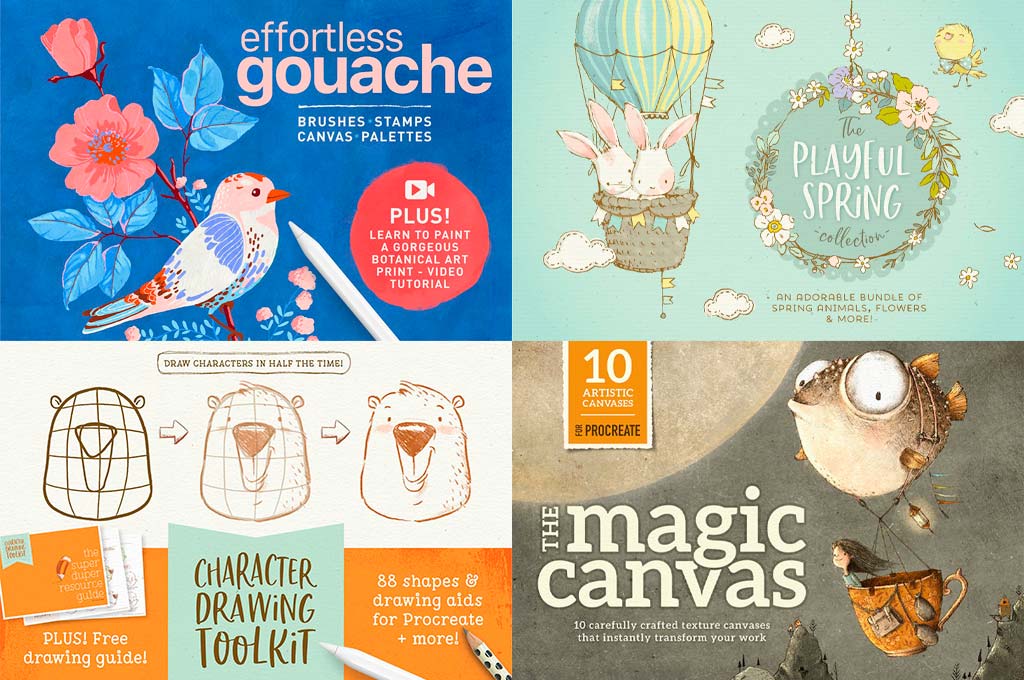 There are many creators who achieved success making illustrations and can give you the inspiration to start your own path in this field, but my favorites are Lisa Glanz and Maggie Molloy. The passion for their business is clearly seen through their works and it can't leave you indifferent! While Lisa Glanz shows you the versatility of the design graphic field with all her works from distinct industries (outstanding illustrations included), Maggie is mostly focused on illustrations for logos and branding designs. 
Mockups make the designer's life much easier and that's why it is always in demand. They will find their place in any ad, branding design, or even in interior creation. High-quality templates are the resources that help sell the products with less effort and the clients are ready to pay for them. You can sell such mockups online on distinct platforms and make money from them.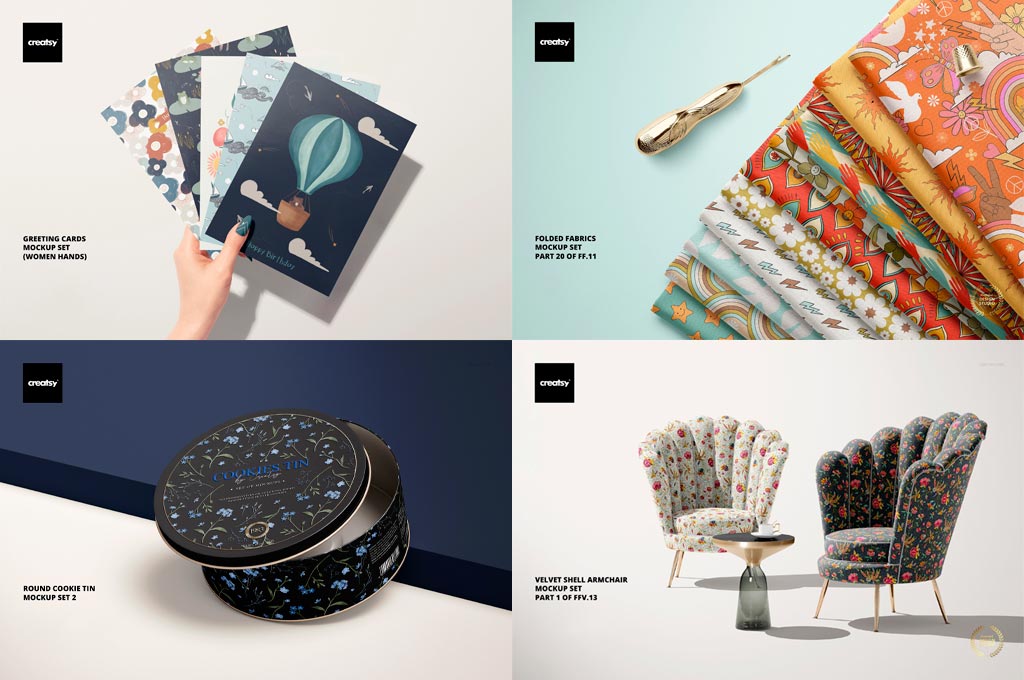 It is impossible not to mention Creatsy for this one. She is, perhaps, the first designer who turned the process of creating mockup templates into art, and she should be the one to look up to. If you thought you have seen mockups for everything, she will prove otherwise. 
Though the NFT is a relatively new branch of graphic design, it is one of the most popular fields. And the most profitable one. NFT is a non-fungible token, that you can sell for millions of dollars. This way you can sell any digital object — music, image, 3D model, text, and so on. There are many popular games that are based on NFT technology, e.g. CryptoKitties, where the most unique characters are sold for a million dollars. So, if you want to make a fortune in graphic design and cryptocurrency, this field is the one for you.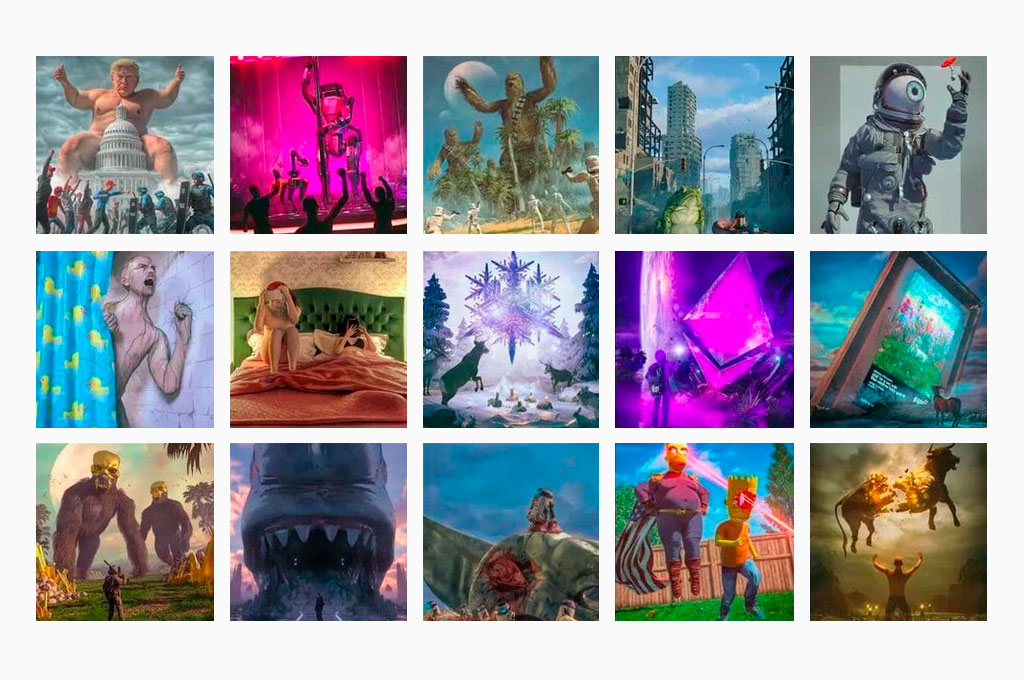 Other games that are based on selling NFTs are Slimes World by Gal Shir and Nifty Nafty by QClay. The goal of these games is similar to CryptoKittens — collecting game elements you buy with NFTs. Of course, games aren't the only field such artists can make great figures and become popular. Tina Eisen makes eye-catching beauty photos (mostly makeup related) and sells them with NFTs. If you are more into portraits, you should check out Tania Rivilis artworks. The colors, the detailing, the strokes, and the vibrancy of the canvas she sells is on another level. 
UI/UX (user experience/user interface) design is a crucial part of any program. After smart devices come into our daily lives, it's impossible to imagine a person who doesn't visit at least one site a day or use their favorite app. And it makes this market highly competitive, so the quality of products is extremely important. For any app the company is developing they need a good UI/UX designer in order to make it useful and as a result well selling.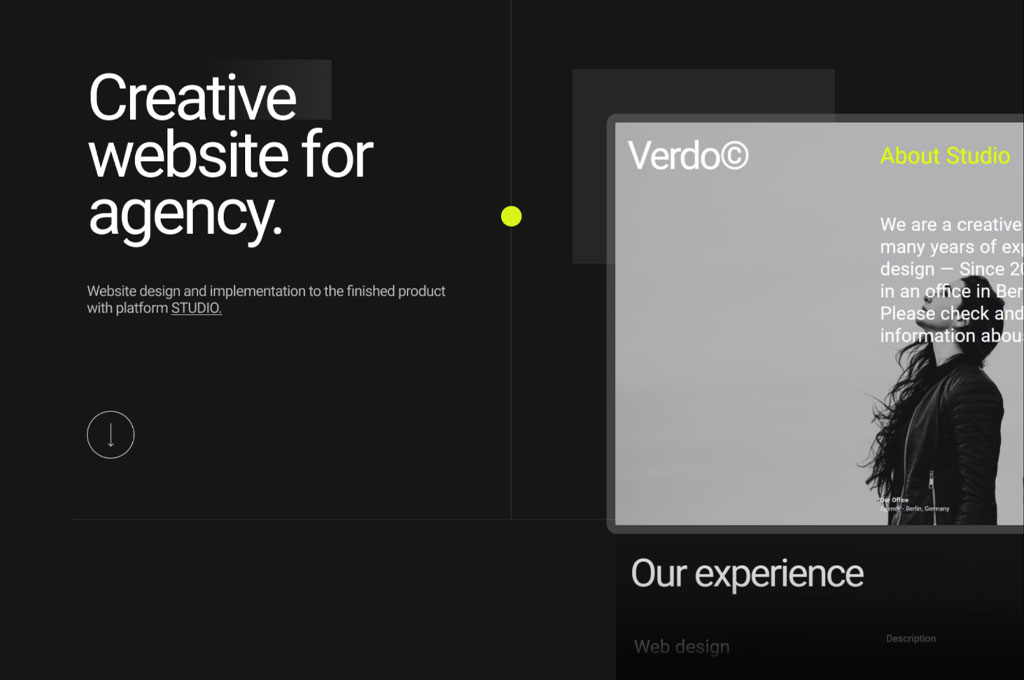 There are many great creators on Behance and Dribbble whose web design works are worth your attention. You can scroll through them and maybe their stories and projects you'll see will inspire you to continue your graphic design journey in this direction. 
Have you noticed that once you see red and white colors together you think of Coca-Cola? That's how branding design works. Their main purpose is to create a product, that will increase brand identity and catch clients' attention. Logos, typography, color schemes and other design components that make a brand recognizable to the audience are the job of these specialists. To become a real professional you need to know the design theory, typography, psychology and be aware of the latest trends all the time. The good news is that many companies and entrepreneurs need branding and logo design, so you will surely find your place and job in the industry.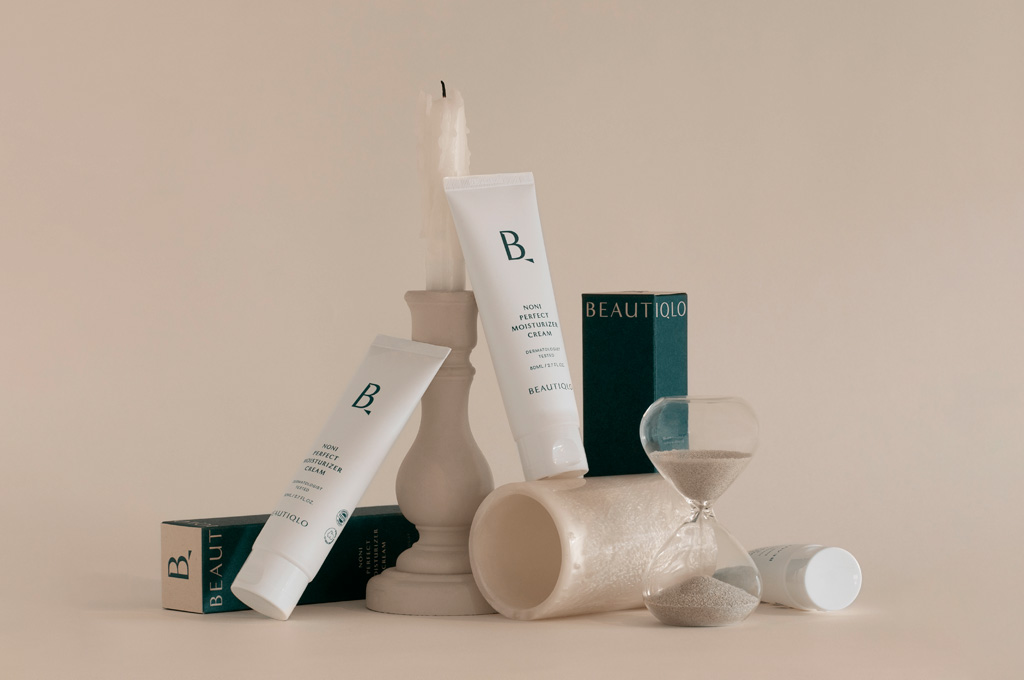 For instance, tegusu Inc. and HyeYoung Jung are the studios that found their place in the field of branding and become well-known for their projects. They create projects in different styles, work with both bright visuals and minimalism. Such a versatility is an important skill for a branding designer, so you will have a lot to learn from them and you'll indeed find inspiration in their artworks. 
How and Where to Sell Digital Art Online
So, you started making your first digital products. What's next? Obviously, you'll search for ways to sell them and make money. To make it simple for you, I gathered 6 places you'll be able to do it. All these sites may be confusing at first for you, as you won't have any idea how to use them properly, so I'll also talk about the terms of using them, too. Here I cover the most popular online platforms that a freelance graphic designer can use, but if you need a step-by-step guide on how and where to sell your digital goods, I highly recommend you to check out this article. 
Creative Market is one of the biggest online platforms for freelance graphic designers that you can use to sell your products. It was the first marketplace where we sold our first icon packs back in 2014 and from that time we see how fast it develops to become more convenient for the designers.
Though the registration may take time, it's definitely worth it. The site selects studios and solo designers who want to post their goods: to register, you need to send a link to your portfolio from Behance, Dribbble or your site so that the Creative Market's team can evaluate your skills and see what format of products you will bring to the website. 
In terms of sales, it is very convenient as the service itself is engaged in promotion (newsletters, thematic collections on the main page, seasonal offers, hand-picked items selected by the site team, etc.). 
The platform sells products at 3 different prices for 3 different types of licenses (4 prices for 4 font licenses), and recently Creative Market launched a subscription where you pay for credits and spend them on products you're selling. 
Envato has different divisions into thematic sub-platforms: ThemeForest, CodeCanyon, VideoHive, AudioJungle, GraphicRiver, PhotoDune, and 3DOcean. The whole platform for selling digital products is called EnvatoMarket. 
We sell our goods on Envato Elements. The service provides products by subscription, not by purchases per item. You can upload whatever you want there: templates and mockups, brushes, illustrations and so on. 
The company itself has additional projects:
Tuts+ — tutorials;
Placeit — mockup templates (stock format);
Milkshake — website builder app;
Studio — community for authors. 
YouWorkForThem is a design marketplace that is quite similar to Creative Market. The interface of the author's dashboard is less colorful and simpler, which makes it better for beginners. In case you need to perform the copyright operations with your own goods you have to send the product for review, and then it will be published. If you want to make any changes to the text of the description or upload the corrected feed frames, you'll need to contact the support team. 
There are also some rules on how to upload graphics: the files must be named in a certain way, packaged in folders and then they can be uploaded. It's not that hard and you get used to it soon, but it takes more time. 
A characteristic feature of the marketplace is bundles. In addition to the usual sale of products, the editors of the website also combine them into thematic resources from different authors in one collection and sell them at low prices. The site has the nicest support request and community support team with which we have ever had the opportunity to communicate. 
In the author's dashboard, you can change files and info for already published products, but after that, the product is sent to the In Review status (  quickly enough), then it is published on the site.
Another marketplace that is great for a freelance graphic designer. It provides a per-product-payment format. The focus is generally on selling mockups, but in the CreativeStore section, you can sell effects and graphics. Promotion through mailing lists made by the website's team is great, and they also often do some promotions with discounts. 
On Freepik you can sell and give away many different products for free. The free section terms are clear, while the paid section works in the format of downloads for a subscription: different subscriptions — different number of downloads per month. The process of submitting products there is done according to the following scheme:
At first (when you're a Level 1 contributor) you can only upload 10 files at a time. If the website team approves them, you are allowed to open an account on the site. Then you upload 10 more files, and if they are approved, you will have 20 products on your account and the Level 2 will be unlocked. Here you can upload a minimum of 10 and a maximum of 500 files. When 500 published products are downloaded to your account, you move to Level 3. On this level, you can upload up to 3000 files and you are allowed to upload directly through a special FTP service (this way you can upload many files much faster).
You can read more about their Contributor model here.
The same company has a Flaticon project, where, accordingly, you can sell icons. 
Where to Find a Job As a Graphic Designer
You can not only sell your products on digital online platforms but also work with clients and companies. To do so and find a good job as a graphic designer, you need a portfolio so new clients may see your works and hire you. There are also many online platforms where you can look for freelance work. I listed the most popular ones that you can use to start your job searching. 
Upwork is the biggest online platform where you can find freelance graphic design jobs. It provides an easy-to-use interface (that is good for beginners) where you can create your profile, set the rates, and connect with international clients. 
a global platform with a wide range of offers
great protection policy so you feel financially secure
simple interface
hard to make it through the registration and verification process
high competition with professional graphic designers
gets up to 20% of your income
The working process on Fiverr is different from Upwork. Here, you need to create packages with your digital items (the price starts from 5$). You can sell any graphic design items you're crafting. 
good customer support
variety of projects
the interface is easy-to-use
you may face fraud employers
difficult app for beginners
Flexjobs is the perfect website for those who want to work remotely. There are more than 1,000 graphic design positions from different industries here at a time, so it's easy to choose what you're most interested in. 
the website includes a list of positions from the top companies
wide range of remote work offers
international platform
high prices for the service
no free trial
Pros and Cons of Working in a Graphic Design Field
Now it's the time to talk about the benefits and disadvantages that come with a career in graphic design. Sadly, the fear of new things is a big deal (that is absolutely normal for human beings) so the deeper you learn about the field you're going to work in, the more confident you feel. Plus, if you know the problems you may face in advance, you can come up with helpful solutions and don't waste the time you may spend on building your career in vain. So, let's take a look at the most significant highs and lows of the creative industry. 
1. Possibility to make good money
One of the biggest advantages of working as a graphic designer is that in case you work hard and get a good reputation among the clients you can make a decent amount of money, even more than an average person. Also, there is no ceiling to your income so your possibilities here are endless. 
No matter what field of graphic design you choose, you can succeed in it: high-quality templates, stunning fonts and branding will always be in demand. As long as you are developing your skills and keeping pace with the trends you'll have a job. 
While many people have to go out when it's raining or snowing to come to their workplace, yours can be much cozier as you can easily work as a full-time designer from home. All you need is your device for creating visual content and a stable Internet connection.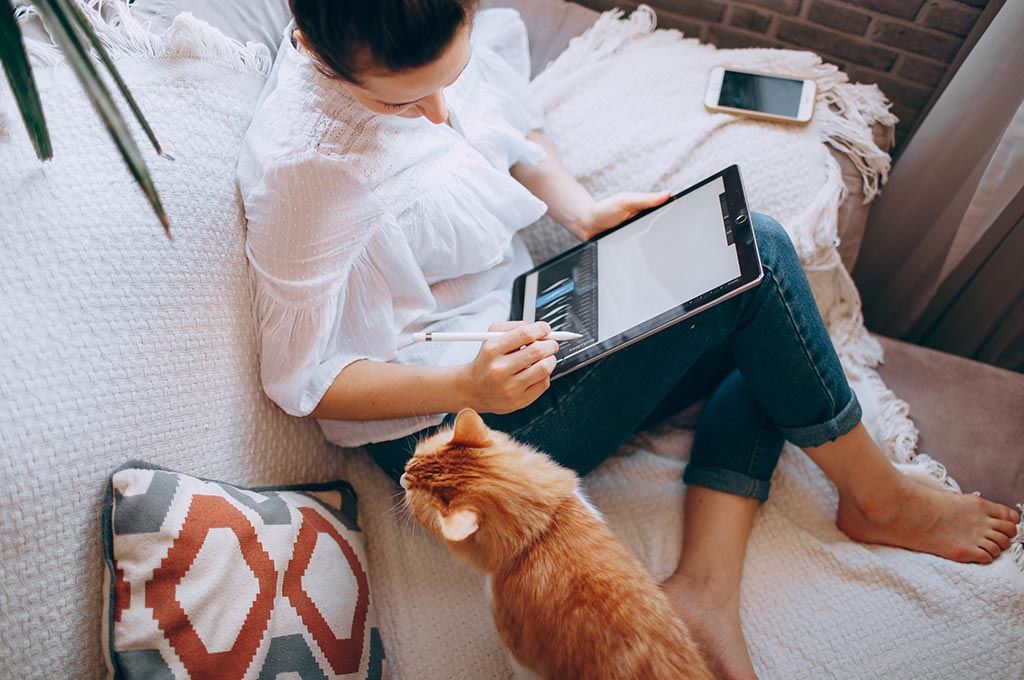 4. Possibility to find several clients
Finding new clients is a great way to earn extra money. Plus, it is an opportunity to expand your portfolio with more interesting projects. 
A good way to earn money for a creative individual is to find freelance work: you can sell designs on online marketplaces, create custom images and templates and much more. In this case, you can be self-employed and even start your own business later to have a steady income. Or, if you have a full-time job it is a way to earn extra money. 
Graphic design jobs are perfect for those who want to have time for their families and hobbies as well as make enough money for a living. Such work doesn't have an established shift so it's up to you when are you taking days off and when you finish the project. 
7. Using social media to earn money
Instagram account, Facebook page — all your social media posts can turn into online platforms to make money. Many professional designers use them as a tool to increase their sellings and it can be a great start, too! You can even turn them into your own online store via shoppable posts.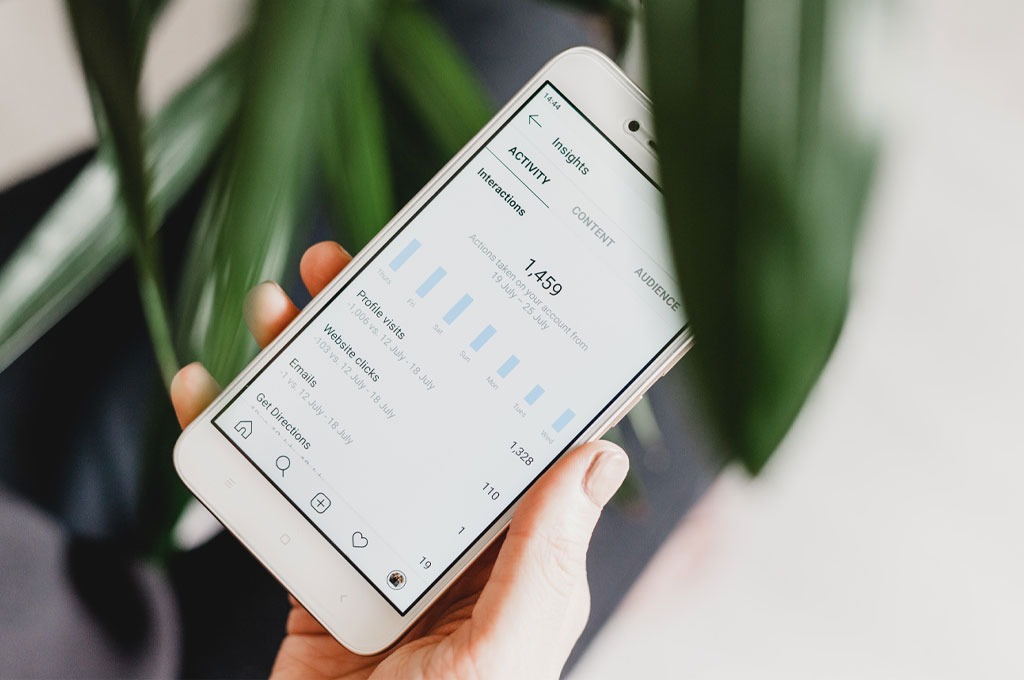 There are all the chances for a graphic designer to work for a big company and earn more money. Sure, you need to put in the work and improve your design skills to get on the professional level to be able to get higher on a pay scale, but keep in mind that experienced professionals are always in high demand. 
9. Having a secured future
There are always a lot of new specialists with fresh ideas in the graphic design industry. If you keep up with them and develop your skills, you will have a job. Moreover, with a decent portfolio and a list of clients you worked with, you will always be half a step ahead. 
Working as a graphic designer will help you to develop all kinds of skills: creative, soft and you'll be your own accountant, too. 
Not only it's hard to earn much money only by working as a graphic designer, you never can be sure that your income is steady, especially if you a freelancer. One day you get a well-paid project and the next month you may get none. So you need to be in search of new clients all the time to get a decent amount of money. 
2. The subjectivity of design
Beauty is subjective. Art is the same, too. What looks attractive to you may not seem so for others (for clients as well). And the bad part here is that mostly you need to appease the customers who may disagree with all your decisions and you'll redo your artwork over and over again.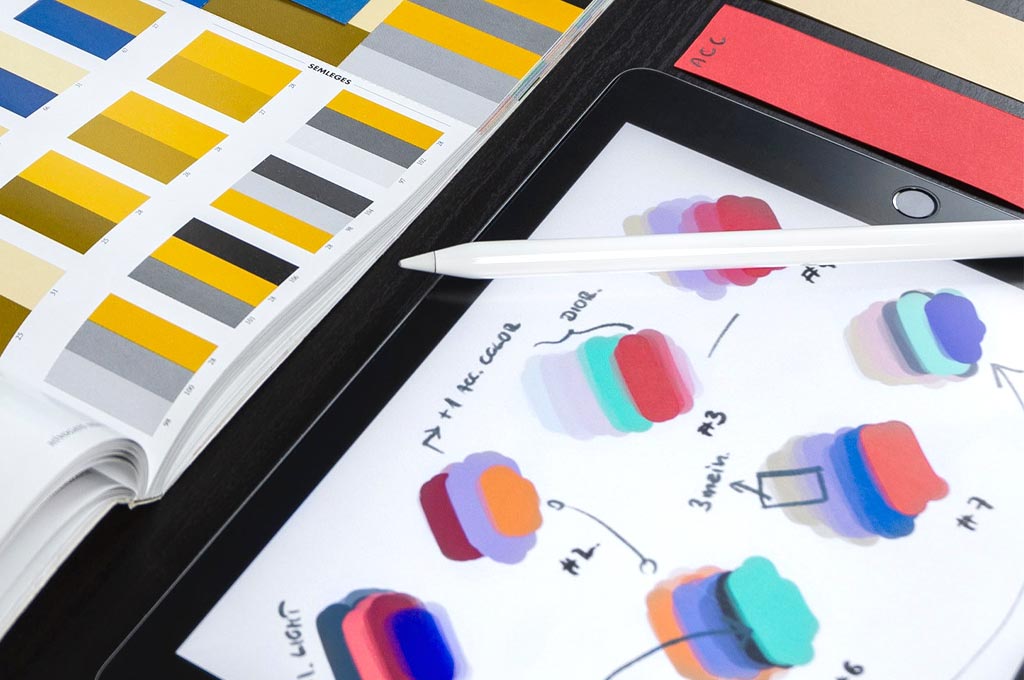 The design market is highly competitive nowadays. There are many other agencies, companies and freelance graphic designers out there, so you have to market yourself. To stand out from all the competitors, you need to have a stunning portfolio (that is quite hard to make, too). 
The main goal of the graphic designer's work is to please the client and work with their guidelines. You'll face criticism, customer uncertainty, many questions and other not-so-pleasant aspects of working with people before you get the approval. 
5. Spending much time on the computer
No matter if you work from home or in the office, most of the time you will spend staring at the computer screen which is dangerous for your eyes. Such work can also lead to burnout in a long run.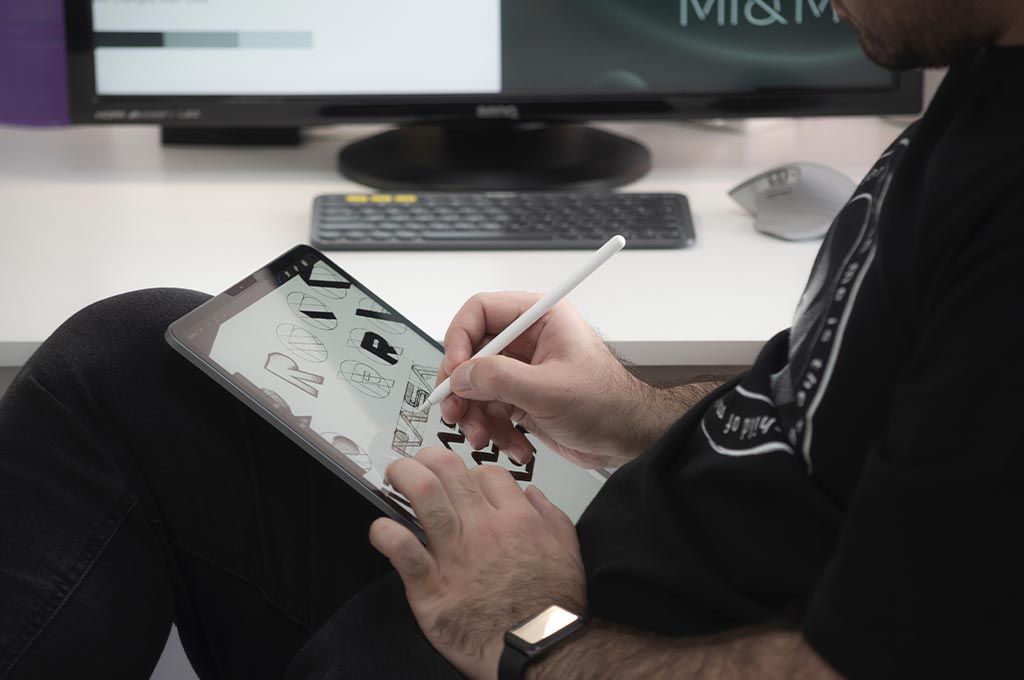 If you choose to work as a freelance graphic designer it may be hard for you at first as you won't have any idea how to find projects and improve your artworks so they sell better. It is especially hard for those who don't have a graphic design degree. 
As it was mentioned earlier, many graphic designers suffer from eye problems because of spending hours looking at computer. But such job is also bad for you back and overall if you want to stay in shape you need to go to the gym, as most of the time at work you'll be sitting on a chair. 
8. Good results take much time
Most likely you won't see the results that fully satisfy you quickly. Graphic design skills take a lot of time to get to the level where you can sell your products and earn money from them. Producing valuable outcomes may take days, weeks or even months and it can be frustrating. 
Making the first steps is always the hardest part of any journey and if you are here it means you've already made them. In this article, I shared the experience of our team and gathered all the information on how to make money as a graphic designer online on your goods, so now you just need to choose what works the best for you. Try different graphic design directions, distinct platforms and you'll surely find those that will help you on your challenging path. If you have any questions, I'll be glad to answer them in the comments below! 
Frequently Asked Questions