The Designest may receive compensation from companies, products, and services featured in this publication. For more details, please refer to our Affiliate Disclosure page.
Sticking to the well-known and time-tested software is not a bad thing, but! The industry is evolving, becoming more and more complex — so do the design tools. If you've never tried Affinity Designer or have always been hesitating? Now is the best time to dispel your doubts.
Having the huge experience in design field, we're always trying out something new to open up the undiscovered dimensions of our own creative possibilities. One of them was found while getting to know Affinity Designer. Very convenient, easy to use, simple navigation and a vast area for self-expression. The special word should be said about the following feature — Affinity has an option to create raster and vector brushes in one single software!
What are Affinity Designer Brushes?
Here the brushes come in .afbrushes format and can be raster or vector brushes. The raster brushes can be added to Affinity Photo and Affinity Designer when the vector ones will work only in Affinity Designer. So when you buy brushes for Affinity, look closely at what you're purchasing by reading the product's description. Here are four of them: Affinity Designer for Desktop, Affinity Designer for iPad, Affinity Photo for Desktop, Affinity Photo for iPad. We'll stick with Affinity Designer as we have more experience with this version.
Adding Affinity Designer Brushes on Desktop
Start with a Brush Panel, situated at the top right corner, and choose one of two possible ways to add brushes there:
Choose Import Brushes from the dropdown menu, then pick the files in .afbrushes format you'd like to upload.
Use the Finder on Mac or Explorer on Windows to locate the directory with desirable .afbrushes file and click-drag it. If the cursor changed, you can release the mouse button to see the confirmation message on your screen.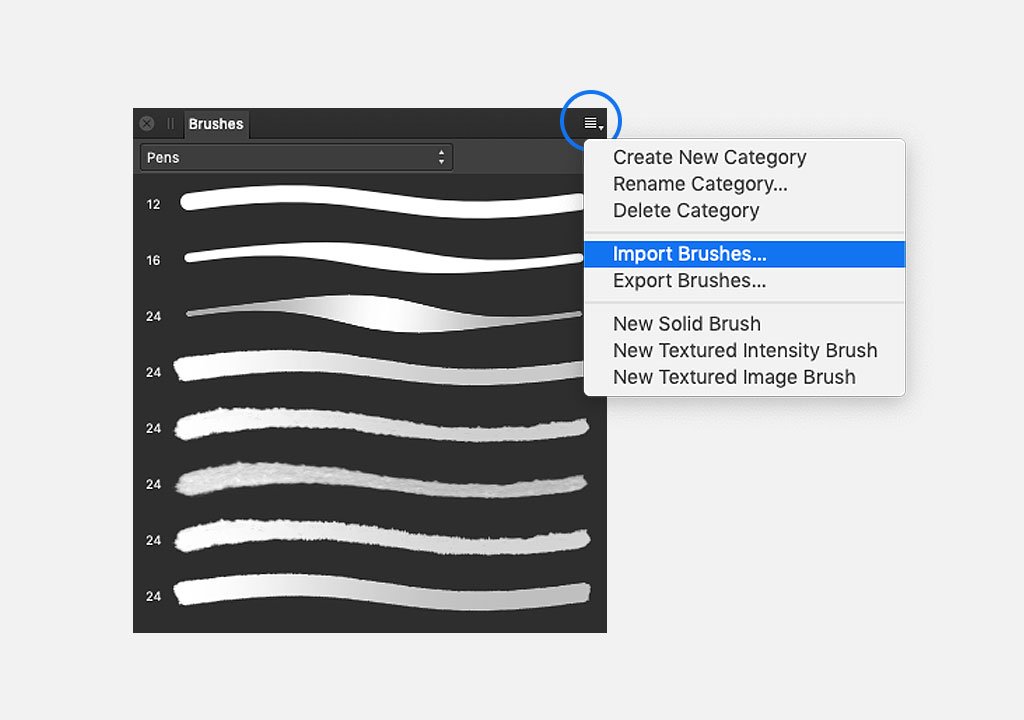 You can always open the brushes from the Brushes Panel but if you need raster version, make sure you're in "Pixel Persona" mode for these brushes to appear.
Importing Affinity Designer brushes to iPad
It's a bit more tricky with iPad but not impossible! First, check your downloaded files. If you have them in .zip format, refer to Extracting your resources from a ZIP archive section. If you already have the brushes on your iPad desktop, upload them to any cloud storage you use (Dropbox or iCloud, for instance).
After that, you can install the brushes into Affinity Designer on iPad! ​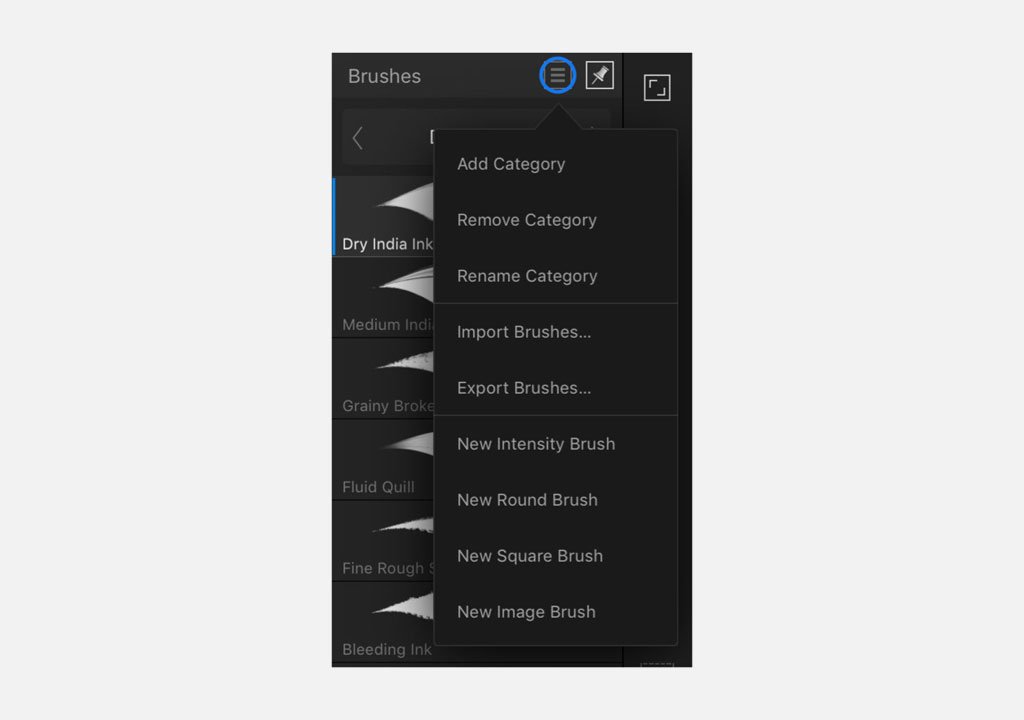 Open Affinity Designer.
Tap Brushes Studio—Panel Preferences and choose Import Brushes.
The appeared Files Browser will help find the .afbrushes file you need. Pick it right away!
The brush category will be imported and displayed automatically. Just select a brush and start creating!
Free and Premium Brushes for Affinity Designer
After watching tons of Affinity Designer tutorials, your hands must be itching to try everything out yourself. We've got you covered with our small selection of Affinity Designer brushes. These are the tools you should make your first steps in Affinity with!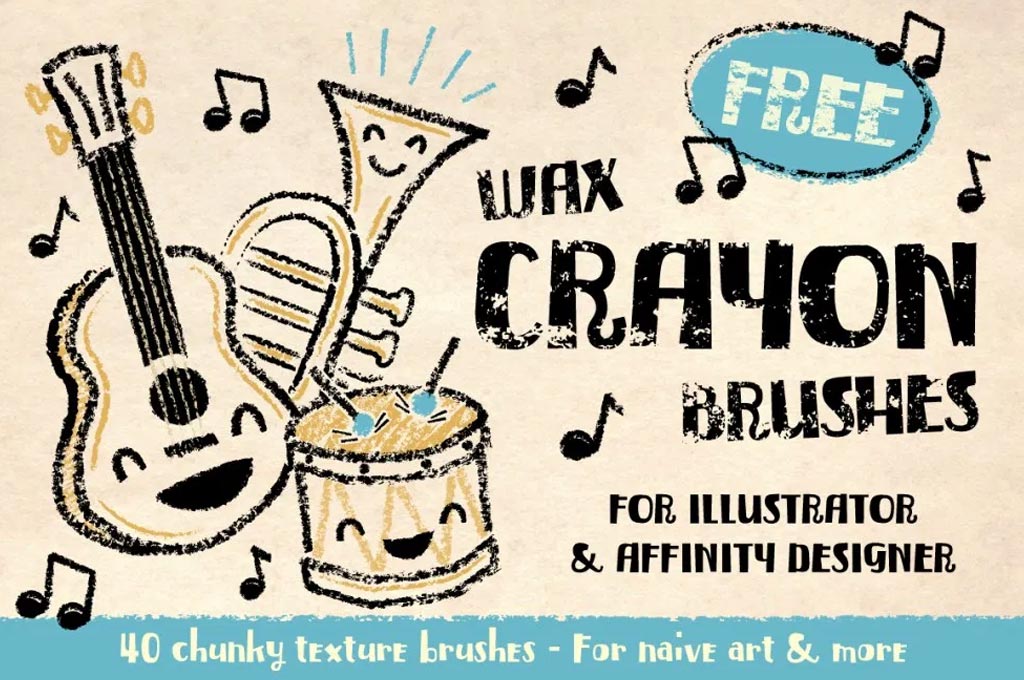 Wax Crayon: Free Affinity Designer Brushes
These authentic crayon strokes are perfect for adding naive charm to your Affinity Designer artwork. Every attempt has been made to retain the life-like qualities of the original wax crayon source material to bring only the best vector brushes texture to your work! You'll get 40 high-quality realistic crayons and a fully comprehensive instruction guide.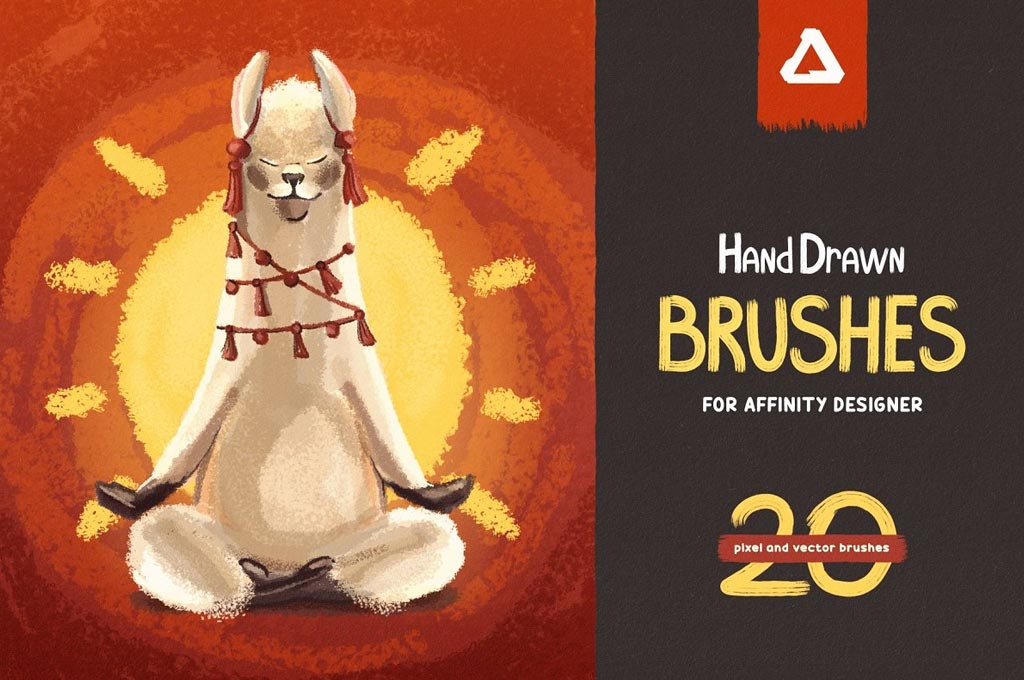 Hand-Drawn Affinity Designer Brushes
Take the spirit of a jaunty and curly llama and imagine how the texture of their fur will look like? It's soft and nice, just like these brushes for Affinity Designer! The pack you're looking at right now contains 20 vector and pixel brushes — two essential Affinity Designer formats. Besides, don't forget that all of them are accompanied by llama magic! You can draw these jolly fellas or any other illustrations for your projects, using a sponge, pastel, marker or noise brush. Decorate your projects, blessed with cuteness coming along with indispensability!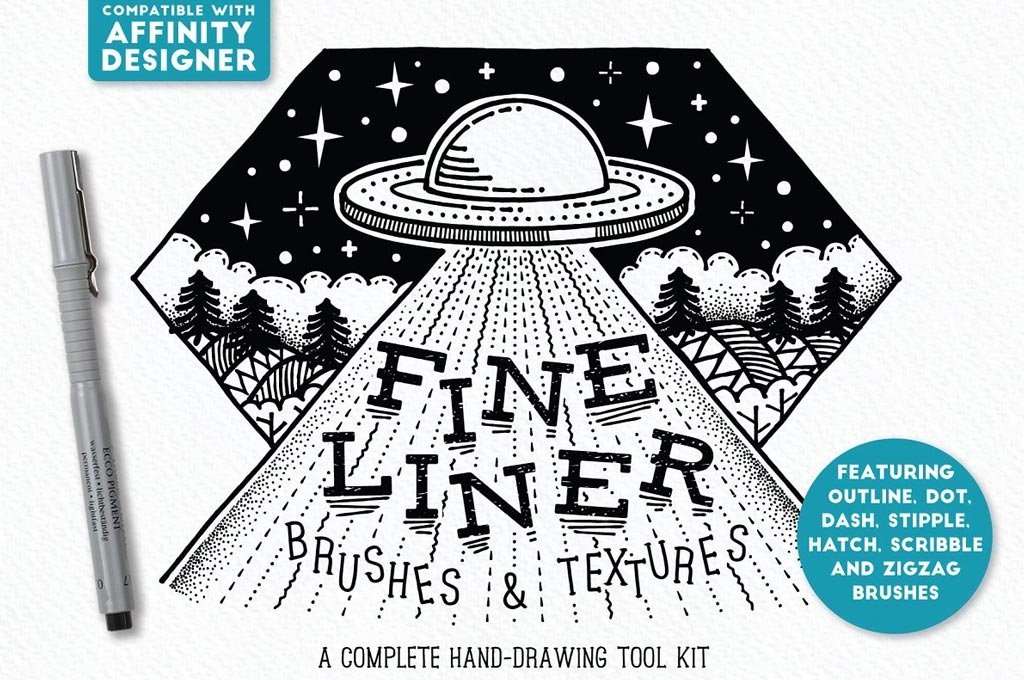 Fine Liner Brushes for Affinity Designer
This pack of Affinity Designer brushes was developed after taking a trip down memory lane sorting through old school and art college sketchbooks, full of the fine-liner drawings, patterns, shapes and doodles. This authentic and versatile toolkit includes a huge range of different pen marks — straight and rough outlines, dots and dashes, stippling, hatching, zigzags and more. The selection of fine liner textures will come in handy if you'd like to fill in the space quickly.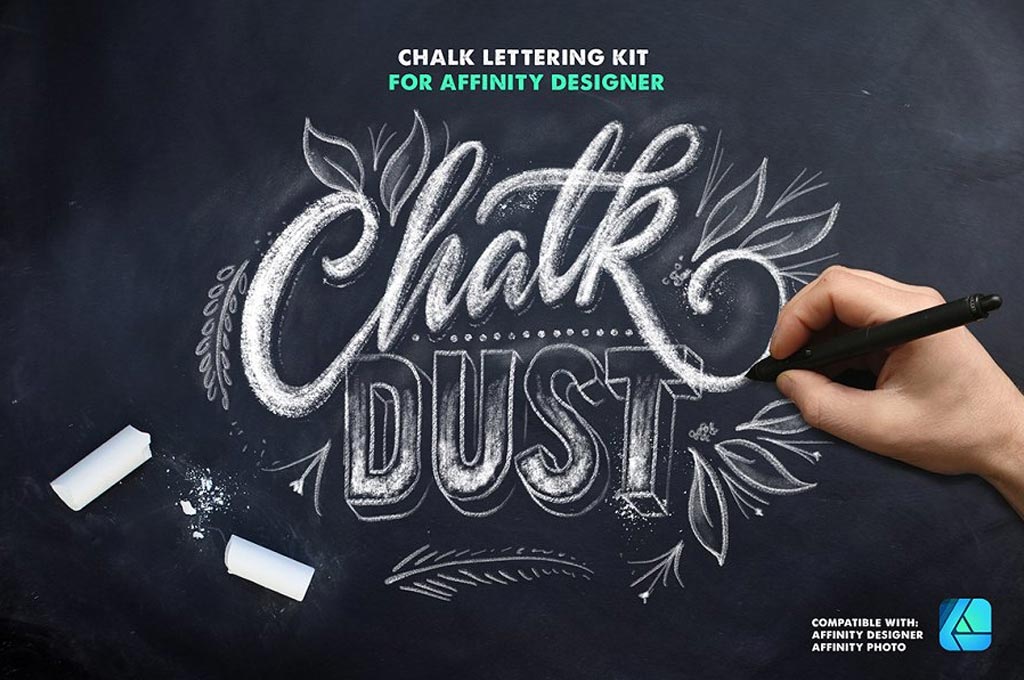 ChalkDust Affinity Designer Brushes
Chalk can be rightfully called a perfect lettering tool because of how creative you can be with the effect chalk gives you. This pack has been made using actual chalk textures to give the most realistic looking set of Affinity Designer brushes that you'll find for Affinity Designer. You also get a "tips and tricks" guide sheet to show you how to do things like shadows and shading and drawing elements like banners and floral elements.