It is fair to say that the internet has revolutionized our lives, including the art world. Before the omnipresence of the internet, there existed this stereotype of the "starving artist". Famous painters and writers came to mind, such as Vincent Van Gogh or Edgar Allan Poe, who chased after their dreams, and struggled to make a living through their art. We are gradually moving away from these profound misconceptions, and rethinking what it means to be an artist in today's ever-changing digital world. 
The online opportunities for artists have become endless: call for entries, NFTs, online galleries… Marketplaces like Etsy and Instagram Shopping have grown into platforms for artists and small businesses to sell their handmade crafts and fine art. Instagram brims with exciting and innovative art, and one of the app's most popular hashtags is #artistoninstagram. Now is the time for artists to use the internet to their advantage for showcasing their talent and launching their artistic career, just a few clicks away. 
The Rise of Online Galleries and Society's Changing Demands
Online art galleries are thriving as never before, and are changing the rules of how we consume, purchase and sell art. SINGULART has become the leader on the European art market, and represents more than 12,000 artists and designers. Co-founders Brice Lecompte, Véra Kempf and Denis Fayolles strive for greater diversity and inclusivity (49% of the artists represented in this online gallery are female-identifying). 
Brice, Véra and Denis have for mission to democratize our access to art by offering a large range of pricing options, making the purchase of artworks more accessible for young collectors. SINGULART is an international platform that ships worldwide (90% of the sales take place between an artist and a collector who don't live in the same country). This action plan opens more doors to emerging artists, by increasing their chances of reaching a wide variety of clients. 
Make Money Selling Art From Your Home
As an artist, you have the opportunity to set up your online business all from the comfort of your home with online galleries. SINGULART aims to empower emerging and established artists, by helping them find customers and build international visibility.
Thanks to SINGULART's digital set-up, we are able to offer a worldwide view of the art market.
The success of this online gallery is vastly attributed to bringing art into the mainstream and being in touch with new consumption patterns since COVID (people spending more time at home and the rise of online shopping). 
Artists AND buyers benefit from selling and buying art through SINGULART. One of the advantages of purchasing art in an online gallery is the overall stress-free experience for collectors. It allows them to compare prices and gather all the information they need, which results in a more reasoned decision making when purchasing an artwork. 
Moreover, artists are selling art in a digital form, using NFTs, which allows for more freedom and independence, bypassing galleries and auction houses, and taking ownership of their work. More and more artists are choosing to sell on marketplaces such as Etsy and Instagram Shopping. Similarly to NFTs, these platforms promote independence and full autonomy over one's business. They are also profitable, easy to use and affordable options. Keep in mind that artists selling online have better chances of succeeding if paired with a social media presence.
Contemporary artists working today have the possibility of marketing themselves on social media. Instagram enables artists to share snippets of their daily lives with their fanbase, at a low cost. It has been proven that artists who have an online presence increase their chances of engagement and exposure. Artists selling online have to make a difference with the necessary tools at their disposal: it's not only a matter of posting the odd selfie or picture of your artworks, but about being as authentic as possible.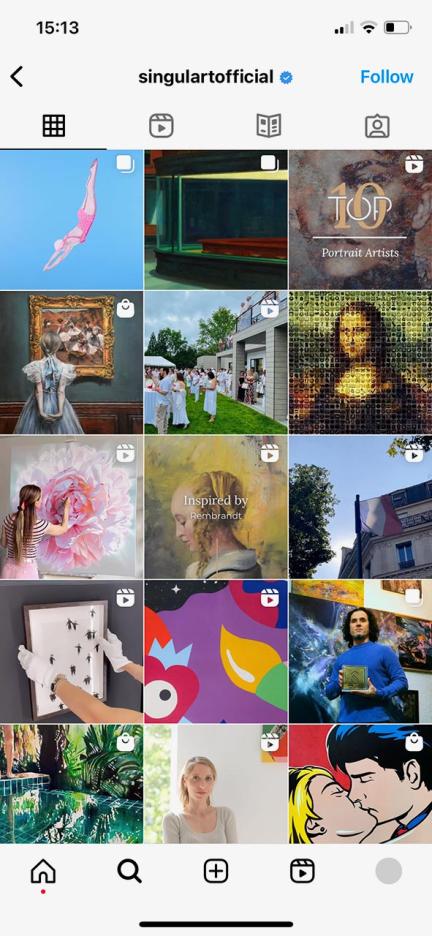 Get your followers to know you better by showing your process of creation, some tips and tricks, or the inspiration behind an artwork. Fashion designer Jacquemus has understood the power of social networks, and uses Instagram as a personal diary. Artists who want to grow their brand online must be open to showcasing their personality and making a statement, revealing what makes their art particularly exciting and unique. Be creative and stand out from the crowd!
What Kind of Art Sells The Most?
Artists interested in monetizing their art should pay attention to buying trends, and spend time considering what kind of artwork they wish to sell online. Here is a glimpse of the best-selling art today, to give you a better understanding of where to begin. Starting off with traditional landscape paintings. This extremely popular theme is much-beloved among buyers, due to its timeless and universal nature. Landscape paintings offer relief from the city and potential for relaxation, while looking great in any room in your home.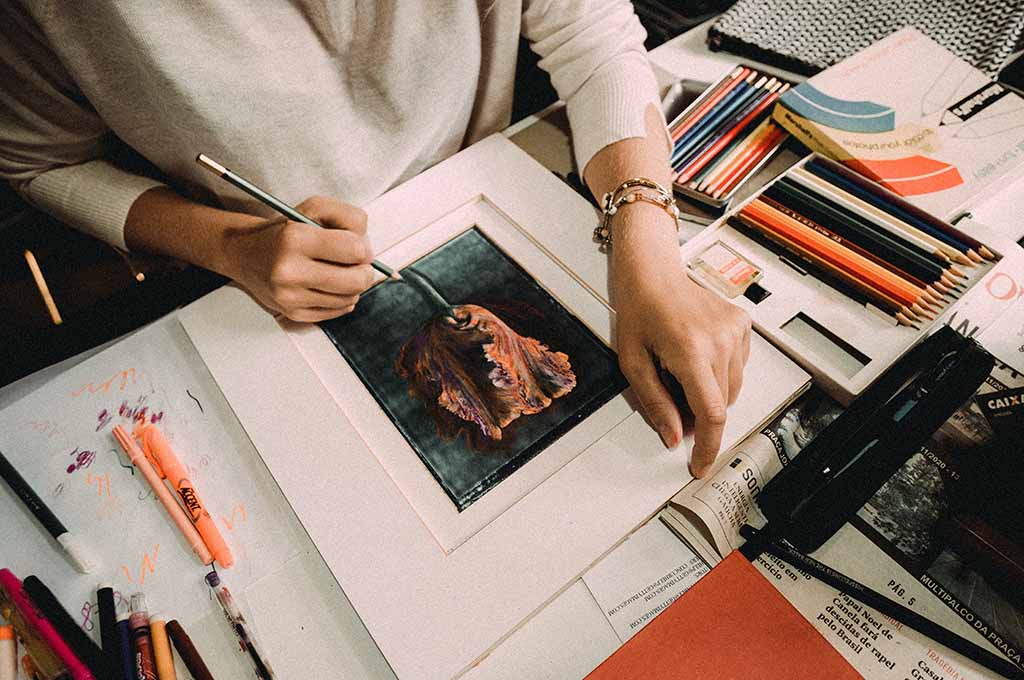 Abstract paintings are second on the list. Aesthetic lovers can't seem to get enough of abstract art, for its ability to pull a room together, while adding a touch of modernity. Thirdly, animal paintings, especially depicting cats and dogs in domestic settings, are high in demand. This is no mystery, seeing our passion for pets has been on the increase since the pandemic, which triggered a pet adoption surge. In terms of mediums, acrylic and oil paintings are very trendy right now. Acrylics are extremely versatile and lend themselves well to abstract art, while oils are revered by those who appreciate a high amount of details and/or are looking for a luxurious feel. Have a look here for the full list of the best-selling art styles and mediums.
Bye-bye "starving artist"
The concept of the "starving artist" is becoming increasingly outdated, given the fact that there are a multitude of options for artists living in today's world to promote themselves and sell their craft. Online galleries aim to be more democratic and inclusive, offering a wider range of prices and choices than traditional galleries. When art evolves towards being more accessible, it shifts from being elitist to becoming mainstream, which in turn increases artists' chances of selling. Online galleries provide a relaxing experience for artists and buyers, where both parties have the freedom to explore different options and make an independent decision concerning the sale or the purchase of an artwork. 
Selling art has never been easier and affordable with the boom of online marketplaces, and you don't even need to be a marketing professional to get started! It might be interesting for artists to study buying trends, in order to have a better idea of what kind of art sells the most. Additionally, having an online presence is tremendously beneficial to increase artists' exposure and their chances of selling. The internet has radically transformed the art world, and in SINGULART's opinion, for the better.