The Designest may receive compensation from companies, products, and services featured in this publication. For more details, please refer to our Affiliate Disclosure page.
I don't know what the most exciting news: the brand new emoji system designed in an unboring style or the fact that the legendary Office assistant Clippy is back. Probably, the answer is somewhere in between, and what really matters is that Microsoft has shifted their focus to fun in communication — and they made it so well!
If you ever seen Microsoft emoji, you should know that these have been starving for an update for quite a while. And it's not only the visual component that was imperfect: the flat emoji lacked in personality. Whenever we use emoji, we expect them to complete the message or express the emotions we can't find words for. The brand-new system completes these emotional gaps and creates a very dynamic and fun selection of emoji.

Expand Your Creative Skills With Domestika Classes
Explore thousands of creative classes in design, business, visual art and craft! Whatever skill you want to improve, Domestika has a course for it! Use the code THEDESIGNEST-10 to get an additional 10% off.
The new Fluid Emoji are made in 3D style, and most of them are animated. Saturated colors, gradients, and "delicious" shapes that make them resemble chewing gum have nothing to do with the previous generation or a very formal approach of Microsoft that we're used to.
Being playful or highly expressive doesn't come easily to everyone, emoji are the perfect little helpers. Far from being frivolous or ornamental, they're extensions of our own humanity and an important communication tool.
The new design literally makes the emoji pop and look like they've concentrated all the energy that Microsoft has been storing for ages. It's still hard to imagine Microsoft Office products featuring so much vibrancy as it doesn't really go along with the traditional formalism of the past years. However, it's good to change the concept sometimes, and they have chosen the best moment. In fact, it's another decision implied by the pandemic and the global switching to remote work where people need better ways to express their emotions aways from the team. The recent emoji was created with a view to make the communication more personal and human — and that's what the juicy 3D character design Clippy's come-back here for.
Another great thing about the new emoji is that Clippy will replace the paperclip emoji in Microsoft — and that's their huge step towards its audience. In the history of the company, there was no other element, character or symbol that would provoke greater support than the charismatic Clippy. Back in 2003, Microsoft Office decided to refuse this character that the community found irritating and clingy. However, after they removed the paperclip and other Office assistants, the idea to bring Clippy back rose many times.
One of the most pathetic come-backs should have happened in 2019 when Microsoft employees introduced Clippy as an animated sticker pack in Microsoft Teams. But the "brand police" inside the company ordered to remove the character. For today you can find Clippy in the sticker packs for Telegram or WhatsApp, and no matter how absurd it is, there is nothing for Microsoft Teams.
In June 2021, Microsoft promised to replace the paperclip emoji in Microsoft Office with Clippy if their tweet gets 20,000 likes. However, the audience feedback was so live, that the post about Clippy collected over 160,000 likes on Twitter and over 230,000 likes on Instagram.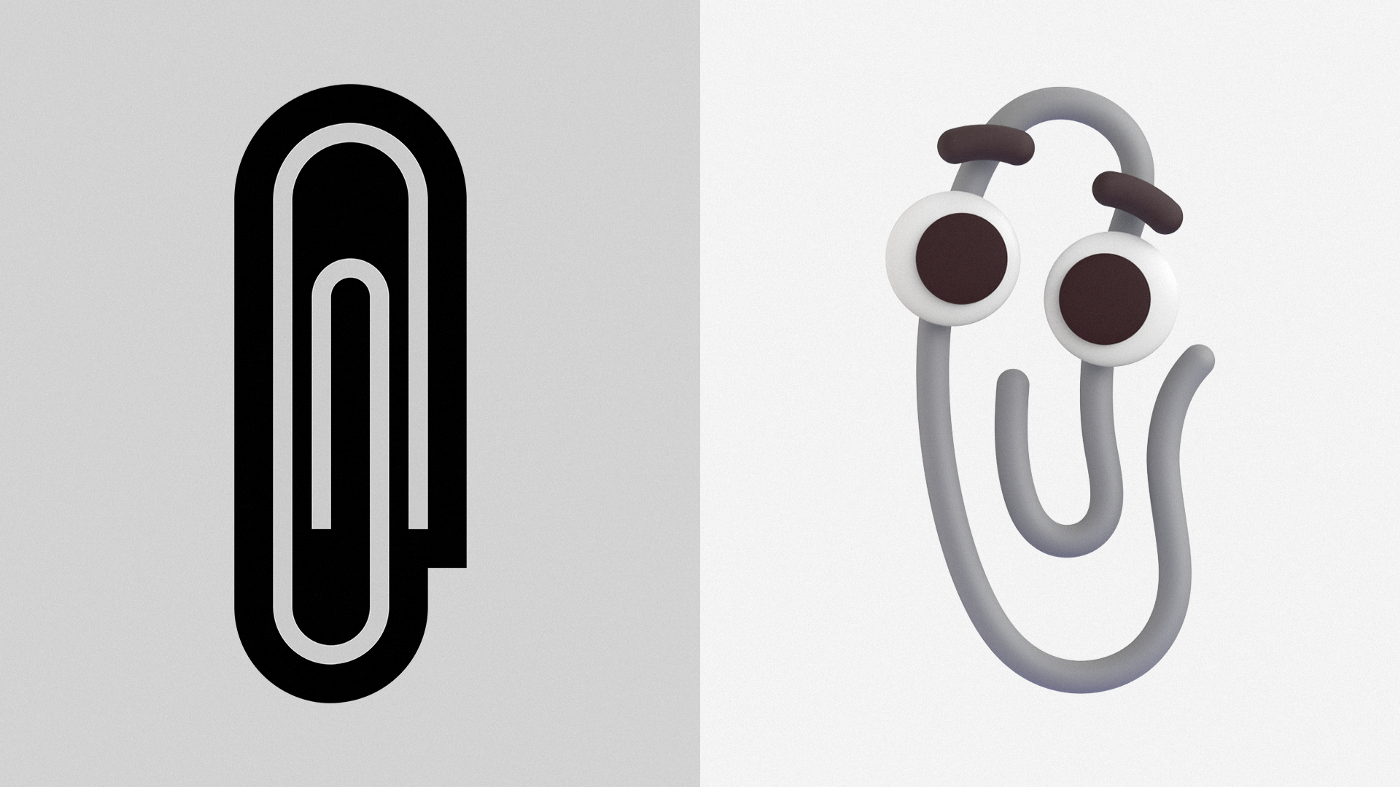 Microsoft didn't have another option but to get Clippy back as a paperclip emoji in Microsoft Office. Of course, there was a pinch of hope that Clippy would return to his renowned status of the Office assistant — however, it's already great to see this alternative character in the default emoji set.
This decision is an excellent human move, and it is curious how many nostalgic users will rediscover Windows and Microsoft Office services after that. Indeed, bringing Clippy back was a great idea, but establishing a dialog with the community and resurrecting the paperclip character means even more for the company image.
The new emoji system featuring 3D, animations, and the legendary Clippy will start to appear in Microsoft 365 in the coming months — so you don't have to wait long!