The Designest may receive compensation from companies, products, and services featured in this publication. For more details, please refer to our Affiliate Disclosure page.
When it comes to photo editing, Adobe Photoshop has undoubtedly made a name for itself as the industry-standard software. More recently, it's also become an essential tool for illustration, with creatives of all disciplines turning to Photoshop for its versatile toolkit for digital drawing.
Domestika, the fastest-growing platform for online creative courses, gives you the opportunity to learn professional software like this in a matter of hours with their Domestika Basics courses.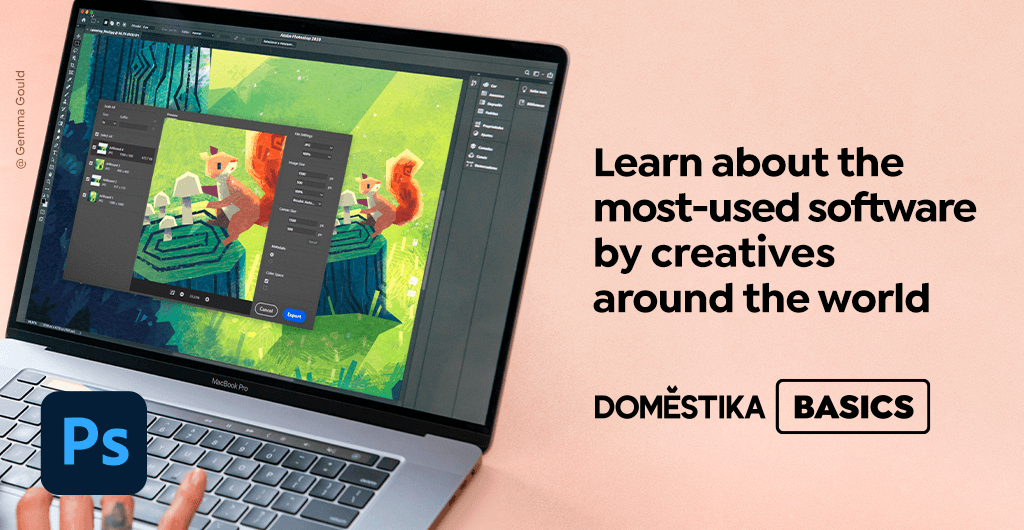 What are Domestika Basics?
A Domestika Basics is made up of 5 to 7 courses designed to help you master professional software from scratch alongside renowned industry professionals. Whether you're a designer looking to familiarize yourself with a new update, or a complete beginner searching for new tools to add to your repertoire, Domestika Basics consist of easy-to-follow steps for enhancing your creative toolkit. They're a great way to build on your skills, develop new ones, and stay up to date with the latest techniques in an ever-changing digital space. Students of these courses also receive signed certificates for sharing their newfound knowledge with the world. 

Use the exclusive code THEDESIGNEST-10 for an extra 10% off any of the courses. If a course is at 75% off, you can get a total of 85% off your purchase.
Course Review: Introduction to Photoshop for Illustrators
Introduction to Photoshop for Illustrators is one of many Domestika Basics courses. Led by illustrator Gemma Gould, the course which has received 100% positive customer reviews, guides you through how to use Adobe Photoshop to create professional-quality illustrations. Gemma uses her decade of experience illustrating with Photoshop to teach you a variety of styles, techniques, and tools which can elevate your digital illustrations through practical screencast videos you can follow in real-time.
The course begins with an introduction to the Photoshop interface. Gemma guides you through the most important Photoshop tools as well as her advice on composition for more dynamic artwork. She then experiments with drawing and brush settings, before exploring how to choose a color palette for your illustration and how to edit and correct color using the software.
Next, you'll dive into Photoshop's legendary painting tools and brushes. Discover how to use them to create texture and give your illustrations a more traditional feel. Then compose an image of your own, experimenting with different brush techniques. Each course includes practical tasks at the end of every unit that are a great way to put the skills you learn into practice.
Finishing touches are what set any good illustrator apart and this Domestika Basics has an entire unit dedicated to them. From lighting to blurring techniques, Gemma walks you through how to add depth and movement to your work for a more professional end result. She also invites you behind the scenes of her personal creative process, sharing the techniques and shortcuts she has used in her ten years as an illustrator.
To wrap things up, Gemma covers how to export your finished work for both digital and print formats and shows how to create a realistic animation of your illustration to share online.
No matter your experience with Photoshop, this course is a must. Illustrators and beginners alike have something to learn from the dynamic collection of tools it offers and who better to teach you how to get the most out of them than a professional illustrator who works with Photoshop every day? 
At Domestika, you can find many Basics courses dedicated to mastering professional software from scratch. Here are some of the others you might be interested in:

Check out all the Domestika Basics which are currently at US$9.99 each this week only! Use the code THEDESIGNEST-10 for an extra 10% off any of the courses.