Finding your favorite editing platform may take time. It often happens that you like one tool from one app but the other has more features you need for a convenient workflow. Wasting time on switching between them doesn't add any good. If it occurs to you, trying Shutterstock will be the solution to your problem. It includes tons of useful features: Al Powered search, a great number of editing tools, a place to store your works and many more. With its wide functionality, it will become your helping hand in any creative project.
When I decided to find a new platform for making my work process easier, there were two main rules I followed. The first one was having all the tools I needed in one app, and the second requirement was a user-friendly interface so I didn't need to waste time figuring out how to work with it. Shutterstock became a perfect option that fulfilled my expectations and has even more than I expected.
Even if you have been using it for some time, you may still now know all the tools it has — there are so many of them: great resource search, thoughtful calendar to keep up with the deadlines and track work process, etc. And in case you haven't heard of the app at all, after learning the ways Shutterstock may facilitate your work I'm sure you won't be able to resist using it in your design projects. 
Get to know the platform during a whole month of free use! Discover its functionality and how comfortable you feel working with it via Free Trial. 
Get to know Creative Flow suite
Shutterstock has always had a lot of useful resources for designers. Many creatives of their team worked on building a platform that will be useful for artists of each field: illustrators, video makers, and graphic designers. The app has always been always full of tutorials, freebies, interviews and much other helpful content. But with the Creative Flow suite they made a breakthrough in the design world.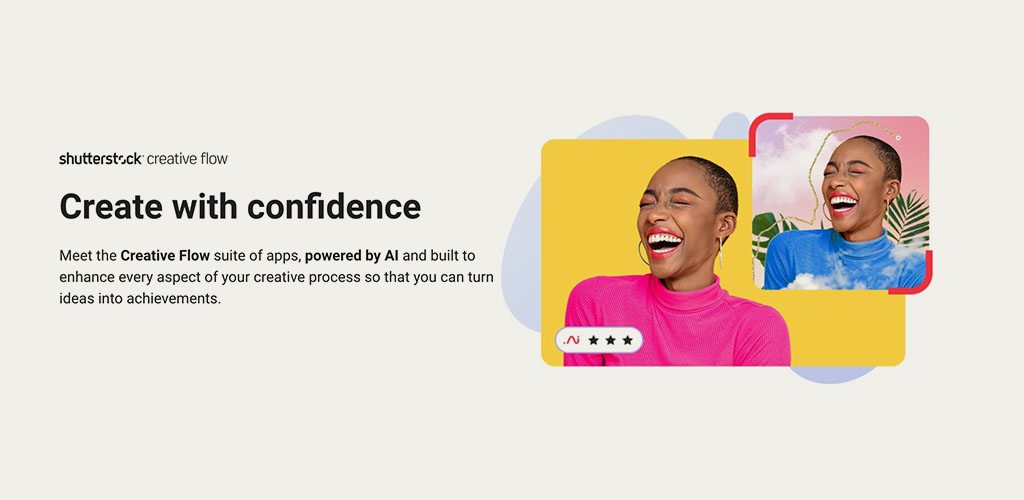 Creative Flow brings 3 features that are created to make the design work process as easy and enjoyable as possible: Shutterstock Create, Al Powered Search and Predict. It opens up a whole new world of technical and creative opportunities. Each tool has many advantages you can use for your professional art projects in order to stand out. 
New key features to facilitate your work
After Shutterstock launched Creative Flow suite, this platform reached a new level of user experience and functionality. Now it includes tons of helpful features to help designers cut the time they use on the creative process as well as reduce the number of apps they need. Here you can not only use the editing tools but also store your works and useful files, make plans for yourself and your team and many more. However, there are 3 key features that deserve special attention. 
Shutterstock Create
Even the hardest art project will become easy and fun with Create tool, whatever your skill level is. This feature will be useful for both individuals and business owners, as it enables you to work with any kind of design and edit images easily. 
The Create tool is a part of the Creative Flow suite, that enables you to upload the picture, personalize the design, edit assets and then publish it. The various tools included are professional and powerful, allowing you to craft high-quality artwork. The simple and user-friendly interface, on the other hand, doesn't need any deep knowledge of editing programs to understand how it works.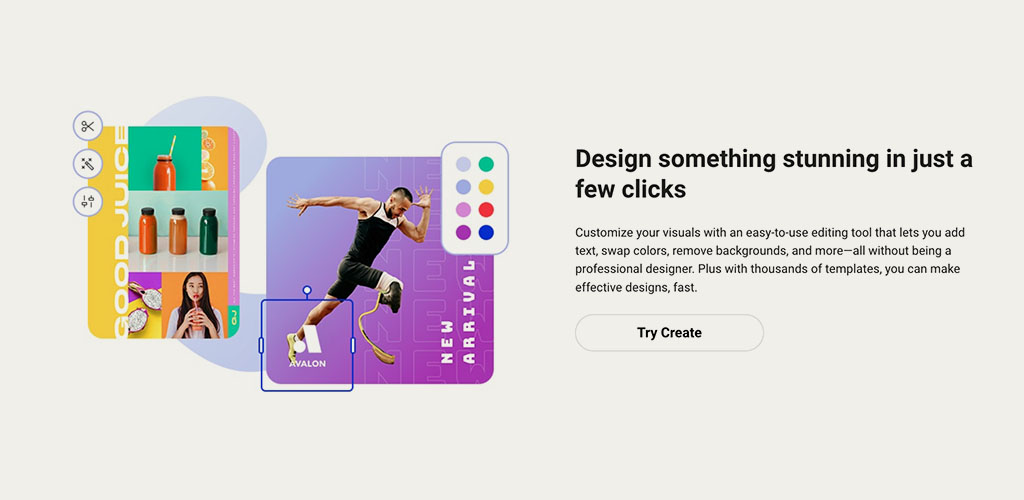 Useful features of Create:
Premade templated of different sizes, ready to be used in different social media. They only require a few clicks to personalize.
High-quality, professional editing tools.
Stylish images, typefaces, animations, and filters that will help you keep up with current trends.
Simple access to Shutterstock's library that provides you with millions of creative materials. You can add the ones you use the most in your own catalog for quick access.
Due to such great functionality, you will be able to bring all your creative ideas to life. Create is a useful tool for many artists who want to bring their wildest creative ideas to life. For example, if you are a graphic designer, you can craft an eye-catching ad poster or make an online portfolio that will bring you new clients. This feature blurs all the lines between the impossible and your opportunities.
AI Powered Search
When you feel like you don't have enough images for your creative project or want to try something new but don't know where to start, Shutterstock's Al Powered Search will become your assistant. It searches through the whole app's library from over 600 billion data points and 7,000 companies, and can quickly find the photos that are expected to perform the best for you. 
You may wonder, how does the search work? Here are its principles:
Adapt your picture library search to your target demographic and advertising goal.
Shutterstock will present the content from its 350 million asset library that is expected to perform the best for your exact work.
With in-depth and statistically supported creative insights, you can comprehend why certain outcomes are advised for your campaign.
Knowing not only what suits your project the best but the reason behind it will empower you and make you feel confident about your art.
Predict
There are many things to consider while creating any image for your business: color palette, style and concept, which font to choose and many more. And it may become too overwhelming for one person, resulting a burnout in a long run. Why risk yourself when Al Powered tools can decide all these details for you? 
All you need to do in order to get perfect solutions for your business designs are put its objectives and target audience in Shutterstock's Predict tool. It will give you the best options you can use to attract new clients and achieve all the goals you set.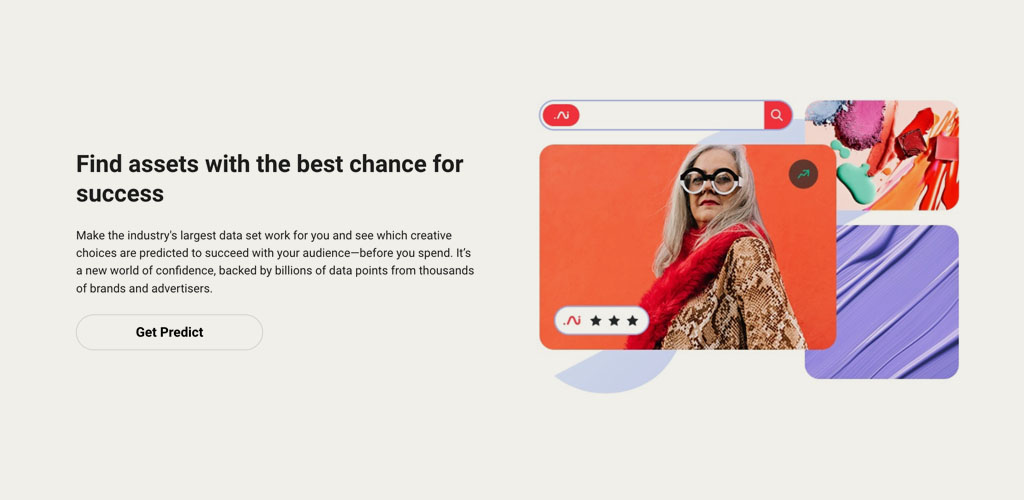 That's how Predict searches for the best options: 
The tool finds out which elements are expected to perform the best for the audience, and the goals you want to reach.
Get thorough creative insights on each suggested picture asset.
Before your content goes live, it figures out how the result is expected to perform to gain a competitive edge.
Predict is a perfect tool for small business owners who want to save time and money on crafting logos, ads, posters and any other designs to make their brand successful.
The suite of CreativeFlow+ tools is available for free to all Shutterstock Image subscribers and can also be purchased as a stand-alone product for $12.99 per month or $119 for one year. 
Get inspired with CreativeFlow+ Blog
When you feel like you need a boost of inspiration and some useful information, you should go to the CreativeFlow+ Blog. It's full of creative ideas, tutorials and everything that may come in handy for creatives. For your convenience and quick search, the blog is divided into 5 topics: design, video, contributors, news and PremiumBeat blog. 
Examples of good and bad designs, resources and interviews to inspire you in the next masterpiece — here you will find them all. These detailed articles can help you avoid many mistakes and breath some fresh air into your artworks. Plus, you will be able to find many freebies you can use, so I recommend to check the updates once in a while in order to refresh your toolbox with professional items and spice up the works.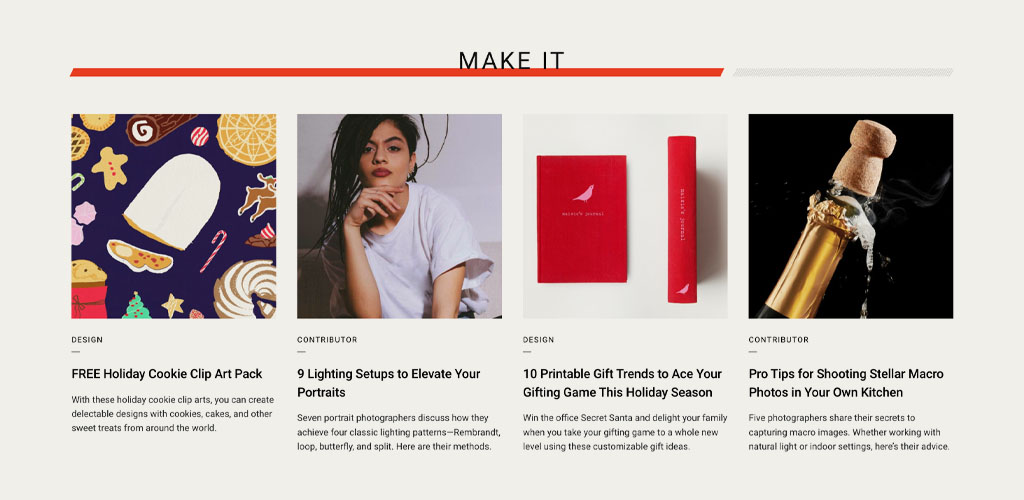 When I started to discover Shutterstock, I couldn't imagine how many features it has. Even if you sign up with no idea what you want to craft, with the help of Al Powered tools you will be able to figure out how to create an ideal design for your exact purpose. That's why this app will be a perfect assistant for a graphic designer who is just starting their journey: here you will find everything you may need to create all the artworks, for both personal and commercial projects. 
High-quality premade templates, editing tools, and countless freebies — I truly got an inspirational boost once I began discovering Shutterstock's features. Plus, it is easy to work with even if you are just a beginner in the design field, as it has a user-friendly interface, many useful tutorials and a wide range of tools.