The Designest may receive compensation from companies, products, and services featured in this publication. For more details, please refer to our Affiliate Disclosure page.
It's never too late to find out how to install Procreate brushes! Even if you're the last person from your entourage to discover it, you should be proud of yourself to finally pick this up. This brilliant software was developed by a passionate team of experts, so you can be sure, it will open so many new options for your creativity!
Two indivisible entities, iPad and Procreate app, are the safe bet for any illustrator or graphic designer, there are barely any people thinking otherwise. Tons of handy Procreate brushes get released monthly, suiting various artistic needs, even the most bizarre ones! Only a few steps separate you from diving into this abundance of self-expression means, and I'm about to lend you a hand.
Obviously, you won't make it work without Procreate App installed on your iPad. The brushes you'll get come in two formats: .brush and .brushset, both having a little difference in iOS and the app compatibility. Brush is a separate tool, requiring iOS 10.0 and its later versions, while .brushset is a library, working with iOS 11 and Procreate 4.1 or higher for both.
It also matters how exactly you're installing Procreate brushes because the guidelines differ. You can use your computer and iPad, iPad only or, probably, your phone (Procreate has the pocket version to cover you even when the inspiration strikes unexpectedly).
How to Download Procreate Brushes Using Your Computer
In brief, you simply download brushes to a computer and then transfer them to the iPad, using some third-party apps like AirDrop, iCloud or Dropbox, whichever is more convenient. Let's get more detailed.
After you download and unzip your Procreate brushes, you'll see the files in .brush or .brushset formats. Here's how you can deal with both of them, using Dropbox, for instance.
Installing Brush Sets (.brushset)
Transfer the files from computer to the Dropbox folder (you can do it via AirDrop if you have MacOS 10.11 or higher, the process takes one step!). Then open Dropbox on your iPad and find the folder with your brush set. Tap the More Options button, and finish with Export. In the menu, choose Copy to Procreate. The set will be displayed in your library when you open the app.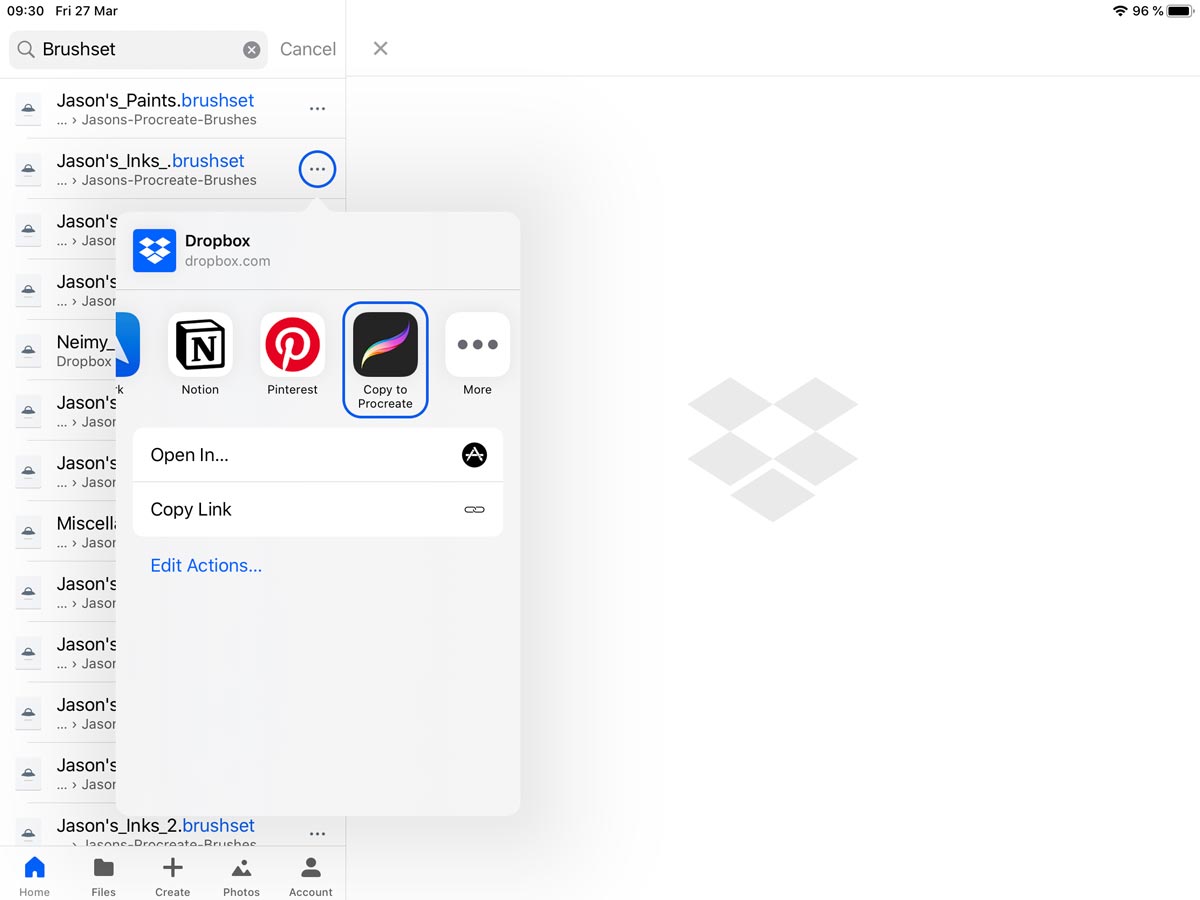 Installing Brushes (.brush)
Here you deal with installing each brush individually (the option, available in older iPad versions and Procreate 4.0 and earlier). Nonetheless, it's easy-peasy as well! You start with transferring your Procreate brush to the Dropbox folder (remember about the tip with AirDrop mentioned before), open it on the iPad. Tap on the More Options button and then Export. Now, select Copy to Procreate option. Every new Procreate brush will be displayed in the "Imported" section at the brush library's bottom.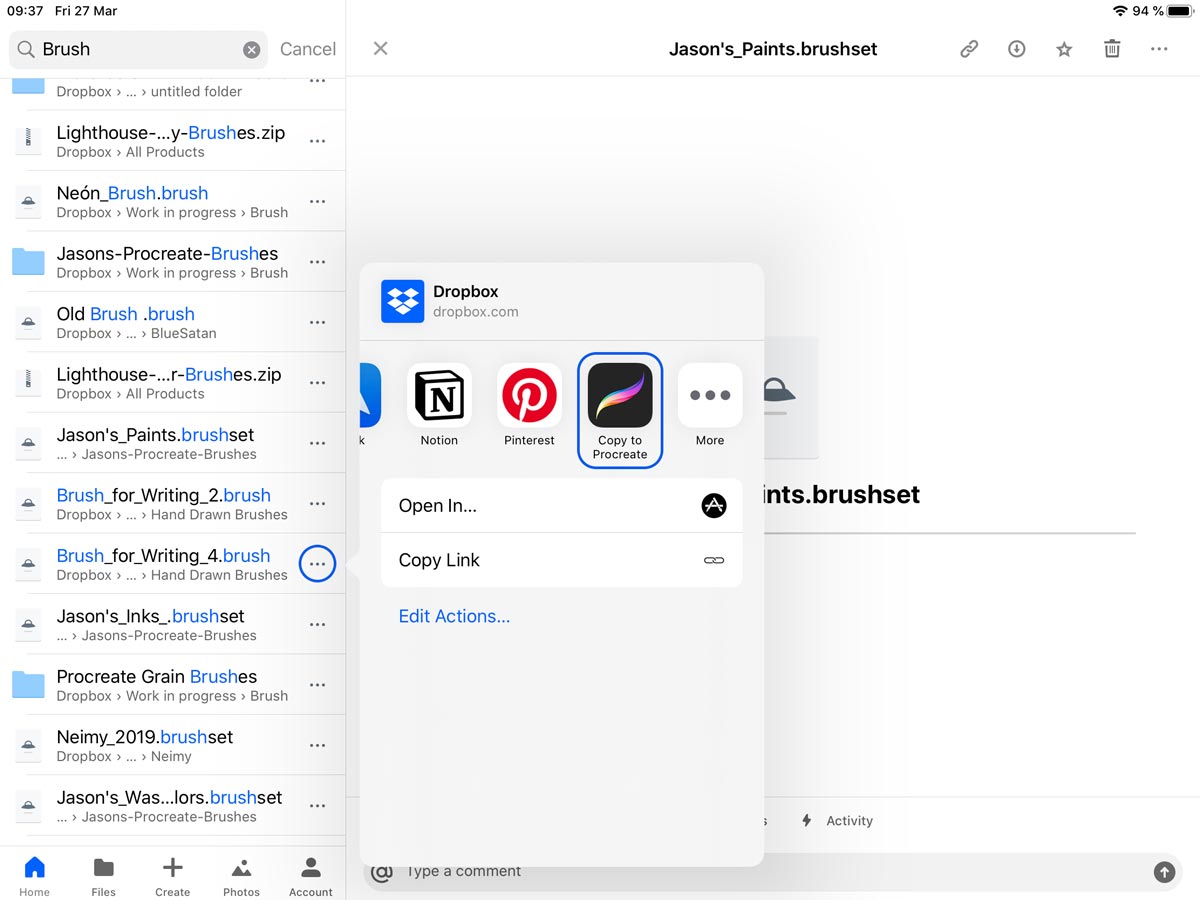 How to Install Procreate Brushes on iPad
The constant step is downloading the file itself, then unzipping it. On iPad you can do it several ways: use some unzipping app (iZip, for example), download the brushes directly from the marketplace where you bought them or synchronize the set with your Dropbox.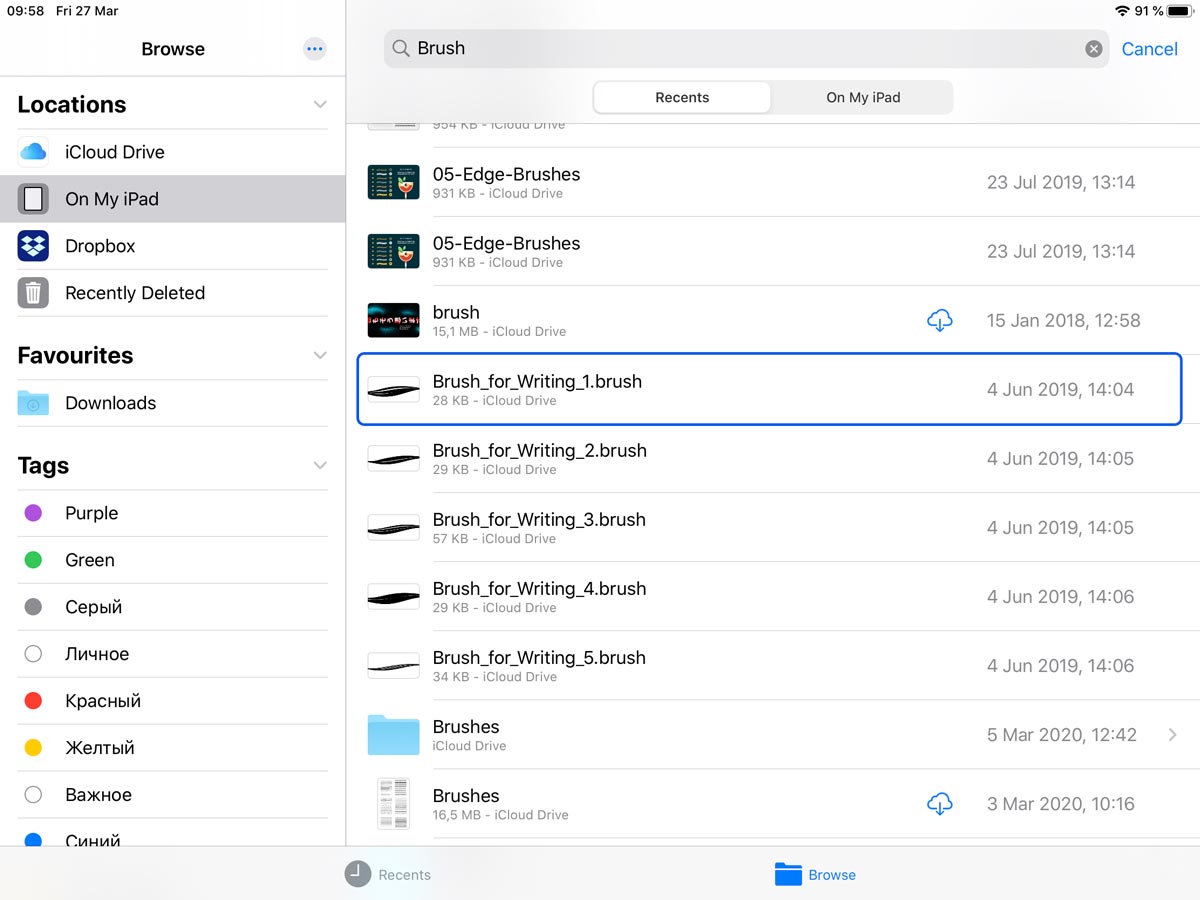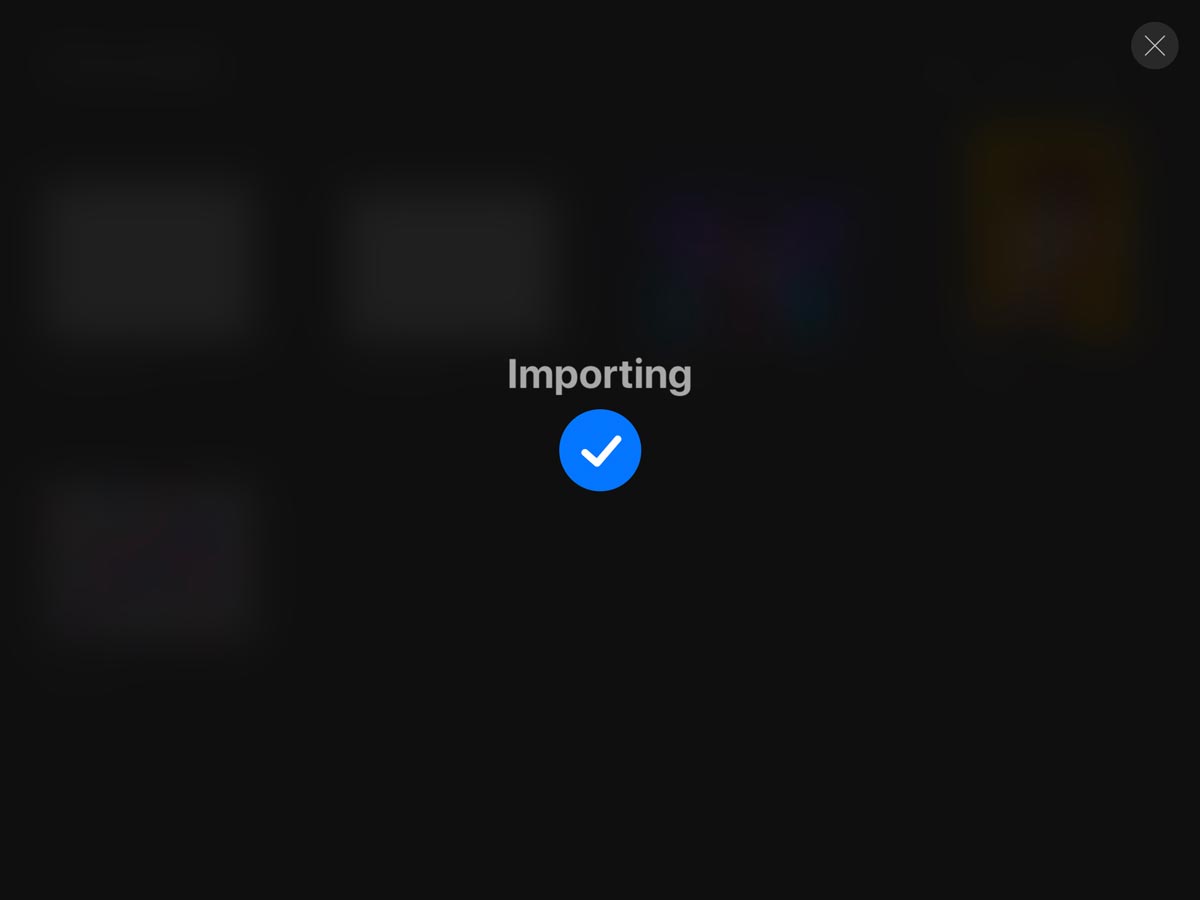 As soon as you unzip the Procreate brushes you'll be able to find the brushes in Files — On My iPad. Once you got there, find the right brush file and tap on it, the automatic import to Procreate app will follow automatically. Once you do it, the brushes will be called "Imported" in your brush library. Note that if you import a .brushset, you'll only need to do this set of operations once, while several .brush files need to be repeatedly transferred separately one by one.
Installing Brushes in Procreate Pocket
Fair to say, it's a rare thing to see someone using Procreate Pocket, although the app itself is a top-notch adaptation of the full software version. If you're exactly that type of person, who works in Procreate Pocket, you have several ways of importing and using your Procreate brushes.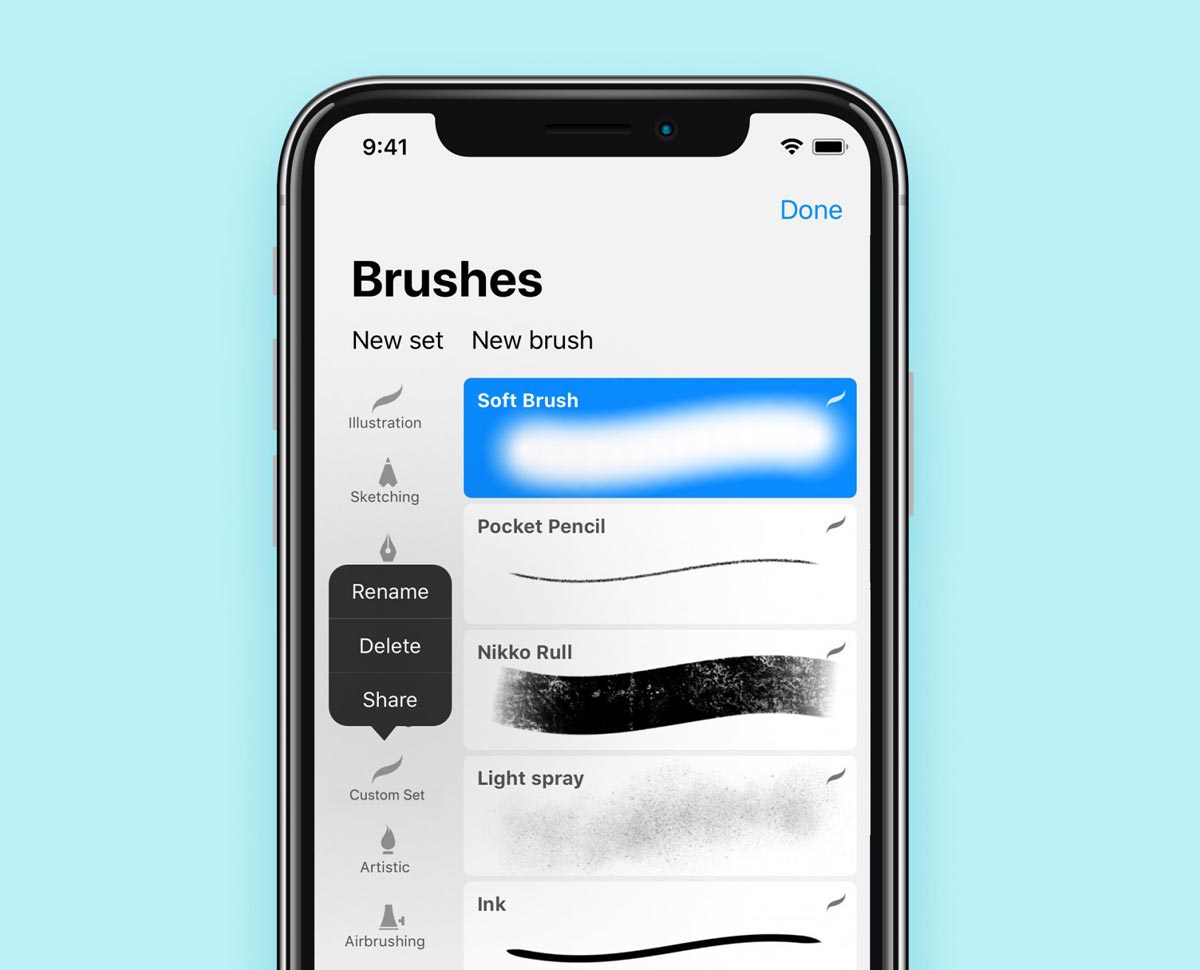 It's super handy to have cloud storage, especially when you're trying to install Procreate brushes. It can be the same Dropbox, maybe iCloud or Google Drive to synchronize the downloaded brushes. After you save the required set or brush, open the Procreate Pocket app, go to Brush panel and pick New Brush. You'll see the "Import" option on the top right: tapping it will open you all possible import options from the cloud services you have installed.
Transferring Files Manually
All your Procreate brushes can land in your iPhone not via cloud services but Airdrop (if you're a Mac user) or any other alike method you know (there's even emailing the brushes to yourself). Let's focus on Airdrop more as on the most practical and less time-consuming variant. Once you've sent the Procreate brushes to your iPhone, the files will be instantly recognized as the Procreate Pocket compatible. It'll take seconds for your phone to automatically open the required app and add the new Procreate brushes to your library.
Unpacking Brush Files on iPhone
Sharing a little trick with you, and it's called Shortcuts app. It helps to make work on iPhone more flexible and afford such things as unzipping files. Download this app first, then tap the + button, then the icon with 2 switches. Then you need to follow these directions: Show in Share Sheet — Accepted Types. Here you need to deselect everything except for the "Files". Give your shortcut a name along the lines of "Unzip Files" and choose Done. Now you can always pull specific actions for this shortcut: for example, by searching "archive" you can find the "Extract Archive" function and add it. Then you should also search and add the "Save File" option.
From now on when you see a .zip file, you can select Share—Shortcuts and see the shortcuts you created and the one you need to use Procreate brushes, "Unzip Files".
Free and Premium Procreate Brushes
Let's get down to business and start discovering the flawless Procreate brushes! We suggest you take a closer look at these sets as they're perfect for both beginners and Procreate savvies. Start with free ones to taste the technique and then you can move on to the premium Procreate brushes, offering more creative possibilities.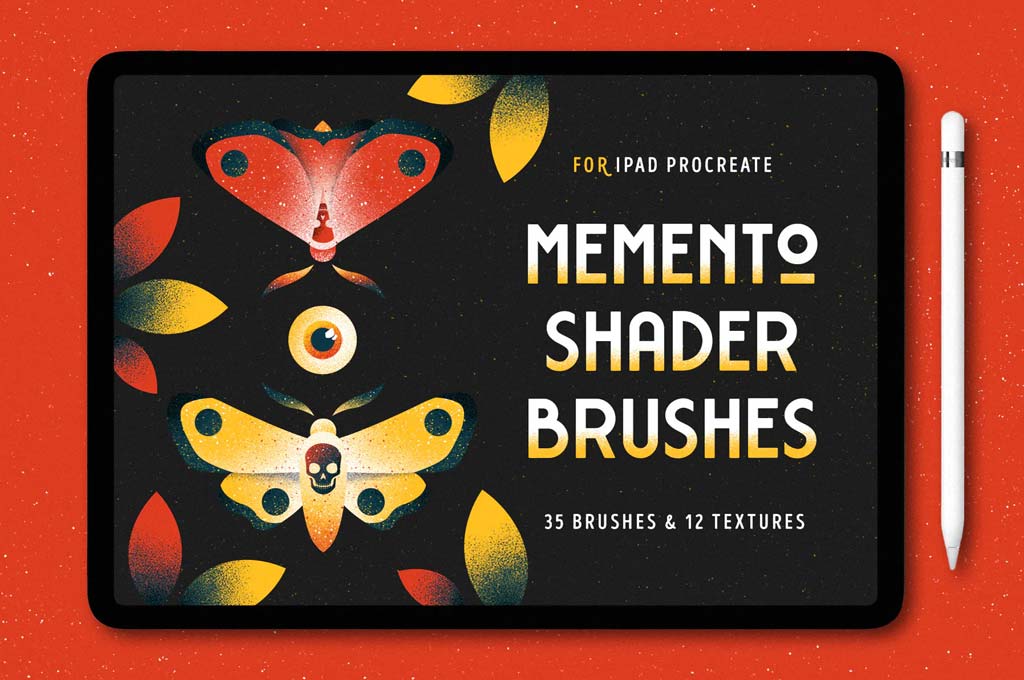 Shader Brushes for Procreate
Enjoy the infinite ease of the iPad Procreate provides you with: it's a smooth workflow you can't stop engaging yourself in. The set of 35 brushes in a Procreate format! Discover 12 textures as a bonus to wrap up your composition before revealing it to the world. Now you can go on creating illustrations for posters, flyers, commercials, branding projects, and stationery without any design app restraints!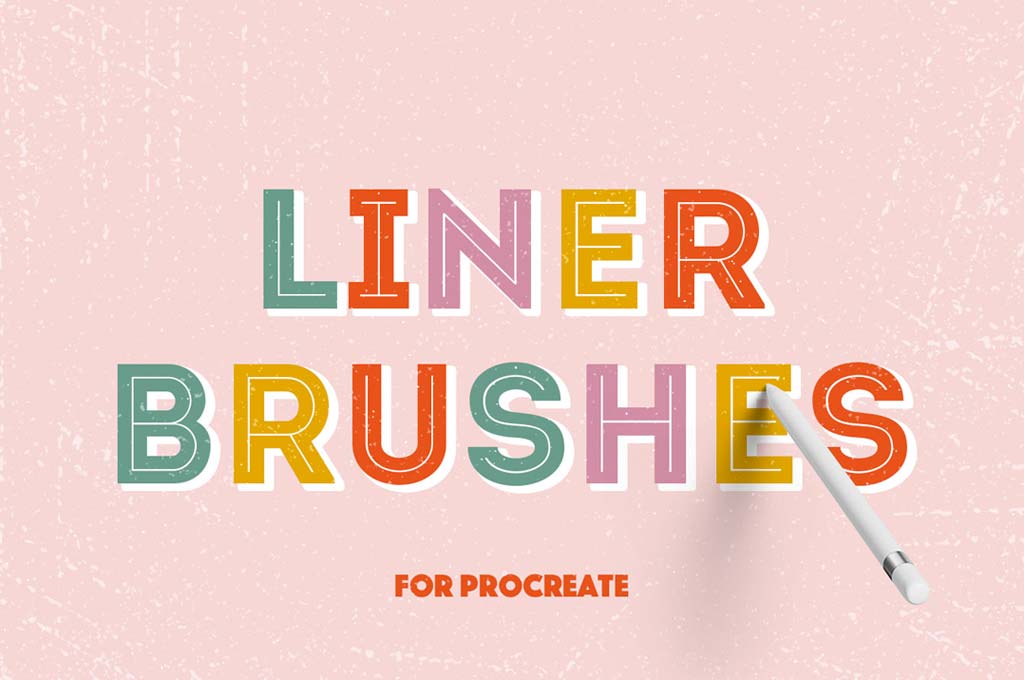 Procreate app keeps conquering more and more design-tempted hearts! Keep up with the trend by getting these crafty and cute Procreate brushes for your incredible toolbox. So the set has 22 different brushes, but every single one of them is special. Combine them in one illustration to see how they work together for the composition of your dreams! Make sure you've installed the .brushset file format and you have all the right versions: iOS 11 and Procreate version 4.1 or higher. The Liner Procreate Brushes will be super handy for illustrations and lettering!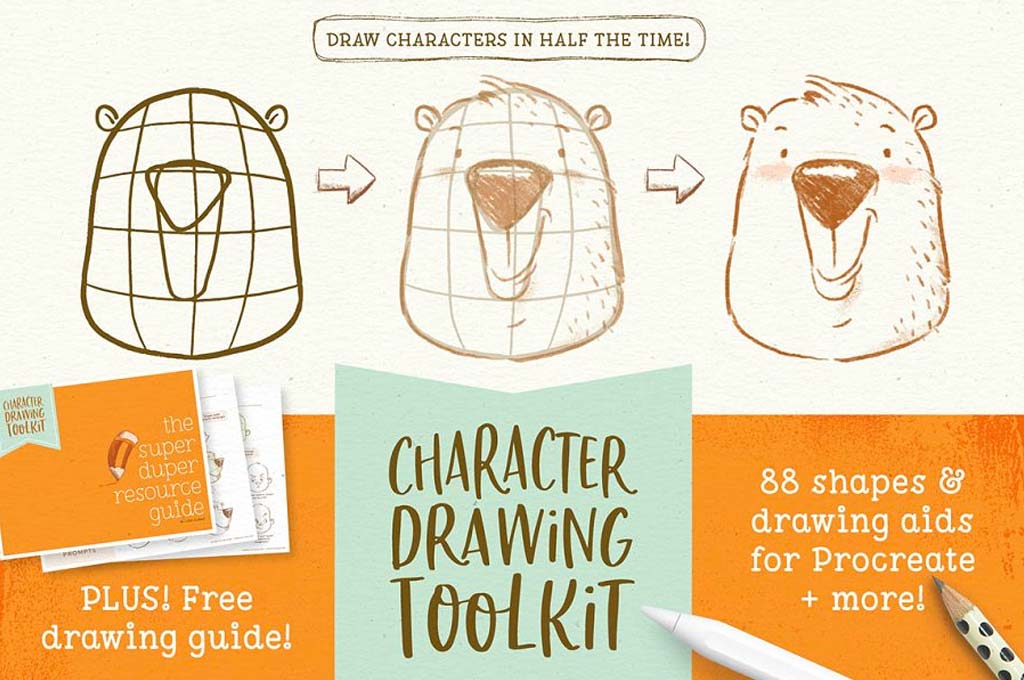 Procreate Character Drawing Toolkit
Draw characters in half the time… Improve your drawing skills and have fun doing it! The Character Drawing Toolkit is a fun and innovative drawing aid for Procreate. No more "blank canvas" anxiety! Packed with 88 Procreate brushes thoughtfully created to help jump start your drawing process. Choose from the many shapes, heads, eyes, ears and noses as a guide, add a new layer and start drawing! It's really that simple!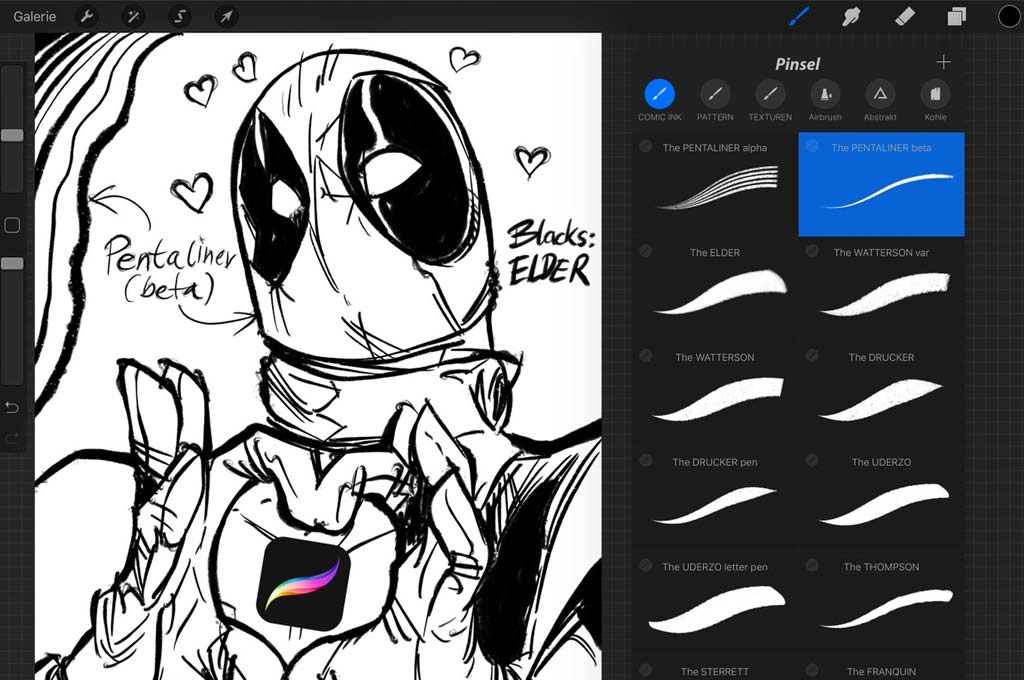 Comic Ink Brush Set for Procreate
Here's the custom-made Procreate ink brush set with more than 16 brushes for inking and special effects. It's dedicated to the great Will Elder, an American illustrator and comic book artist who worked in numerous areas of commercial art but is best known for a zany cartoon style that helped launch Harvey Kurtzman's MAD comic book in 1952. It's a perfect set of Procreate brushes for doodling, sketching and, of course, comics-drawing!
Procreate Calligraphy Brush
Are you tempted by the mesmerizing handwriting as well as by working in Procreate? This brush is like a magic wand for creating a beautiful script and signature inscriptions. As a nice little gift in the package, you can find the lettering stamps to play with. There's a great number of diverse projects you can make by armed only with Procreate and this calligraphy brush. Carry out magnificent custom fonts, type logos, textures, and vintage-looking designs!