All the great works begin with first steps and preps to set everything perfectly. In this article we'll supply you with a quick guide on installing Photoshop brushes and the Photoshop brushes themselves to try out the technique.
Whether you're embarking on your work in Photoshop connected with illustrations or maybe just the digital composition, you might want to give Photoshop brushes a chance. Drawing or creating the calligraphic wonders can't do without a brush tool. So let's just jump into it and find out how to install brushes in Photoshop!
What are Photoshop Brushes?
Brushes in Photoshop were created to replicate the way you would work with a pencil, pen or an actual brush, moving around the canvas. These are the special presets, indicating the strokes of a different shape. Photoshop brushes exist in the abundance of forms: dry or wet, inky or charcoal-like, with vague or sharp edges, and more. It's like having the content of your pencil case in a cursor!
How to Install Photoshop Brushes?
Installing Photoshop brushes is, actually, a piece of cake! After downloading the Photoshop brush, unzip it to see the files in .abr — these will become your brush tools in a couple of seconds. Then your actions are reduced to the following set of simple operations.
First option is to simply drag and drop the brush files to your Photoshop window. The brush will appear in the Brushes panel after that.
The other way is a bit more thorny compared to the first one but still very easy. In the Brushes panel, click the brush settings icon located in the upper right-hand corner. The dropdown menu will appear and all you need to do is to pick Import Brushes, browse the .abr file and press "Open". That's it, your toolbox is ready to follow you in your design adventure!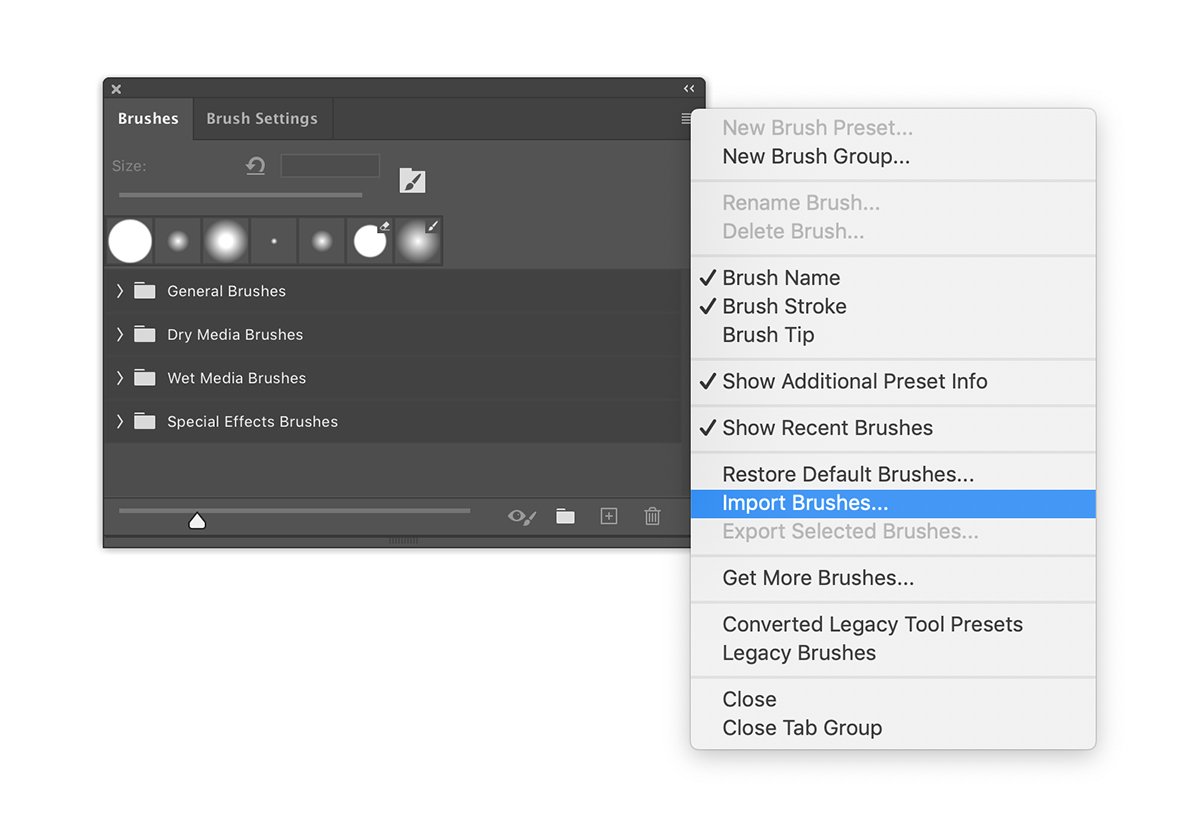 How to Use Photoshop Brushes?
The sphere of use where the Photoshop brushes can be applied is huge! Creating hand-drawn illustrations, patterns, textures, various elements, and inscriptions. All you have to do after installing Photoshop brushes is to click with the strokes, leaving the trace on your artboard or to drag the cursor around. Adjust the mode, size, flow, and opacity of the brush in the settings.
Needless to say that Photoshop brushes can represent the sophisticated complex presets like scratches, splashes, lines, rough sponge traces and more. You can spend tons of time trying out all of them to decide which one is just right for you. Don't be afraid to use different Photoshop brushes in one composition — it might turn out into something unexpectedly great!
Free Photoshop Brushes to Try
Before diving deep into the world of art and right after installing Photoshop brushes, you'll surely want to try your hand at it with some free Photoshop brushes. Here's what I've picked for you, I think these will suit you best!
Artistic Photoshop Brushes
Have fun experimenting with 56 Photoshop brushes, compatible with CS5, CS4 and CS3 versions. Play around with the brush settings to find the middle ground and, probably, discover more implementation options! The author of this awesome freebie recommends to check out painting at 70-100% opacity with the pressure option on (its already included in the brushes).
Grunge Photoshop Brushes Kit
Fall for the rough and subtle grunge absolutely sophisticated 16 Photoshop brushes. They were made as a fine example of superb quality and perfection of performance. Doubt about what exactly you need? There are texture brushes and border brushes. Care about quality? The assets are available in two versions: 1000 and 5000 px. Have no idea how to use Photoshop brushes? Not a problem to feel nervous about either – the help file with clear instructions is included, cheers!
Aurora Watercolor Photoshop Brushes
If you enjoy pure tenderness of watercolors, we invite you to discover 20 Aurora Photoshop brushes. We've created them with love and understanding of what you really need for your design projects, so they are to come in handy. The brushes are a combination of airy swashes and misty watercolor texture, and we are sure they will be a great addition to your add-ons toolbox. Try them to craft sophisticated wedding invitations, cards, mood boards and typography decor.
Here's a tasty and stylish pencil Photoshop brush for all your sketching needs! Have nearly all the deliciousness of real pencil on paper minus the paper and plus the undo (but real men just erase and redraw, like a boss). This brush for PS is handy for doing more visually interesting sketches that can add a nice layer of texture for you to paint on top of, as well as just making nicer looking digital drawings. Get some grit in those lines!
Acrylic Paint Photoshop Brushes
Download and install Photoshop brushes, which Aaron Griffin uses to create his magnificent acrylic-looking illustrations! You may carry out fantastic and highly-realistic digital art or just make your first steps in this field. The workflow is smooth and relaxing, you'll definitely like what you'll see coming out of your cursor! Don't forget to use all brushes from the set.
After taming the power of Photoshop brushes with some free ones, you might want to try yourself in something more challenging. When this moment comes, you might want to drop by to my small collection of the best Photoshop brushes I personally use.
Broadening the horizons of your creative power and ingenuity sway by releasing our mysterious Memento Shader Brushes for Photoshop! Grungy and brutal look, wrapped into its new form to fit all sorts of projects and be accessible for everyone. It will be hard to always use a single one out of the 35 Photoshop brushes, so why not combine them all for the better look? Rough hatching in the corners or noisy shades, smoky pressure or sharp edges — vast design choices in one single collection. Reveal your ideas for captivating illustrations, posters, logos, editorials, and ads, born in your mind palace!
Rusty Nib Inkers for Photoshop
Draw till you're dead with over 130 pro-quality distressed inking Photoshop brushes, from rough and gritty to smooth and delicate and everything between. Each brush is built from scratch using original analogue brush and texture samples to create a diverse and powerful set of tools. They combine the tactile beauty of ink on paper with the convenience of a modern digital workflow.
Essential Hand-Drawn Brushes
No dramas, only llamas! It's really hard to imagine someone more cute and innocent, than these furry fellas. So obviously, that was enough to get inspired and embark on creating these Photoshop brushes! They're special because each and every single one of them is so unique: 20 Photoshop brushes in all the unimaginable forms and textures. You can make your image look soft and spongy or turn to more strict lining or sketching — nothing holds you back from that, your resources are unlimited. Work on some illustrations, editorials, commercial images, social media posts, banners, and get rid of the thoughts about lack of tools. Check the video on how to use the brushes to create a cute llama-illustration.
Check out more Photoshop brushes our team picked for you:
Empty your toolbox, we're here with the best Photoshop brushes you could ever have.