The Designest may receive compensation from companies, products, and services featured in this publication. For more details, please refer to our Affiliate Disclosure page.
If you think that Asian and, in particular, Japanese culture has driven the masses crazy somewhere in the 90s, I've got some news from you. In fact, it all happened over a century ago, when Europe and America discovered a whole new culture — which will tightly weave in the modern art movements.
Welcome to the world where no one knows about the Japanese culture. No one has ever seen Hokusai's Great Wave off Kanagawa or heard of ukiyo-e. You can hardly find washi paper with traditional motives or fancifully decorated porcelain. And then happens something extraordinary: in 1855, after more than 200 years of seclusion, Japanese ports open for overseas ships. Since then, the first artifacts appear in Paris and London, and the greatest artists start discovering and adopting Japanese art. This flow of admiration seems never to end — and it never will.
Japonisme: Definition and Roots
With the Meiji Restoration, Europe opens up for Japanese art and craft. And immediately, western society absorbs the distinctive flat style, colors, stylization, and images, inspired by folklore and developed without regard to any other culture. This phenomenon of interest to the Japanese culture and its infiltration in the European visual art in the nineteenth century gets the name of Japonisme. But in the broad sense, Japonisme will extend till the present days.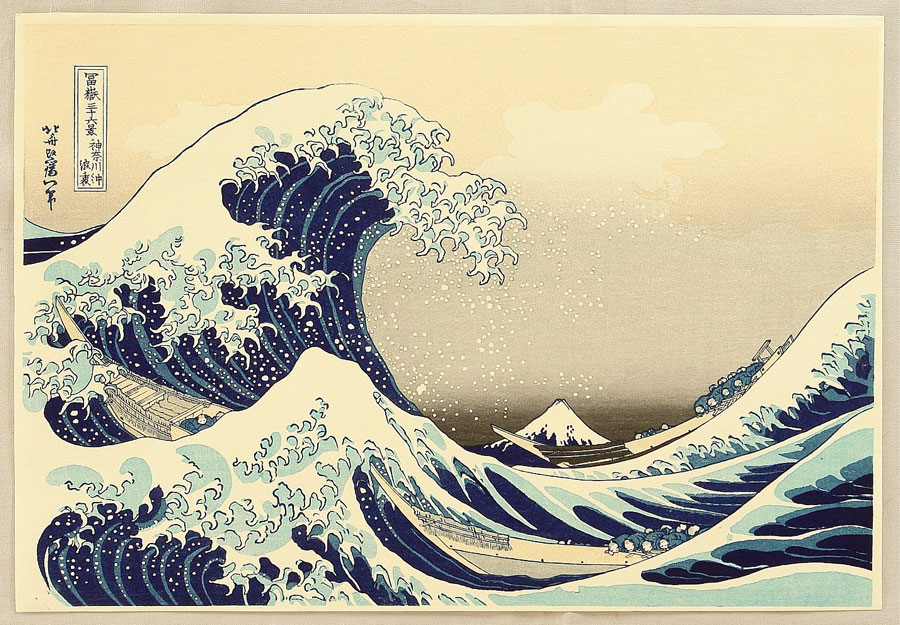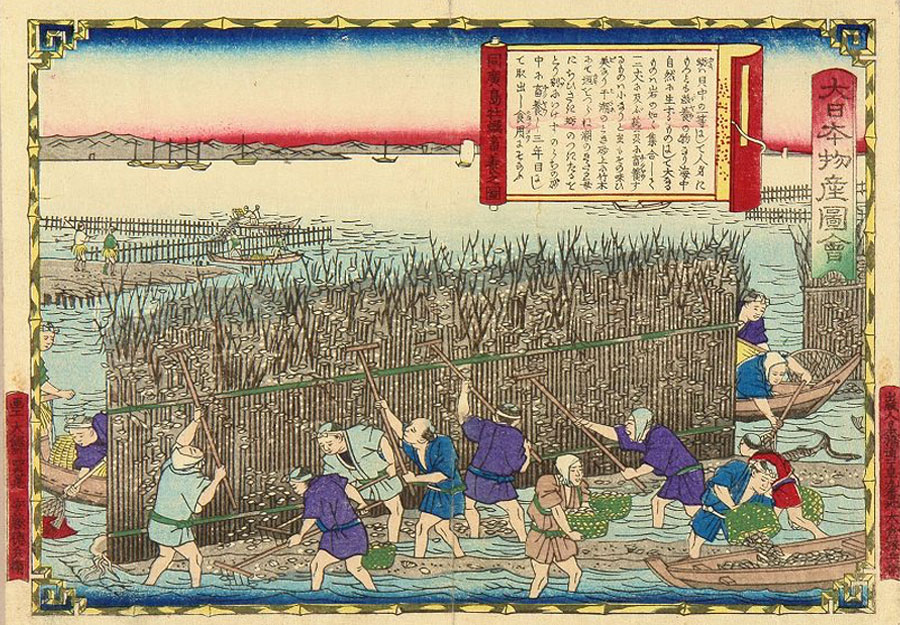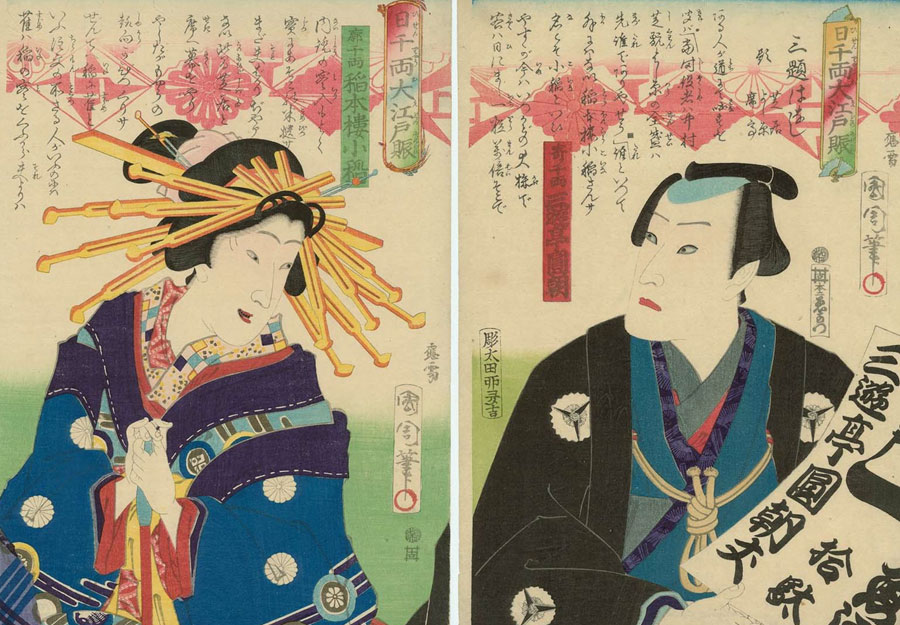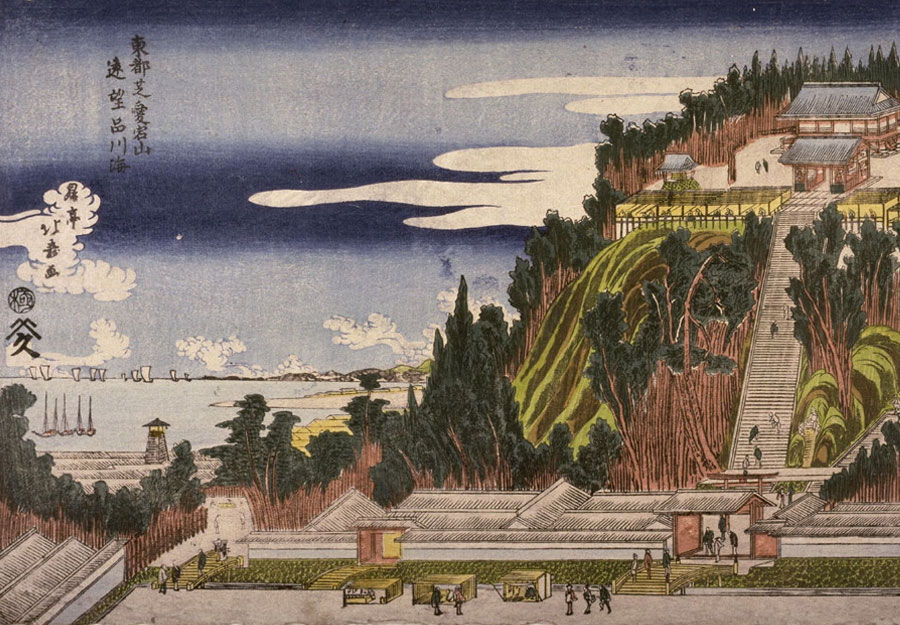 Collecting Japanese items becomes all the rage among western artists and high society. They develop a particular interest in ukiyo-e, a design movement centered on woodblock prints and paintings of such subjects as female beauties; kabuki actors and sumo wrestlers; scenes from history and folk tales; travel scenes and landscapes; flora and fauna. Their style and materials intrigue and charm the viewers, as classic European art has never been familiar with asymmetrical compositions and the foreshortening effect, so popular in Japanese drawings.
Japonisme Art in the XIX Century
Starting from 1855, Japonisme was spreading in the minds of European artists, seeking to comprehend the Eastern style and bring its distinctive traits to their works. In painting, Japanese art was primarily inspired by Claude Monet, Edgar Degas, Marie Cassat, Vincent Van Gogh, Paul Gauguin, and many other masters fascinated by the composition and shades of colors, the richness of tones, and the almost scientific approach to form. For European artists, Japanese iris, peonies, bamboo, kimono, calligraphy, diagonal compositions and vertical format, carp, butterflies and other insects, crows, cranes, tigers, and dragons have become an inexhaustible source of inspiration, understanding, and self-expression.
It's interesting that some artists, like James Tissot, were so enchanted by Japonisme that they depicted models in Japanese dress and displayed 'Oriental' props in their work. Others, like Degas, were influenced in subtler ways, adopting aspects of the Japanese approach to painting, from asymmetrical composition to aerial perspectives.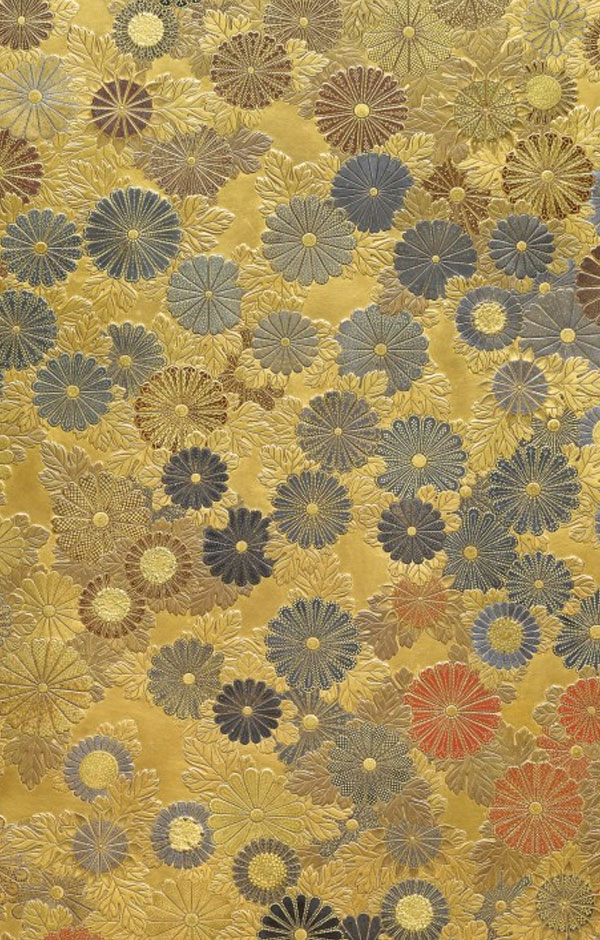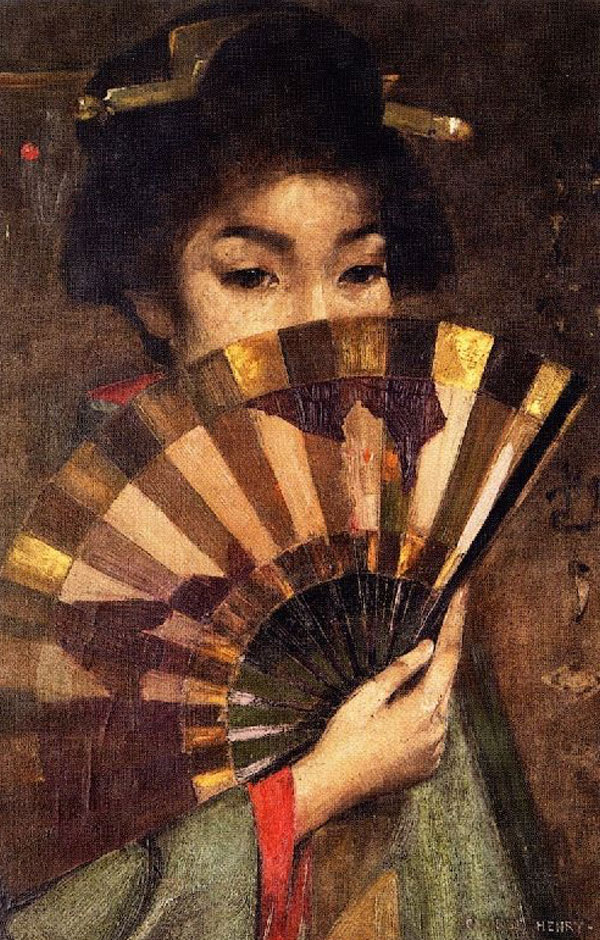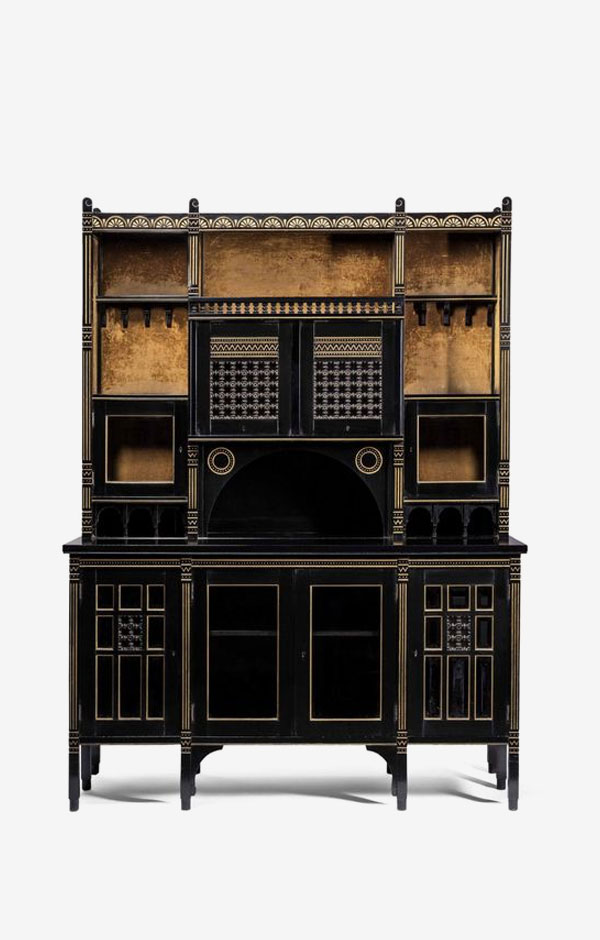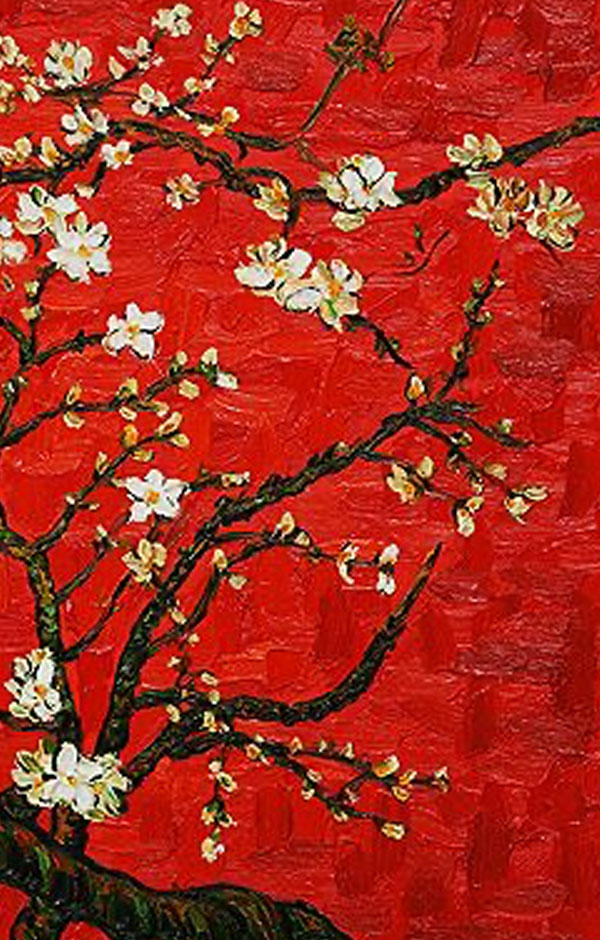 The interior was also influenced by the East: European and American architects were increasingly interested in the spirit of the Japanese house and its furnishings. From 1871 until the end of the century, the fascination with the Japanese living room was constantly growing, mixed with many other styles. Christopher Dresser, a British designer, is probably one of the most intriguing personalities working with interior design and applied arts. He became the major contributor to the allied Anglo-Japanese or Modern Style (British Art Nouveau style).
Focal Traits of Japonisme in Art and Graphic Design
The definition of Japonisme art makes it clear that it's rarely about pure Japanese. Such artworks are eclectic because this movement is based on the European admiration of Eastern aesthetic, and master create artworks where two opposite cultures (or techniques) go side by side. However, how do you tell Japonisme from the first sight in the XIX century and later?
Unique choice of color and composition, typical for ukiyo-e prints;
imbalance, flatness, and foreshortening;
exotic objects, from kimonos and screens to folklore creatures;
mundane themes, portrayed in the Japanese style;
aerial viewpoints;
negative space filled with only abstract colors and lines;
heavy stylization.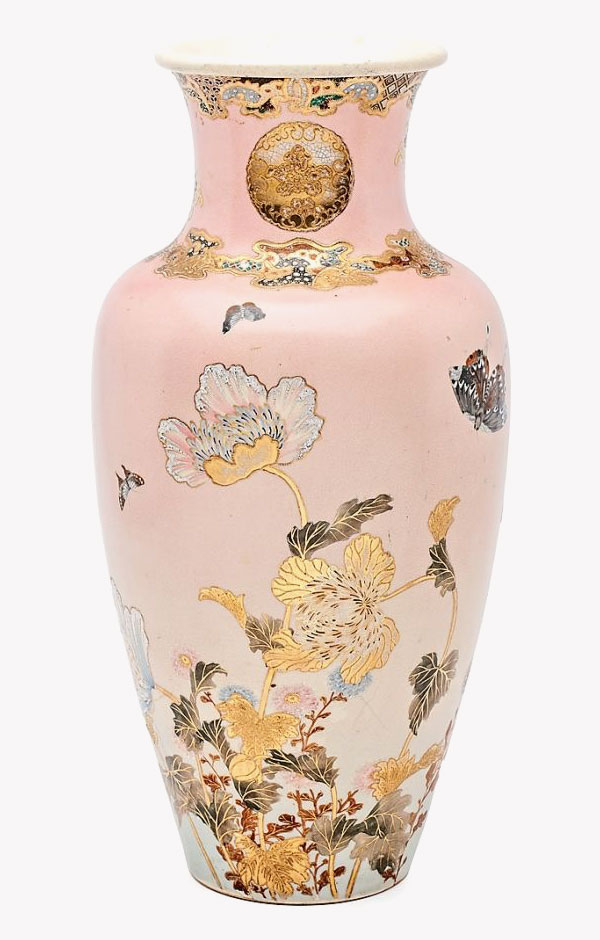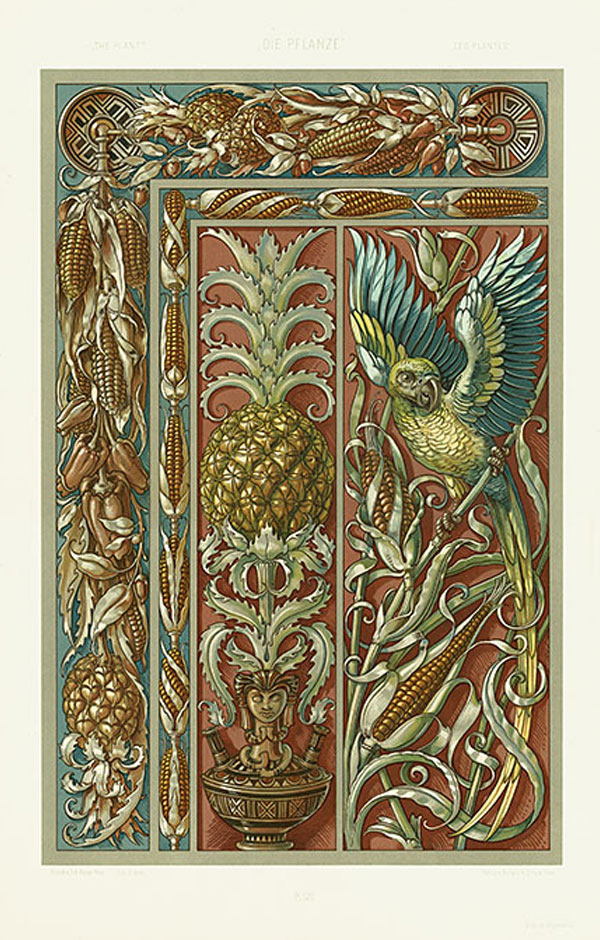 Japonisme and its elements anchored in the European art of those times, from Impressionism to Art Nouveau and the Aesthetic Movement. Art Nouveau was most 'affected' by the Oriental aesthetic and grew as a combination of Japanese and classic French art. Katagami craft, florals, and distinctive approach to portraying humans and building compositions.
Japonisme in Modern Graphic Design
As I mentioned before, Japonisme is a French term that traditionally refers to the popularity and influence of Japanese art and design in Europe in the XIX century. However, considering the main mechanisms of Japonisme — like heavy stylizations and copying techniques, materials, and motifs — we can state that this cultural phenomenon is still relevant for the modern art.
True, Japonisme didn't get stuck in the nineteenth century. Of course, no one of sound mind will consider it as an isolated movement or trend today. But doesn't it work the same way for other ultra-popular design styles of the past: Art Deco, Art Nouveau, Pop Art, etc. The artistic community has drawn the most successful and adaptive elements from every retro style, and we are free today to use these to our liking.
You may try contrasting today's Japonisme and Japanese design, a very powerful and broad movement. Yet, there is no global opinion on what's right here, I am convinced that these are two different things we shouldn't mix. Japanese design is a legacy of Japanese art and crafts, now performing and visual and philosophical code based on simplicity, delicacy, and meticulousness. Modern Japonisme is more a process of borrowing and assimilation of elements typical for the Japanese art and culture.
The best example of Japonisme in action today is how the western community keeps exploring manga and anime, which belong to the modern cultural system of Japan. Artists try merging classical drawing techniques with their own. Or they borrow compositional and typographic solutions. Or try to incorporate them as is in the western visual system through harsh imitating — just like the French impressionists over 150 years ago.
As Japonisme is more a never-ending process than a finished product or style, anything can be associated with it at a certain period of time. Of course, we've got used to the influence of Japanese culture, and it seems that western art has already borrowed everything it could. However, over and over again, designers discover something new. Their (and ours, too!) fascination with the oriental aesthetic is continuously supported by street and visual art, interior, and product design, packaging, literature, and cinematography, so the waves of modern Japonisme will probably happen forever unless the culture itself exists and evolves.
So, what do we borrow from Japanese culture today?
The bold minimalism, which is relatively new in graphic design, can be attributed to the classical Japanese aesthetic to a large extent. In fact, the minimalism based on natural textures and light colors can be attributed to many design movements. The concepts of Scandinavian and Japanese style are the most popular. And while the creatives perfectly master Scandinavian minimalism, Japanese minimalism is still quite an exotic land to explore.
More often, designers resort (intentionally or not) to the traditional Japanese color schemes and watch how they feel in the western environment. White and red, red and blue — these two basic combinations are particularly wide-spread in packaging and branding when there is an intention to create an oriental vibe.
Heavy stylization is still one of the most popular traits of Japonisme today — and for a good reason. A modern artist can pick entire concepts, like calligraphy, illustrations, symbols, manga, and combine them with neutral components for a distinctive Japanese aesthetic in the western understanding. By the way, this trick is often used by streetwear brands, aiming to copy those from Japan.
Floral patterns assimilated in European design with Art Nouveau style over 150 years ago. We can't attribute it to a sign of modern Japonisme. However, exploring traditional patterns and their elements: like seigaiha or koi, and finding a way to integrate them into the design code of the XXI century takes a new gasp.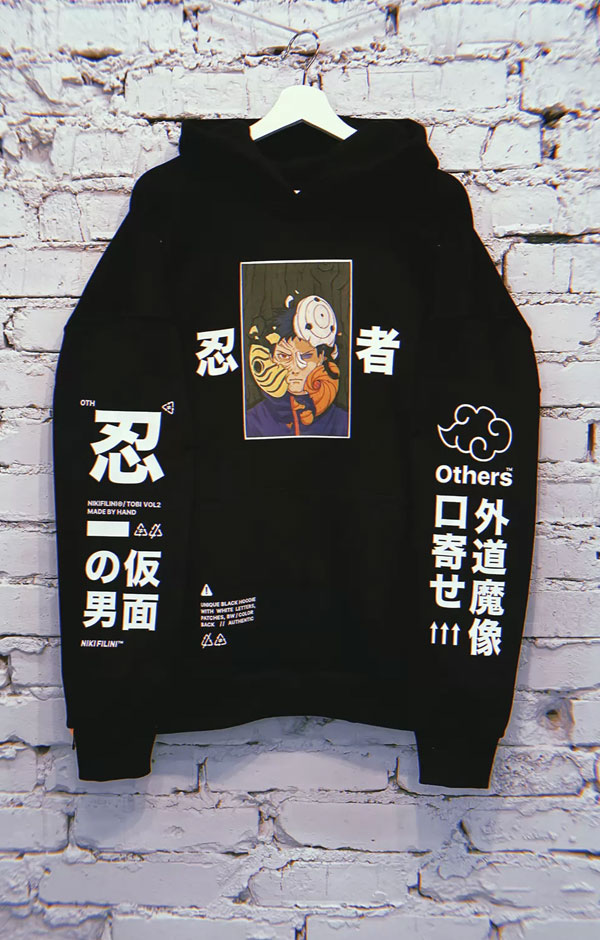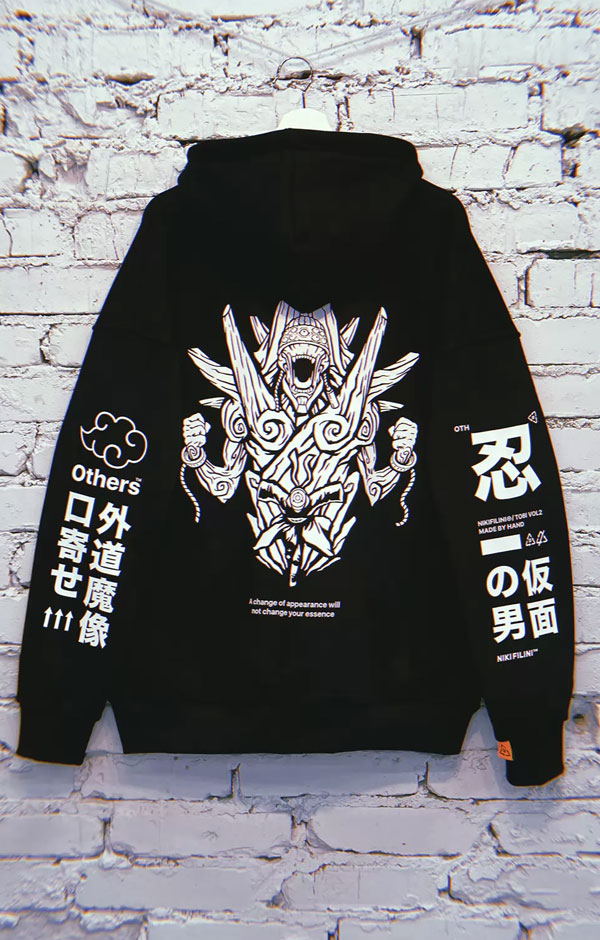 It's interesting that we mostly speak of Japanosime as a process of borrowing elements from Japanese culture by western artists. However, in Japan, this process is also associated by bringing back traditional concepts and featuring them in modern environment.
Japanese vibes in your work
It's you who decides what Japanese prints, patterns, graphics, or typography to bring to your work and toolbox. As an illustrator, you may refuse from borrowing at all and try your forces in stylization — so all you'll need is themed brushes for inking and watercolor painting. And as a product designer, you can seek inspiration in traditional palettes, colors, and motives and create your own eclectic style.
From our side, we can just share our team's selected resources to boost your creativity and charm you (once again) with Japanese art.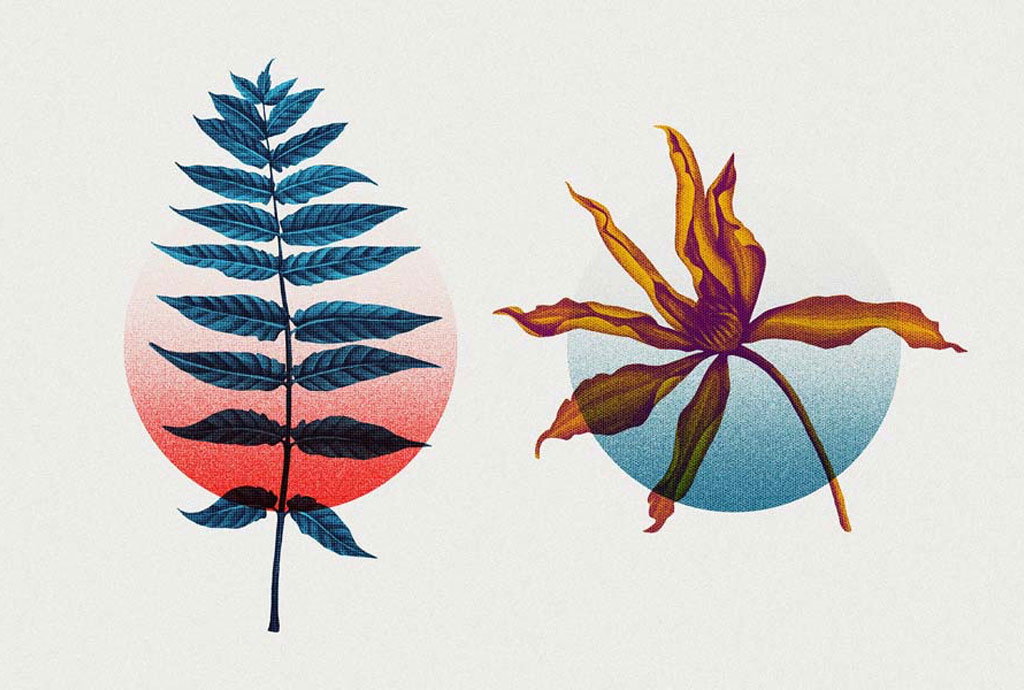 Risograph Double Exposure Effect
Combine many images, overlapping each other, choose one of 6 halftone textures, depending on the nature of your original art, paint it all with 40 gradient overlays, giving your work that vintage faded look. Decorate your studio with posters, include the edited images into the product presentation, branding project, or post an attention-getting photo on social media!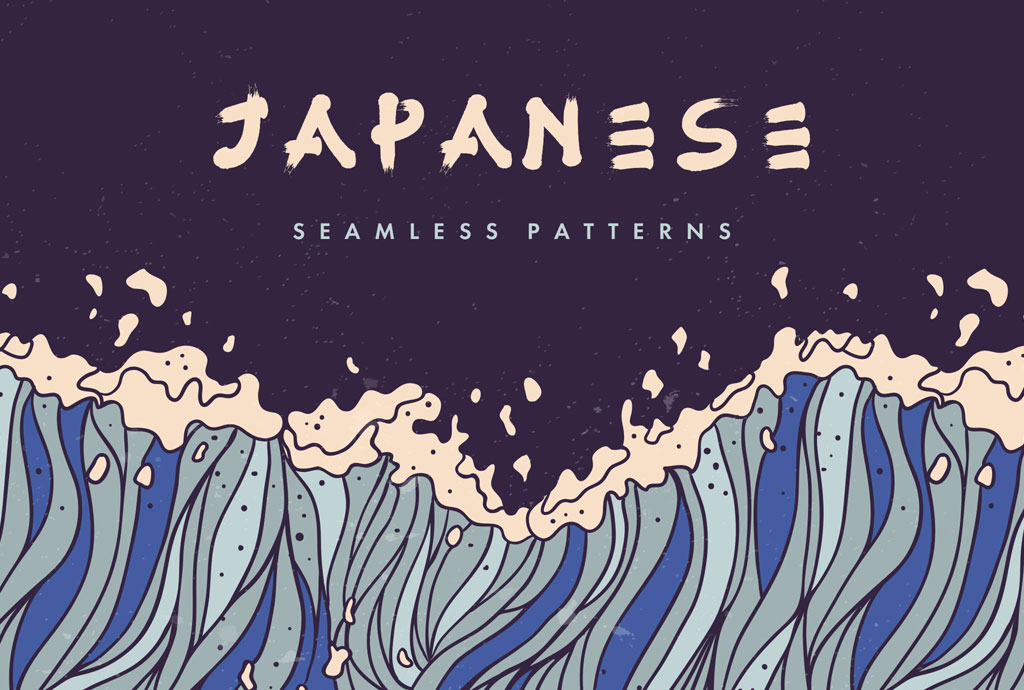 The set of 5 different seamless patterns in Japanese style is a gold mine for all the passionate hearts, who fell for Asian culture once and for good. The sphere of use for these patterns knows no limits: themed packaging, background design, branding pieces, party invitations or inspiring posters to hang at work.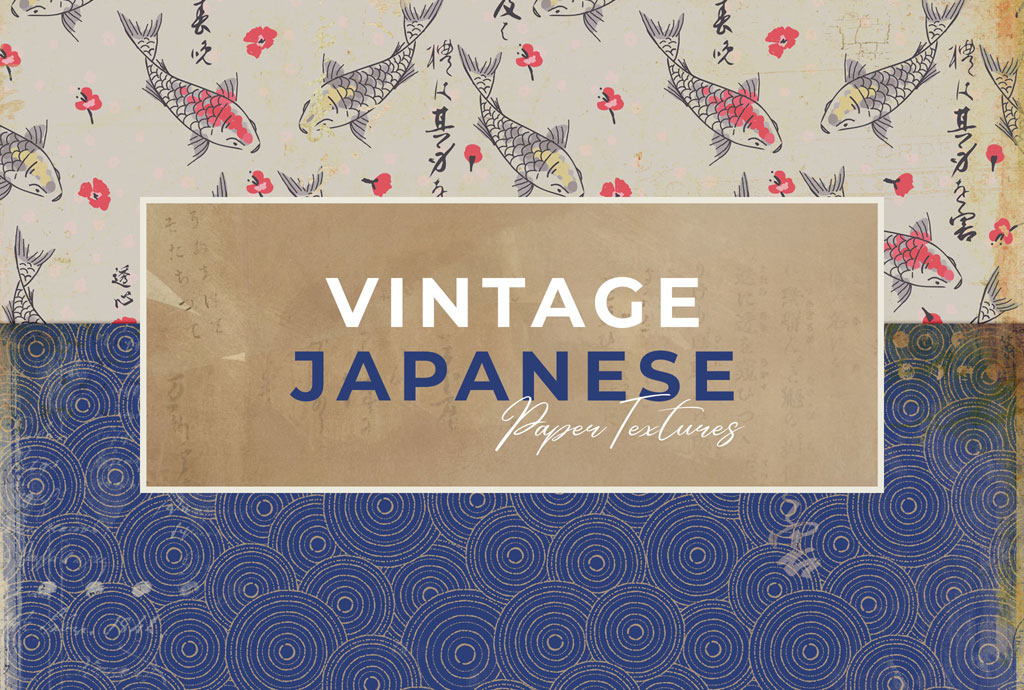 Vintage Japanese Paper Textures
The package has 12 vintage papers in it and tons of curious details on the distressed textures. What visions do you get from these mysterious yet so wonderful elements? Lovely color solution and the high quality will guarantee you the best performance in any type of design project. From a simple background to packaging, collages, and branding this collection is destined to bring you joy and unveil the charm of the Japanese approach to packaging.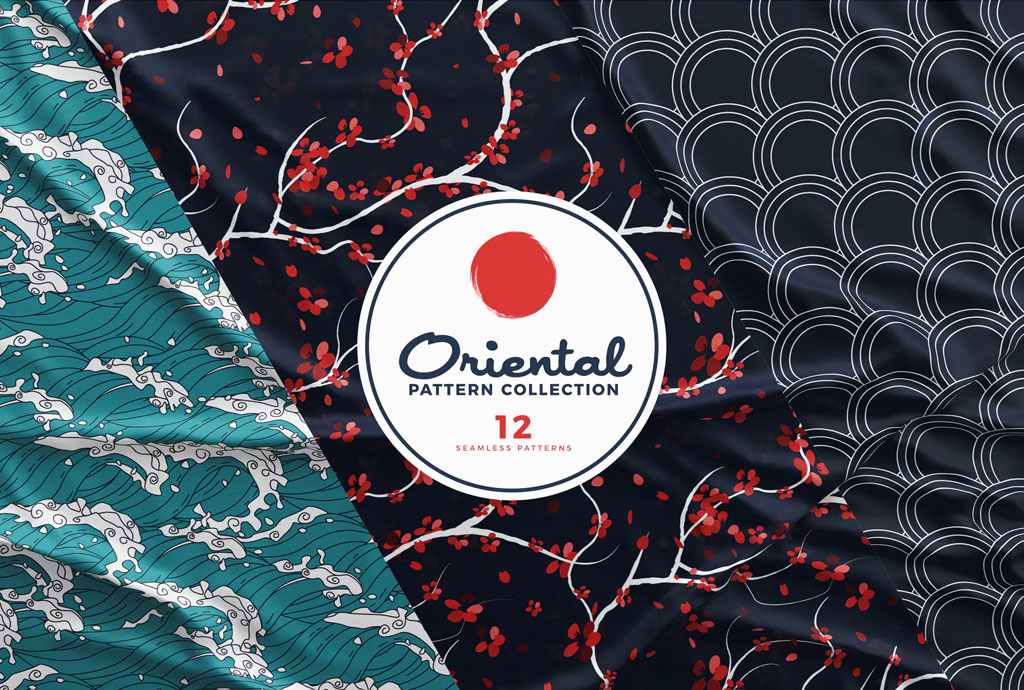 Japanese Oriental Pattern Collection
The package has 12 vintage papers in it and tons of curious details on the distressed textures. What visions do you get from these mysterious yet so wonderful elements? Lovely color solution and the high quality will guarantee you the best performance in any type of design project. From a simple background to packaging, collages, and branding this collection is destined to bring you joy and unveil the charm of the Japanese approach to packaging.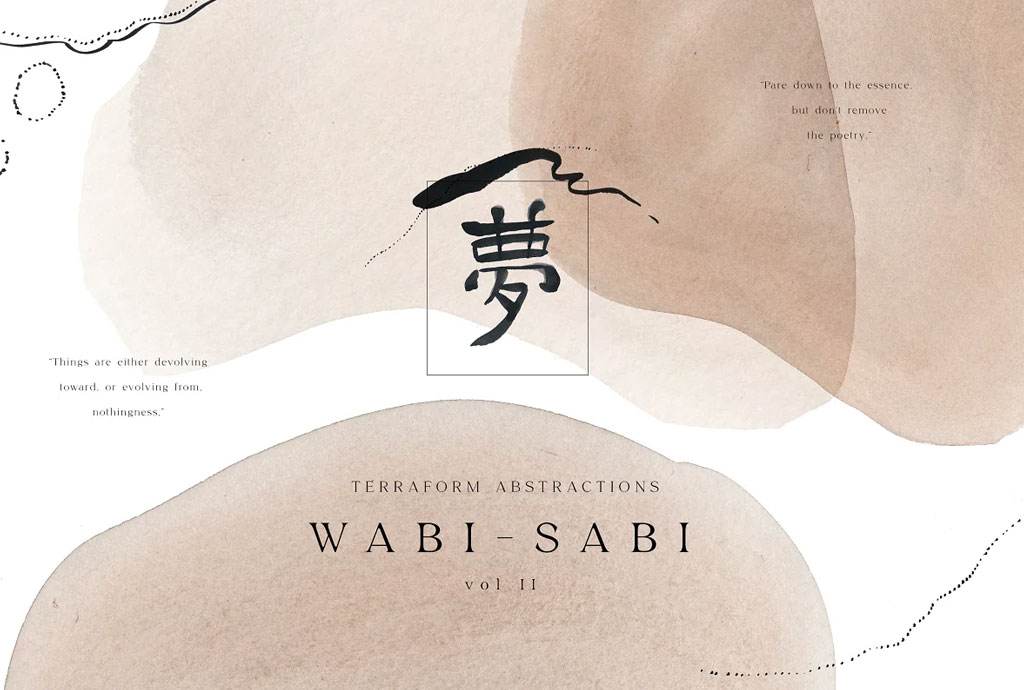 Wabi-Sabi Terraform Abstractions
Wabi Sabi is the concept of appreciating the beauty of imperfect and impermanent things and accepting the flow of life. Is usually visualised as simple, imperfect and earthy. The philosophy itself has a calm and nurturing feel to it and in this collection I tried to mix the Japanese symbolism with organic and neutral shapes in all kinds of already made designs. This is a huge collection of elements, premade compositions, backgrounds/card designs, frames, abstract wreaths, kanjis and more.