When we speak about a seamless creative process, we always keep in mind that a smartphone can't compete with a tablet or desktop. However, with the
all-new Procreate Pocket
, the Savage team goes against all prejudices and brings all the iPad power to the iPhone.
2021 has just begun, and we already see one of the key trends in action: the Dark mode is back to Procreate Pocket, and we're now in the presence of a new card system making the UI much more compact and refined. So it's not just easier for your eyes — the whole interaction brings a different, innovative experience. Add here the legendary Valkyrie engine, which used to be available for an iPad only, and you can finally reach the same outstanding performance on your iPhone, wherever the muse gets you.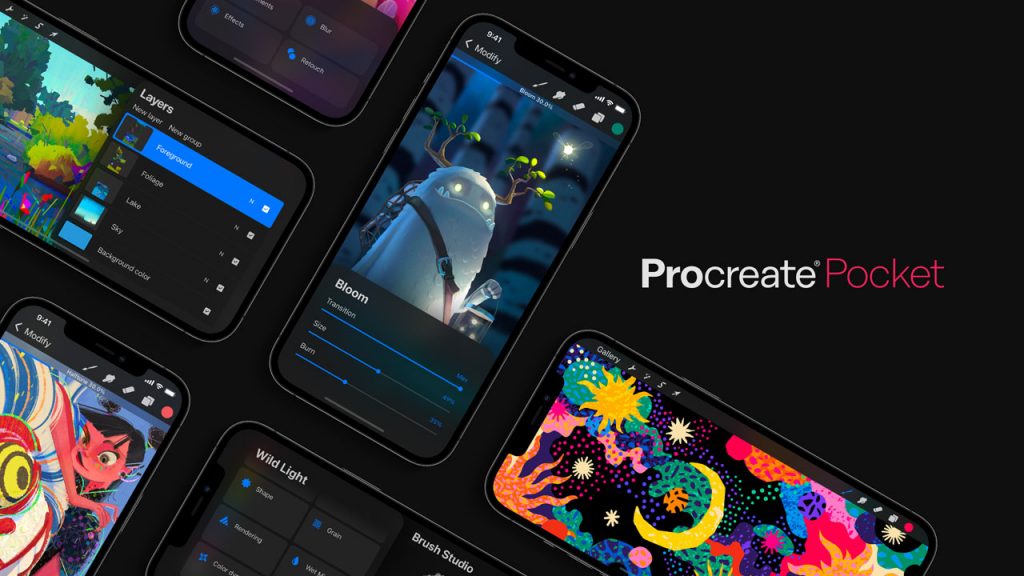 Creative Tools for Everything
The most intriguing part of the release is about all those creative tools from the iPad that have gained equal power with the New Procreate Pocket. For instance, it now has brush editing and creation ability thanks to Brush Studio — which, for the record, comes with 190 default brushes to start with.
Procreate's new iPad filters are now also available in Procreate Pocket so that you can create stunning effects with Halftone, Bloom, Chromatic Aberration, or Noise. And just like on an iPad, you can also use your iPhone to have fun with FacePaint(animation included) or make custom palettes from your environment, Photo library, and even Adobe palettes. Or, and there comes Animation Assist, which is the most incredible and unexpected thing to see on iPhone!
In fact, there is a lineup of tools we've just finished testing after the Procreate5X update, and it's incredible that most of them are now within reach in your iPhone. So if you used to disregard drawing on your smartphone, maybe it's the right moment to change your mind.